An online encyclopedia (expert knowledge database) or a wiki (user-generated knowledge database) can be an awesome help in essential tasks you come across daily:
(1) Use it as a quick reference guide for the topics you have no expertise in and need an overall picture to get an idea;
(2) Use it for keyword research (by analyzing its interlinked structure: related and neighboring topics linked from the main article);
(3) Use it for finding and comparing definitions;
(4) Use it for finding additional (more often than not) solid references and external links, etc
Last week I came across a helpful tool that then ended up being added to my bookmarks: Wiki.com. It's a Google custom search engine that offers to search throughout:
Wikipedia only;
Independent wikis;
Expert encyclopedias;
All wikis.
The tool turned really helpful to me, though I don't think the database of independent wikis is large enough yet:
General wikis (Wikia.com; Wikiindex.org; Wikibooks.org; Wikimedia.org; Worldwindcentral.com; Wikileaks.org; etc);
Tech wikis (Microformats.org; W3.org; JSPwiki.org; Wikidot.com; wiki.apache.org; wiki.ubuntu.org; wiki.debian.org),
Encyclopedias indexed include:
Reference.com
LoveToKnow.com
Britannica.com
TheCanadianEncyclopedia.com
Infoplease.com
Refdesk.com
Like any Google custom search engine, Wiki.com supports Google advanced search operators, so you can exclude any encyclopedia(s) or wiki(s) from search results: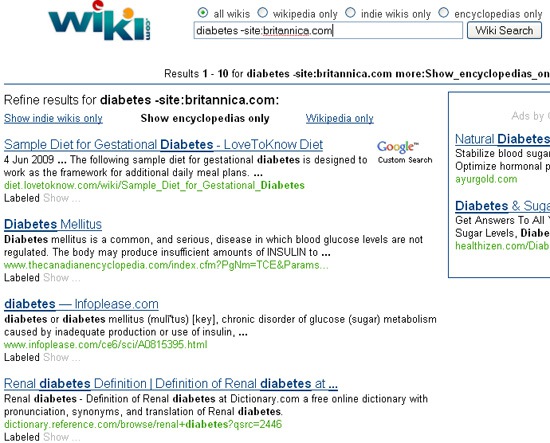 More helpful Wikipedia-based tools:
The tool was found via MUO and reviewed under SEJ policy.