The vast impact of digital marketing agencies can be felt on all corners of the web.
Whether in the depths of obscure websites or on the front pages of giants like Reddit and Amazon, purpose-built campaigns executed by digital marketers are found everywhere.
The average person who sees your banner ad or Google Ads placement doesn't think of the process behind it, but we digital marketers know differently.
We know that everything we do requires coordination between departments, communication with clients, the juggling of dozens of priorities, and a whole lot of coffee.
With so much to manage all at once, how can you not only keep your team organized but also continue to scale your agency and trend upwards?
You need a project management tool that suits your agency.
Using the right project management platform can help ensure your team doesn't get sidetracked while continuing to knock their goals and tasks out of the park.
Wondering what options are available to you? Read on to find out.
1. Trello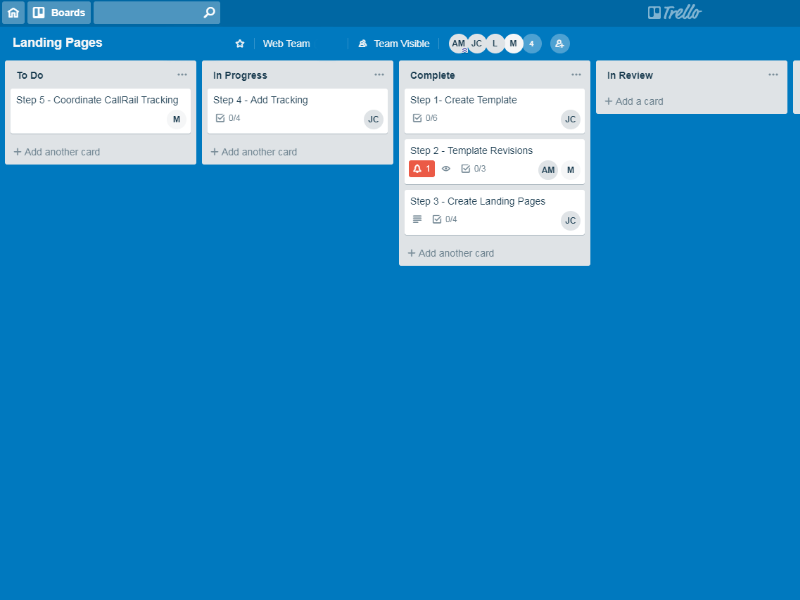 Trello is an incredibly diverse project management tool meant to be an all-in-one hub for your team — whether that be your sales team, paid ads team, development team, or all three.
Trello is built to be simple yet robust — it places emphasis on visual-accessibility and collaboration between its users. "Power-Ups" even allow for integration with all your other favorite apps, like Google Drive, Slack, Jira, and more.
The platform is used by startups and Fortune 500 companies alike, which solidifies its position on this list. Want to grow your agency? Trello has no problem growing with you.
There is a free version, but we recommend going straight for the paid version at $9.99 a month per user — the free version is relatively limited in its functions when compared.
We recommend using Trello if you want a project management tool that has a low barrier to entry, feels streamlined, and keeps everything in one place.
2. monday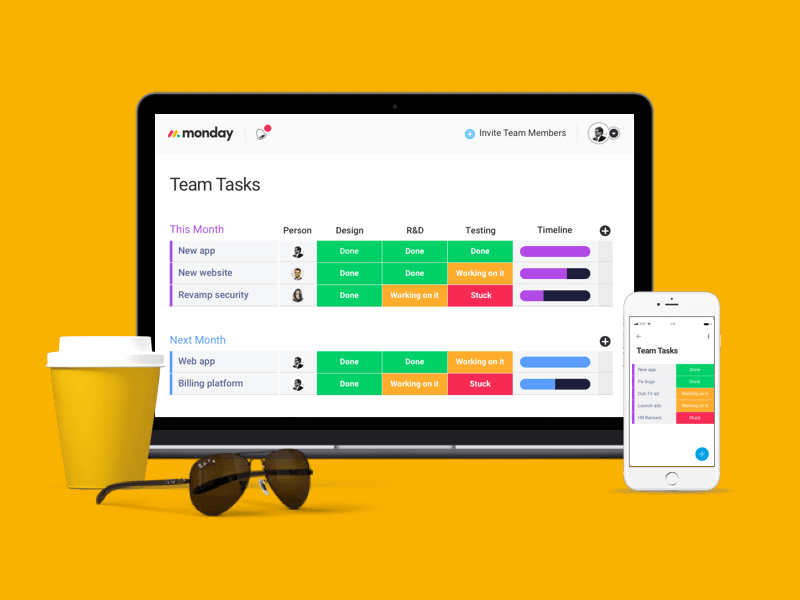 Need to hire a new Junior Account Manager? Completely overhaul a client's website? Order more milk for your coffee bar? Track your clients' invoices?
Great!
No matter the task, monday makes it easier to manage.
Monday is a visually stunning project management tool that is intuitive to use. Its streamlined dashboard allows you to see the status of all your projects at a glance, providing you with quick updates and enabling you to change focus on a dime if needed.
This tool offers many tailored workflow templates for you to start off with, making an already easy setup process even more straightforward.
Shooting a new video? Choose Video Production.
Tracking your website's blog? Choose Content Calendar.
You get it.
Monday will grow with you as much as you could ever want (McDonald's is a high-profile client). It's ideal for solo consultants and enterprises alike.
There is no free version, but plans start for as little as $25 a month.
3. Jira Software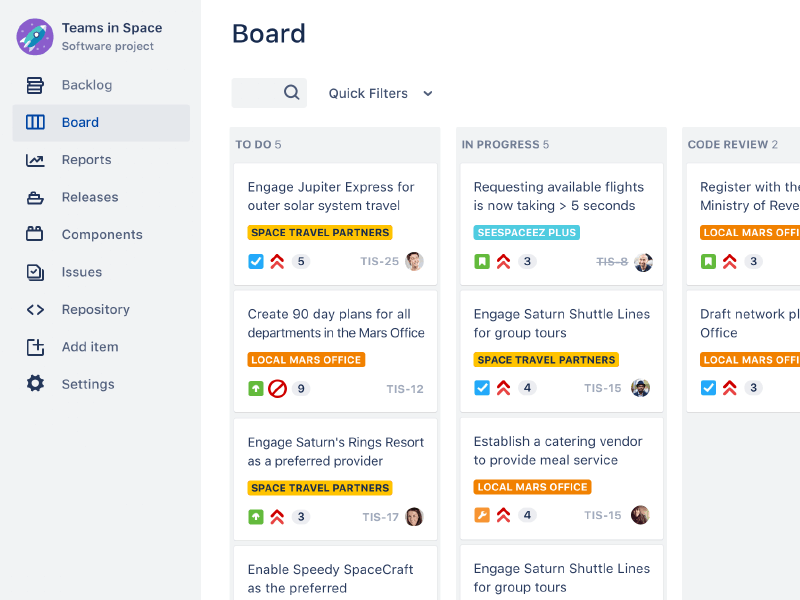 Jira Software is a powerful project management tool that is a favorite among web and software developers for its customizability and easy integration with other systems.
Jira exists to be a platform meant for agile development teams of all shapes and sizes. It is designed to be able to grow and evolve alongside your business.
Digital marketing agencies will find Jira Software most valuable for their development teams and should be used to complement existing tools already in place (like Trello, for example).
Small teams of 10 or under can use Jira at an annual cost of $100, but that can shoot up to as much as $1,050 for teams of 15.
4. Podio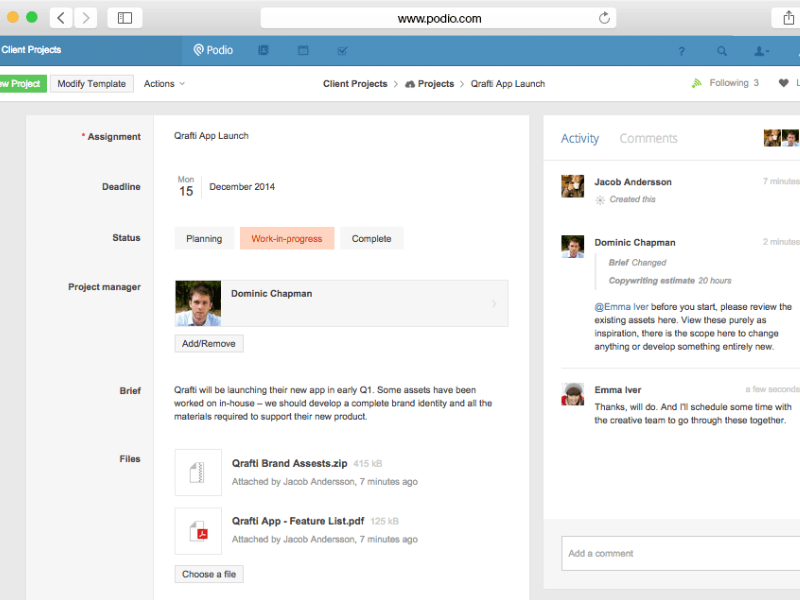 If you're looking for a project management platform that's highly customizable, then Podio is as good as you'll get.
More than 500,000 organizations of all sizes have created and customized more than 1 million projects using Podio.
From apps designed to manage entire small businesses to highly specialized platforms being used by departments in enterprises, Podio is designed to change with your agency as you grow.
Podio prides itself on its incredibly flexible interface and its ability to inspire and increase useful communication within its users.
This enables organizations using Podio to provide the most transparent and efficient service they can (both while increasing their project scopes and accountability).
Podio's basic plan starts at $9 a month (free for teams of five or less).
5. Asana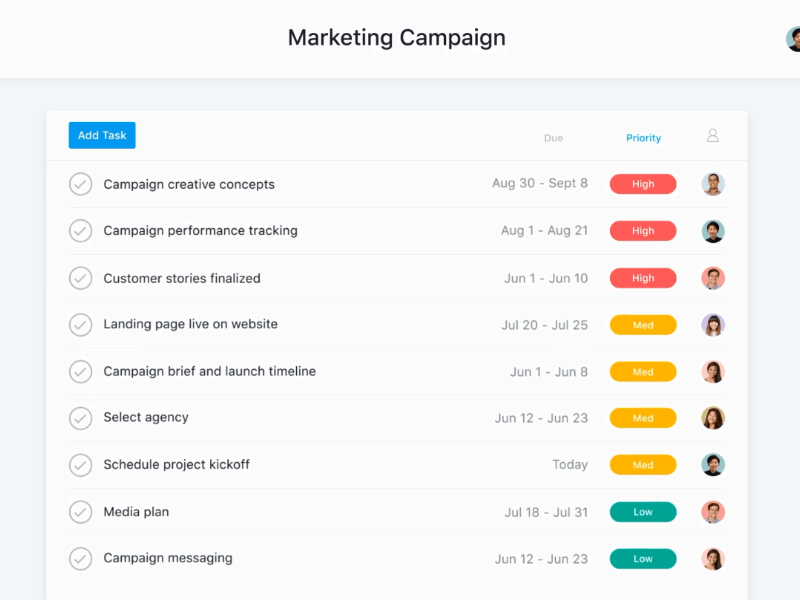 Asana is the self-proclaimed "easiest way to manage team projects, processes, and tasks."
When you're used by teams from the likes of NASA, Deloitte, Airbnb, and Red Bull, you must be doing something right.
Asana is well known for its incredible process templates which can easily be customized and changed to grow with your agency.
The platforms interface is designed to be able to be picked up and used right away, so it is a good fit for teams and users of all kinds.
Within the platform, you can do everything from communicating with project stakeholders to organizing your workflow into projects, tasks, and subtasks. Asana does it all and more.
To boot, easy integration with other software like GitHub and Dropbox ensure that your team can work fluidly in one location.
Asana offers a Lite (free), Premium, and Enterprise version, so your agency will have no issue finding a version that works best.
6. Wrike
Wrike is a leading project management tool used by none other than Google.
Much like some other platforms on our list, Wrike has built its large user base mostly thanks to its user-friendly, highly customizable features.
Gantt charts, custom dashboards, team or user workload view, and intuitive experience are just some of the elements that make it a top choice for large or small teams.
Want to organize your projects by team member, by client, by function, or by department? Wrike lets you do it any way you want — you entirely shape the experience to your needs.
A near infinite possibility of custom dashboards makes sure that you always see what you need or want to, and nothing more.
Wrike's easy-to-use, real-time drag and drop features ensure that whether you're the CEO or a new hire, you'll always be up to date when project scope or details change.
7. Basecamp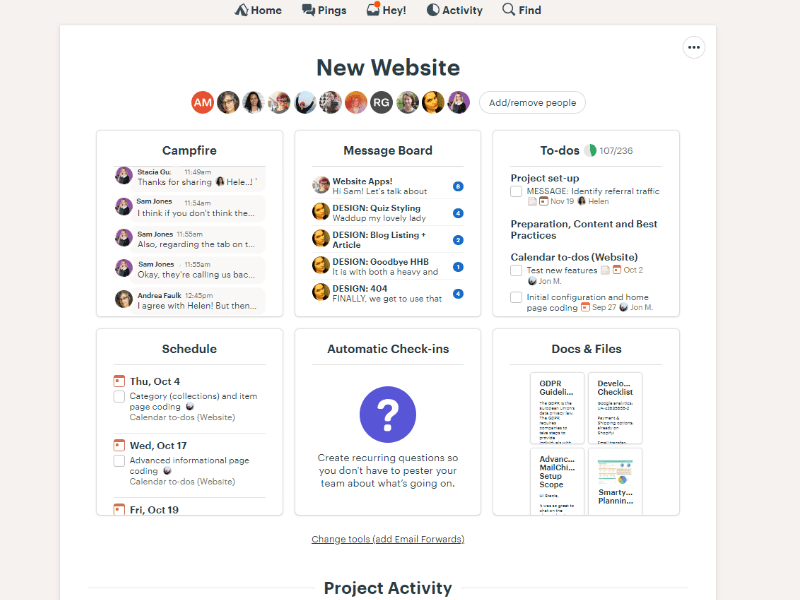 Group chats, to-do lists, messaging boards, schedules, project workflows, file and document storage, reports — anything your team needs, Basecamp puts it all in one place.
Basecamp is loved by teams of varying sizes and disciples all around the world. It's incredibly simple-to-use platform allows for contractors, clients, and non-tech-savvy teammates alike to use it without error.
One of Basecamps greatest selling features is enhancing communication between team members.
Conversations are organized to be associated with projects, keeping everything transparent and easier to manage. Messages, files, to-do lists, and timelines are in the same place for everyone — your whole team is always in the loop.
As Basecamp has a flat fee of $99/month (regardless of user counts), you'll want to use it if you have enough people on your team to justify the price. after that, it doesn't matter how much you grow; you'll still pay the flat fee only.
8. Custom Project Management Tool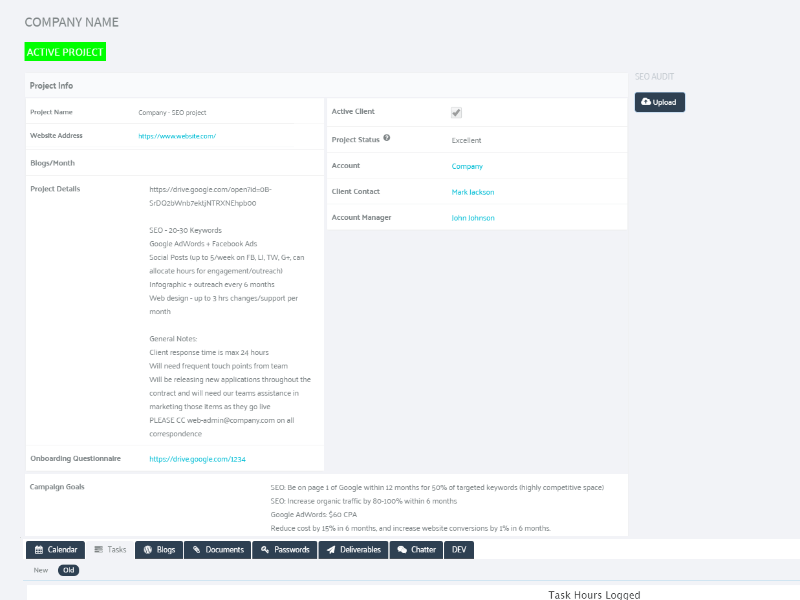 Want to venture off the beaten path? Why not make your own platform that fits your exact needs?
There are many ways you could do this, but an example I have personal experience with is Salesforce enhanced by customizations using Skuid, a cloud UX design-and-deploy platform. Customizations can transform a standard CRM into an all-in-one project management tool tailored to your exact needs.
Using Skuid, you can take a CRM like Salesforce and customize its user interface heavily to suit your needs better. You can do some incredible things, like make entire new project views, build new dashboards for user task organization, create portals made for linking in third-party applications, and much more — we're only scratching the surface.
Skuid's no-code platform allows growing agencies to get the most out of their current CRMs. As your company continues to increase its projects in scope, you can use Skuid to develop more detailed project tracking panels.
Need to find a way to better assess ROI? Link your CRM with your software and use Skuid to create a beautiful revenue/profit dashboard.
The possibilities are endless, but using a custom solution is not a set-it-and-forget-it option.
It requires a significant time investment to deploy, and may even require a full-time staff member assigned to its maintenance.
However, the potential to build a tool that is precisely tailored to your exact workflow, needs, and priorities is immeasurable and cannot be matched by any standard project management software.
Conclusion
Regardless of which tool you end up choosing for your project management needs, remember that purchasing an exciting new software alone will not get your agency to where you want it to go.
It's about direction — how well is your workforce going to receive the change in process? How are you going about this change in workflow? What is the conversation you are using to start this new chapter at your agency?
These are all things to think about hard.
Remember, scaling your agency is all about the people. The tools we discussed above are meant to complement them. Before choosing which software to use, think — what fits my current company direction and vision best? What will the team like using most?
Even better — ask them!
They'll thank you for it.
More Resources:
---
Image Credits
Featured Image: Created by author, September 2018
All screenshots taken by author, September 2018