SEO is always getting more challenging.
Machine learning and RankBrain are among the biggest challenges.
However, one of the biggest frustrations is the lack of keyword-level data from Google.
Today, we work with less data than ever from Google, which makes it hard to do our jobs well.
Google started taking away keyword-level data in September 2013.
Keywords became "(not provided)".
We all just had to get used to it.
Without access to the same keyword data, we had to adjust to a new way of doing things.
Now it's five years later, and "(not provided)" is still making it hard for us to make informed decisions on SEO strategy.
SEO is also more dynamic than ever before. Organic search results are continuing to get pushed down the fold in the SERPs due to elements like special content results blocks and paid search ads.
So what can we do?
While there are many tools on the market that provide workarounds for "(not provided)", here are the top six ways to get around it.
1. Use Google AdWords
Google still provides keyword-level data for those running paid search campaigns.
SEO pros should be working closely with their PPC team and sharing keyword level learnings to see which keywords:
Convert well.
Don't convert well.
Attract a lot of traffic.
Cannibalize organic search.
This is a win-win for both parties.
Stop thinking of paid and organic search as separate channels – it's all one search experience.
2. Use Historical Data
If your site has been online for a long time, look back at your data before Google made the change. See which keywords provided the most conversions and traffic.
You could find this data in your old ranking reports or synergy reports.
Branded keywords should provide a decent amount of traffic and conversions, but pay attention to branded keywords that may no longer rank in the top 3 listings that used to drive visibility and performance.
SEMrush provides a good amount of historical data if you can't get access to your past analytics.
3. You Can Still Get Limited Data from Your Analytics Platform
Google secure search is still not 100 percent, although it is close (usually it's 90+ percent).
So Google still does give some data for unencrypted keywords.
Look at your analytics and see what keywords are still provided and driving traffic and conversions.
This can help you with your SEO strategy.
4. Look at Page-Level Performance
Keywords are still important for SEO but so is looking at performance at the landing page level.
Grouping pages together according to the hierarchy of your site can give you some insights into organic performance for different categories, subcategories, and products.
5. Don't Forget About Your SEO Platform
BrightEdge, Searchmetrics and other SEO platforms provide estimated keyword level data as well as page level performance that can help you uncover keyword opportunities to improve your client's SEO performance and help with strategy
6. Google Search Console
Google Search Console (GSC) is one of the best free gifts Google has given us after they took away keyword-level data all those years ago.
It is important to pay close attention to your search analytics.
In Search Analytics, you can set up query filters and see which keywords have clicks and impressions.
While GSC does not provide conversion metrics, the data that it provides is a good indication that the keywords that have a lot of clicks and impression may be a good target.
Plus, if you match it up with Google AdWords conversion data, you have a winning recipe for success if you are bidding on that keyword.
You can also filter by device, country, and pages. With the mobile index rolling out, it is important that you look at your queries from smartphones and see which keywords have high impressions but a low number of clicks.
This could be a good indication that you need to update your meta descriptions and write more compelling descriptions to increase your click-through rates and drive incremental traffic to your site.
Data Limitations for Page-Level Performance
Looking at things at the landing page level (e.g., visits, pageviews, etc.) still does not tell you the story of what the customer used to find your site in organic search.
Conductor and my company, Acronym, have helped bridge this gap by including a direct integration of our patented keyword not-provided algorithm into the Conductor platform which shows keyword-level data.
Having access to keyword-level data allows you to:
Uncover what keywords are resulting in conversions.
See what keywords are driving traffic and performance.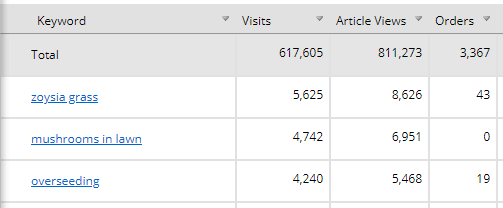 One of the biggest questions that clients often ask their agency is "should we be buying branded keywords?"
The answer may not be that simple unless you have the right tools and technology or have run multiple tests to answer that question.
To make it easier, we built this into our tool KeywordObjects (KO) platform which is integrated into Conductor. KO provides details on keywords with corresponding SEO rank and PPC position.
Just to give an example of how this works – with a higher PPC conversion rate, and low CPC cost, PPC brings in greater value and is needed to achieve total revenue.
With the way that the SERPs have changed over the years and Google pushing organic results further down below the fold, SEO and PPC must work closer together.
With a direct integration into the Searchlight platform, clients can see the value of search by having paid and organic side by side. Viewing paid and organic side by side can:
Increase placement in both paid and organic results.
Decrease spend on PPC.
Maintain presence and focus on engagement.

Conclusion
With many great solutions from leading SEO platforms (e.g., BrightEdge, Searchmetrics), looking at search from a holistic perspective (i.e. paid and organic playing nicely together and looking at keyword-level and page level performance) is still possible with some good data sources and some great tools.
More SEO Resources: