The Search Analytics section of Google's Search Console gives you Google's view on your website's keyword performance. You get to see essential SEO data on impressions, clicks, and CTR at both the query and page level.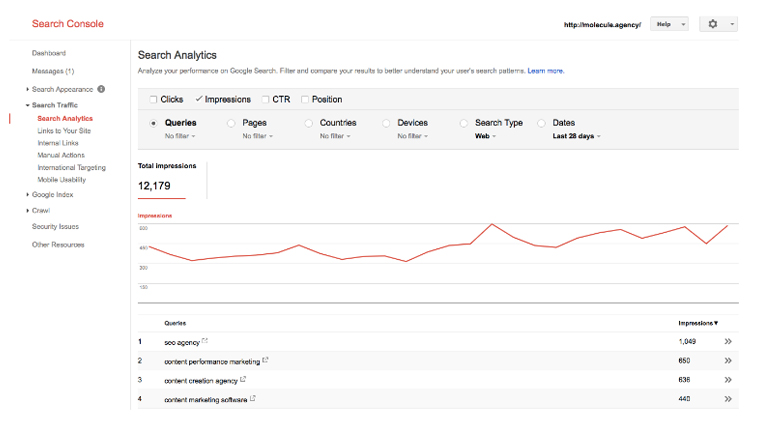 However, there are still three big limitations:
It's hard to see and navigate between pages and queries. Your pages often rank for more than one query. Cannibalization can be an issue. Additionally, pages can swap positions in the SERPs for the same query.
90 days of data isn't enough. Google makes it hard for us to track long-term trends and do comparisons.
There's a lot of data in Search Console, but it's hard to get to the insights. Wouldn't it be great if we could know more about data that's changing, CTR curves, and relative performance?
Whenever SEO professionals discover data or software limitations like these, there's usually a solution available. In this case, there are actually three! Lucky us.
Here are three tools that integrate with Search Console — and will make your search data more valuable.
1. Console Rocket
Console Rocket is a free tool created by enterprise SEO platform Linkdex, albeit on a separate domain.
This tool gives you a lot of data. More than 100,000 keywords were returned for one of my client's domains. These keywords can be exported as well — and it will be stored for over 12 months!
Console Rocket has also pulled together keywords and pages with some really nice drill downs. The tool even helpfully tags keywords into branded and unbranded groups for you.
What's more, all of these can be filtered, including boolean-like queries for digging into keyword groups. There are also easy to use keyword filters called 'Show Me's'. These include:
Keywords that have recently gone missing.

Keywords that have recently been found.

Top and low performing pages (Clicks and CTRs).
Console Rocket provides CTR curves for all of your devices. The differences are quite fascinating between devices, branded and non-branded keywords, and even clients. If you do forecasts using CTR by position data, you must check this tool out.
Bonus points to Console Rocket for error reporting and the ability to mark errors as fixed from within the tool.
2. Search Analytics For Sheets
Search Analytics For Sheets is another free tool. It offers a great way to make your Search Console data accessible via Google Sheets.
With that comes lots of features you don't get via the web interface. Plus you get to use the power of Sheets with your data.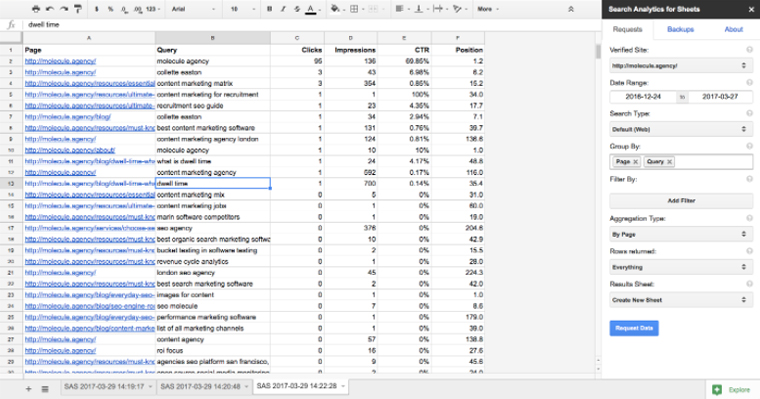 Integration is fast and easy. Once open you'll see the right sidebar, which you'll be using to analyze your data.
One of the highlights is that you can apply Groups and Filters. Groups are Date, Page, Query, Country, and Device. The filters apply to the same parameters, but with the addition of rules like Query EQUALS.
The greatest strength of this tool is also its greatest weakness — it's in Sheets. You have to like spreadsheets and be prepared to work with the data to see the insights. If you're prepared to do that, there's loads in here to help you.
Another big benefit is the ability to create charts, reports, and shareable documents.
The scheduled backups are also really great. Set them up to run every third of the month and you'll get the data safely stored for you.
3. Search Console Helper
Search Console Helper is a paid product. It costs €299 for a 12-month license and offers a free trial.
It's not SaaS, which means it runs locally on your PC. There's no native Mac version, which caused me a minor issue.
However, running locally means you don't need Internet access. So if you like to crunch data while on the move, this could be a killer feature for you.
All of these tools are accessing the same API data, which means the data and the dimensions are similar. This is a good thing.
But Search Console Helper goes further. You get additional features that the free tools don't offer, such as the ability to combine your data with Google Analytics data and the addition of backlink data.
SEO Platforms With Search Console Integrations
In addition to these three tools, there are other SEO solutions that can help you do more with your data through Search Console integrations. These include BrightEdge, Linkdex, Searchmetrics, SEMrush, and Raven.
These solutions all range in price points, capabilities, and features. So check them out, try them out, and figure out which is the best fit for your needs. This will depend on how you work, the size of your company, and your budget.
With all these choices in tools and platforms, it's a great time to be in SEO. There are so many ways to access, analyze, and store the data that helps us make decisions on content and how best to optimize to increase traffic and revenue.
Image Credits
Featured Image: Pixabay
Screenshots by Collette Easton, taken in April 2017.