This is a sponsored review. WebCEO provided access to an enterprise-level account for SEJ to review.
WebCEO provides an accurate description of their services simply through their company name. Their platform can essentially run your SEO team, complete with white labeled automatic reporting in any language and a robust system that not only shows you what to fix, but also shows you how to bring in more website views.
Tools You Will Love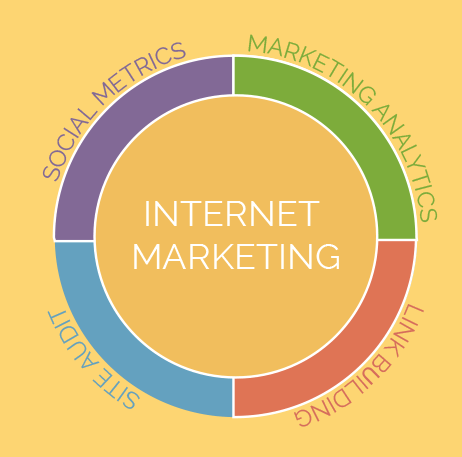 Let's break each category down within four main areas of concentration: site audit, kink building, social metrics, and marketing analytics.
1. Site Audit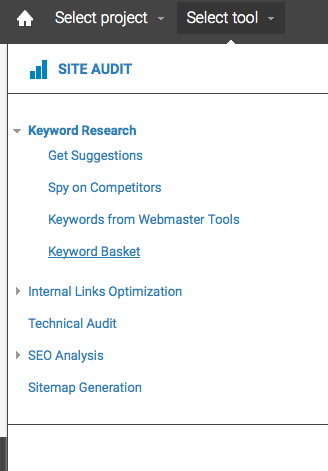 The site audit category begins with keyword research for your site that includes a "Spy on Competitors" feature. A "Technical Audit" tool then checks for broken links. Then, you can conduct a general "On-Site SEO" analysis before optimizing individual landing pages for specific keywords.
I really want to point out how comprehensive this program is. I felt like every time I went to check out one feature, I found another feature I just love.
Since there is a ton to show you under Site Audit, I'll focus on a few of my favorites.
Landing Page SEO
This feature allows you to target specific pages and blog posts to check for optimization and page analysis. Here is how you use this tool:
Choose a landing page from the drop down menu or add another to focus on.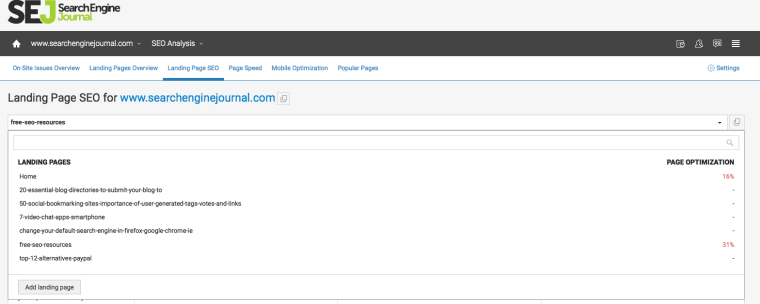 Once you choose the page or post you'd like to focus on, click on "Add Keywords". Then, the system will pull from words found within the page, or you can manually add more.
You can also see above where WebCEO displays the number of searches per month based on keywords. (This is shown on a local and global level.) So you can input a list of keywords, see which ones make sense from a search perspective, and optimize each of your important pages based on those results.
After you select your focus keywords, hit save. WebCEO then scans each chosen page and develops a report detailing any critical issues and tells you what to fix to achieve higher rankings.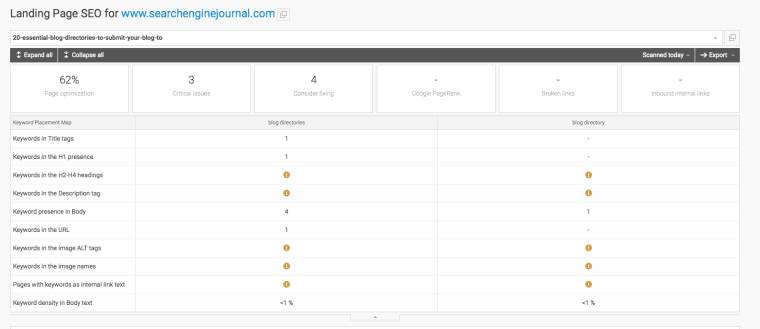 Page Speed
You can also click "Page Speed", which instantly calculates your speed. It also offers advice about increasing the speed of your website.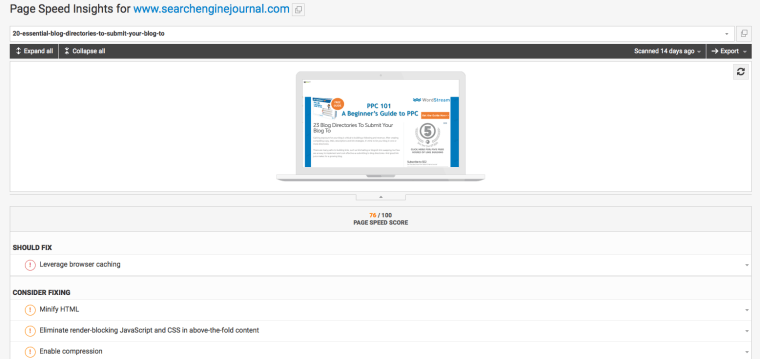 Mobile Friendliness
You can also view how your page looks on mobile devices. This is especially important after Google's Mobile Search Algorithm, where mobile friendliness is now treated as a ranking signal.

These audits can be done by page or post. Talk about a deep level of insight to your website and blog!
Page Authority & Internal Link Optimization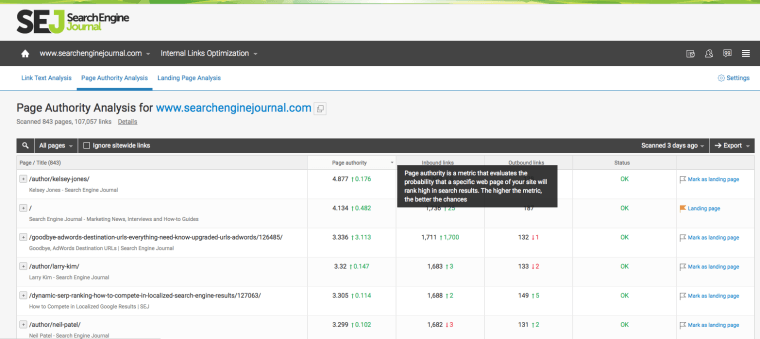 Page authority is the likelihood of a specific page appearing in the search results. When you click on "Page Details" in "Internal Link Optimization" you will see a list of inbound and outbound links.
2. Link Building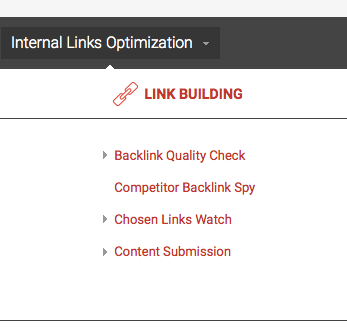 I am realizing with WebCEO, each section could be broken down into a separate post. But, to keep this one moving along, I'll pick just a couple of things to focus on. Let's first target "Backlink Quality Check".
Backlink Quality
You will find this in the "Toxic Links" report.

Here, you can manually go through your links and check which ones are ok, or disavow the ones you deem toxic to your site.

Content Submission
Under the "Link Building" category, you will also see an entire section on content submission. Here you can set up your website for submission to local and niche directories and search engines that allow automatic submission. If you run a brick-and-mortar business or target a local audience, the "Local Submission" tab will be of great help.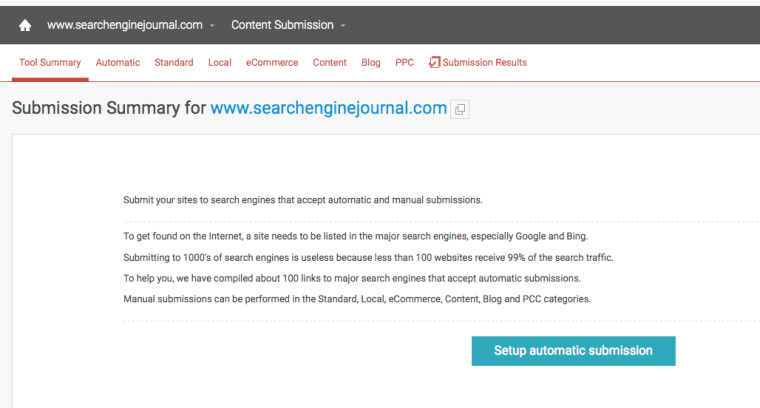 You then click on the resources where you want your website submitted.

3. Social Metrics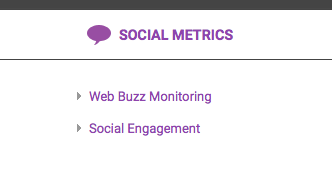 This section is extremely valuable in my eyes. It allows you to reach out to potential partners, find people to follow on Twitter, see what is going on in Google News that relates to you, and find a bunch of marketing opportunities all in one location.
Track Social Engagement
Within "Social Engagement", you get an accurate view of how your social media efforts are paying off. Here is an example: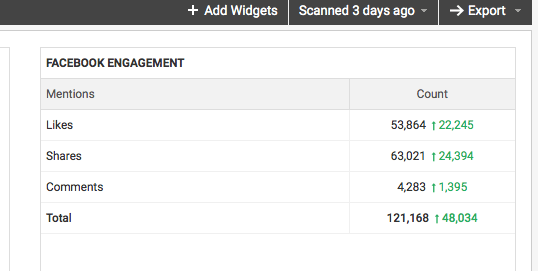 Compare Against Competitors
This allows you to see how you compare against your competitors on Twitter, Facebook, and Google+. This section also provides an overview of the social interactions for each blog post.

Side note – this would be an excellent way to find the top posts with the social media traffic numbers for your competition!
In the "News and Blogs" area, you will see what keywords (and what competitors) are mentioned. This is a quick way to find out who is talking about topics you are interested in ranking for, and a good place to where to find potential linking partners.
4. Marketing Analytics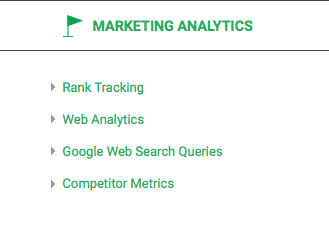 This section shows you reports detailing where your site ranks in the search engines. You'll also glean information about your competitors' search position. WebCEO's "Rank Tracker" will help you check your keyword rankings across 350+ global and local search engines, monitor your mobile and YouTube rankings, as well as Google Places, Image, and Shopping results. You can even track your social media profiles and other external landing pages for rankings as if they were part of your website.
Using WebCEO for Your SEO Needs
For Agencies
Not only will the full list of tools help you, but it also allows you to send professional, white-label reports to clients. Reports are really easy to view, and they can be emailed to via PDF or CSV files on an automated schedule.
Simply choose which reports are to go out and when. Your clients will get constant updates without any extra effort on your part.
Note that agencies can also allow their clients to use the tools themselves on the above mentioned white label sub-domain. Reports don't always have to be read-only, which is great when you have clients who want a more hands on experience.
Have a client whose native language is not English? Not a problem with WebCEO. Simply add a language from the "My Account" tab on the far right corner.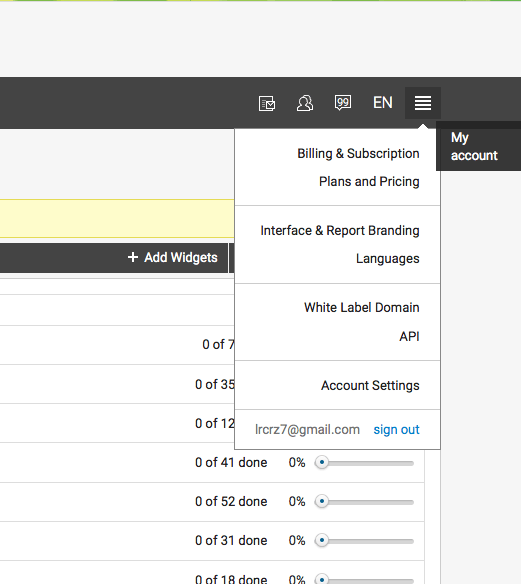 Click on "Language". You can then choose from a large selection of languages that can be used in your reporting.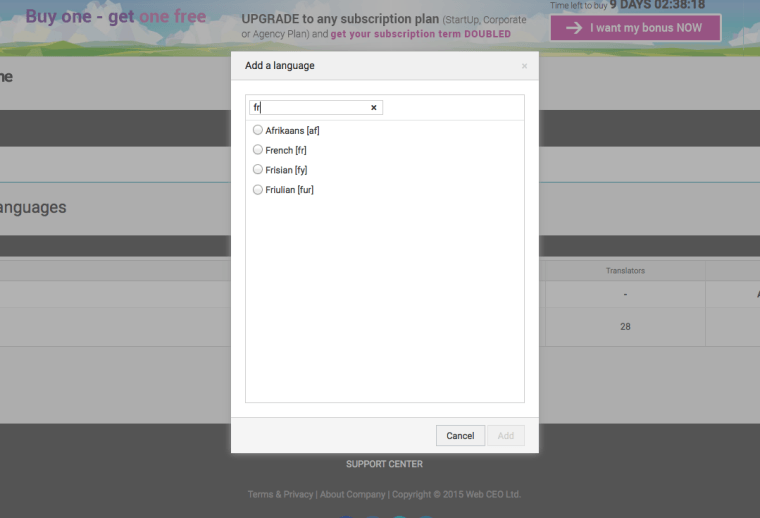 You can easily select the language of your choice by clicking on the "EN tab" on the menu bar.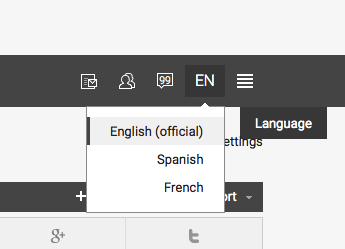 For Site Owners
If you are a website owner and you are not sure exactly what to do with all this information, WebCEO provides a thorough online training course, found in the project dashboard.
The course is called "Do It Yourself SEO". Here, you'll find tasks to complete with detailed instructions. Even if you have already done some of these tasks, you may find there is one more thing you can be doing to rank better. And, when done in the systematic way that WebCEO allows, you will begin to see results for your efforts quickly.
Final Thoughts
My favorite thing about WebCEO is the ability to zero down to specific pages and get a ton of insight. There are also several activities you can set to automatic, including scanning for updates in rankings, backlinks, and site metrics. All of these automated activities can free up your time to focus on other marketing efforts.
The system itself is extremely thorough and can keep an entire SEO team busy with a structured work outline.
Sign up for the unlimited time free version, which allows you to rank check six keywords, find and analyze 20 backlinks, and audit the homepage of two websites. Check it out and let me know what you think in the comment box below!
All screenshots taken April 2015