This post is Sponsored by Search Marketing Expo – SMX East, September 30 – October 2 in New York City.
Leading search marketing conference, SMX East, is returning to New York City on September 30 through October 2 at the Jacob K Javits Center. Last month we did a general preview about what to expect at SMX East, this month we're going to focus solely on the world-class speakers in attendance.
You'll hear from:
Brand marketers from the Fortune 500, e-retailers, and innovative startups. Learn the latest from Microsoft, Buzzfeed, The Home Depot, Microsoft, Yahoo, IBM, Expedia, and others.
Experts from full-service and boutique agencies with experience managing countless campaigns of all shapes and sizes.
Speakers from Google, Bing, and other media companies will be there, too. Don't miss your chance to put your questions directly to the search engines.
While we can't possibly highlight all the speakers in this one post, we'll highlight a few that are worth the price of admission alone.
Keynote with BuzzFeed Founder & CEO Jonah Peretti

Everyone likes to talk about creating buzz, but few have mastered the art of making content go viral like Jonah Peretti. He's the founder of BuzzFeed, the wildly popular social news and entertainment website that has scored huge successes with quizzes, listicles, and even long-form content.
Learn about leveraging the viral aspects of the internet during Peretti's keynote that will touch on the most compelling uses of social media, the new wave of brands and native advertising, where search marketing fits into the mix, and more.
Can't Miss These Speakers, Either
Bruce Clay
President
Bruce Clay, Inc.
@bruceclayinc
Bruce Clay is founder and president of Bruce Clay, Inc., a global Internet marketing optimization firm providing search engine optimization, pay-per-click, social media marketing, conversion rate optimization, SEO-friendly web design and architecture, and SEO tools and education.

Courtney Seiter
Head of Content Marketing
Buffer
@courtneyseiter
Courtney Seiter is the community manager for Raven Internet Marketing Tools. She has been a writer and editor for more than a decade at publications including Allure, Playboy, Time Out: New York, and The Tennessean. She blogs regularly at Marketing Land and Social Media Club.

Marcus Tober
CTO
Searchmetrics Inc.
@marcustober
Marcus Tober studied computer science in Berlin and started his career by developing the known SEO platform linkvendor.com. This passion to every kind of search engine data led to the founding of Searchmetrics in 2005. Today Searchmetrics is a worldwide leader in Search Analytics solutions with nearly 100 employees and offices in Berlin, New York, London, and Paris.

Paul Corkery
Senior Program Manager
Microsoft
@c0rk
Paul Corkery is an SMB Operations Program Manager for Search Platform and Tools at Microsoft. He is responsible for representing the platform and tool needs of SMB advertisers to adCenter engineering partners. This includes support for customer experiences across adCenter Web, Desktop, API, and tools like Microsoft Advertising Intelligence (MAI).

Erin Everhart
SEO Manager
The Home Depot
@erinever
Erin Everhart is an experienced digital strategist, content developer, and search marketer. She's currently an SEO Manager for The Home Depot and has previously worked agency-side for mid-sized business and Fortune 500 companies. She speaks regularly on digital strategy, inbound marketing, and conversion rate optimization at conferences nationwide, including Pubcon, SMX, and ClickZ Live.
And so many more!
Make sure to check out the full list of speakers, all of whom have a tremendous amount of experience, valuable insight, and unique skill sets to learn from.
Take Advantage of Advance Rates – Expiring August 29!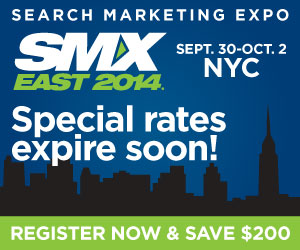 With an SMX All Access pass you get all of the conference's sessions, keynotes, in-person and online networking activities, as well as all parties and other fun stuff. Best of all, they are offering a discount if you buy early. Register in advance and save up to $200!