BIA Kelsey predicts that 169 billion calls will be made to businesses from smartphones by the year 2020, as mobile engagement increases and mobile technology evolves.
Chances are, you're part of the 51 percent of mobile searchers who admit to calling businesses often (and so am I).
But just because mobile technology is increasing our inbound phone leads, it doesn't mean we should go all in on this marketing channel.
Not all calls are legit – call fraud in PPC persists.
Call fraud is not the same as phone fraud, which uses telecommunications to scam people out of money.
Call fraud happens inside of PPC campaigns set up to help drive calls from consumers to the business that's advertising.
When marketers think of fraud in PPC campaigns they think of click fraud (programmatic or DoubleClick, for example) but they don't often think of call campaigns.
Call fraud isn't nearly as much of a concern as click fraud is in search campaigns, according to eZanga, but it still happens.
Many advertisers experience fake, spammy or fraudulent calls that disrupt their PPC campaigns.
Some people think it's impossible to prevent click fraud in click-to-call campaigns:

The good news: preventing click fraud isn't impossible!
In fact, it's one form of fraud that's possible to prevent and we'll show you how.
Starting with why marketers love call tracking, we'll uncover the value of PPC calls and then, using live interviews, we'll reveal how the industry is preventing call fraud and how you can prevent it in your own campaigns.
Why Search Engine Marketers Love Call Tracking
Picture this: It's Sunday morning, you've got a birthday party that afternoon but you're completely unprepared. You search for a party supplies shop near you to get some last minute balloons.
An ad appears for a party, gift, and novelty store nearby that says it can cater to last-minute balloon arrangements. This is no time to bookmark that business in your browser – you need service fast! You call that business right then and there to order those balloons, stat!
These types of situations happen millions of times every day, driving calls to businesses from search engines.
Advertisers include call extensions in their ads and hope they show up or run what's known as call-only campaigns. The call-only ads look something like this on Google: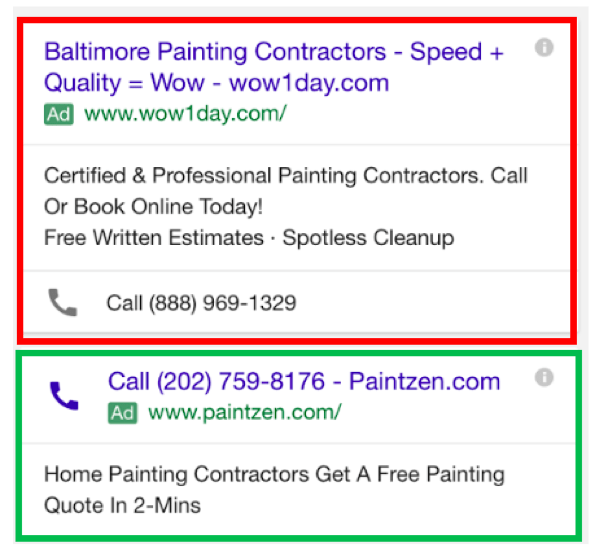 AdWords and Bing call-only ad campaigns were designed to make people call your business.
Compared to website or landing page campaigns, click-to-call ad campaigns inside the mobile sales funnel generate leads faster: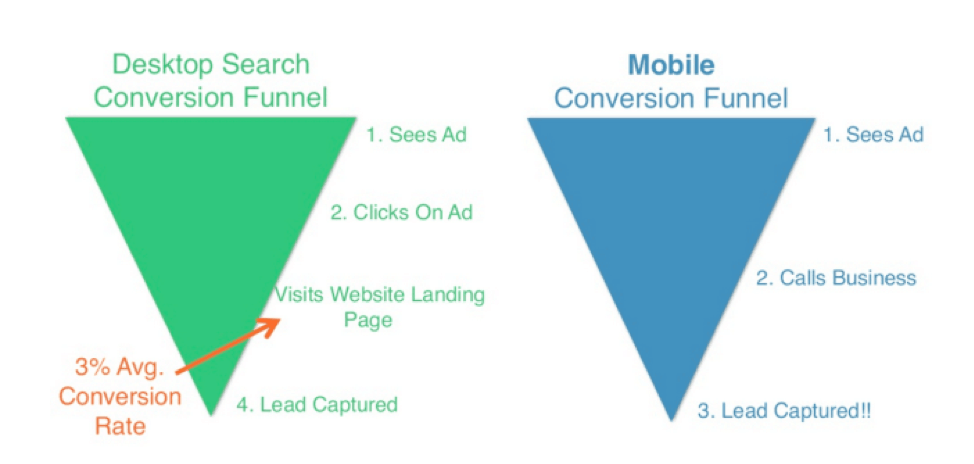 Call-only campaigns can also be cheaper for PPC marketers, which is one more reason to love them: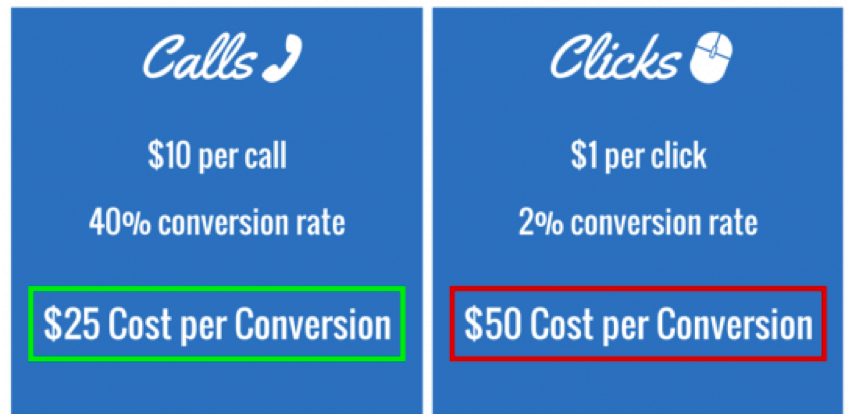 Additionally, call tracking is particularly important for certain types of industries like legal consultation, medical services, auto insurance and other high-involvement B2B business categories that are best dealt with over the phone.
Moreover, call tracking:
Completes PPC campaigns for businesses that rely on leads from incoming phone calls from their online ads.
Tells you which call came in through an online ad or landing page using which keyword.
Gives you information about that lead and metrics related to the actual call itself like call time, date, duration and call quality (call score), which can help you ensure that you aren't getting fraudulent calls.
When Call Tracking Goes Wrong
Call fraud happens a couple of ways inside PPC campaigns.
Irrelevant and spammy calls are often generated in PPC campaigns with poor location and/or keyword targeting. Who wants to get calls for a region they don't serve or a service they don't provide?
Sometimes call campaigns are assigned what's called "dirty numbers," which means they've been used before by another business. That means that people may already know this number as a result of being associated with a past business or it may even still be appearing in some older search results for that other business.
When advertisers get assigned "dirty numbers" they end up paying for leads that are irrelevant and were really intended for another business. This is more of a spammy type of call fraud.
Another reason call tracking goes wrong is because of premeditated fraudulent activity and schemes that make publishers and affiliate networks money, but cost the advertiser. Chief Marketer elaborates on an example call fraud scenario:
"One common fraud scheme is the 'secret shopper' method, where an unsuspecting person answers an ad on a place like Craigslist and signs up to participate in what they are told is a secret shopper study. The person then calls the company and stays on the line for a predetermined amount of time, acting like they are a prospective customer but never actually making a purchase. The publisher selling the leads pays the innocent person for the time, and is then paid by the marketer for the 'lead,' which isn't really a lead. The calls come from all over the United States from different numbers, and to the unsuspecting eye look legitimate, but aren't. 'People don't realize they are perpetrating a fraud—they think they are participating in a legitimate study,' says Williams."
Call fraud can result from poor campaign set up, from being assigned a dirty number or even in a more organized and serious fashion like secret shopper affiliate schemes.
Advertisers shouldn't have to pay for fraud (and some can't afford to), so let's look at how to prevent it.
How the Industry Prevents Fraud in PPC Campaigns
Third-party call tracking providers don't like to talk about fraud in their industry because it doesn't encourage new advertisers to adopt this technology inside their PPC campaigns.
That being said, since fraud is a reality in all online digital advertising channels, some third-party providers have risen to the top, talking openly about these issues and rebuilding confidence in call campaigns and call tracking providers.
Call tracking provider Invoca explains that they have to address affiliate call fraud or the industry will stop investing in these types of technologies.
We caught up with Ian Dailey, senior product director for Invoca, at SMX Advanced earlier this month to talk face-to-face about how Invoca is preventing call fraud for their clients:
Invoca works to combat fraudulent robocalls from connecting to their systems in the first place using four main techniques:
Their technology can understand audio signals on phone calls to detect fraud. They also set up what's called "honeypots" that are not connected to client accounts but will still get robocalls. This tends to be a dead-giveaway that those are fraudulent calls. So they apply that analysis to future fraud prevention efforts.
They use dynamic phone numbers on a website and they know when it's been inserted. So if that dynamic number gets calls outside of when a campaign is live, that's usually an indicator to them that it's a fraudulent call and they're added to a blacklist.
They maintain a blacklist of numbers that are coming from known fraudulent places.
They collaborate closely with industry and law enforcement as well. So they work to stop bad actors before they start making calls.
We also caught up with Jason Tatum, product manager and product owner for CallRail, to learn how they're actively working to prevent call fraud:
CallRail's main methods for blocking fraudulent callers are:
Backend technology and tools that can remove fraudulent callers from your dashboard and block these callers forever.
Their system allows customers to mark certain calls as spam and create settings that force robocalls to press 1 (for example) to prevent them from getting through.
An API detection system is in place to monitor for too many concurrent calls or call rate limits that are skyrocketing for some reason, which alerts their team to manually shut these campaigns down, often before the client has realized that a fraud problem has occurred.
The good news is that some call tracking providers only charge for qualified calls and marketers can typically determine qualifiers ahead of time.
Active Demand reminds us that not all calls are conversions and that the integrity of our call tracking data relies on being able to omit fake or spammy call activity:
"Tracking phone calls is important, but it's equally important to understand not all calls lead to conversions. Marketers need to filter out the noise and get the correct metrics to track the REAL calls. Complete call tracking solutions from ActiveDEMAND filter out the spam, solicitors, and unrelated calls from the relevant PPC ad inquiries. Additionally, don't waste sales time on junk clicks and inbound phone calls that aren't worth consideration. Solutions like ActiveDEMAND enable the ability to set 'rules' for phone calls so only true leads are counted as conversions. Being precise about conversion criteria gives a more accurate assessment of paid search performance."
When advertisers are working with third-party call tracking providers they want to know that they provide robust mechanisms to prevent and block fraudulent calls in their call campaigns.
PPC marketers (and, well, every other type of marketer actually) only want to pay for the conversions.
How You Can Prevent Call Fraud in PPC Campaigns
OK, so truthfully fraudsters will always find new ways of "gaming" the system.
But, in the meantime, you can fight back.
Understand Your Own Click-to-Call Ad Performance
The best way to prevent fraud is to actually understand your own click-to-call ad performance.
By using dashboard analytics and metrics you can get a high-level view of what's working but also see when things go wrong: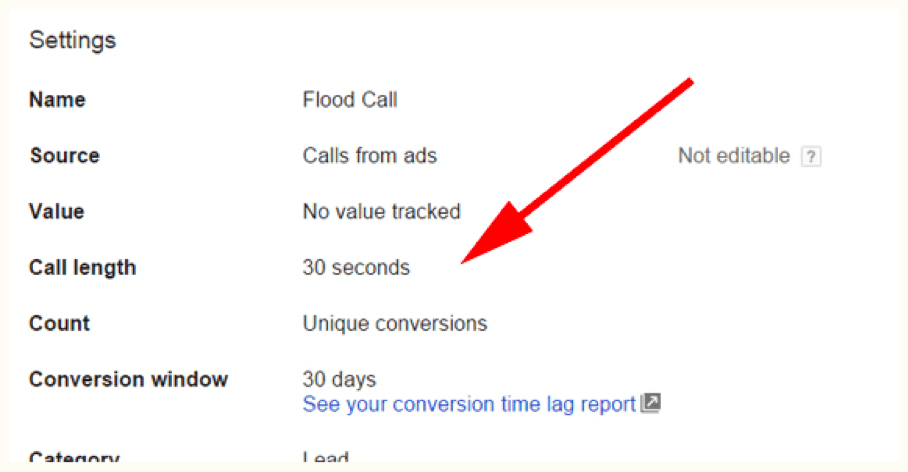 Metrics, like value, can be added and low-value campaigns can be investigated. Call length can be another important indicator of ad and/or campaign performance.
If you notice a high number of short call length calls in one campaign, you could investigate why this campaign is generating potentially spammy leads.
If you know the source of the problem, you can prevent it.
If you have a tracking system in place you'll be able to identify when things don't go the way you expected.
Keyword-Level Prevention
Call tracking can provide rich data about keyword performance, like what keywords led to direct calls to your business.
Some call tracking providers have keyword-level tracking that uses additional data to tell you which ads led to the most conversions.
When trying to combat fraud, keyword data associated with PPC campaigns can also be really effective.
If you have data that shows which calls were bogus and an associated list of keywords that you're bidding on that are driving those calls, you may want to rethink it and actually stop bidding on those terms.
Maybe the word "free" is included or some other spammy or toxic word leading to poor quality inbound call leads.
A member of Google's online ad community responded to the problem of spammy leads in call-only campaigns and discusses how keyword targeting can be the source of the problem:

Call Quality Screening
Amy Bishop, director of audits, onboarding, and training for Clix, discusses the importance of call quality to be able to make budget decisions accordingly and maximize the ROAS as much as possible:
"If using call extensions, it's beneficial to set length-of-call standards for conversion tracking. This helps to weed out junk calls to ensure that you are optimizing toward quality traffic. It's also beneficial to track calls (click-to-call, at minimum) in your site analytics platform to be analyzed and reported among other on-site data points. Last but not least, you should understand the value of a call based upon close rates and sale values, so that you can allocate budget and optimize accordingly, especially when other conversion factors are also in play."
Using Interactive Voice Response (IVR) to Stop Fraud
Fraudulent calls in PPC campaigns can be:
Irrelevant.
Spammy.
Part of a broader scheme with more malicious intent.
In all three cases, a simple automated phone responder can help filter out unwanted calls.
IVR is a common call response system that asks callers to dial 1 to speak to customer service and dial 2 to speak to sales, for example.
That way callers who want to speak to your business legitimately will continue on through the phone system, but spammy calls often won't bother and irrelevant calls will simply hang up – without you having to spend time on them!
Calling Quits on Call Fraud
The first step to preventing call fraud in your PPC campaigns is by assessing the types of calls you're getting in the first place.
If you find that there a number of low quality calls lasting less than 10 seconds, set a higher call duration in your campaigns so not every call shows up as a lead or conversion.
If you find that you're still getting a lot of spammy calls regardless you could investigate the number you have for your campaign and see if it previously belonged to another business.
If you're using a call tracking provider, your chances of preventing fraud in your campaigns are much greater than if you weren't.
Call tracking providers prevent fraud in the backend, often before you even realize it's happened. They are also constantly monitoring on your behalf because they have to protect all their customers with reliable measures.
However, if you're working with a call tracking provider and still having problems with fraud, speak to your provider – some will only charge you for qualified call leads.
When it comes to call fraud, there are solutions that are accessible to you today, and on top of that, the industry is doing its part to increase your call quality.
As our dependence on mobile information increases, we want high-quality call leads to increase as well – so let's cut the spam and make that happen!
More Paid Search Resources:
---
Image Credits
Feature Image: Unsplash
All screenshots taken by author, June 2018