To drive more sales, ecommerce businesses first need to rise to the top of both paid and organic search results and earn lots of high-quality traffic.
Between creating the right bidding strategies, segmenting your audiences, and showcasing effective content to bring more shoppers to your store, selling your ecommerce brand on search can quickly get complicated.
On May 8, I moderated a sponsored SEJ ThinkTank webinar presented by Ethan Cohen, Head of Customer Success – Enterprise & Strategic US Brands at Yotpo, and Joseph Yakuel, Founder & CEO of Agency Within.
In the webinar, Cohen and Yakuel shared how to effectively sell your ecommerce brand on search and stand out from the competition with user-generated content (UGC).
Here's a recap of the webinar presentation.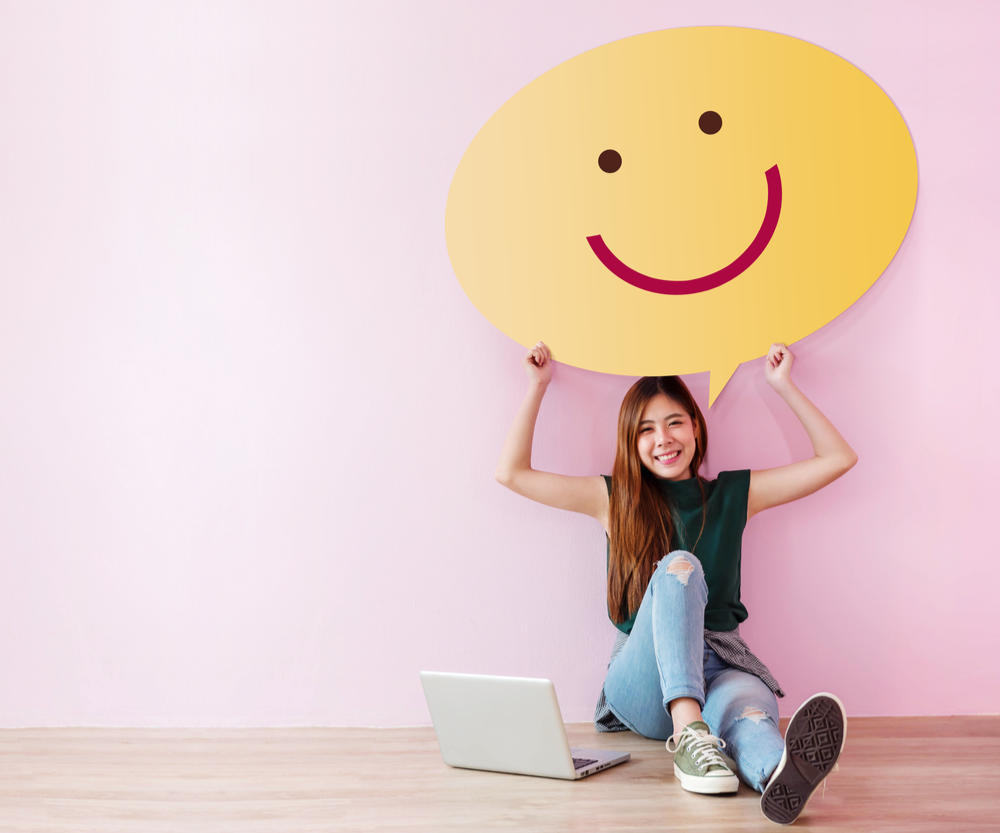 The State of Search in 2019
SEO is critical to the success of your ecommerce website.
Let's talk about your customers. They come to your site from all of these different traffic sources: Facebook, Instagram, email marketing, search, and more.
Out of those, 36% of product searches actually start and come from search.
As an example – your uncle mentioned his back has been hurting lately. He understood that the best way to help is to get a new mattress. He would go to Google first and type [best mattress for back pains] and start his discovery stage immediately there.
If you are a mattress brand, you want to and need to be part of the discovery phase in order to be positioned to catch his eye and attention.
For him having no prior knowledge about these brands, Google is the key. He will begin on search.
Google should not even a be a question, it's a necessity.
How to Stand out in Search Results With Powerful UGC
In today's competitive ecommerce market, brands need to think about what they are currently doing in order to improve their SEO and see where there is an opportunity for improvement.
Agencies, on the other hand, should think of the brands they are working with that have engaging communities, as these brands would see the most benefit from leveraging this UGC in their current SEO strategies.
Here are a few ways your ecommerce brand can stand out on search:
Leverage Rich Snippets
Leveraging rich snippets is one of the quickest wins for brands today to stand out in search results through taking advantage of UGC.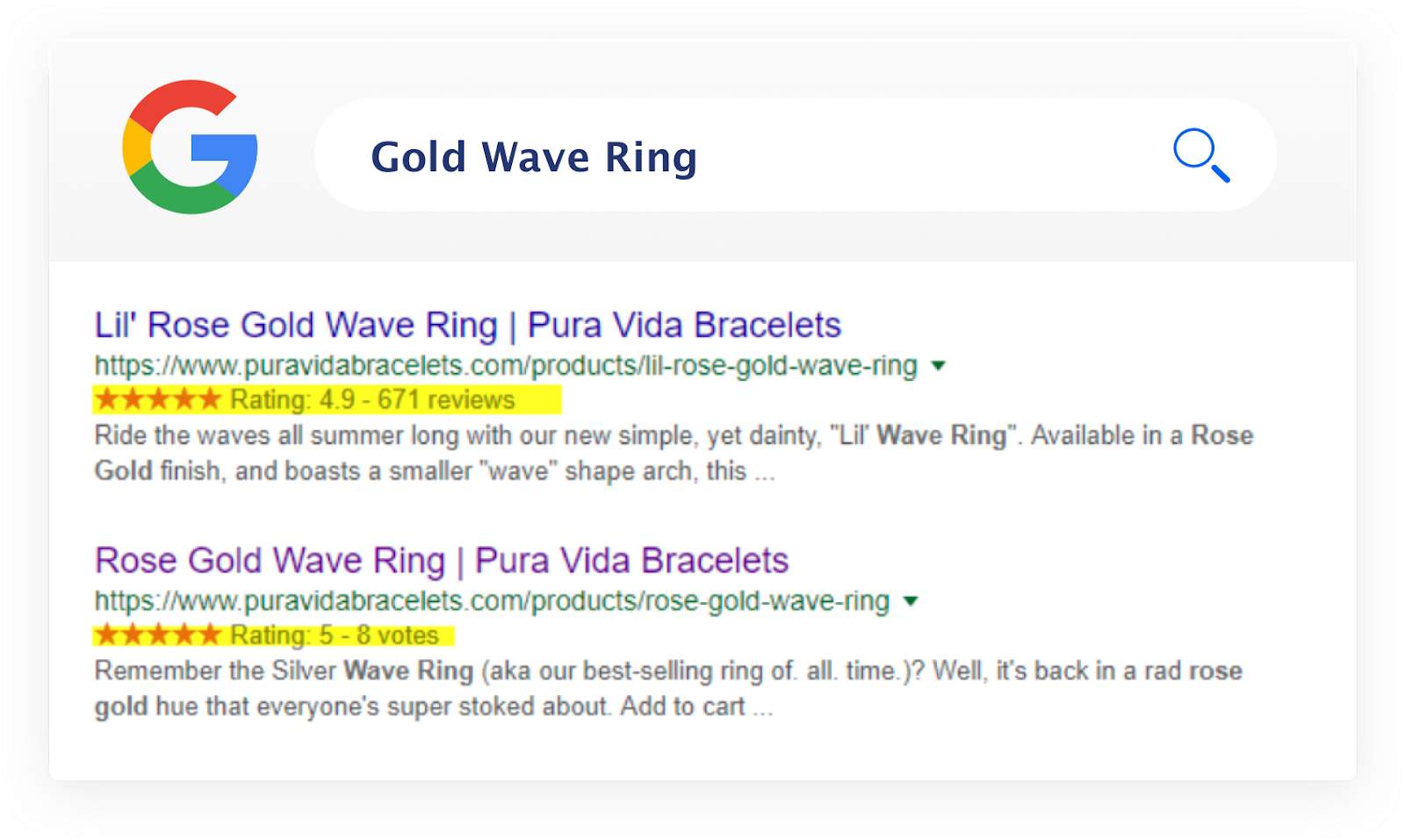 The highlighted image is what we call Rich Snippets.
Rich Snippets allows your brand to showcase social proof in the form of star ratings directly tied to your organic product results, as you see here. This ties directly from the product specific reviews on your website.
This allows you to stand out, take up more real estate, and increase CTR on organic product searches by 20-30%.
Rich snippets don't have strict requirements outside of having a minimum of 1 review on product pages, and most importantly, the proper markup on your pages to ensure Google can pull in the relevant data to display your star ratings.
You would need to add markup to your product page's code so that Google can read through it and pull in the relevant data, such as:
Price.
Availability.
Reviews.
Aggregate rating.
You can use Google's Structured Data Testing Tool to ensure that your product page URL is marked up correctly.
Set up a Dedicated Reviews Page
Setting up a dedicated reviews page on your website is also a quick win for organic search.
Over the last three years, Google has seen an increase of 80% in customers who search "Best Product" or "Best Reviewed Product Name" or "Company Name Reviews".
This goes to show that consumers want to understand from past shoppers and smart consumers, what they rate as the best product.
No longer are consumers affected just by great ads on different platforms – they want to meet your customers and hear their thoughts. If they can, even face to face.
A dedicated Reviews Page does exactly that. It takes all of your review content – both product and brand reviews, and aggregates them on one single, consolidated page. It is recommended to set up the hyperlink for this page as your typical company URL /reviews.
Google will be able to pick this up as one of the top search results when customers are searching for your brand's reviews, because of the hyperlink as well as the fact that it's hosting all of your reviews on one dedicated page.
Since this page is already showcasing your brand and product reviews, this is a great opportunity to add a twist and showcase your community and celebrate your customers using customer photos.
Consider including a customer photo carousel on this page as you can see in the example below.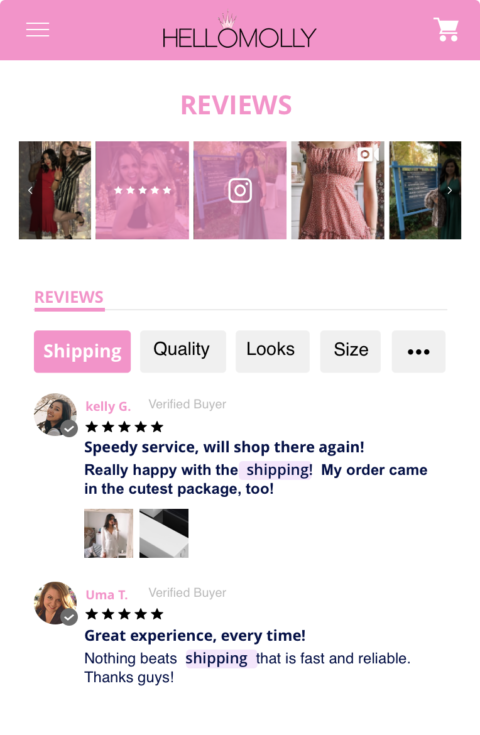 This is a great way to introduce your potential customers to your customers and community face to face.
Try to search for your brand name + reviews, and see what third-party aggregators show up above the fold and usually dominate your organic traffic.
Potential customers looking for your reviews can find you and get directed to your site, seeing the content you have decided to display as opposed to these other sources.
As you can see here, Brooklinen's SEO Page is showing first in organic search when a customer searches for [brooklinen reviews] on Google, above those third-party aggregators.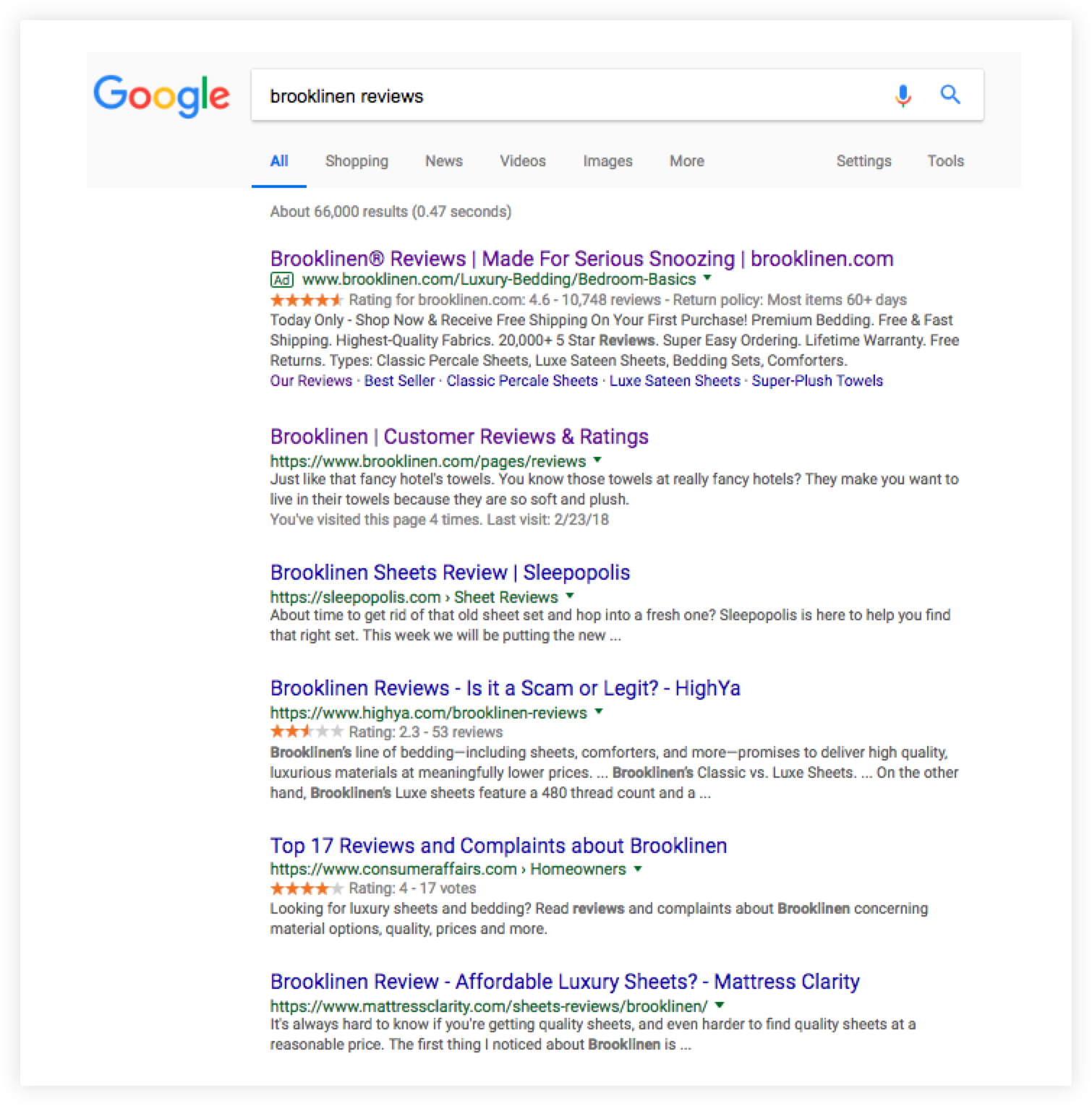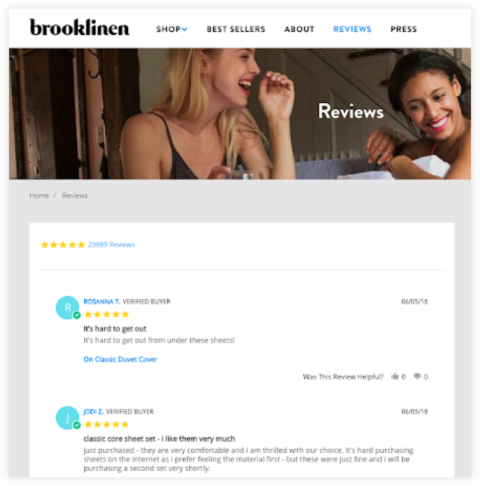 Another huge benefit from having a Reviews page like this is that navigation to shopping is as easy as possible now that the customer is already onsite.
Produce Diverse Content
Creating a dedicated Reviews Page is just one method to appear higher in search.
Another key factor in determining a webpage's SEO ranking is overall content.
Google takes into account all types of media. Having a mix of text, images and videos shows Google that your content is varied and valuable.
The presence of video sends signals to search engines that your page or site contains rich media relevant to search requests and so increases a pages Google ranking.
It is expected that search engines will continue to increase the ranking factor of including video as consumers demand video in search results.
How to Convert High-Intent Traffic From Paid Acquisition
Aside from quick SEO wins, here are some tips to help with your ecommerce brand's paid search strategy.
Take Advantage of Google Seller Ratings
First, you can start with Google Ads.
Google has a list of Trusted Partners that are able to help you qualify for Google Seller Ratings – which attributes to a significant increase in CTR on your Google Ads campaigns.
The Google Seller Rating integration will help you show star ratings for your brand and aggregate rating based on the brand reviews that you've worked so hard to generate.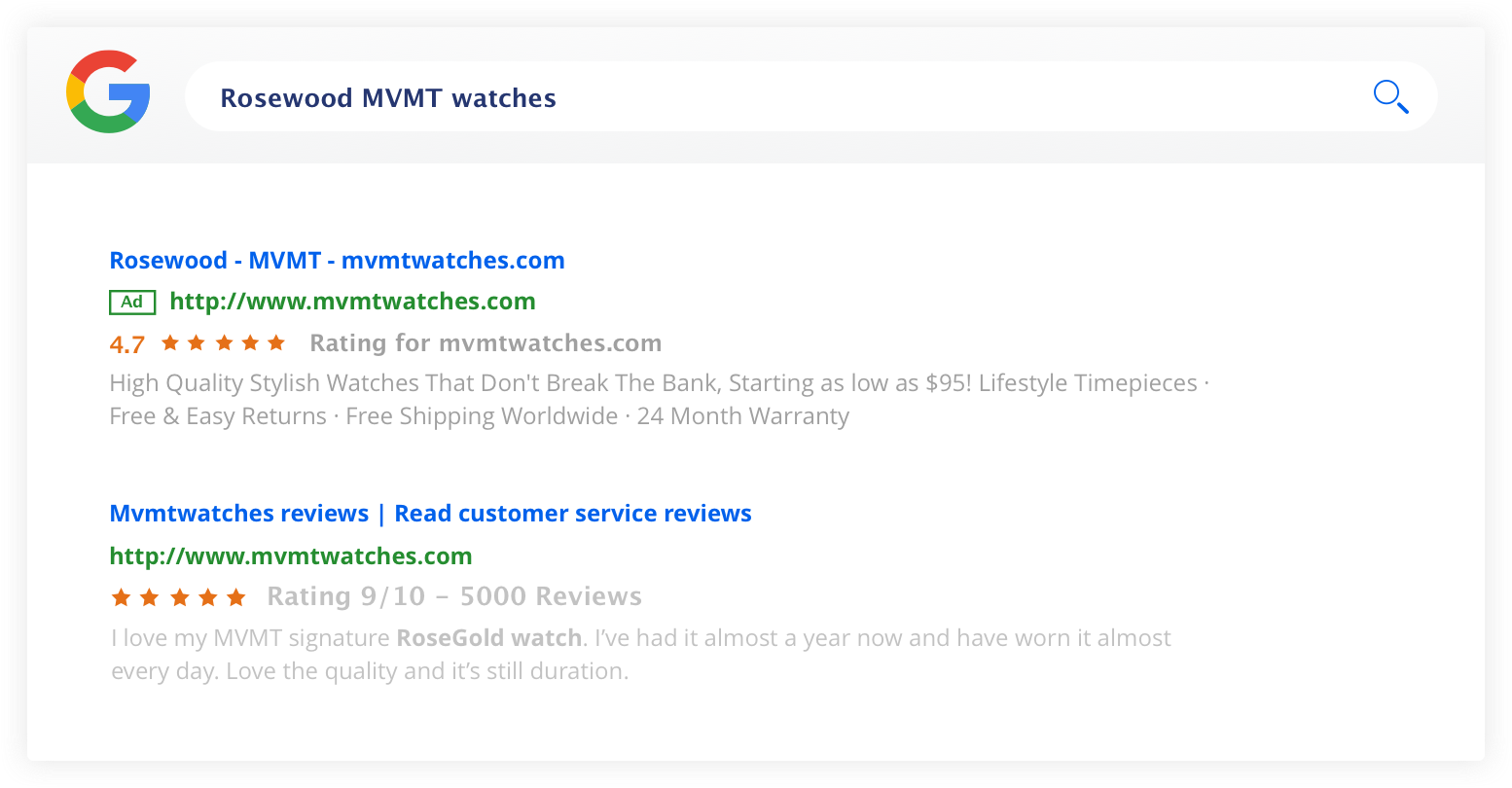 Seen above, MVMT Watches has these star ratings with an aggregate score of 4.7.
By having this, their Google Ads campaigns are standing out amongst the crowd, taking up more real estate and providing social proof at one of the most significant parts of the customer's journey – the discovery phase.
In order to qualify for this, you'll need to meet a minimum threshold customer reviews and a minimum 3.5 average star rating.
Brand reviews should be about your brand, customer service, shopping experience, site experience, etc. – not the product.
Most Google Trusted Partners should send this feed to Google automatically for you – all you need is to collect the right amount.
Leverage UGC for Google Shopping
When you work with a Google Trusted Partner, you'll also be able to leverage the Google Shopping integration.
Google Shopping is continuing to become a huge traffic generator for brands, attracting customers who already know what they are looking for with clear intent.
Similar to Google Seller Ratings for Google Ad (ratings for your brand), the Google Shopping integration will help your shopping ads stand out by adding aggregate ratings to each specific product.
Based on data from Yotpo partners, this can increase CTR on Google Shopping ads by up to 24%.
In order to qualify for these, you'll need no less than 50 reviews across all of your products and a minimum of 3 on the specific product you are promoting.
You'll also need to ensure that your product catalog correlates with your Google Shopping feed by adding the Unique Identifiers that you are sending to Google – this process (known as Google Matching).
Your Trusted Partner should be sending this feed to Google on your behalf.
How UGC Boosts Social Optimization
You can further enhance your current Google strategy by leveraging the feedback your community is currently sharing with you after purchasing your products.
Remember the voice of the customer on your bidding strategy:
Choose Specific Words Rather Than General Terms
General terms such as bracelets will be difficult for companies who don't have a ton of budget to not only appear, but receive ROI on their ad spend.
By bidding on more specific terms such as a "red bracelet" you have a better chance of your ad appearing in front of someone actively looking to purchase a red bracelet as there is less competition bidding on this less general term.
Bid on Words/Phrases Your Customers Use to Describe Your Products
Everyone is collecting feedback from their customers in multiple ways. Some include manually looking at:
Comments on Facebook and Instagram.
Customer service tickets.
Customer reviews submitted directly to their brand.
You should be investing money in the (positive) terms that your customers use to describe your products as that is what they will share with friends and ultimately using to search for your products.
This should result in higher intent traffic seeing your ads, increased CTR, conversions, and ultimately less returns.
You can also use these terms to help shape the description section of your paid and organic listings to help boost your results for terms that are positively associated with your product and brand.
Q&A
Here are just some of the attendee questions answered by Cohen and Yakuel.
Q: What's the difference between a Brand review and a Product review?
A: A brand review is a review about a customer's experience with a brand or website. This includes and reviews around Customer Service.
A product review is feedback around the specific item purchased. This can include the packaging, satisfaction/dissatisfaction with the item, and experience with the product overall.
Q: What actual things need to be done to make a mobile-optimized website?
A: It depends on your platform, most major platforms are already mobile optimized. Additionally, Yotpo widgets are built out with a mobile-first mindset. This way your site will already be optimized for mobile even when you implement our software.
Q: Could testimonials also be considered a review? Is there any difference?
A: Testimonial is more of an "experience" without a star rating. If a testimonial has a star rating already, these can be imported easily into reviews.
Testimonials are not always crawlable by Google, while our Yotpo widgets are built to be crawlable by Google.
Q: What about integration with Shopify stores?
A: Yotpo has seamless integration with a number of ecommerce platforms including Shopify and Shopify+.
[Video Recap] How to Improve Ecommerce SEO with User Generated Content
Watch the video recap of the webinar presentation and Q&A session below.
Or check out the SlideShare below.
---
Image Credits
All screenshots taken by author, May 2019
Join Us For Our Next Webinar!
The Evolution Of Search & SERPs 2024
In this roundtable discussion with Shelley Walsh, Ben Steele, and Matt Southern, you'll get expert insights into the evolution of search to give you a competitive advantage in 2024.