Using structured data on your website is an essential part of SEO.
At its most basic, structured data helps engines understand your content better (a must as semantic web technologies continue to evolve).
Structured data is also your ticket to scoring rich results features in SERPs.
Structured data checks should be a regular part of your SEO routine. This article will teach you how.
1. Use a Structured Data Testing Tool to Find Errors
Structured data tools help ensure that search engines understand your marked-up content. They're also a great way to double check your pages for valid markup and find errors that are easy to fix.
Structured Data Testing Tool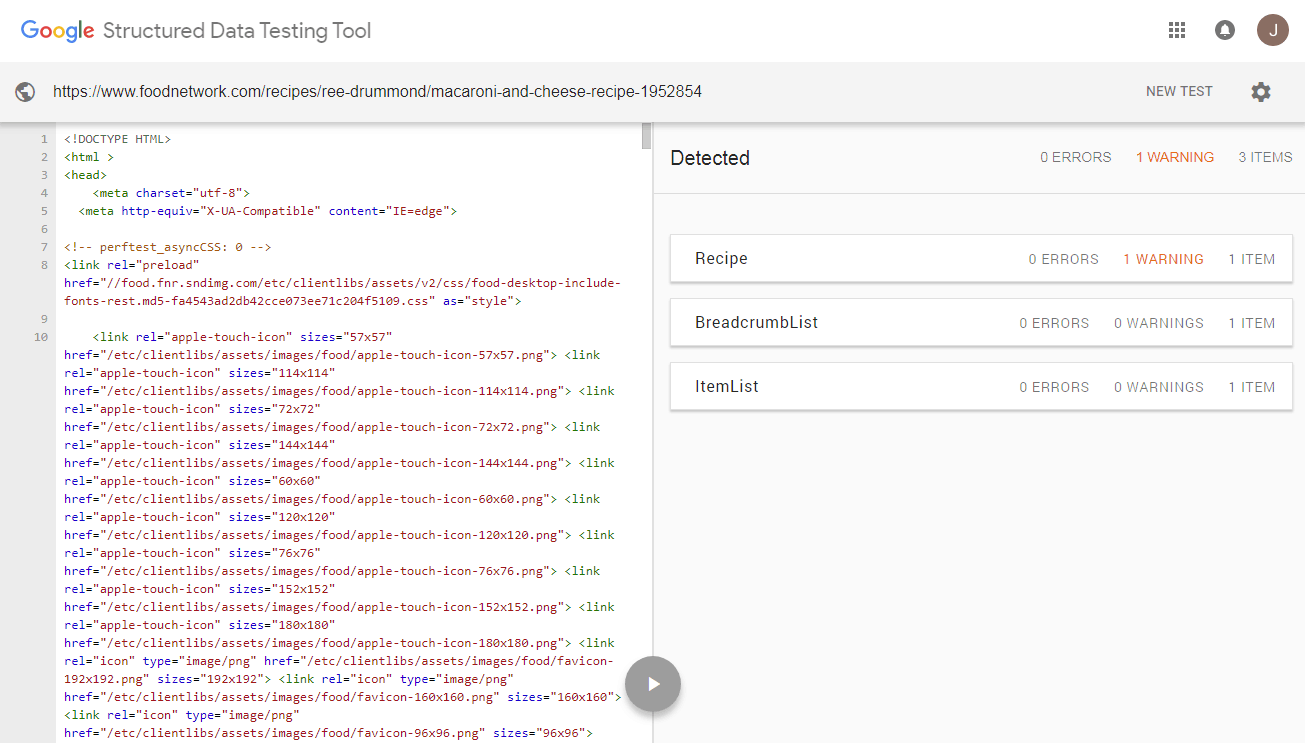 The tool you'll want to start with is Google's Structured Data Testing Tool.
To access this tool, simply log in to your Google Search Console, then click Web Tools > Testing Tools > Structured Data Testing Tool.
From here, you can either enter a URL into the FETCH URL tab or copy and paste some structured data code into the CODE SNIPPET tab.
This tool gives you a list detailing all of the errors, along with detailed information on the structured data Google currently detects on your website.
Because this tool is easy to use and accessible by everyone, we'll be using the Structured Data Testing Tool for the remainder of this article.
Rich Results Testing Tool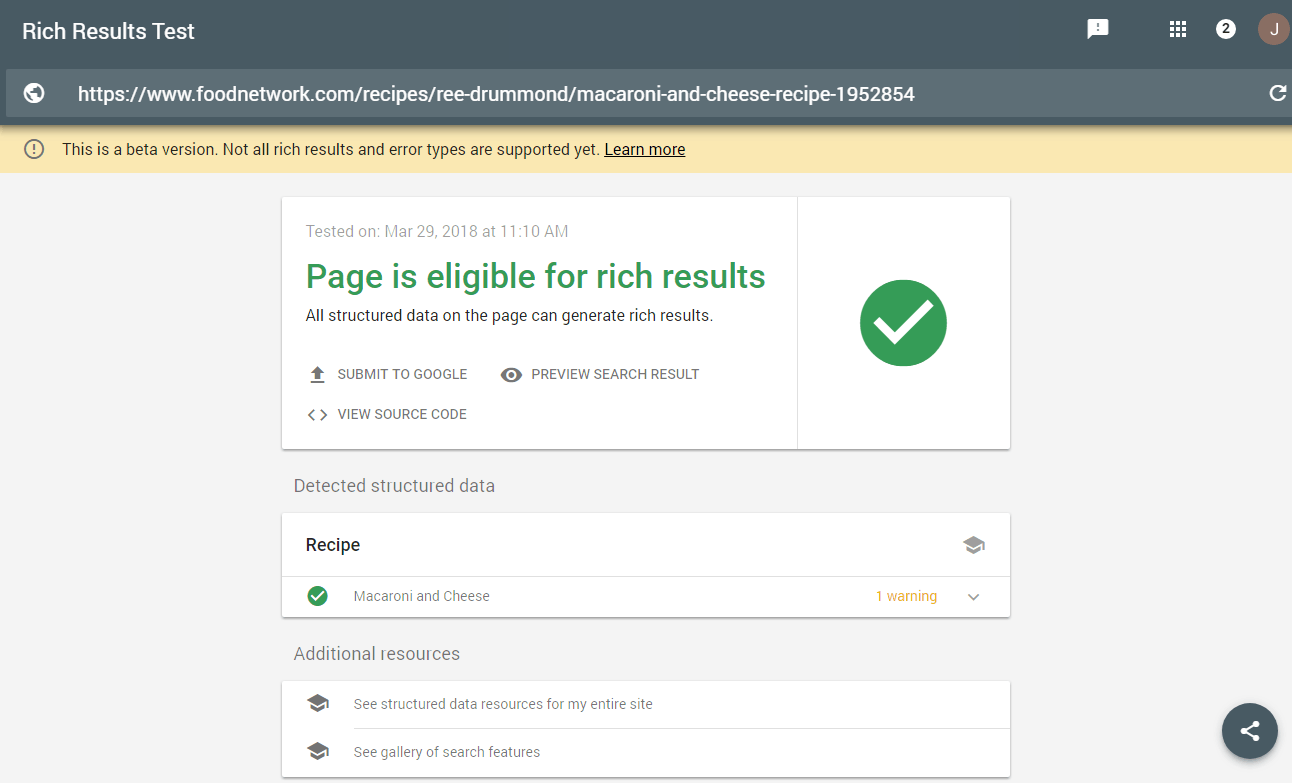 Google has a tool designed to help website owners diagnose structured data: the Rich Results Testing Tool.
All of Google's rich snippets, rich cards, and enriched results are all known by one umbrella term: "rich results."
Rich results can include a wide variety of items, including blog posts, videos, courses, local businesses, music, product info, job postings, and more.
Eventually, the Rich Results Testing Tool will be an easy way for you to determine whether your structured data is eligible to be displayed as a rich result.
As of this writing, the Rich Results Testing Tool is still fairly new. Currently, the tool only supports tests for recipes, jobs, movies, and courses, but Google plans to expand these offerings over time.
Third-Party Tools
For most people, the above tools will be all you need to find and fix structured data errors.
However, if you want to dive into the nitty, gritty details of your markup or if you want a robust tool that can do more with your structured data (e.g., convert between formats, extract structured data, etc.) then check out this thorough list by SEO Skeptic.
2. Prioritize Items with the Most Errors
After entering your website into the Structured Data Testing Tool, you'll see a table that includes multiple data types.
Google pre-sorts these data types according to which items have the most errors.
You'll want to fix data types with more errors first.
Clicking on each data type reveals a more detailed breakdown of items with errors for that HTML tag.
Your Search Console can display up to 10,000 URLs at a time and will tell you exactly which errors it detects.
3. Fill in Missing Fields
The most common types of errors you're likely to see are easily fixed:
Missing field.
Missing ratings.
To solve missing field errors, such as "missing: fn" (full name), and "missing: date published," click Data Highlighter and fill in the schema in the information to highlight menu.
The schema should correlate to the page's subject matter, so choose "Articles" for blog posts, "Products" for e-commerce product pages, etc.
If you have multiple pages that all follow the same format click Tag this page and others like it, otherwise click Tag just this page. Click OK.
Now you'll see a list of missing fields on the right side of the page. Simply highlight and specify key elements on your page, such as the title, author, and date published.
One recent change to take note of: Google now allows organizations to be declared as the author of an article.
4. Clearly Markup Reviews
Google has specific guidelines when it comes to using structured data for reviews.
Here are a few key requirements to be aware of:
You must markup both bestRating and worstRating.
Google prefers third-party reviews be assigned to specific products. Don't include reviews for specific products in item lists or "category pages."
Review markup should be restricted to appropriate pages. For example, product reviews should be limited to product pages, and business reviews should be restricted to "About Us" or "Testimonial" pages. Google no longer shows reviews on homepages.
Each review should be unique, and Google won't display reviews until you have at least five reviews.
Reviews should not be paid for, nor should they be written by the site or the person providing the product. This may result in a manual action.
Critic reviews must follow strict guidelines that provide an honest, unbiased representation of the customer experience. See Google's guidelines for more info on critic reviews.
5. Fix Pages with Manual Actions
Having a structured data manual action against your page doesn't necessarily mean your page won't appear in Google search results, but it is a serious issue that should be fixed immediately.
Some of the most common causes of structured data manual actions include:
Incorrect page markup (e.g., a page using recipe markup doesn't include a recipe or a page using event markup doesn't include visible event content).
Misleading structured data markup or structured data that is not representative of a page's content.
Marked-up content is hidden from users.
Google issued a warning about sites advertising coupons and vouchers using the event structured data are liable to receive a manual action.
See Google's guide to Building, Testing, and Releasing Structured Data for more information on common manual actions and their causes.
6. Optimize Using Structured Data Markup Helper
If you want to inject some much-needed markup into other pages on your website and you aren't sure where to start, look no further than Google's Structured Data Markup Helper.
This convenient tool will guide you through the entire process of marking up structured data on your website.
To get started, choose the relevant schema, enter a URL, and click Start Tagging.
Next, highlight page elements and assign schema tags. You can even add missing tags if you need to.
When you're done marking up your page, click Create HTML.
Choose JSON-LD from the drop-down menu (Google is capable of parsing Microdata and RDFa, but they recommend encoding data with JSON-LD) and then copy and paste it into the <head> or <body> tags of your web page.
7. Test & Verify Your Updated Markup
Finally, plug your URL back into the Structured Data Testing Tool to see if your updated markup checks out.
Ideally, you'll have eliminated all errors from your pages.
Of course, there's no guarantee that structured data will show up in search results even after you've marked up your pages, but you won't know for sure until Google recrawls your website.
Conclusion
Even if you performed a structured data check not too long ago, it's worth double-checking now that Google's switched to mobile-first indexing.
Many sites that previously overlooked structured data on their mobile pages are now at risk of losing rich snippets and SERP visibility.
The solution?
Ensure that structured data exists on both mobile and desktop versions of your website and that mobile pages include URLs updated to the mobile version.
And while it's technically fine to use markup to communicate more information than Google needs, stripping irrelevant markup from your pages will ensure that mobile load times remain as fast and efficient as possible.
More Structured Data Resources:
---
Image Credits
Featured Image: antb/Shutterstock.com
Screenshots taken by Aleh Barysevich, March 2018