Keeping up with AI-driven developments in the search industry is the new normal for search marketers.
Technological breakthroughs, such as advancements in voice recognition and the creation of powerful machine learning algorithms, greatly impact how people search – and consequently how we do search engine optimization.
The idea of artificial intelligence taking over the digital landscape can be daunting to some marketers who view it as a risk to their professional careers.
But while there is still a lot of guesswork involving the topic, there is likewise ample knowledge available for marketers who want to get up to speed on AI as it relates to search.
On August 22, I moderated a Best of SEJ Summit webinar presented by Purna Virji, Senior Manager of Global Engagement at Bing Ads, Microsoft.
Virji offered actionable tips on how search marketers can leverage AI today and prepare for the future.
Here's a recap of the webinar presentation.
Over two decades ago, Microsoft Founder Bill Gates had a vision where computers could one day "see, hear, talk, and understand human beings."
Significant innovations in computing have been made since then. The advent of cloud computing, powerful algorithms, and big data helped make artificial intelligence a reality today.
What Is AI & Why Should Search Marketers Care?
Virji defines AI as technology that can:
Perceive.
Learn.
Reason.
Assist in decision-making.
Act to help us solve problems.
Essentially, we learn and use technology and, in return, technology learns us and discovers ways to be helpful (i.e., answering, coordinating, listening, observing and anticipating).
Marketers should care about AI because search is becoming more intelligent through it.
For instance, at Microsoft, Bing is a big source of their AI data and it makes all their other offerings a lot better. In return, this AI goes and feeds the search engine to make it smarter.
Until recently, a search engine's job was all about indexing information that existed on the web, organizing it, and then bringing it up when people typed in their query.
Through advances in AI such as natural language understanding and machine reading comprehension, we now see that search engines are able to somehow understand the context of the data, as well as the entities and the relationships between the entity.
This means the search engine is not just indexing, it is also able to reason over all of the content on the web.
A good example of this is Bing's Multi-Perspective Answers, a fairly new intelligent search feature powered by AI.
Any other search engine will try to give users the results that match their particular query. This can become an issue because it becomes a little filter bubble right where all we see is our point of view echoed back to us and
that's not really understanding true intent.
With Bing's Multi-Perspective Answers, a searcher will be able to learn more about a topic from different views (i.e., pros vs. cons).
This is just a simple example of how intelligent search is able to deliver way more personal and relevant experiences to users.
AI helps empower both marketers and customers.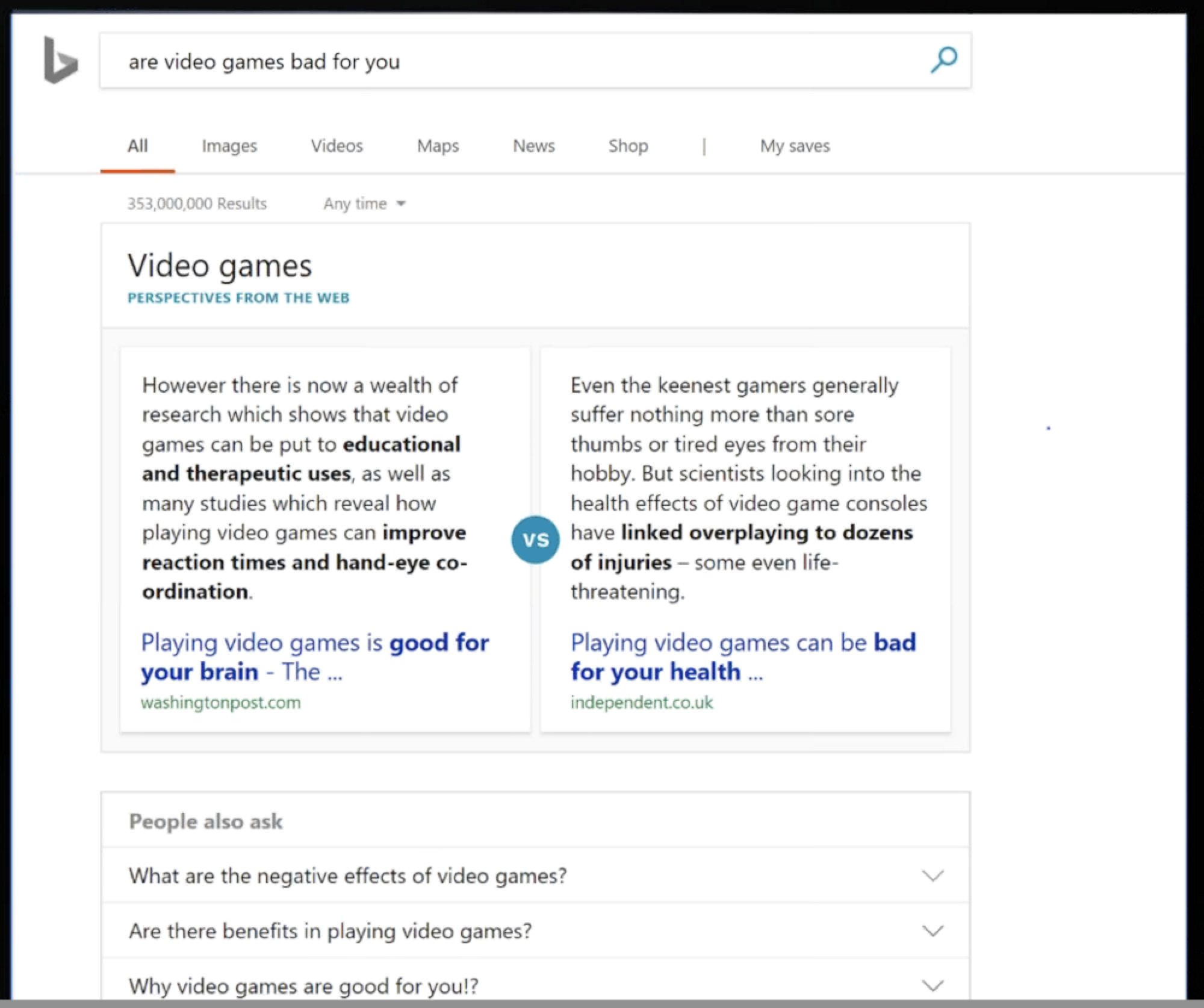 3 Ways You Can Leverage AI Today
1. Intelligent Visuals
Search is becoming more visual. Almost 23 percent of web searches in the U.S. are image searches.
Both Google and Bing's search engine results pages (SERPs) include visual content such as images and videos.
The two search engines also let users search for your words or images.
Image search isn't just convenient, it allows you to search when you don't have the words to describe something.
Visual Search Checklist
Optimize product feeds (if you are a retailer).
2. Intelligent Audiences
Search is increasingly the centerpiece of consumer engagement.
AI and machine learning also benefit paid search. We can now create and curate lists of users who have shown
purchase intent in particular topics through a feature called In-Market Audiences. This is available both on Google and Bing.
In In-Market Audiences, predictive intelligence is able to deliver lists of users who are ready to buy. Bing Ads predictive intelligence identifies users who have shown purchase intent signals within a particular category, including searches and clicks on Bing and pageviews on Microsoft services.
There are plenty of pre-made audience lists to choose from which enable advertisers to target users who are more likely to convert.
Proper usage of this feature can help increase click-through and conversion rates and ROAS, as well as decrease costs-per-click.
Audience Checklist
Identify the different lists that you can match with what you're selling.
Add the lists and layer on with bid modifiers. (Start with at least a 15 percent bid modifier for most of the groups).
Analyze and adjust as needed.
Further expand your lists.
2.5 Intelligent Automation
There are also various automation options that you can use to increase efficiencies, including:
Auto-bidding.
Automated extensions.
3. Intelligent Conversation
Search is becoming more conversational. But while adoption rates for smart speakers are growing fast, voice search per se is currently not that huge in terms of volume.
Right now, voice search use is most common for simple informational tasks.
That is not to say that optimizing for voice search is unnecessary.
At the moment, it might be good not to spend so many resources on it. You should just be doing what you're doing for SEO.
Voice Search Checklist
Leverage Bots
More complicated back-and-forth transactions, like making an appointment or ordering food, happens via bots. Bots could be your digital assistant or chatbots.
Focus on leveraging chatbots which you can build once and then deploy across all channels.
Conversational Checklist
Create a skill.
Develop chatbots.
Cross-platforms.
Takeaways
Consumer and search behavior is evolving rapidly and AI is going to help empower marketers and customers alike.
A better understanding of our audience gives us more opportunities for increased personalization.
Audience targeting can enable us to expand our reach.
Focus on visual and conversational interactions.
[Video Recap] The Future of AI: What Every Marketer Needs to Know Today
Watch the video recap of the webinar presentation and Q&A below.
Here's the SlideShare of the presentation as well.
Join Us For Our Next Webinar!
2023 Google Algorithms & SEO's Future: Powerful Predictions For 2024
Join us as we explore the major algorithm updates, shifts in what are (and aren't) ranking factors, and other impactful SEO events from 2023. We'll also reveal our top predictions for the key SEO trends, challenges, and opportunities coming in 2024.
---
Image Credit
Screenshot taken by author, August 2018