A shortcut in general is defined as "a route shorter than the usual one." I find this definition the best one because it can be applied to any meaning of the word including a "search shortcut" (not a keyboard shortcut) which basically means any pre-defined combination of characters / words that allows to quickly get an answer to your initial question.
This post is intended as a comprehensive guide to Google and Yahoo search shortcuts providing a cheat sheet of over 50 shortcuts and comparing the two search engines.
Google and Yahoo Search Shortcuts Compared:
The extended version of the table is also available as a separate HTML file here and as a .doc file here.
Google Search Shortcuts

Google is well known for its ability to give a searcher answers without him to even have to leave it SERPs.
Google has several "official" guides to its shortcuts and advanced search, and you can read them here, here and here.
Yahoo Search Shortcuts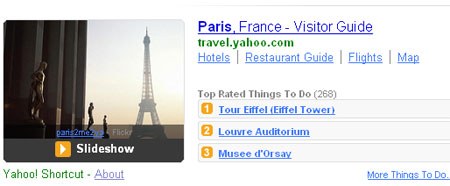 Yahoo! newly-introduced "new" search brought a number of very useful shortcuts, described here in detail and also listed in the table above.
"Old" shortcuts are also in use, here are all of them:
!amazon http://www.amazon.com/exec/obidos/external-search?mode=blended&keyword=%s
!audio http://audio.search.yahoo.com/search/audio?p=%s
!ebay http://search.ebay.com/search/search.dll?satitle=%s
!flickr http://www.flickr.com/photos/tags/%s/
!image http://images.search.yahoo.com/search/images?p=%s
!mw http://myweb.yahoo.com/myresults/ourresults?p=%s
!news http://news.search.yahoo.com/news/search?p=%s
!php http://www.php.net/%s
!shop http://search.shopping.yahoo.com/search?cop=mss&p=%s
!video http://video.search.yahoo.com/search/video?p=%s
!wiki http://en.wikipedia.org?search=%s
!mail http://compose.mail.yahoo.com/ym/Compose?login=1&To=%s
Create Your Own Shortcuts:
Create Shortcuts in FireFox
"Smart keywords" is the FireFox feature that lets you create shortcuts for any search engine / site you need. I have described how to create and operate FireFox smart keywords in detail previously: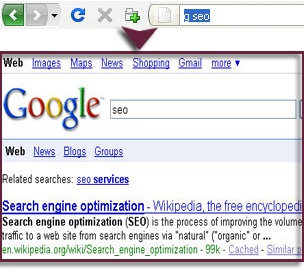 Create Yahoo! Search Shortcuts:
Yahoo! open shortcuts allow to create shortcuts of your own:
Create a shortcut for any search you want to perform;
Type an ! (exclamation point) followed by the name of the shortcut in the Yahoo! Search box (note: doesn't work from FireFox search plugins for me, only from Yahoo home page);
Examples:

!wsf to search "weather san francisco" on Yahoo!
!ebay laptops to search for "laptops" on Ebay
Further reading:
More? (Share a useful post on search shortcuts and / or advanced operators and I will add it to the list).