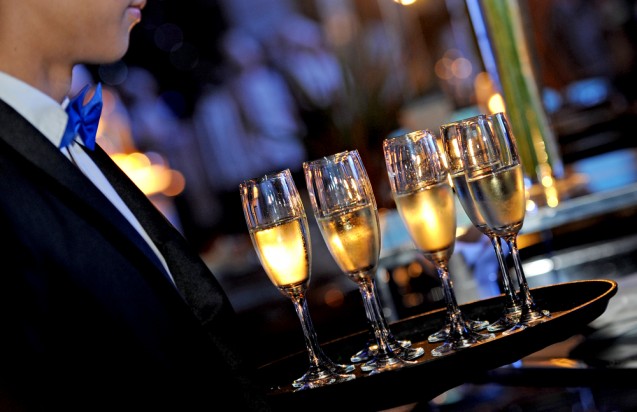 The very first US Search Awards, being held in association with Pubcon, takes place on Wednesday, October 23rd at the Treasure Island Resort in Las Vegas. It's billed as a glamorous party that will fete companies and individuals for achievements in search marketing.
Are you saying to yourself, "Hmm an awards banquet… what's the big deal, so what?"
Here's the so what: Pubcon is the one conference that's always reminded me more of a reunion than a convention. It is usually the biggest gathering of our industry friends every year, and everyone is very intent on having a great time together.
I love the casual nights out on the town that accompany every Pubcon incarnation. I plan on living in tshirts and sneakers during the show since I will be running around and helping out at the SEJ Expo Hall booth.
So a dressy party in Vegas where we get to clean up, dust off a cocktail dress or suit and watch friends accept industry awards? To me it sounds like a new, intriguing twist to Pubcon that will be a fun complement to the whole experience. And personally I am curious to know if I will recognize SEJ founder Loren Baker if he is wearing something other than jeans 😛
Check out the judges and finalists in the lists below; you'll no doubt see some familiar names, companies and friends.
The night includes a 3-course dinner, entertainment and open bar. Tickets are $200 each or a table for 10 is $1,800.
Here's another "so what": Search Engine Journal has two extra tickets. Want to come with?
Come with SEJ to the US Search Awards
We're giving away two tickets to the US Search Awards. If you want to be entered to win, here's what to do:
1) "Like" our SEJ Facebook Page:
2) Then do one of the following:
– Retweet this post
– Or leave us a comment below, saying "I want in!"
We will choose two winners on October 17. Please note the tickets do not include airfare or hotel. Our sponsors help make these giveaways possible. If you are interested in learning more about sponsorship opportunities, please contact us here.
US Search Awards Judges
Andy Betts, Audience Demand, global marketing and content VP
Bryan Eisenberg, UseTheData.com, publisher
Jeffrey Eisenberg, UseTheData.com, publisher
Chris Boggs, global chair at SEMPO and chief marketing officer at Internet Marketing Ninjas
Bruce Clay, Bruce Clay Inc., president
Mel Carson, Majestic SEO U.S. brand ambassador
Duane Forrester, Bing, Webmaster Tools senior product manager
Danny Goodwin, Search Engine Watch, associate editor
Bill Hunt, Back Azimuth Consulting, President
Richard Gregory, Latitude, managing director
Anne Kennedy, Beyond Ink, managing partner
Julie Joyce, Link Fish Media, owner
Shari Thurow, Omni Marketing Interactive, founder and SEO director
David Szetela, FMB Media, chief executive
Aaron Wall, SEOBook, founder
Heather Dougherty, Experian Marketing Services, Director of Research, Strategic Services, Consumer Insights
US Search Awards 2013 Shortlist of Finalists
Best Use Of Search – Retail
Kenshoo – Business Supply Increases Revenue by 37% Through Kenshoo Product Listing Ads (PLA) Bid Algorithm
Mannix Marketing – Rover Parts SEO
Performics – Building an SEO-perfect retail website
Performics – Performics Helped Retailer Have A Very Merry Holiday
Best Use Of Search – Finance
Catalyst Canada on behalf of HSBC CMB USA – Out Of Home Search – Airports
Havas Media – Aggressively Tackling the Competitive Financial Landscape
Performics – Performics & Auto Insurance Leader Align SEO and UX to Become #1
Performics – Performics Sends MoneyGram Results Soaring
Best Use Of Search – Travel / Leisure
Havas Media – Driving Growth in the Competitive Travel Market
Performics – Performics' Evergreen SEO Solution for Global Hotel Group
Best Use Of Search – Third Sector
Google Grants University: Matt Cardoni of Performics with the Marketing Academy of Univeristy of lowa MBA program help 9 non profits with free traffic and consulting
RepEquity – Energy From Shale – Hydraulic Fracturing SEO Campaign
Best Local Campaign
1SEO.com – Local SEO for The Solid Wood Cabinet Company
Cardinal Web Solutions – Optimum Productions SEO Campaign
Kenshoo – SIM Partners Velocity and Kenshoo Local Improve SEM ROI for Sonus Hearing Care Professionals
Performics – Real Time Local Search – Internet Retailer Top 30
Turn The Page Online Marketing – ARCpoint Labs Kansas City. A local search success story
Best Low Budget Campaign
Advice Interactive Group – TryMunity A Social Network for Traumatic Brain Injury Survivors
Aviatech Interactive – Results Driven SEO Campaign – CertaPro Painters of Ottawa West
Best Use of PR in a Search Campaign
SEO-PR – SEO-PR/Get City Dealz/Business Wire Multimedia Press Releases
Best Use of Social Media in a Search Campaign
Nebo – P.L.A.Y. Rescue Pledge Best Use of Social Media in Search Campaign
Performics – Performics Partners With Redbox Instant by Verizon for Social Success
Best Integrated Campaign
1SEO.com – SEO and PPC for PartsGeek.com
Aviatech – Jani-King Integrated Online Marketing Campaign – Consumer Lead Generation and Franchise Development
Catalyst Canada on behalf of HSBC CMB USA – Out Of Home Search – Airports
Deltek, Inc – Deltek's Project-Based ERP
Overit – KnowTheOdds
Performics & Allstate – Save11
TopSpot Internet Marketing – Stainless Drains
Best PPC Campaign
Catalyst Canada on behalf of HSBC CMB USA – Out Of Home Search – Airports
Covario – Guthy-Renker – Proactiv – Engaging consumers through search
Havas Media – Choice Hotels' Driving Growth in the Competitive Travel Market
Location3 Media – Location3 Media PRO (Performance Re-Optimization)
Nebo – Copart Direct Paid Search Campaign
Nebo – Goody Paid Search Campaign
Performics – Performics & Reckitt Benckiser Redirect Spend to Tackle the Flu
Resolution Media – Activision – Call of Duty Black Ops II
Best SEO Campaign
Aviatech – Jani-King National SEO and ORM Campaign
Cardinal Web Solutions – America's Best Contacts and Eyeglasses SEO Campaign
Elite SEM – Elite SEM's SEO Campaign for HouseLogic
Geary LSF – MegaPath SEO Campaign
Covario – Increasing Brand Awareness Through Search: The Lenovo story
Performics – Performics SEO Success for National Auction Site
Response Mine Interactive – Liberty Medical organic search and share of voice dominance
Rise Interactive – Protection 1 and Rise Interactive Secure High Marks with SEO Content Campaign
Best Blog
Distilled Blog
Elite Insider – Elite SEM's Online Marketing & SEM Blog
Hanapin Marketing – PPC Hero
iAcquire Blog
OrangeSoda Online Marketing Blog
The Portent Blog
SearchEngineLand.com
The WordStream Blog


Innovation
Catalyst Canada on behalf of HSBC CMB USA – Out Of Home Search – Airports
Fruition – Internet Marketing Expertise – Google Penalty Checker Tool
GetCityDealz.com – The Real-Time Local Marketing Platform
Kenshoo SmartPath Dynamic Attribution
Linkdex Networks
Simplexo – SearchYourCloud
Virante, Inc. – Remove'em – Professional Backlink Removal Tool
WordStream Inc.- PPC Success Report
Best PPC Management Software
Acquisio Bid and Budget Management (BBM)
IgnitionOne – Digital Marketing Suite
Kenshoo Search
Marin Software
WordStream Inc. – WordStream PPC Advisor
Best SEO Software
Conductor Inc. – Conductor Searchlight – the first choice in SEO technology
Copyblogger Media LLC – Scribe Content Optimizer for Microsoft Word
Linkdex – Enterprise SEO Software for 2014 and beyond
Searchmetrics Inc. – Searchmetrics Suite
seoClarity: Disruptive Innovation for an Evolving SEO Landscape
V-Found – VFO for Search Engines
Best In-House Team
Rasmussen College
Best Agency
Aviatech
Covario
Distilled
Elite SEM
Geary LSF
Havas Media
Portent, Inc.
Performics
Young Search Professional of the Year
1SEO.com – Diana Altobelli
Catalyst – Fil Lourenco
Elite SEM – Rachel Stiles
Performics – Angela Voutsos
Performics – Lauren Bradley
Zebra Advertisement – Rocco Alberto Baldassarre
Want to join the party? Get tickets here.