Right when you think Facebook marketing could not get any worse (or better), Mark Zuckerberg shows up to keynote F8 calm, cool and ready to take on the world. Literally and virtually.
No red cape, just his usual T-shirt, confidence and PR posturing. Before Zuckerberg could get into the main agenda of the 8th Annual Facebook Developer Conference, he had no choice but to address the latest headlines – privacy, fraud, and fame.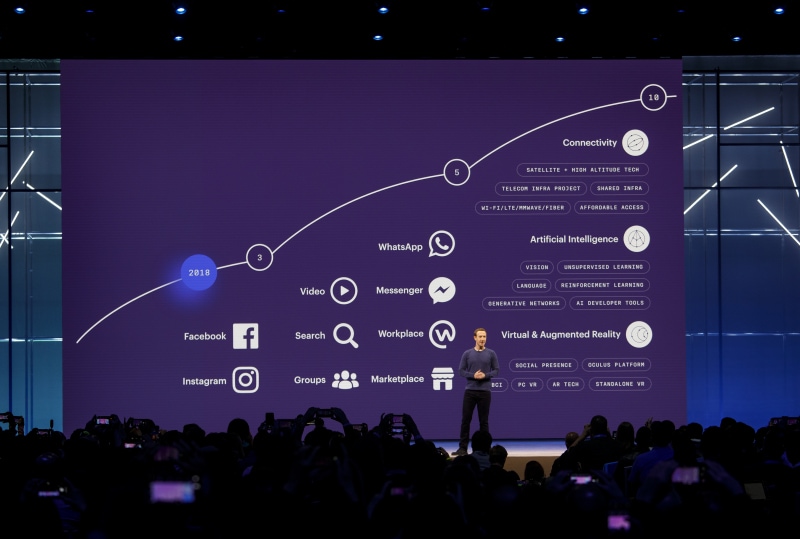 1. Clear Me, Date Me, Like Me
In one swoop you can soon clear your privacy, and that's a big deal.
"I was very surprised about the Clear History feature. If it works the way Zuckerberg claims, I think it's a massive win for privacy advocates and users," said Joe Youngblood, a digital marketing expert who specializes in Facebook.
Match made in heaven? Now you can actually target personal partners (dates), a new type of custom audience
"I was also very surprised, and abhorred, they would try to add dating to the site, not a positive for users in my opinion that Facebook is encouraging that behavior," Youngblood said.
All personal aside, Zuckerberg cleared the news feed for the marketer's new guide to Facebook fame and fortune.

2. AR/VR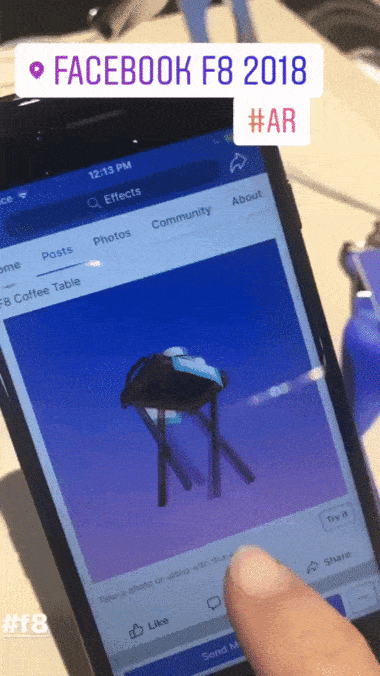 Augmented and virtual reality isn't just fun and games anymore. It's beyond the headset and now in the palm of your marketing hands.
Zuckerberg and F8 speakers pointed special attention to augmented reality with a clear message: the time is now.
"If marketers weren't paying attention to Augmented Reality or saw it as a one-off gimmick, Facebook just put them on notice letting the whole world know where its focus is," said Cathy Hackl, Futurist @ You Are Here Labs and AR VR expert. "AR is becoming increasingly important for the shared social experience on the platform as well as how products are sold, from AR chatbots to Facebook 3D posts, AR Commerce or V-Commerce will be the next frontier for FB ads.
"Don't be surprised if AR related content and social VR fair better in the algorithm. That's where the company is headed," she said.
3. Flat Content Is Out – 3D, 360 & Augmented Are In
Content is shifting from content that is 2D flat to content that is 3D, 360, augmented and sometimes holographic, noted Hackl. Things are not getting easier for marketers, just the users.
"This will present challenges for marketers but also opportunities. The conversation surrounding AR and VR is one about the future of content but also the future of human connection," Hackl said.
The boxing gloves are out. It's time for Facebook and Snapchat to fight it out for AR dominance.
The good news: more AR tools to marketers.
Checklist
Follow the news on AR/VR.
Audit your content for 3D, 360 and AR opportunities – now Facebook makes it possible to post in 3D
Start small, take baby steps.
Stay away from novelty. Think purposeful and deliberate when it comes to starting out in AR/VR. Check out this app to measure rooms using AR.
4. Measure Me: Facebook Analytics
Facebook is a numbers game. It's using data triggered from the Facebook pixel to try and generate valuable insights about a website's user.
The question: Is Facebook taking a shot at Google Analytics? Inquiring minds want to know.
The under the radar roll out of Facebook Analytics has been in process since 2017 with new features announced at F8: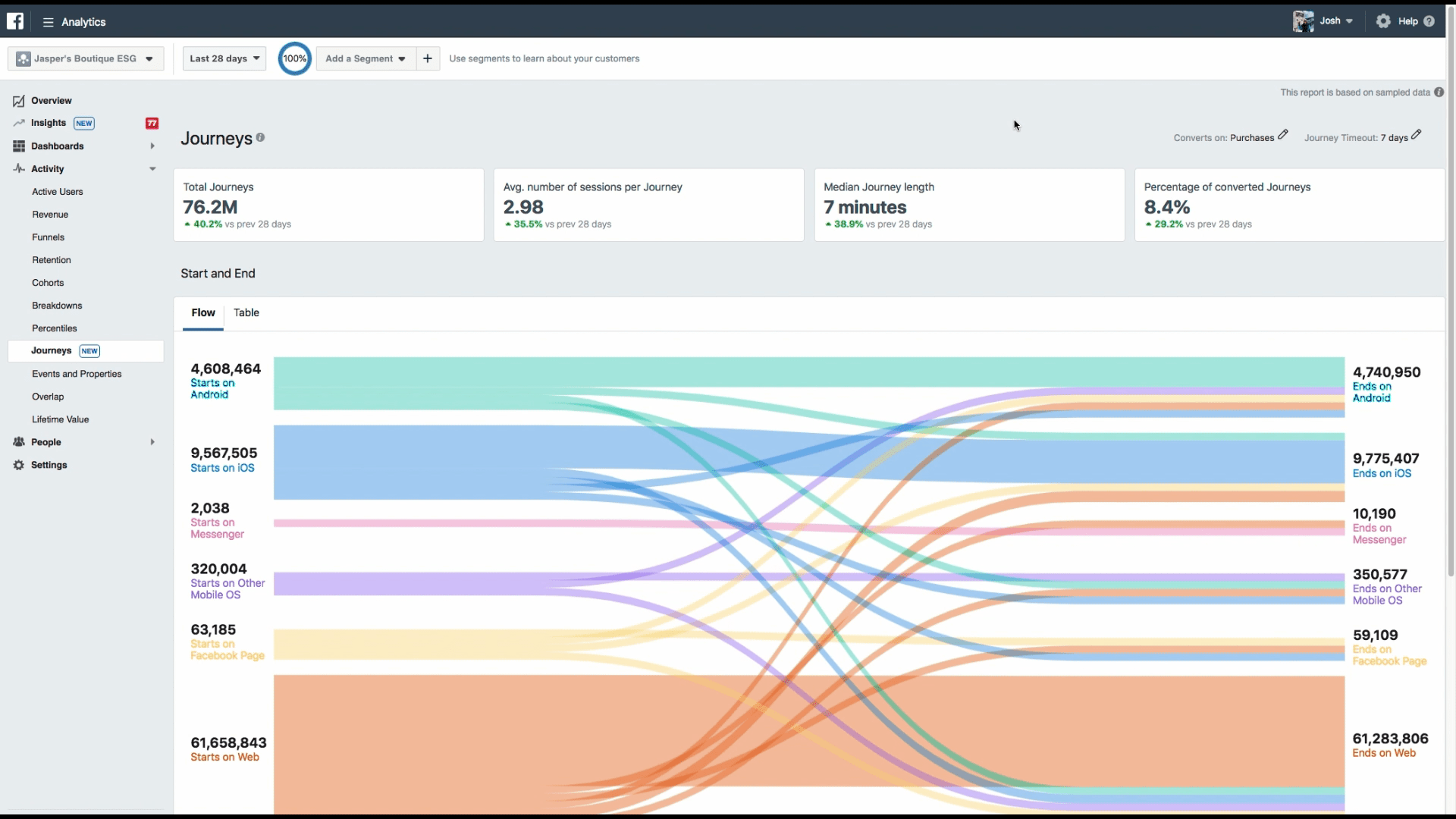 Journeys: This gives us omni-channel like insights on the customer journey from website to Messenger to Facebook Page and more
FB Analytics App: Since almost 90 percent of brands depend to some extent on their employees to access mobile business apps from their personal devices, Facebook developed an app to manage analytics on the go! Just another piece of digital real estate for data junkies.
Automated Insights: Facebook's attempt at trying to help us move smarter and faster using machine learning. Dig into data funnels, auto detected insights and analytics glitter for predictable purchases.
Meanwhile, most brands are not aware it's even a thing.
"Facebook is, in essence, making themselves more integrated into the daily lives of marketers," Youngblood said.
"The auto-detected funnels, if they work, are a great feature that should prove invaluable to marketers. We'll be ensuring all of our clients have a pixel installed from here on."
Checklist
5. Stories: Facebook Winning, Instagram Trailing
Here we go, again, 24 hours of lasting fun on Facebook, then poof it's gone forever. Sound familiar?
The camera just might be replacing the keyboard.
First came Snapchat Stories. Then Instagram Stories. Now we have the reimagined Facebook Stories.
Zuckerberg gleans a whole lot of inspiration from Snapchat. He created Facebook's own version of the disappearing story format and even called it the same thing. Facebook Stories.
With all due respect, Facebook Stories is becoming the social media golden child of the year.
Filters, frames, stickers, tags, GIFs.
The question: content vomit mode or a shift in content creation?
"Stories are the future," said industry expert and CEO of Delmondo Nick Cicero noting Facebook stories creation and consumption is up 842 percent since early 2016.
How can you be successful in Stories?
Getting started in Stories is one way to go above and beyond the Facebook notorious news feed.
"Marketers need to figure out their content strategy for Stories – this means more than just coming up with cool ideas," Cicero said. "It's about coming up with a strong voice, consistent theme and then measuring the outcome with a Facebook and Instagram analytics partner like Delmondo."
Delmondo is a Facebook Media Solutions partner for Facebook Video and Live analytics.
Checklist
Commit to a content strategy.
Find your voice.
Create a consistent theme.
Measure, measure and look again.
Perfect content creation for Stories.
Post good content on Instagram/Facebook but also create good content for your stories.
Expand to AR and Gifs content, it's here and now.
Explore longform docu-type Stories.
Flip it and flip out – vertical is the new horizontal.
Templatize and streamline creation with apps such as Adobe Spark and Hype Type.
Syndicate from Instagram to Facebook Stories.
It's story time.
6. Messenger
Did you get the message? Facebook Messenger developers and users sure did.
There's a saying: getting no message is also a message.
"I got the sense that Facebook Messenger, with nearly a dozen sessions at F8 and numerous major new feature announcements, is the biggest opportunity for marketers in the Facebook ecosystem right now," said Larry Kim, founder of Mobile Monkey.
Market Like It's 2009: Messenger Is the New Fan Base
Remember how you used to buy Facebook fans to gain content reach 10 years ago?
Messenger is now people used to be building page fans a decade ago, so that people would see your content, in their news feeds.
See this tutorial on chatbots on how to build your Facebook Messenger contact list.
Marketers Rejoice! The Ban Is Lifted
Thanks to the global public relations fiasco caused by Cambridge Analytica and privacy issues, Facebook was under fire and temporarily banned marketers from building new chatbots.
Facebook used F8 to announce the embargo was lifted and chatbot marketing could go back to business as usual.
"I was fearing more dramatic changes to the Facebook Messenger app review process that had been paused for the previous month. But it appears we're back to where we were, with very minor changes," Kim said.
Checklist
Audit your Facebook Page for Messenger.
Customize your chatbot to match business goals.
Build your Facebook Messenger contact lists.
Consider adding a chatbot to your website home page.
7. Facebook Spaces
Facebook notes on its landing page that VR is better with friends and how we can be our best VR self in Facebook Spaces.
The only problem?
You would need to invest in the Oculus Rift, which is priced at $399 and a PC. For Apple users, that's not a reality.
Marketers can mentally and strategically prepare themselves to start planning to integrate and do more. They must create more, express more, and capture more with Facebook Spaces and VR.
"The most innovative thing announced at F8 was probably Oculus Go," Youngblood said.
Space Invaders: Will Facebook Win?
"I see Google, Microsoft, and HTC entering that market pretty fast. The biggest update for marketers is probably allowing third-party apps to put content into a user's story."
One of the most intriguing content was the demo of avatars. Facebook's version to come of Bitmojis are the rising of the avatars. Not yet ready for public consumption, Facebook gave a glimpse into a virtual world as avatars, headset included!
Once Facebook's avatar features break out of VR world, they just might be our new Facebook profile.
Checklist
"If Facebook really wants mass adoption in Facebook Space, it needs to be compatible with Oculus Go and reduce the barrier to entry," said F8 attendee and Social AR/VR evangelist Navah Berg.
What happens on Facebook, stays on Facebook. Well, at least that's what Facebook wants.
"Facebook is trying to ensure that everything happens on Facebook and/or a Facebook-owned property. Since Facebook still dominates the social world so it's critically important to pay attention to what they are trying to build next, said Youngblood.
The Future of Facebook Marketing
Content will be brought to people instead of people searching for content.
Since this is inevitable, knowing your buyer personas, understanding the customer journey, making it seamless, and preparing for your new marketing realities have never been more important and accessible.
More Facebook Marketing Resources:
---
Image Credits
Featured Image: Carlos Gil
In-Post Photos: Facebook Newsroom & Facebook Analytics