Last year was one of rapid change, and 2021 shows no sign of this trend slowing down.
Economies and markets have changed, how consumers behave has shifted, search algorithms are being updated, the SERP results are evolving, and the scope of what we do as Enterprise SEO professionals is growing.
As organizations focus on aligning operations with a laser focus on the customer experience, understanding how consumers behave at both the macro and micro levels has become an enterprise SEO imperative.
For many, it always has been. However, the unpreceded shift and challenges brought about by the global pandemic mean that the monthly historical snapshot has given way to a pressing need to keep a daily pulse on trends in real-time.
Using data, technology, and market trends to their fullest potential will help organizations realize new opportunities.
From real-time insights into market demand volatility through to granular details into how consumers are searching online, there is a wealth of data to be activated.
Marketers can no longer rely on old forecasting models, no matter how complex, detailed, or pretty they look.
Enterprise marketers now need to understand the pulse of the market so they can dynamically adapt to both expected and unexpected events in their vertical.
In doing so, you can bridge the gap between assumptions of what will happen and what the current, real-time reality has proven to be.
Being Aware of What Is Going on in Your Broader Markets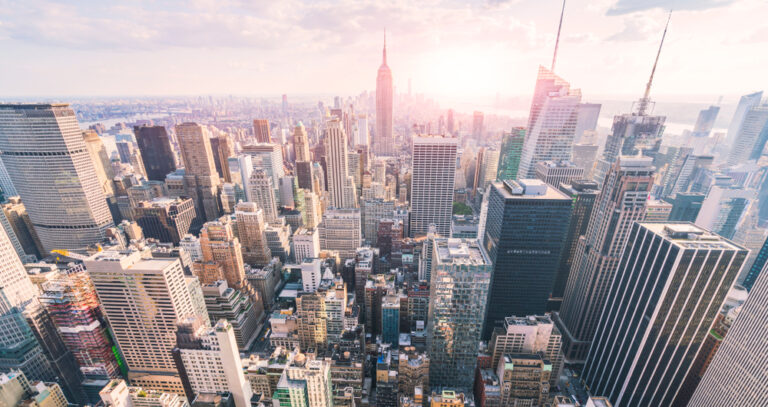 Many marketers have traditionally taken an immediate and microscopic approach to SEO. Without thinking, the focus goes straight to the keyword and the link.
However, working in large enterprises requires a shift in mindset towards understanding not just the business, but the broader market and economic implications that may affect how you tailor your strategy.
Overall market factors shape short, mid, and long-term strategies.
Utilize models such as PEST analysis to understand what is going on in the market from a political, economic, social, and technological perspective:
Political – Brexit, elections, laws, and regulations.
Economic – COVID-19 restrictions, industries that are gaining or losing.
Social – Consumer behaviors, attitudes and culture, fashion and shopping trends.
Technological – Developments and innovations to help better understand the above.
Combining Business & Search Intelligence to Understand the Pulse of the Customer
In many ways, search is the voice of the customer.
Search queries contain intent signals, SERP analysis shows how customers like to consume content, and keyword reports help us produce content that resonates.
Granular search data can tell us much about what consumers are doing, what they care about, and how they think.
Keeping a daily pulse on new insights impacting your market and on what is changing in the SERPS on a daily basis should be of mandatory importance for those who want to benefit from fresh, new opportunities.
For example, a slight ranking change on high search volume-based keywords can impact revenue in a big way in just one day. During important seasons (especially in retail), subtle category-related demand shifts will require granular action.
New product launches require daily monitoring so stakeholders can see the daily impact and make adjustments to the offering.
As market fluctuations and consumer emotions drive new types of demand, marketers are under pressure to develop an even more in-depth understanding of their customers' preferences while understanding market trends.
More and more marketers need to truly understand their customers and use this understanding to drive new experiences that resonate with consumers.
Utilizing search trends and combining this with business intelligence findings means marketers can find new patterns and opportunities at both a macro level and implement strategies at the most granular level.
This also helps you rapidly respond to dynamic changes in current and upcoming consumer behavior.
With business intelligence powered by search insights, companies can make sound and strategic decisions to achieve their goals, be it understanding what their customers really need or by predicting their future demands.
The relationship between BI and search is symbiotic and can dramatically improve ROI.
Utilizing Business Intelligence to Understand and Visualize the Pulse of the Market
More than ever, organizations are looking for business intelligence (BI) to transform data into insights that can quickly be acted upon. BI enables enterprise SEO professionals to easily analyze insights for larger-than-usual data sets to uncover new opportunities and highlight campaign strategy inefficiencies.
Here is an example from my company: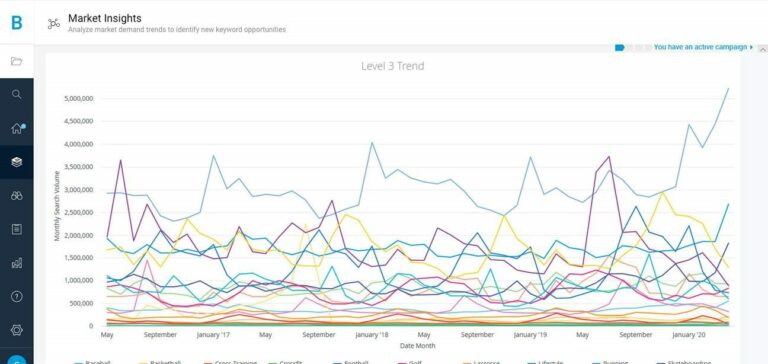 This type of intelligence can tell you what is happening now and what happened in the past.
Many types of business intelligence can help deliver digestible snapshots of the current state of what is happening in your market, not just for SEO but also for digital, sales, product, and customer service functions.
It can help show what product attributes are most important, price sensitivity fluctuations, brand preferences, and inventory needs, and more.
This can be visualized via daily dashboards, visualizations, and custom-based reports and can be used to:
Analyze industry trends in real-time.
Visualize category demand and inventory in real-time.
Compare historical data to what is happening now.
Create and forecast based on predictive modeling.
Aggregate different sources of data.
Identify new buyer trends.
Find inefficiencies in product or pricing strategy.
Find key correlations between search activity and external market factors.
Plan for seasonality.
Evaluate marketing campaign effectiveness.
Conclusion
To keep ahead of changes in consumer behavior and market conditions, marketers need to leverage enterprise technology to take advantage of the processing of massive amounts of data.
Going forward into Q2 of this year, Enterprise SEO success lies with the ability to understand the pulse of their entire industry landscape and being agile enough to quickly change search strategies and tactics based on real-time insights.
Over the last year, Enterprise SEO has become front and center of digital marketing strategies.
To keep ahead, SEO professionals have to become more agile in their approach to understanding market trends and their customers.
Technology can help provide insights with both breadth and depth so you can execute search and inform digital campaigns with speed and high precision.
As a collective community of SEO pros, we all need to keep a close eye on the pulse of the market and be prepared to respond to new conditions in an instant.
Both markets and consumers are giving us clear signals of intent on a far more regular basis.
Those that combine business intelligence and search insights to uncover and act on those opportunities will propel their SEO even further forward this year.
More Resources:
---
Image Credit
Screenshot taken by author, March 2021