The debate is over. We no longer wonder if social media is as effective for B2B marketers as it is for B2C.
Of course there are many more end-consumer buyers in the world than business buyers, but it seems that B2B social chatter wields disproportionate power, especially on the more B2B-friendly platforms like LinkedIn and Twitter.
Research from Buzzsumo and HubSpot even suggests that on two out of the five top social networks for sharing content, B2B items out-perform B2C.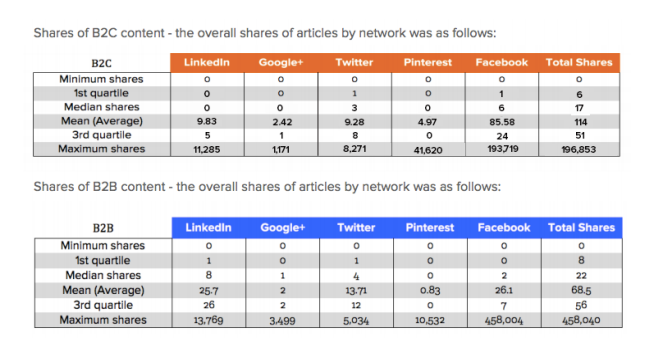 LinkedIn's own research (pdf), moreover, has found that that 77% of B2B buyers turn to their social feeds when they want to know more about the solutions they are evaluating.
On the other hand, it's important to remember that you can't approach B2B and B2C social media marketing in the same way. While there's plenty of truth to the "it's all human-to-human (H2H) nowadays anyway" argument, B2C and B2B audiences do tackle content consumption, social interaction, and buying cycles differently enough to warrant keeping these distinctions in mind.
Here are some key differences between B2B and B2C that deserve consideration:
B2B is all about building relationships between the seller and the buyer. It's based on emotion, trust, credibility and reliability – not just a compelling product.
B2B has fewer, but larger buyers and using lead intelligence tools, these can be segmented according to parameters like industry, company size, geographical area, etc.
B2B buying decisions are often influenced by a number of stakeholders, sometimes at different levels in the management hierarchy and with different interests and goals from one another.
B2B purchase processes are longer, more complex, and typically more expensive than the lion's share of B2C purchase processes.
So what strategy should a B2B social media manager use to ensure success? As with most strategy-related matters, there is no one-size-fits-all – no singular, ultimate strategy that will rule them all and work for everyone. On the other hand, there are some guiding principles that can help set you in the right direction for creating a framework for experimenting and finding what sets of tactics will work best for you.
Editor's Note: To learn more about creating a social media strategy for multiple clients, check out Debbie Miller's Marketing Nerds episode.
Here are some things to keep in mind as you go about crafting and refining your B2B social media attack plan.
Go Deep
In the corporate world, purchasing is fraught with risk. Because the deals are bigger and involve higher stakes than consumer shopping, emotion plays a bigger role in B2B marketing than you might think. A recent study from CEB and Google called "From Promotion to Emotion" found that when it comes to B2B purchasing, personal value wields about two times the influence that business value does.
Effective B2B social media engagement is, therefore, all about developing deeper relationships of trust.

You want your audience to feel the value of the relationships they build with you, which is why interacting meaningfully with individuals trumps the volume game. Become an invaluable resource for them and their work via your social media content and discussions.
The best way to accomplish this is to limit your social media presence to the platforms that your clients use the most, so you can focus on conquering those, instead of dabbling in so many platforms that you're the master of none. Identify the activities that drive the most impact, and emphasize these. While you might want to secure your name on a high volume of platforms just to be safe, and have some basic presence there, most attention should be given to the few that give the best leads and results.
The way to convert this type of audience is to be as helpful as possible. One great way to do this is to publish videos, whitepapers, and case studies that surgically target the central pain points of these clients. The best part of having a library of assets like these is, they make great sales material once you take the conversation offline, too.
One business that does an excellent just using the "go deep" strategy is popular B2B marketing automation platform, HubSpot, which takes the informational approach on its blog and social media pages.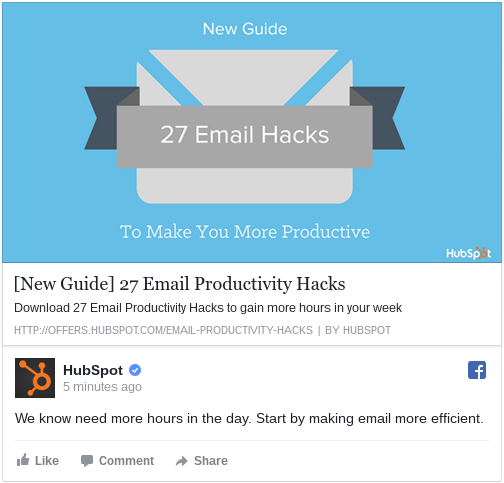 From comprehensive guides like, "How to Write a Press Release", to listicles about "Bad Habits That Are Making You Less Productive", HubSpot uses its blog to provide valuable work-related information to its core users: small business marketers. The company's social media audience loves this stuff, too. The blog posts published last week alone, for example, drove over 7500 shares on social media, the lion's share of which were on Twitter and LinkedIn. According to Riffle, the average HubSpot tweet from the same time period yields 50 interactions.
MailChimp is another brand that focuses highly on its users and fans, but while their blog has a lot of email marketing tips and tricks, the company's Instagram feed is a lot more playful and lighthearted, showing another facet of the company that's arguably even more appealing to an audience that is looking to make a connection.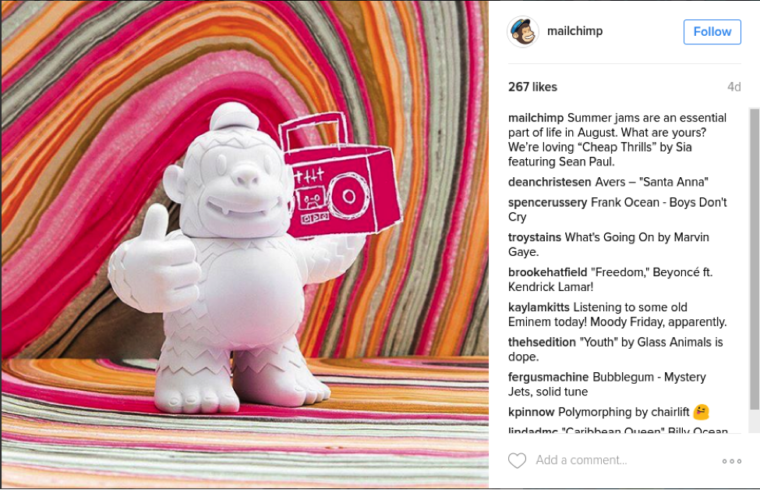 If neither of these examples gets your juices flowing, consider going the route of American Express. In 2010, they embarked on a special initiative for their small business clients, establishing Small Business Saturday – the day after Black Friday, and two before Cyber Monday – to encourage consumers to support independent merchants in their local communities.
The campaign was so successful that they extended it to become a continuous "Shop Small" effort, to give SMBs a framework for promoting themselves. It's a brilliant B2B2C play.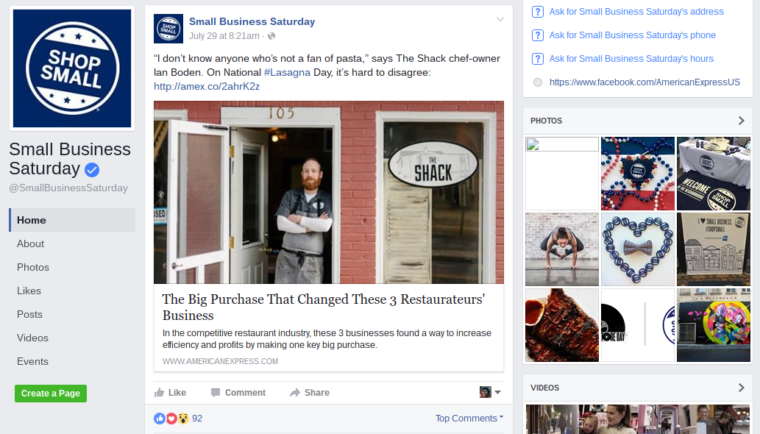 Take keen note of the minimal American Express branding on the Small Business Saturday Facebook page, with links leading to content on AmEx's site, rather than outwardly promoting it. While this page definitely appeals to the small business clients they are trying to attract, it's all positioned as a community push rather than a sales pitch.
Go Wide
When you "go wide" with B2B social media marketing, you focus on a much larger audience – the end consumers who buy from your clients, not directly from you. This requires that you act a lot like the B2C brands selling consumer goods.
The idea behind going wide is that once your customers' customers show an affinity for you and your brand, your customers will, too. As Jay Baer of Convince and Convert puts it:
Turning your customers into advocates and marketers on behalf of your brand pays off a lot more when you're selling $10,000 pieces of manufacturing equipment, than it does when you're selling $3 cans of Pringles.
Whereas going deep is oriented towards driving sales conversions, going wide is all about spreading the good word.
Once you've established your presence on the top social networks, your goal shouldn't just be engagement on via social channels, but, rather, getting people to spread your message and content with their own social circles. That's why going wide requires that you consistently create and share content that catches attention quickly and spreads easily – such images, blog posts, infographics, and other viral-worthy material.
Take CBRE, for example. You've probably never heard of the commercial real estate company unless you're in that industry, and you probably won't care too much about them either. However, their Instagram feed is filled with the most beautiful places and buildings — things you can't possibly miss during a leisurely scroll through your feed.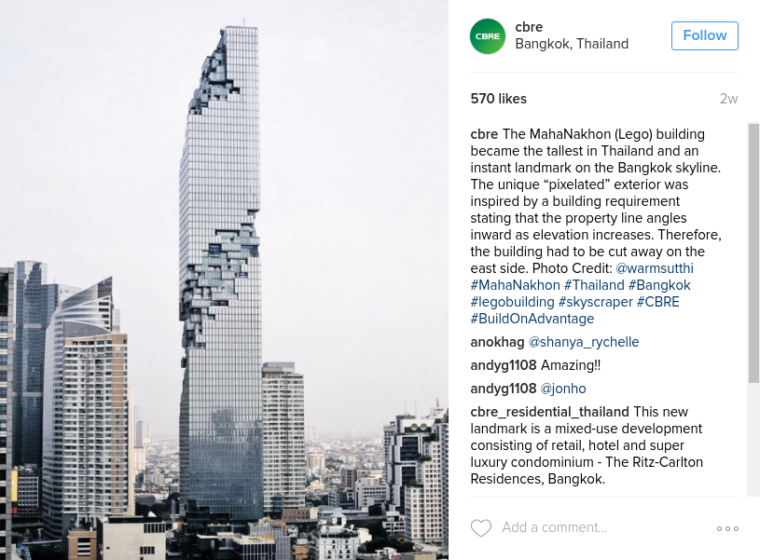 CBRE takes advantage of Instagram's visual platform by sharing not just their own work, but inspiration from all over the world, with interesting facts that captivate audiences of all types. With this, their brand gets a lot more recognition and appreciation from outside of their industry, which, in turn, gives them a lot more clout within.
Another brand that has done well in attracting the public at large with their social media content is American icon and equipment manufacturer, John Deere. They understand that to get their products sold, they have to make an effective argument to the masses that their brand is the right choice.
Initially, they started their marketing efforts with their own magazine, The Furrow, often cited by content marketing experts as among the oldest specimens of branded content.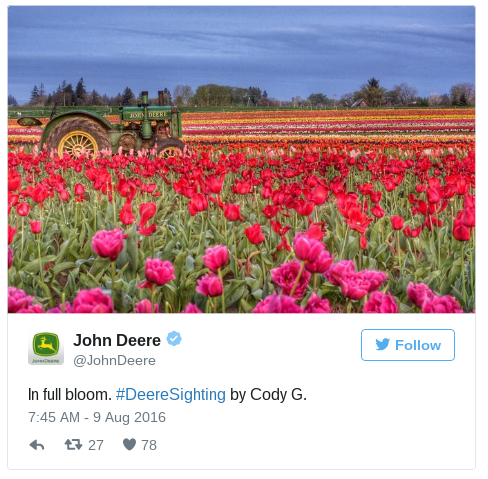 On Twitter, John Deere uses hashtags like #DeereSighting to let customers share and find stories from other fans and build an engaging community. A sales pitch through this medium is extremely rare. They simply depend on their engaged community and beautiful images to tell a story people will want to be a part of.
Where Not to Go
Don't take anyone's advice as gospel. Choose whatever strategy suits your company best, based on your product type, audience, and end consumer. But, no matter what you do, remember that one B2B social media strategy just won't work, no matter what: being a loudspeaker.
No one likes people and brands that just push their own products all day long – and this sentiment is even stronger on social media. The very concept of social media is to be conversational. No good can come from treating it like just another old-media, spray-and-pray advertising opportunity.
That's not to say that talking about your product is always bad on social media. Instead, take the approach that Gary Vaynerchuk promotes in his popular book, Jab, Jab, Jab, Right Hook, and provide valuable content consistently, before going in for the kill.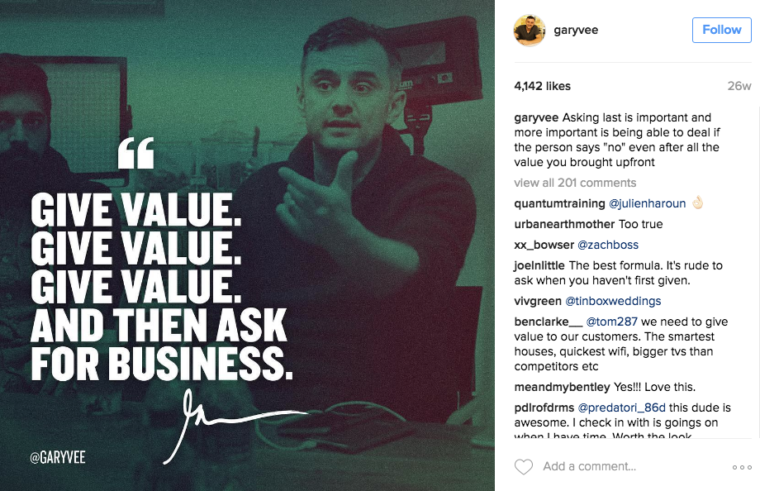 So if you find yourself posting sales copy and promotional material all day long – or worse, pitching to random strangers online without getting to know them or developing a non-sales relationship first – you might be hurting your case more than helping, even if you do succeed one in every thousand tries.
Remember, at the end of the day, even if you're selling to businesses, you're still talking to humans who have lives and emotions outside of their job titles. Make the effort to be helpful, useful, and inspiring, and you will be rewarded with engagement and deals.
Go Wild!
Remember that while the strategy considerations outlined here work best in the vast majority of B2B social media situations, many businesses succeed online simply by breaking the mold and doing something totally unexpected.
What's important is not to pick just the strategy that seems to be the wisest, but to pick the strategy that actually works for you, plan carefully, and stick to it. That's your only sure path to success.
Image Credits
Feature Image: Sammby/DepositPhotos.com
In-post Photo: Image by Buzzsumo and Hubspot. Used with permission.
All screenshots by Ben Jacobson. Taken August 2016.