When looking for B2B marketing tips, email marketing does occasional come up. However, the impact of email marketing cannot be overstated. Which isn't exactly old news—but a recent report published by GetResponse, "The State of Email Marketing by Industry," has reiterated just how important email marketing is.
Key findings include that this type of marketing brings in the highest overall ROI, and that its best use is for generating leads. The report also showed that 57 percent of the marketers surveyed intend to increase their email marketing budget in 2016.
Clearly, emails are a big deal. But which form of email copy is the most effective?
To Newsletter or Not to Newsletter?
Email marketing can involve a whole host of communication strategies, from newsletters and autoresponders to customer surveys and follow-ups. But across all industries covered in the report, one strategy particularly stands out: 74 percent of marketers use a newsletter approach to reach out to their audience.
As the report itself states, "Newsletters are […] the workhorse of email marketing, continually driving revenue and generating a great brand experience."
At the same time, they are useless if you don't get the basics right. For example, the report also found that 46 percent of marketers don't segment the recipients of email campaigns. We all know the feeling of receiving a flood of email newsletters that aren't relevant to us—in which case, the unsubscribe button is the only part of the email we find truly interesting.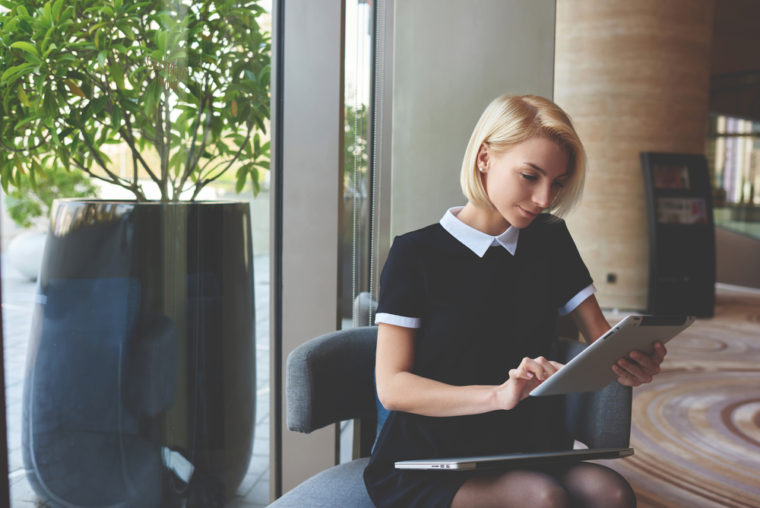 With that said, here are six tips to help make your next B2B email newsletter worthy of your audience's attention.
1. Know Your Audience's Needs
To more accurately target your newsletter, you need to segment your audience in line with their different personas. Figure out what these personas need, what their pain points are, and how you can resolve their problems. As the aforementioned report reveals, this is the step so many marketers miss, going straight into sending out generic newsletters.
Segmenting your audience involves collecting user data at every possible opportunity. Subscription forms, social media interactions, landing page visits, and premium content downloads all provide useful facts. This information will then help you personalize your newsletters and engage recipients.
Despite common misconceptions, B2B marketing doesn't need to be boring and impersonal. Instead, imagine you are writing to one person, and tailor your newsletter to specific segments accordingly.
To make this easier, marketers most commonly use marketing automation to manage and automate their newsletters. This way, large lists of leads can be covered while communicating to each individual on a personal level.
2. Don't Go Overboard With Selling
"Telling before selling" should be the mantra you stick to when creating your newsletter's content. To put this into perspective, keep in mind that newsletters aren't meant to sell anything directly. Decision makers won't necessarily make big business decisions on the basis of an email, or even a chain of them. However, when conveyed correctly, emails can significantly contribute to tilting decisions in your favor.
This is why you should strive to educate rather than sell. Newsletter content aims to address a lead early in the buying journey and encourages them to realize they have a problem that needs solving. It caters to both rational and emotional needs but, nevertheless, shouldn't force solutions at such an early stage.
Admitter, a B2B email marketing agency, found that calls-to-action in emails like "more info" beat those that say "buy now" in about 90 percent of cases. In other words, what people look for in emails is information about their needs, problems, and possible solutions—not sales.
3. Improve Your Email's Design
Great design can play a big part in raising open and click-through rates. Pardot regards design as one of the most critical aspects of any B2B email. So while designing, ask yourself the following questions:
Is the design of your newsletter clean and easy to digest?
Does it complement the email's content and your buyer persona?
Are the graphics and photos attractive and engaging?
Is your CTA clearly visible? Is it actionable?
The answers to these questions should be influenced by your understanding of the recipients' needs, attitudes, and preferences. But it's always a good idea to stick to the old KISS formula: Keep It Short and Simple. Even the colors within your design can be tailored to your audience, as this Kissmetrics infographic suggests.
Additionally, with over 54 percent of emails now being opened on mobile devices, according to Experian, designing a responsive newsletter is a must. Your readers won't wait, so your newsletter must render properly on all mobile devices if you want to secure more leads and fewer unsubscribes. It's important to test your newsletter extensively on a variety of browsers, as well as devices, in terms of images, subject lines, and CTA buttons (we'll go more into detail on this later).
Your newsletter should also be easy to scan. This means incorporating design features such as a vertical format, clear headers, white space between separate items, short line length, short paragraphs, and bulleted lists—in short, anything that makes it easier for readers to get the main idea within the first few seconds of opening the email.
4. Pick the Right Time
MarketingSherpa drew from a survey that the best days for sending out B2B newsletters, in terms of click-through rate (CTR) and open rate, were Tuesday and Wednesday. At the same time, Experian and ExactTarget discovered that sending email campaigns outside of standard working hours, or even at the weekend, can be successful.
Click-through and open rates can also vary depending on how many email campaigns you send out per month and, as HubSpot points out, the size and type of your business.
The takeaway here is to test your email newsletters and collect data to find the best times to launch your next newsletter based on tracked user behavior.
5. Optimize Based on Recipient Behavior
As far as monitoring user behavior is concerned, you need to gather some data from your email analytics tools. Measure how people respond, what draws their attention and makes them click, how much time they spend on your newsletter, and any other relevant metrics.
Then, you'll have everything you need to begin testing. Let's say you've found that people avoid your CTA buttons and rarely take action. Maybe you need to change their position, shape, color, or copy. Or, you may need to concentrate on other elements of your newsletter such as its subject line, design, content, and send time.
By testing out various possibilities, you'll be able to make more informed decisions about your design techniques, your emails' usability, and even your overarching editorial policy. By zoning right in on your personas, you'll provide them with more of what they want, when they want it.
6. Integrate Your Overall Marketing Strategy
Your newsletter should be part of the greater whole of your marketing strategy. If it's disconnected from your other marketing activities, and if it doesn't ask readers to take an action or at least point them back to your website, you'll end up losing leads.
Thus, think about how your newsletter complements other activities, remembering that newsletters are closer to the top of the sales funnel than blog posts, or premium content assets like infographics.
For example, try optimizing your newsletters for social media. This could include:
Enabling sharing by adding social sharing buttons and easy-to-share messages (short enough for a tweet or Facebook update)
Promoting popular social media content in your newsletter
Making social media icons accessible on your "unsubscribe" landing page
Using social media to grow your list of subscribers
Ready to Design Your Next Newsletter?
Still wondering whether you should bother with newsletters? Don't—they are a great addition to your marketing mix and offer plenty of chances to accumulate leads.
Maybe there are other email marketing tips that work well for you, too; let us know by leaving a comment. We'd be happy to hear your feedback.
Image Credits
Featured Image: peshkova/DepositPhotos.com
In-post Photo #1: GaudiLab/DepositPhotos.com
In-post Photo #2: stockasso/DepositPhotos.com