Part of any successful business is a successful digital marketing strategy.
Creating a strategy is one thing, but the execution is just as important, if not more.
But with the digital landscape changing every day, where's the best place to start creating and optimizing your strategy?
Read on to learn how to create a successful digital marketing strategy for your brand.
What Is A Digital Marketing Strategy?
Inevitably, digital must become the pillar of your overall marketing strategy.
With an average of 12 touchpoints and two months for a customer to convert from awareness to sale, many of those touchpoints will be digital.
While there's not one clear-cut definition of what a digital marketing strategy is, it can be summarized as the following:
A digital marketing strategy is part of a larger business plan that outlines how to reach its overarching business goals using digital channels.
A digital marketing strategy must be tailored toward specific company key performance indicators (KPIs). Core elements of creating a successful strategy include:
Digital channels.
Target audience and regions.
Core messaging components.
Budgets.
As part of a digital marketing strategy, specific channels are identified to target the company's ideal customers and lead them toward conversion.
These channels can include (but are not limited to):
Search engines.
Social media platforms.
Email.
Websites.
Apps.
Identifying channels is just one part of the digital marketing strategy. The second necessary key piece is consistent and relevant messaging to the target audience.
While the overarching message should be consistent across channels, the way brands engage and specifically talk to customers will, and should, vary by platform.
Digital Strategy Vs. Tactics
Many brands tend to confuse strategies and tactics and end up blending them together.
While both are essential elements of a marketing plan, strategy and tactics have different definitions and serve different purposes.
As mentioned above, a strategy is part of a larger business plan to help brands reach overarching company goals.
Conversely, tactics are planned actions to achieve a greater marketing strategy.
The Key Differences Between Digital Strategies And Tactics
| Strategy | Tactics |
| --- | --- |
| Focused on long-term goals | Focused on short-term goals |
| Part of a larger company plan | Can be measurable objectives |
| Channel-oriented | Campaign-oriented |
| Audience-oriented | Action-oriented |
| Provides a roadmap for tactics | |
One example of a digital strategy could be paid media marketing. The tactics that fit within paid media marketing could include:
Running paid search ads on Google or Microsoft.
Testing audiences on the Google Display Network (GDN).
Testing landing page or ad copy creatives for optimized conversion rates.
To summarize: Tactics do not equal strategies. Strategies are created to then inform which tactics should be used.
Digital Strategy Examples
While digital marketing strategies may contain similar characteristics across brands, each strategy and its tactics will look different. Strategies are not a "one size fits all."
Below are some of the more common digital marketing strategies used by brands across the world:
Pay-per-click (PPC) advertising.
Search engine optimization (SEO).
Content marketing.
Ecommerce.
Email marketing.
Social media marketing.
PPC Advertising
PPC marketing is a form of online advertising where brands pay each time a user clicks on their ad and is driven to the company website. Typically PPC campaigns are run in Google and Microsoft Ads.
Within those two PPC platforms are multiple campaign types to choose from, depending on the advertiser's goals. These can include:
Search ads.
Display ads.
Shopping ads.
YouTube ads.
App ads.
Discover ads.
Performance Max.
And more.
PPC ads can be hyper-targeted to specific audiences or targeted to the masses, depending on the brand's objectives. PPC is generally used to drive a brand's traffic, sales, and conversions.
An example of a PPC search ad on Google is below.
SEO
An SEO strategy involves optimizing the brand's website, app, or content to help rank higher in the search engine results pages (SERPs).
When a brand's website and content are optimized, it helps drive improved organic (non-paid) search visibility, ultimately driving more traffic to the website.
SEO is considered a long-term strategy, and while there are typically no "direct" costs (like PPC advertising), it does involve indirect costs such as:
Employee or agency time and fees.
Third-party platforms or technology costs.
One benefit of having a strong SEO strategy is that, over time, the reliance on PPC marketing can be reduced, making the budget more efficient.
Using the same example of the search query [ppc software], an example of organic listings and answer boxes on the Google SERP is below.
Content Marketing
This strategy is more "behind-the-scenes" work, if you will. It includes creating (and sharing) unique and valuable content with a company's target audience.
Part of a content marketing strategy involves creating different types of content for each digital platform.
For example, if a brand wants to create content for the TikTok platform, the content would be in the form of short video clips (maximum of three minutes).
Conversely, if a brand wants to increase brand authority, it may involve creating a long-form article and blog strategy to live on its website.
Content marketing aims to help build and establish trust with the target audience and turn them into long-term, repeat customers.
Using the same example as the PPC section above, an example of content marketing is below. The brand Skai (formerly Kenshoo) curates blog posts for its readers to increase engagement.
Ecommerce
If a brand sells physical products, an ecommerce strategy should be crucial to a company's business goals.
Enabling an ecommerce strategy means an online storefront is created for consumers to purchase products.
Some of the tactics in an ecommerce strategy can include:
Creating an online storefront where brands sell direct to consumers (DTC).
Selling physical products on online marketplaces such as Amazon.
Creating affiliate sales programs where others get paid to promote the brands' products.
Paid shopping ads on Google and Microsoft to drive sales.
Influencer and brand ambassador marketing.
Email Marketing
This component of a digital strategy involves sending targeted emails to potential and current customers. The ultimate goal of email marketing is to drive leads, sales, or transactions and create repeat purchasers throughout the customer journey.
For example, a soon-to-be bride is looking for the perfect wedding invitations after getting engaged.
After this user is subscribed to the brand's email or marketing communications, an email strategy cadence is created to guide them throughout the planning process. That could include:
Promoting free samples on wedding invitations.
Discounts on wedding invitation suites.
Free (or discounted) Thank You cards after the wedding.
Referral program to create word-of-mouth sales.
Email marketing is a great way to talk to the target audience and build lasting customer relationships, even after the initial purchase.
Below is an example of a targeted email offering a promotion in my inbox:
Social Media Marketing
Depending on the brand, a social media marketing strategy will have different use cases and goals.
As part of the larger digital marketing strategy, social platforms should be chosen to promote content or interact with the target audience in some form.
Below are just a few tactics that can be used in social media marketing:
Creating organic content to post.
Running paid ads on platforms to target audiences.
Launching influencer marketing campaigns depending on the specific goal.
Using the same brand example as the email section, below is an example of a retargeting ad on Facebook (Meta):
How To Create A Digital Strategy In 5 Steps
As mentioned above, a digital marketing strategy should be created after identifying the overarching business goals.
For this reason, the steps to create a successful digital strategy include specific steps to help achieve the larger business goals.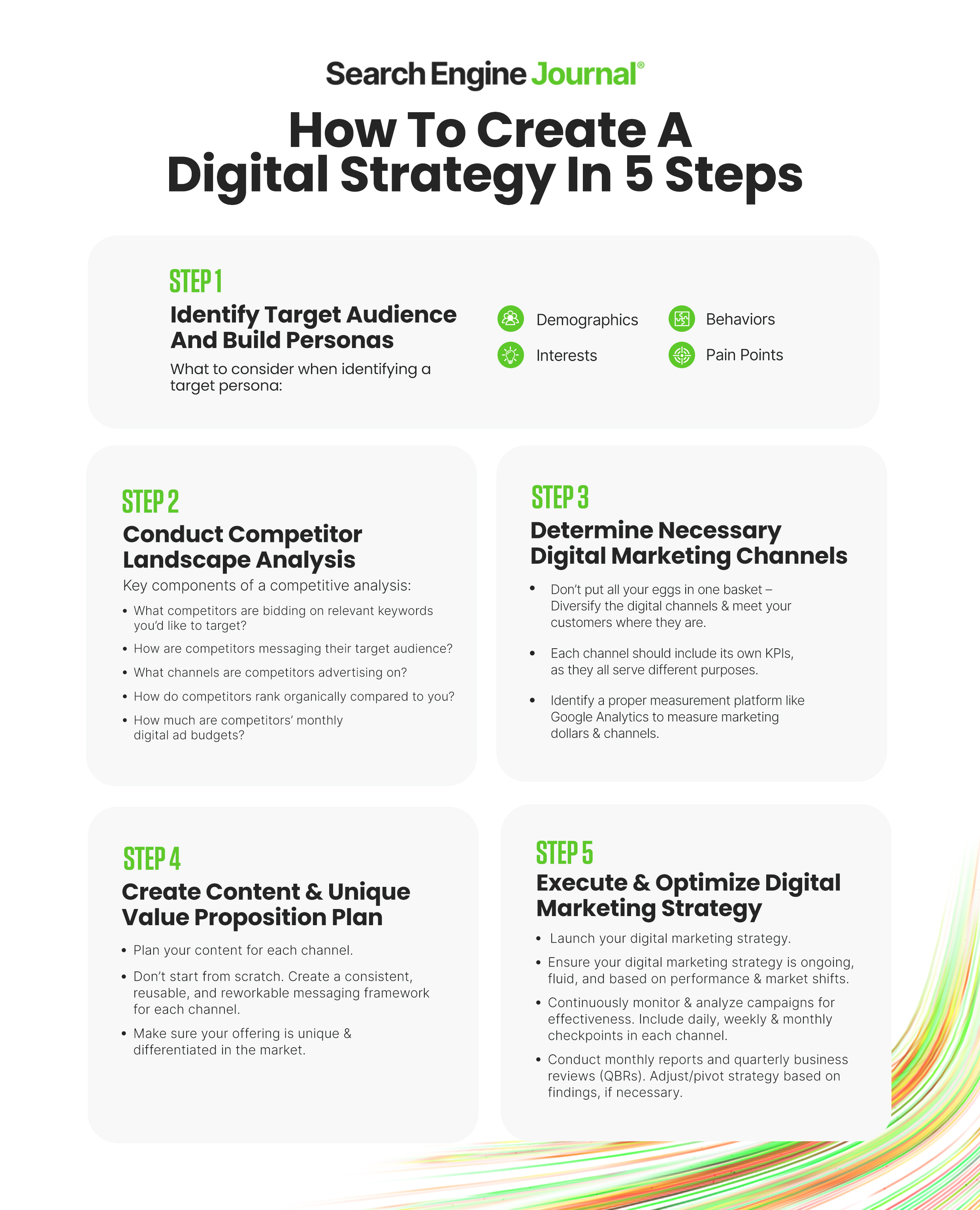 Step 1: Identify Target Audience And Build Personas
A digital marketing strategy will only be as good as the target audience behind it. After all, they're the ones who purchase your brand's products and services.
When identifying a target persona, consider the following items:
Demographics: After identifying where to sell your products/services, determine if any key geographic areas may outperform others. Other demographic categories are age, parental status, household income, and more.
Interests: What kinds of hobbies does your ideal persona have? This information can help shape content for the customer.
Behaviors: How (and where) do these users consume content on the internet? Are they impulse shoppers? What social platforms do they frequent?
Pain points: What problems are users trying to solve? This is the key area to focus on. By providing your target audience with a solution to their pain points and speaking to them in a way they understand, you'll likely win a customer for life.
Step 2: Conduct Competitor Landscape Analysis
It's important to understand the digital landscape before diving into digital channels.
Some of the key components of conducting a competitor analysis include:
Which competitors are bidding on relevant keywords you'd like to target?
How are competitors messaging their target audience?
Which channels are competitors advertising on?
How do competitors rank organically compared to you?
How much are competitors' monthly digital ad budgets?
Third-party tools like Semrush, SpyFu, Google Keyword Planner, and Google Trends can help answer many of these questions.
Note that with any third-party tool's data, the information provided cannot be guaranteed 100% accurate and should be used as a guide, not as an absolute.
Step 3: Determine Necessary Digital Marketing Channels
Once you've figured out who your target audience is and where they hang out online, it's time to determine the key digital marketing channels.
Ideally, a mix of channels will be chosen as it's not best practice to choose one or two and put all your eggs in one basket.
The key is to diversify the digital channels and meet your customers where they're online at any given point in time.
These channels will likely include any of the above in the digital strategy examples section.
Each channel identified should include its own set of KPIs. These are set by the marketers and greater business teams.
Be sure not to set the same KPIs and measurement goals for each channel, as they all serve different purposes.
Creating realistic measurement goals ensures that awareness channels are measured against awareness KPIs, such as brand lift instead of direct conversions.
As with any digital channel, it's important to understand how they can be measured.
This step should include identifying a proper measurement platform, such as Google Analytics or another tool, to ensure that marketing dollars and channels can be measured.
Step 4: Create Content And Unique Value Proposition Plan
Once the digital channels have been identified, it's time to plan your content for each channel.
The key is creating a consistent messaging framework that can be reused and reworked in each channel. That way, you're not starting from scratch each time.
For example, if you want to introduce your brand on YouTube or the Google Display Network, the content should not be focused on a direct conversion or a "Buy Now" CTA. That's simply asking for too much on an initial brand awareness touchpoint.
On the other hand, for someone well on their search journey and looking for specific products and services, that could be a time to introduce discounts and special offers.
Lastly, make sure that what you're providing your customers is unique and differentiated in the market. Conducting a competitor analysis first will help identify what's currently being offered in the market.
Even if your product or service is similar to your competitors, it's important to find a way to differentiate your brand.
Step 5: Execute And Optimize Digital Marketing Strategy
Once you've defined steps 1-4, it's time to launch your digital marketing strategy.
However, the work is not done yet. Your digital marketing strategy should be ongoing and fluid based on performance and the changing market landscape.
Digital marketing channels and campaigns should be continuously monitored and analyzed to ensure that marketing budgets and resources are utilized most effectively.
This should include daily, weekly, and monthly checkpoints in each channel.
Monthly reports and quarterly business reviews (QBRs) should be conducted to provide opportunities to shift and pivot strategy based on findings.
Summary
Digital marketing strategies are not a "one size fits all." They also should not be the only strategy a brand has.
While it's important to think about "digital-first" when it comes to strategies, it needs to align with the overarching business goals.
Don't confuse strategy and tactics and end up rushing into a tactics-first approach.
By taking the time to create a solid digital marketing strategy, you're setting the brand up for long-term success and the ability to pivot based on performance.
More Resources:
---
Featured Image: ImageFlow/Shutterstock