As a content marketer, sometimes coming up with new content ideas is extremely challenging. Never mind great content ideas that are going to move the needle for your website.
We've all been there. Everything is great when you first start writing for a website – there are a ton of untapped opportunities and brilliant ideas flowing.
However, after you've been writing for a website for a couple of years, things may begin to feel more challenging.
Leveraging the many content ideation tools available will not only help you address this challenge, but it will also ensure your topic ideas are backed by data.
12 Awesome Tools for Data-Backed Content Ideas
In this post, you'll discover a variety of content ideation tools to use when brainstorming new content ideas and building an editorial calendar set up for success.
1. SEMrush
There are many ways to spike content ideas using SEMrush; however, one of my favorites is by using the new Topic Research tool. You can plug in a topic area or domain to generate related information and ideas.
By analyzing the most popular subtopics, headlines that are earning the most links, interesting/related questions being asked and more, you'll be able to craft a post that truly resonates with your target audience.
This will also give you a solid idea of what sites and assets you'll be going up against.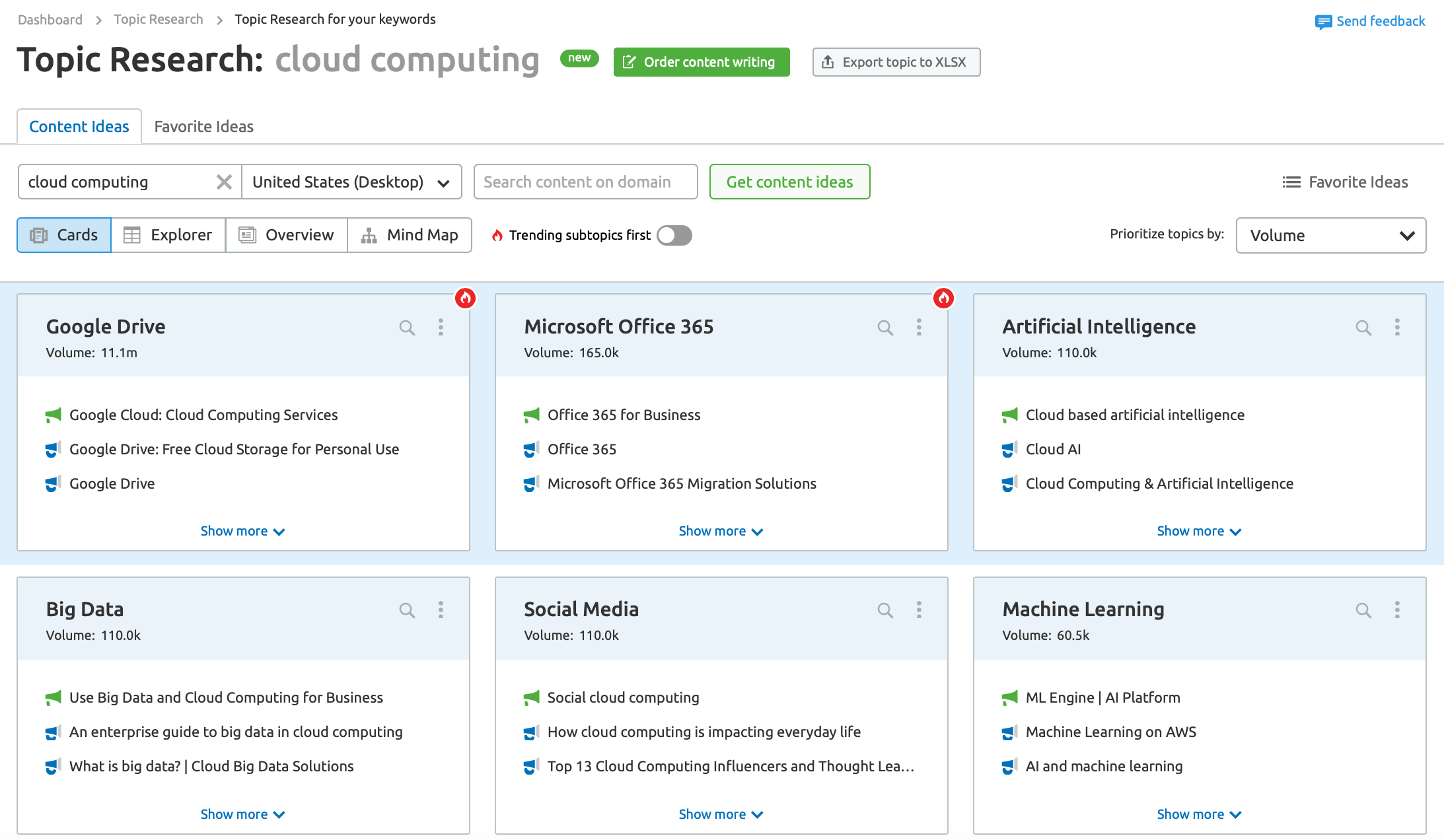 Use the filters to sort by:
Volume (for the most popular searches)
Difficulty (for quick-win opportunities)
Efficiency (for both volume and difficulty)
Additionally, you can save ideas to "Favorite Ideas" to go back to them later.
2. FAQ Fox
This content ideation tool displays the questions that people are asking around the keyword target at hand.
You can enter specific sites to scrape, or pick from suggested categories of sites to search from.
Essentially, the tool asks search engines to find what, why, how, and where in the titles and meta data that incorporates the keyword.
This tool is especially powerful for a few key reasons. It helps figure out:
How users are typing in questions and the language they are using
Questions that users aren't finding answers to in search results
Answers to the questions with supporting information that can be leveraged to create the asset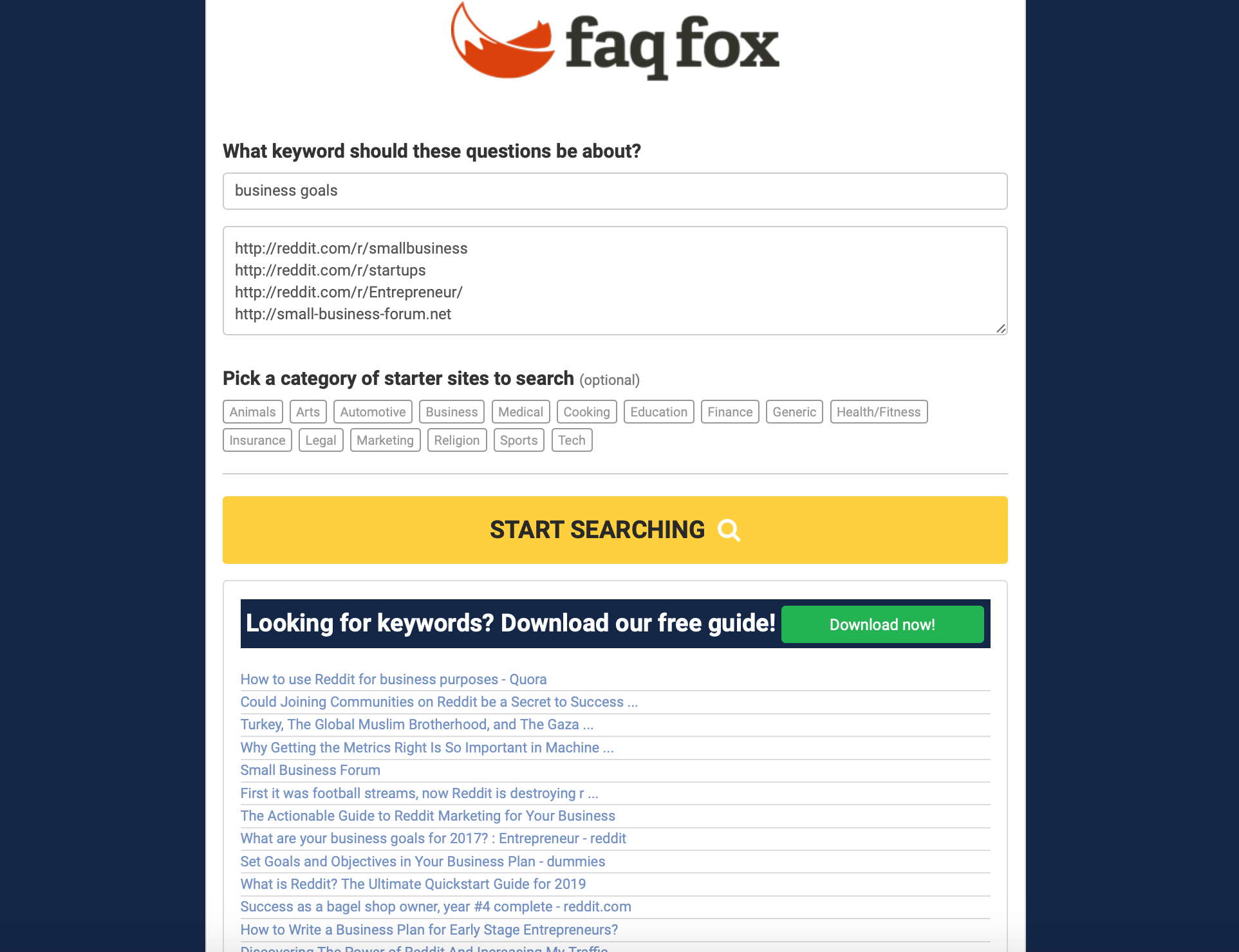 In addition to searching across relevant forum sites and social media platforms, search your competitors' sites to see what questions they are answering around a particular topic.
3. Quora
Quora is a fantastic community, especially to determine what type of information people are looking for around a particular subject.
The platform allows you to search by topic, and displays the most popular questions (or threads) around each topic.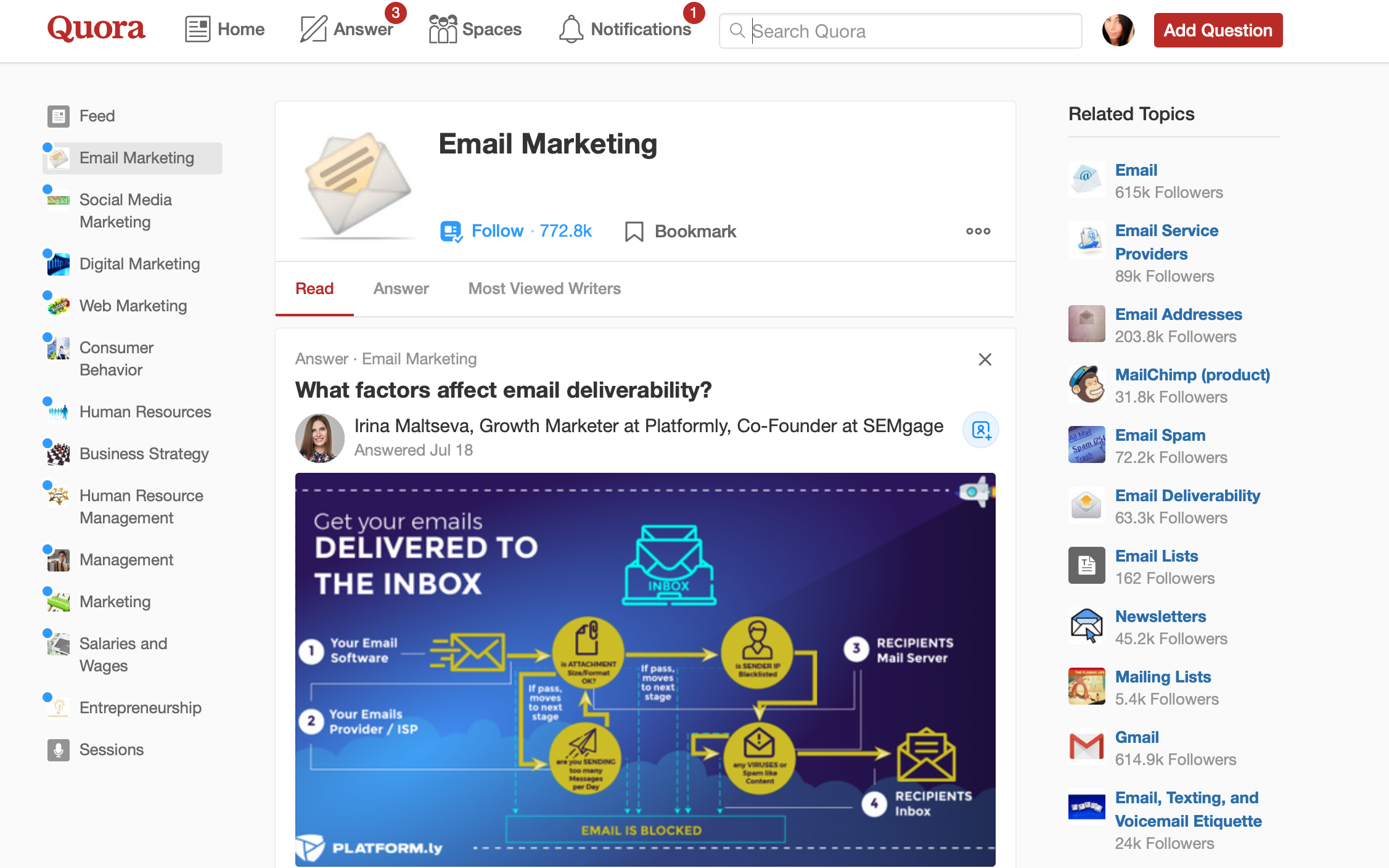 Questions being asked on Quora can lead to some really great content ideas.
Additionally, once you've created the asset inspired by a particular thread, go back and share your article with high quality and valuable response.
This will help generate brand awareness, strengthen thought leadership, drive visibility to the new asset, and provide users with the information they are looking for.
Pro tip: To take a more targeted approach, run Quora.com in SEMrush to see the threads that are organically ranking in search results for your keywords. Threads ranking in the top 10 results on Google for your priority terms present an immediate opportunity for content creation, as well as distribution after the post is live.
4. Google Search Console
Consider the queries that are already driving people to your website.
Look at the top queries, impressions, clicks, and click-through rate (CTR) in Google Search Console to identify terms that are underperforming.
Queries with low click-through rates likely indicate that you need new pieces of content to better address the topics, or that the existing assets are lacking something.
For example, if there is a query driving thousands of impressions to your site each month but the CTR is less than 10%, there is clearly a lot of visibility to gain.
Start with these keywords, and you will likely see some quick-wins.
5. Google Keyword Planner
Keyword Planner is essential to discover new phrases that are being searched for, which can be used to generate new content ideas.
You can enter products and/or services closely related to your business, or a specific domain to uncover new keyword opportunities.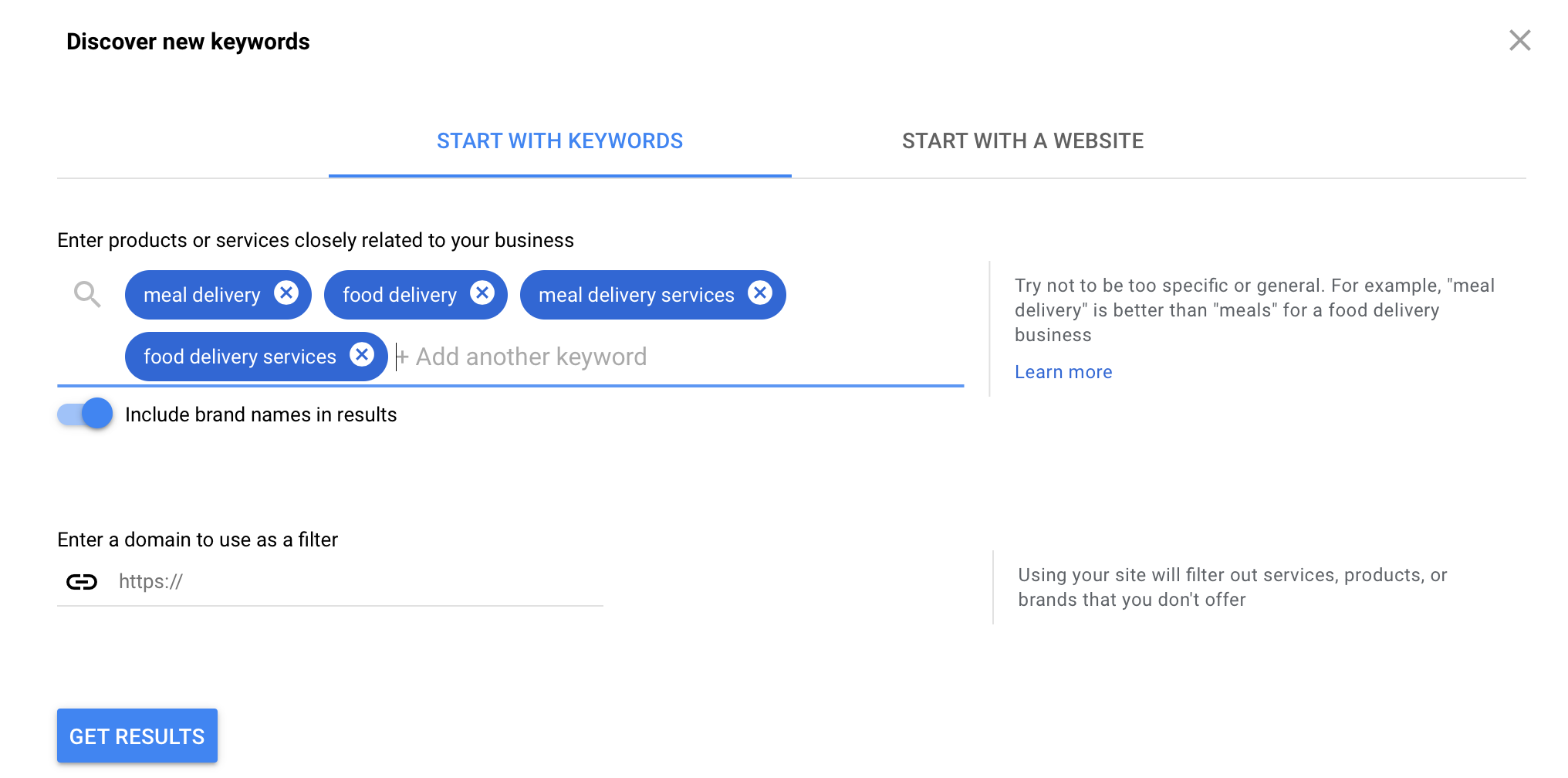 I'd highly suggest running your own domain, as well as competitors' domains to uncover potential keyword gaps and areas where your site needs the most improvements.
From there, start digging into the keyword suggestions.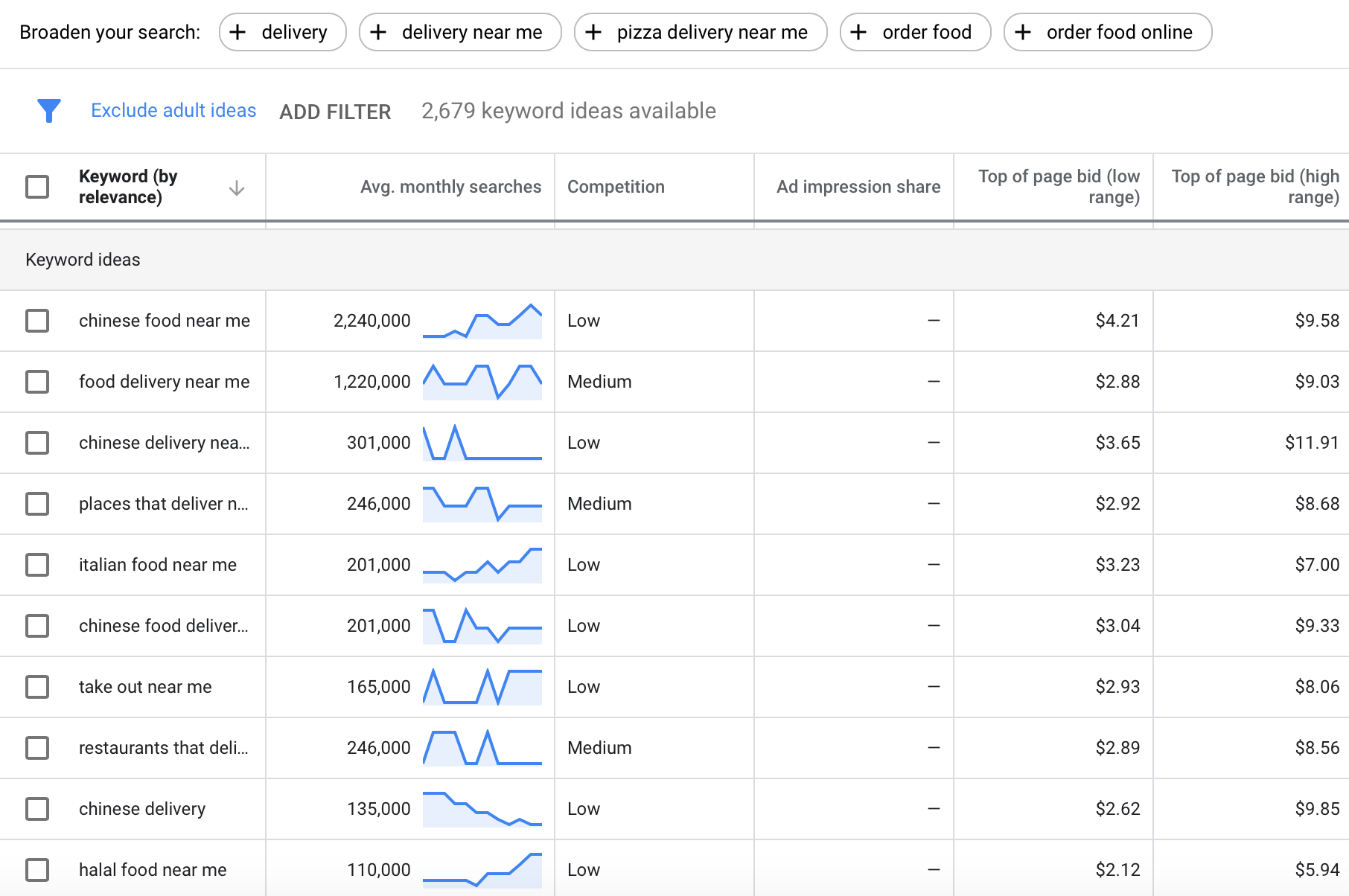 Remember, don't ignore keywords with little or no search volume.
Zero search volume does not equal zero traffic. This has been proven time and time again.
In fact, low volume terms can lead to huge traffic wins!
6. Google Search Results
When evaluating the keyword opportunities that you've determined, go directly on Google and see what is currently ranking in search results. This will help ensure that your content ideas are set up for success.
Ask yourself:
What types of assets are ranking?
What sites are ranking in the top results?
Are there certainly commonalities in titles?
If so, what kinds? Are they mostly lists, how-to type articles, "what is" content?
What do the page tagging elements consist of?
How extensive are the assets?
What subtopics do they cover?
This type of analysis will help you come up with topic ideas that are aligned with the assets that Google has already deemed related, quality and worthy of ranking.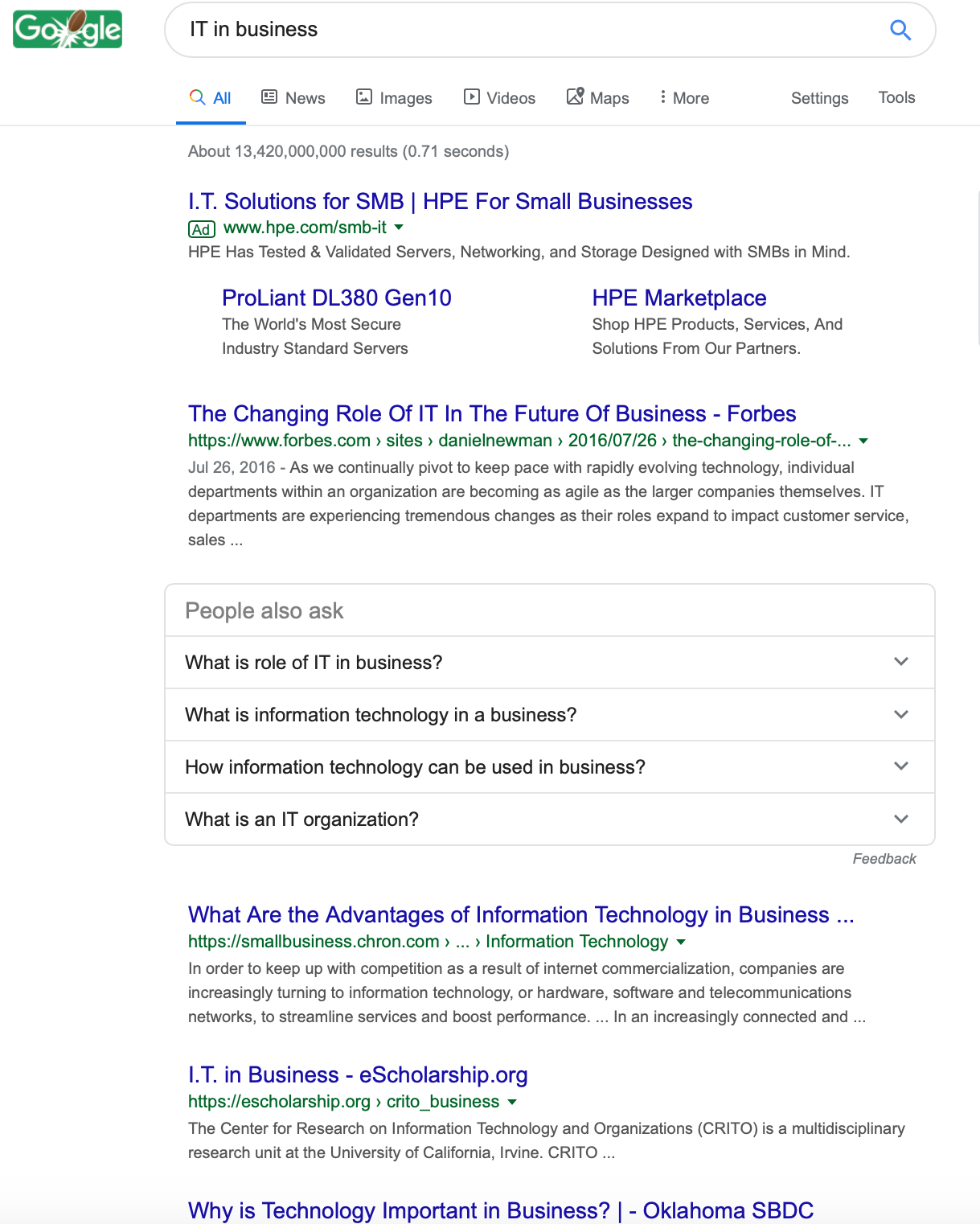 Search results that are made up of mostly education and informational content likely present an opportunity to create blog posts, while results that display product and services are better geared toward your main site landing pages.
Be sure to look at the People Also Ask, Searches Related to, and Google's "Try searching for" suggestions, as these will also lead to some really great content ideas.
This goes back to my point about not ignoring keywords that show zero search volume. Often times if you run these suggestions (from People Also Ask, Searches Related to, etc.) in Keyword Planner, it will display zero average monthly searches.
However, Google suggests them for a reason. People are looking for this information.
7. Keyword.io
This is one of my all-time favorite tools to use for new content ideas. Simply plug in a seed keyword, and the tool will provide hundreds of longer tail keyword suggestions.
The best part? You can pull platform-specific research for Google, YouTube, Amazon, Bing, Wikipedia, and many more.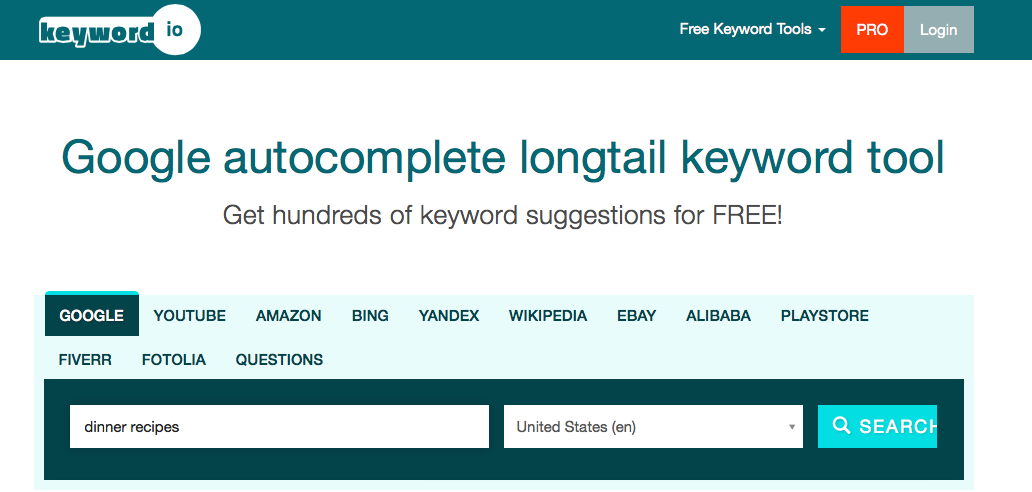 When digging through the longer tail keyword suggestions, pick the ideas that make the most sense for you and your content objectives. Then, export this for a complete list of priority ideas.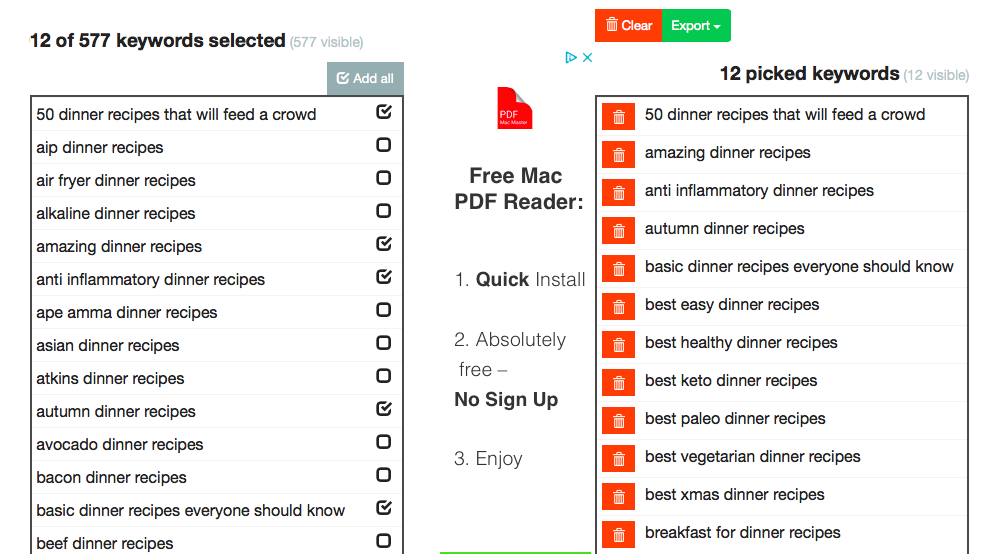 8. BuzzSumo
Use BuzzSumo to analyzing top-performing articles across the web and trigger new content ideas. Similarly to other tools mentioned above, you can search by a specific keyword or domain.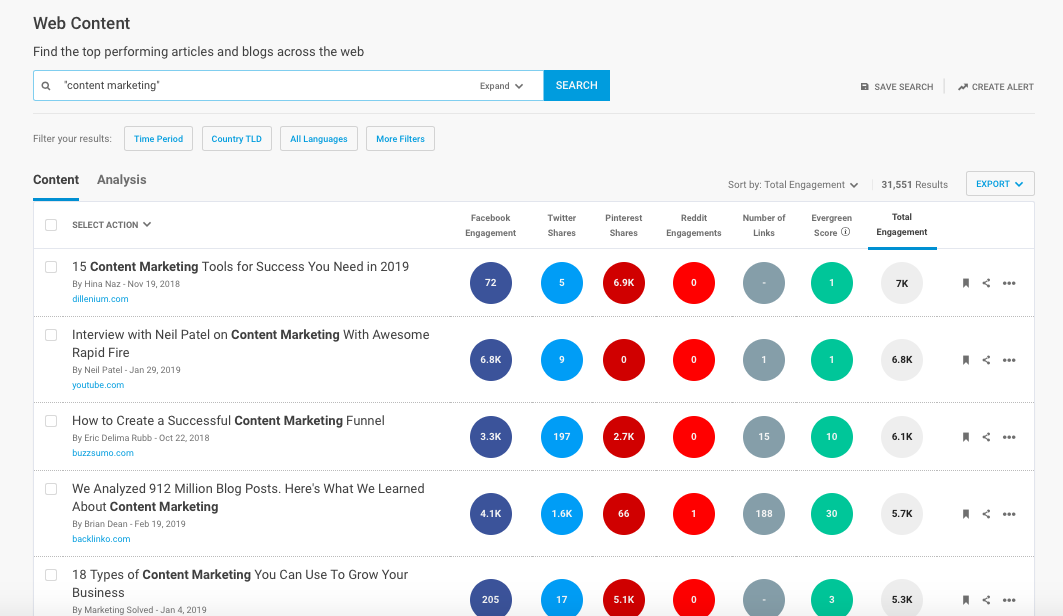 It's important to think beyond your own domain and search competitor sites as well.
With this tool, you can get a better understanding of what content assets (and topics) are generating the most shares and backlinks for your competitors.
This will help you realize content gaps on your own site, and the types of new assets you will need to compete.
9. Google Trends
In today's search landscape, it's important to craft content that addresses subtopics that Google associates with a keyword.
Google Trends helps understand searches that are closely related to the topic at hand, as well as the user intent behind these searches.
One of the best parts about this tool is that you can use it to determine the timeliness of a topic.
Is it a newer subject that is just heating up?
Did popularity around the topic spike a couple of months back and dwindle off since?
Is it a seasonal or annual topic? If so, when do people start searching around it?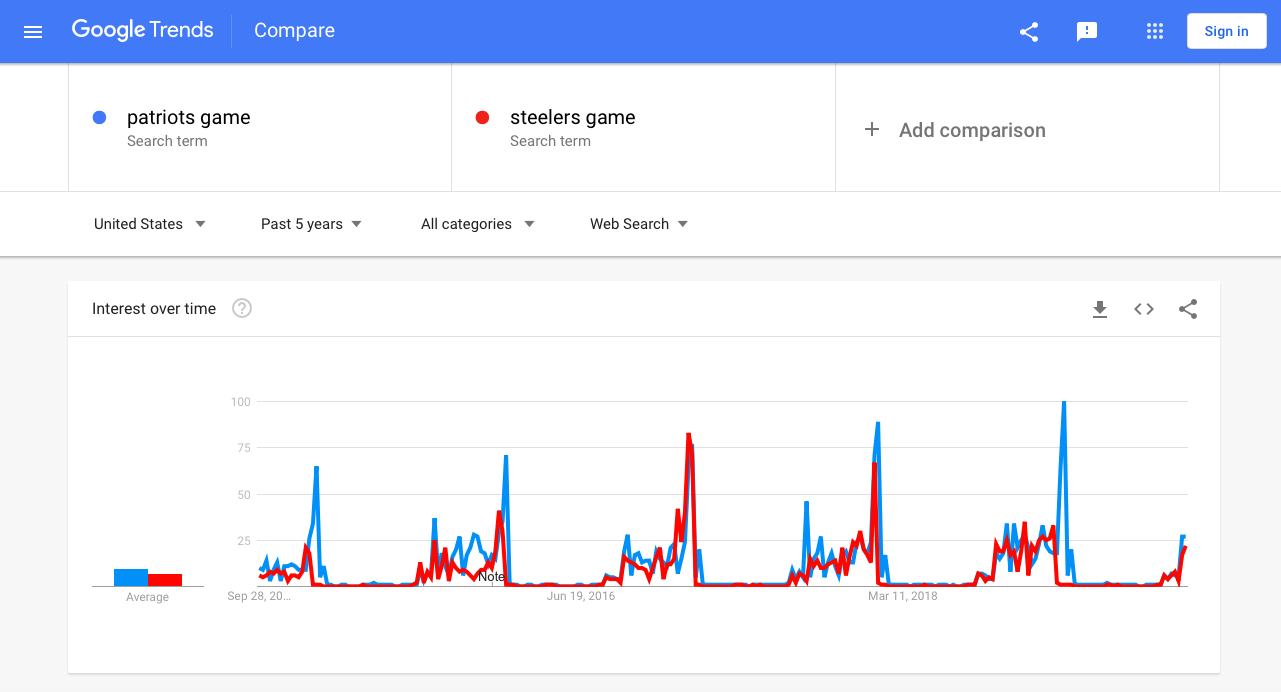 For example, in the screenshot shown above, you can see that the average interest over time around Patriots' games is greater than for Steelers' games. This further proves that the Patriots are better than the Steelers. (Kidding! Sortofnotreally. 😂)
But, it does show that when these terms are being searched for is fairly consistent. You can clearly see when off-season is and when the season starts to pick up.
Looking at the trends over time will help you decide if the topic is worth addressing, and the best time to publish a new asset around the subject.
10. Answer the Public
Answer the Public is another valuable tool to find the questions that people are searching for around a particular keyword or phrase.
Type in a keyword, and you'll be greeted with an awesome visualization of how people are searching around the topic.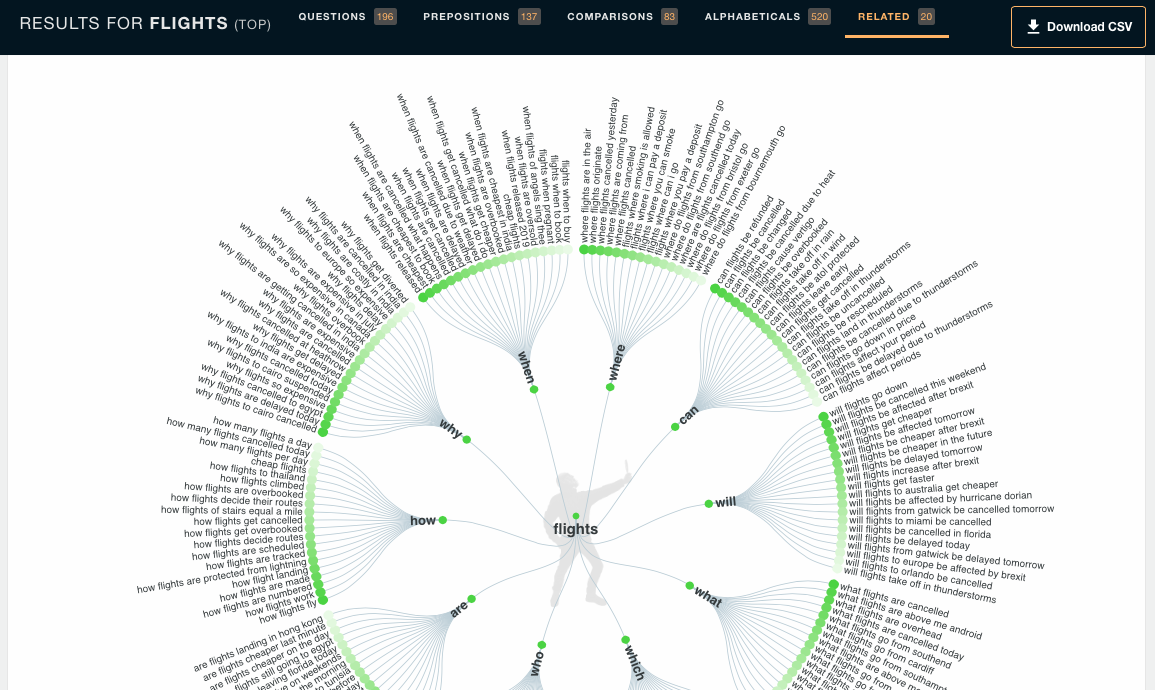 This tool applies question-based modifiers (such as which, who, what, when, why, how, are, and where) to the beginning of the keyword and displays Google's search suggestions.
It also searches with preposition-based modifiers (including for, with, to, on and many more), as well as comparisons like versus, or, and, like, etc.
The comparison data is especially useful if you are writing about a particular product or software. Versus style content can be extremely valuable to reach people who are deeper in the sales funnel, and already comparing potential solutions.
11. Social Media Platforms
Don't forget to leverage social media as part of your content ideation process. While this type of analysis can be done across platforms, I find Twitter to be the most purposeful for content ideas.
With Advanced Search on Twitter, you can see tweets that include specific words, phrases, hashtags, mentions, and more to get a feel for the types of conversations people are having online.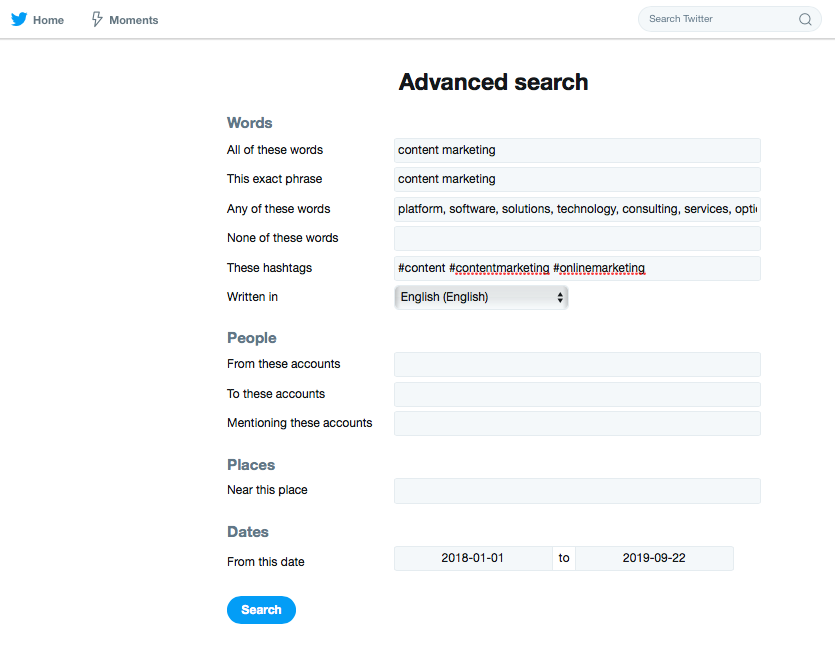 Aim to better understand the language they are using, questions they are asking, challenges they are having, and the tweets that are getting the most engagement.
12. CoSchedule
CoSchedule has a variety of offerings that can help take your writing to the next level; however, for the sake of this article, let's focus on the free Headline Analyzer tool.
This tool is especially helpful once you've established some new content ideas, and are looking for ways to tweak them in order to maximize visibility.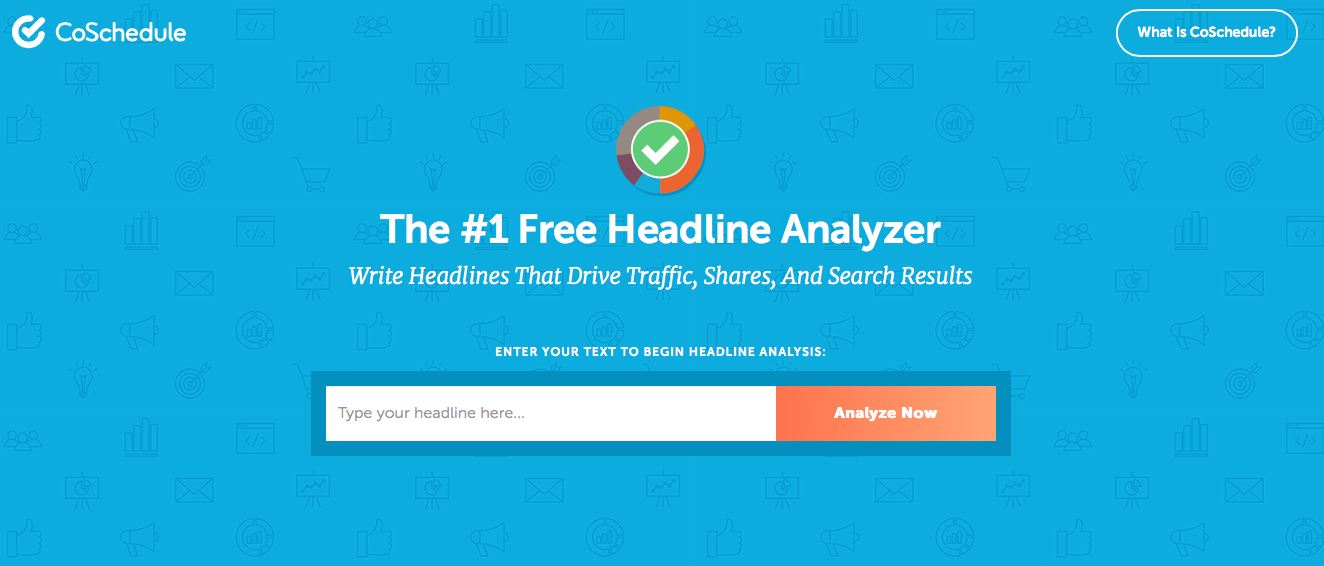 You can enter text and get immediate feedback on how to tailor your headline to drive traffic, shares, and search visibility.
Get recommendations to:
Identify the type of headlines that convert (lists, how-tos, questions, etc.)
Find the right word balance to catch your audiences' eye (uncommon, common, emotional and powerful words)
Optimize the character length for engagement
Final Thoughts
In this extremely flooded online marketing landscape, it's becoming more important for content marketers to focus on quality over quantity. And, this means identifying the right content topics.
Craft new content that is highly targeted toward your audiences, keyword objectives, and broader business goals.
How?
Take advantage of the many content ideation tools available to you.
You will come up with amazing content ideas that are backed by data.
More Resources:
---
Image Credits
All screenshots taken by author, September 2019