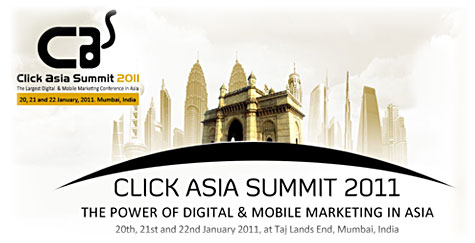 Click Asia Summit was recently conducted in Mumbai – India (from the 20th January 2011 to 23rd January 2011) focusing on digital and mobile marketing in Asia. Asia is undoubtedly a large market and a growing market with people who are fast adopting and adapting to the E-commerce, M-commerce and the social media worlds on personal and professional platforms.
The Click Asia Summit clearly focused on :
SEO, PPC , Social Media (Facebook and Twitter) and the emerging trend of the Mobile Apps. Clearly indicating the ever increasing use of the smartphones in Asia .
Statistics proved that people in Asia are allocating more budgets to Digital Media rather than the traditional media.
The importance of having a marketing mix of SEO, PPC, Local Search with a focus on Google Places and how one marketing strategy helps on leveraging the other sometimes directly and sometimes indirectly was also discussed.
Mobile marketing is the future was clearly stated and highlighted by the speakers .
The correlation between content and social media was put forward in an interesting way by stating that Content provides the context for conversations in social media.
The session on B2B marketing clearly highlighted that when using social media for B2B campaigns we need to forget about the image and focus on supplying information.
B2B usually caters to a different audience and is usually a slow process and B2B is more about lead generation than buiding relationships. Hence, creating a strategy for listening and developing an engaging framework thereby building a community is more important for B2B. The key is to have remarkable content which ignites conversations and discussions.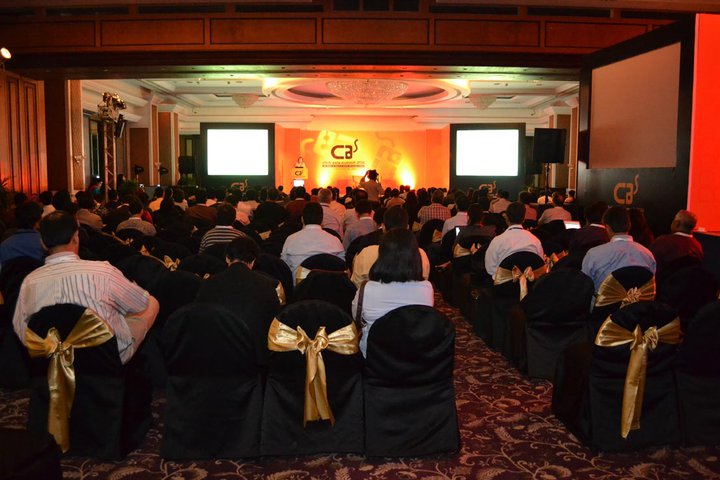 With an ever increasing demand for smartphones, the willingness of companies to divert their marketing budgets from traditional media to digital media focusing on organic search, paid search, mobile marketing using Apps . and social media proves that Asia as a market for Digital Advertising is a promising one .
In fact at the conference Gillian Muessig from SEOmoz mentioned that she had been travelling all over the world for speaking at conferences but at this conference she can sense the high interest levels of the engaging crowd and the charged up tempo of the delegates.
Blake Chandlee – Vice President EMEA at Facebook (October 2007 — June 2010 ) at the opening of Facebook's first Asian sales office in Singapore in September 2010 declared that Asia is the fastest-growing region for new subscribers to social networking site Facebook despite restrictions on access in China, a senior company executive said today.
He also added that,
"At the regional level, if you look at the big four, what we call, theatres, you've got North America, you've got EMEA (Europe, the Middle East and Africa) you've got Asia, you've got Latin America," Chandlee said. "Asia is definitely the fastest-growing amongst those big theatres… Asia's got some of the fastest-growing countries in it, certainly," said Chandlee, who described Facebook's growth in India as "tremendous".
Referring to the mobile scenario Chandlee had said:
"People are using our applications, and our mobile platform is a pretty robust on. We have over 150 million around the world now using Facebook on the mobile, and that's growing at a faster pace than PC usage, so it's a very meaningful part of our future. It will be total speculation to talk about a phone."
All this should in future have the potential for generating more jobs in the arena of development, training and marketing and also benefit the outsourcing industry. This conference was attended by a varied mix of delegates.
The majority of the people though were from the digital marketing world – agencies, service providers, developers, e-marketers,etc. but also people from the corporate world who were looking for online marketing solutions came to identify companies who could help them with their digital marketing campaigns.