Are you looking for the best digital marketing courses that use tools like real-time projects and provide a 360-degree view of digital marketing?
If so, you've come to the right place.
Savvy marketers employ new SEO strategies to attract better prospects. They alter their messaging based on metrics, walking a fine line on social media to optimize their presence, and ensure their messages are perfectly suited for every audience.
That's why it's vital for digital marketers to continually keep their skills sharp. Professional training organizations' online education and certifications via tailor-made digital marketing courses can be a lifesaver for marketing professionals.
Why Choose a Career or Upskill in Digital Marketing?
There is an enormous and growing demand for digital marketers in almost every industry.
In most cases, you can get into the field at a relatively low cost and with limited prerequisite knowledge and experience.
Digital marketers make great money. Average salaries for digital marketing range from $80,000 to $150,000, and there are ample job opportunities for:
Digital marketing managers.
SEO managers.
SEM/PPC experts.
Social media managers.
Affiliate marketing leaders.
Content marketers.
And more.
Here's a quick look at five of the best digital marketing courses for 2021 we've identified for professionals who have a passion for digital trends and techniques and want to take their careers to the next level.
This list highlights the objectives and learning path for each course, how they are delivered, what they cost, and what distinguishes each course from the rest.
This course ranking is a result of extensive research and analysis based on four key parameters:
Depth of curriculum: Comprehensiveness of the content and skills covered.
Interactive hands-on learning: How interactive the course is and how much focus it gives to learning actual tools, solving real-world industry problems, etc.
Program recognition: Is the program and the resulting certificate industry-recognized? Is it recognized worldwide or just in one nation or region (e.g., U.S., UK, India)?
Student experience: Student feedback and inputs taken from external ratings, like Mouthshut, Trustpilot, and others.
Our Picks for the 5 Best Digital Marketing Courses 2021
1. Post-Graduate Program in Digital Marketing in Partnership with Purdue University, co-created with Facebook and delivered by Simplilearn
This Post Graduate Program in partnership with Purdue University is designed to provide comprehensive education on career-changing skillsets.
This particular program has been called the world's Number 1 Digital Marketing Course, according to MarTech.
Specifically, the program covers key digital marketing skills in-depth: SEO, PPC, social media strategy, web analytics, language targeting, online reputation management, search psychology, and much more.
We see several key advantages to Simplilearn's approach, content, and delivery.
The program content goes both broad and deep.
You will learn the practical aspects of SEO, SEM, web analytics, and social media marketing through tools and hands-on practice with this online marketing course.
You earn certification from Purdue University and a free voucher for Facebook Blueprint certification.
The online bootcamp gives you skills that are applicable in the real world.
With this course, you will:
Develop skills for real career growth.
Learn by working on real-world problems.
Learn from experts active in their field, not out-of-touch trainers.
Have access to 24/7 learning support from mentors and a community of like-minded peers to resolve any conceptual doubts.
You get a digital marketing course structure and delivery that is first-class all the way.
The online bootcamp model combines instructor-led training in virtual live streaming classrooms with self-paced video so participants can follow at their own pace (with full one-year anytime access to courses).
You can complete the course in six months at 5-10 hours a week.
Candidates should have at least two years of experience, a bachelor's degree in any discipline, and a marketing or non-marketing background.
The cost is $2,250 for the entire course, including all courses, videos, exams, and workbooks. You can also break down the tuition into convenient monthly payments as low as $198 per month.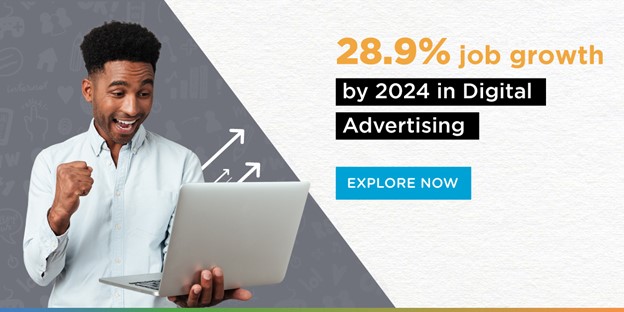 Highlights
Job-ready skills in digital marketing including hands-on experience.
A Capstone project for your portfolio to demonstrate your skills to employers.
Purdue Post Graduate Program certification.
Industry-recognized certificate from Simplilearn.
Official membership to the Purdue Alumni Association.
Lifetime access to all core eLearning content created by Simplilearn.
Always be sure to take the time to decide what skills you'll need and what online digital marketing courses can meet your needs for the right price.
2. Digital Media and Marketing Certificate – Duke University Continuing Studies
This self-paced online digital marketing course provides students with knowledge of the top eight disciplines in the field.
It consists of a combination of roughly 350 hours of instructor-led training and self-study that must be completed within 12 months of enrollment.
The non-credit course is aligned to the OMCP® certification and designed to prepare learners for the OMCA and OMCP certification exams. Learners must register separately for the OMCP exams.
In addition, this course prepares students for Google Ads, Google Analytics, Facebook Blueprint, and Microsoft Bing certification exams.
Students will gain hands-on exposure to today's top digital marketing tools, including Google Ads, Facebook Advertising, YouTube and Video Marketing, Twitter Advertising, Hootsuite, Mailchimp, and Google Analytics. Access to labs from Mimic Pro and Mimic Social gives learners the opportunity to simulate paid and social media campaigns using real-world data and analytics.
It is suitable for:
Professionals looking to boost their existing digital marketing skills.
Individuals who want to start a new career in digital marketing.
Consisting of nine modules, students must complete at least six of the eight advanced modules to qualify for the DMCA certification of completion:
Digital Marketing Certified Associate (DMCA) – required to move on to advanced modules
Advanced Search Engine Optimization
Advanced Content Marketing
Advanced Social Media
Advanced Mobile Marketing
Advanced Pay Per Click (PPC)
Advanced Website Conversion Rate Optimization
Advanced Web Analytics
Advanced Email Marketing
Students also get the opportunity to take elective courses, including mobile analytics and cloud, Pinterest marketing, display advertising, and more.
The program costs $3,195. Students must be at least 18 years old and have basic computer and word processing skills to be eligible.
Highlights
Flexibility to learn from anywhere, any device, and at any time.
Hands-on labs to simulate real-world campaigns.
Live online mentoring sessions with industry experts and experienced trainers.
Study guides and slide decks for most content.
12 months of access to existing and new course material post-graduation.
3. Simplilearn's Digital Marketing Specialist Master's Program
Simplilearn's "Master's Programs" are designed to provide comprehensive education on career-changing skillsets.
The Digital Marketing Specialist Master's Program does just that by covering:
All of the core disciplines, including:

SEO
PPC
Social media
Conversion and strategy
Web analytics
Digital channels

And elective offerings in:

Advanced mobile marketing
Email marketing
Website conversion rate optimization
Content marketing
The program prepares learners to pass various expert exams, such as OMCP (Online Marketing Certified Professional), Google Analytics, Google Ads, Facebook Blueprint, YouTube, and more.
Simplilearn provides access to virtual simulations with the Mimic Pro environment (powered by real-world Google data) so you can step into the shoes of a digital marketer, run marketing experiments, create virtual campaigns, conceptualize landing pages, and other essential tasks.
You're also exposed to 40+ digital marketing tools and learn how to use them in real projects.
Learn from expert course advisors who all bring 12+ years of work and training experience to the table.
Simplilearn's applied learning model combines instructor-led training in virtual, live-streaming classrooms with self-paced video content so learners can follow at their own pace (with full one-year anytime access to courses).
You can wrap that all up with monthly mentoring sessions, access to a community of digital marketing experts, regular quizzes and exams, and downloadable workbooks and apps.
The digital marketing course lasts one year, and there are no prerequisites.
The cost is $1,499 for the entire seven-part bootcamp, which includes all courses, videos, exams, and workbooks.
Highlights
$1,499 for five key digital marketing disciplines.
Applied learning model: virtual live classrooms + self-paced videos.
Virtual simulations with Mimic Pro environment.
40+ marketing tools used on real-world projects.
Top instructors and "Dream Team" of Silicon Valley experts.
Monthly mentoring sessions and community of marketers.
4. Marketing M.S. from Georgia State University
This course is a full-time, 12-month effort that's held on-campus.
In addition to the M.S. degree, students earn a Graduate Certificate of Specialization in Brand and Customer Management. The program is aimed at:
People without any marketing experience.
Professionals with several years of marketing experience who want to advance within their current organization.
Recent graduates who want to jump-start their career.
The course's Social Media Intelligence Lab combines an interdisciplinary group of faculty, doctoral students, and research assistants to handle rigorous, research-driven projects.
This approach includes partnering with external organizations to solve the complex marketing issues.
While this course provides a comprehensive, immersive experience, it involves a significant investment of time and money. If you're not in Georgia, your options are limited.
Topics include (in five minimesters):
Marketing Management
Marketing Research
Buyer Behavior
Customer Relationship Marketing
Marketing Metrics (3 hours)
Digital/Social Media Marketing
Data-driven Marketing
Product Management
International Marketing
Applied Marketing Strategy
Application Requirements
Online application and $50 application fee.
Test scores: GMAT or GRE (optional for fall 2021).
An interview.
College transcripts.
Personal statement.
Resume showing work experience preferred but not required.
Cost
Georgia residents: $37,500
Non-Georgia residents: $43,500
Nonrefundable seat deposit: $250
The tuition is subject to change.
Highlights
Work in the state-of-the-art Social Media Intelligence Lab
Potentially earn a dual degree in Data Science & Analytics
Take classes conducted two evenings a week
5. Strategic Online Marketing Certificate from University of San Diego
The University of San Diego's Strategic Online Marketing Program offers eight online standalone digital marketing courses that teach you practical marketing skills.
This program is best suited for entrepreneurs, business professionals, and anyone looking to boost their digital marketing skills.
Students learn the analytical tools essential to increase an organization's brand awareness, digital sales, and online customer engagement via an SEO and content creation strategy.
Digital marketing certificate topics include:
Brand awareness
Online presence
Website performance
Search engine optimization (SEO)
Conversion rate optimization (CRO)
Optimizing URLs, title tags, and meta descriptions
Content marketing
Link-building strategies
Email marketing
Video marketing
The Course Curriculum
There are eight courses, which you can take separately (in any order) or in one comprehensive program.
Certificate Requirements
Students must successfully complete each of the eight individual courses, earning a final grade of C or better, and attend 70 percent of the scheduled sessions per course. There's a one-time certification fee of $45.
Highlights
The total cost is $3,077, including all eight courses plus the certificate fee
Experienced instructors who engage students in a participative learning environment
Each course lasts four weeks
Course materials are shared in class or through the Blackboard online learning platform
Conclusion
Whether you're already in the marketing field, looking to change careers, or just want to boost your skillset, digital marketing courses have a lot to offer.
You have many options, and the career opportunities that will open up will make it worth it. Make sure to take the time to do the required research.
As a next step, you should definitely start by exploring the top-ranked course on this list – Post-Graduate Program in Digital Marketing in Partnership with Purdue University.
This is a great course to accelerate your career in Digital Marketing no matter what stage your career is in right now. Click on the link, know more about it and get started.
THIS POST IS SPONSORED BY CAREERPLAY