Accelerating the growth of your business, launching new products, expanding services, and creating marketing campaigns would all be a million times easier if you could have customer insight while knowing what your competition is up to as well.
Since that's clearly impossible, you need to dive in and find some creative ways to draw insights not only from your customers but also from your competitors. Marketing metrics and ROI won't help much if there's a widening gap between you and your audience, and going it alone without comparing yourself to your competitors' results won't show you what's working and what's not.
It might feel shady, or a little "007" to spy on the competition, but it's 100% ethical and a valuable approach to make sure you're not losing your edge against the businesses who want your customers. Combine the information you uncover with customer metrics, and you'll be better situated to prevent customers from leaving by improving the buying experience.
Emphasizing a good experience and quality customer service is critical for your brand's success. In fact, more than half of consumers report they are willing to pay more for products and services from a company that's committed to positive experiences – including better social and environmental impact. If you think you've already accomplished this, think again. 80% of CEOs believe they have superior service, but only about 8% of their customers would agree with them.
Rely on your customer and competitive insights to strengthen your position with the audience and fuel your growth campaigns. Here are ten sources where you can find this information:
1. Review Operations
Your operations can provide amazing insight into your customers' behaviors and interests, which typically indicate ways you can better serve them. Start by looking at customer touch points and evaluating whether your products or services are appropriately positioned to sell.
For instance, Greyhound was looking for new ways to boost the company's revenue and volume of customers in the Northeast between specific cities. They started by reviewing their bus schedules, their customers' purchase habits based on schedules, and even their competitors' operations.
During the review process, Greyhound discovered key insights about their customers – mainly that they often didn't book in advance. Most tickets were purchased on the spot, with people taking the next available trip. To that point, schedules were optimized for operations. Greyhound refined their schedules to better suit customers' needs and created more consistent schedules that they could count on. As a result of these tweaks, the company increased revenue by 25%.
2. Support and Chat Transcripts
Live chat solutions like ClickDesk are becoming the norm for customer interactions online, from first-time touch points to general customer service questions. Compared to the phone calls in which you may or may not have recordings, chat transcripts from live chat are easily searchable, making it effortless to pull insights and interpret interactions with customers.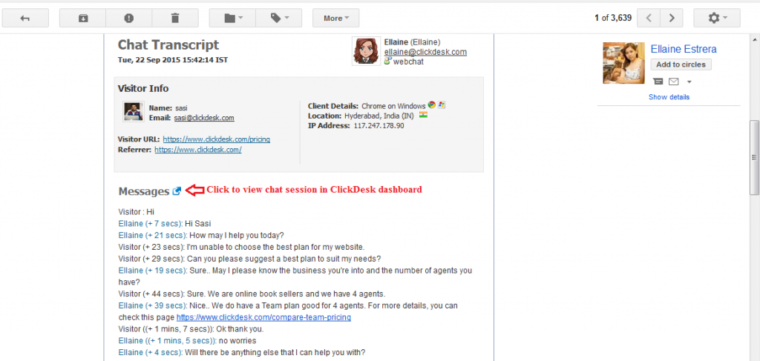 For greater efficiency, organize your customer service transcripts by issue or question. From there, you can review recurring problems to find ways to improve or expand your offering.
Arsys decided to lead their support efforts with live chat, making it the primary method of customer engagement. Through monitoring live chat as well as reviewing transcripts, Arsys was able to determine peak service times, improve the performance of their service team, shorten wait times for customers, and improve the velocity of ticket closure.
3. Ask the Customer
When a concern arises over customer engagement, delivery, product quality, operations, etc. one of the most effective ways to navigate the issue is by asking your customer. Whether it's through a phone call, online survey, social media interaction, or email, there are few things better than getting insights directly from the source.
Northeast Savings wanted to better understand the needs of their customers, so they solicited feedback and information from different segments of customers. Financial well-being was often cited as a common concern. The insights gained from their research helped the bank develop a more conservative approach to investing, which led to $180 million in new deposits within 90 days.
4. Talk to Employees
Many of your employees probably interact with customers on a regular basis, or at least they observe customer behaviors and interactions in their role with the company. Start up a discussion with them to learn more about what factors drive customers to make purchases, and outline some common barriers, frustrations, desires, or friction points.
5. Prospective Customers and Fans
You can also uncover excellent customer insights from people who aren't even your customers yet. While they might not seem like a very useful crowd when it comes to developing your strategy or providing information to influence your operations, they might offer just the kind of details you're looking for.
Engage them to discover valuable tidbits of information like:
How they found you
Why they follow you on social channels
Reasons they haven't made a purchase from you yet
Whether they've purchased from competitors before (including who and why they made the purchase)
What would convince them to buy from you instead
To get this information, set up an online survey and promote it on your social channels or send it out to customer emails if you've captured that info. If you're worried about a lack of response, you can incentivize the survey to improve your response rates.
E-commerce brand By Charlotte wanted insight into why customers were leaving without making purchases or adding products to the cart, so they used HotJar to create exit intent polls. Based on feedback, they found that customers were confused about estimated shipping times and costs.
They used that information to create a shipping calculator on the site with better information around estimated times and costs, resulting in a 20% lift in conversions.
6. Fact-Find at Trade Shows
Trade shows are great ways to acquire new customer and competitor insights. For attendees, you have an opportunity to talk one-on-one with prospective and current customers. Most people are willing to share their experiences if they perceive that you truly value their opinion and are willing to listen.
If you can't make time for one-on-one interactions, use a digital kiosk with a tablet where people can complete a survey in exchange for something at the event (such as a coupon or raffle entry).
Since you'll likely see some of your competitors at the show, you can stake out their presence and observe how they interact with customers and showcase their solutions. If your spy game is on point, pose as a customer and have a conversation with them.
7. Analyze Customer Behavior
Customer behavior can provide tremendously useful insight if you know where to look and what to examine. The importance of different factors will vary quite a bit depending on your model. For example, a SaaS company could monitor red flag metrics for friction or trouble points to catch customers before they churn.
An e-commerce business could monitor product trends, how products are bought together, when they're purchased, and from where.
For example, Embassy Suites wanted to better understand their weekend business flow. The company analyzed reservations and customer data, then plotted a visual map for individual hotels. Once they finished analyzing customer behavior and locations, Embassy Suites discovered that their market reach was much wider – up to 250 miles from each hotel – revealing new marketing opportunity. They developed new promotional and co-op ad campaigns that resulted in double-digit increases in bookings during an otherwise flat period for the industry.
8. Real-Time Behavior
Data is a practical way to examine what already happened and why, but relying solely on numbers won't help you salvage lost customers. This is where real-time behavior monitoring would be helpful.
Keep an eye on how click tracking changes while customers are interacting with you. How are they engaging with your content on social and what convinces them to share? How are they progressing through your sales funnel and onboarding?
The most successful companies are those that can analyze patterns in real-time behavior and predict the needs of their customer before those customers are even aware of their changing needs.
This tends to be more effective when there's a greater volume of data available, such as high traffic sites of extensive customer use. For example, Zynga could make a simple change to a button color or the placement of a purchase call to action that would immediately go live to millions of players.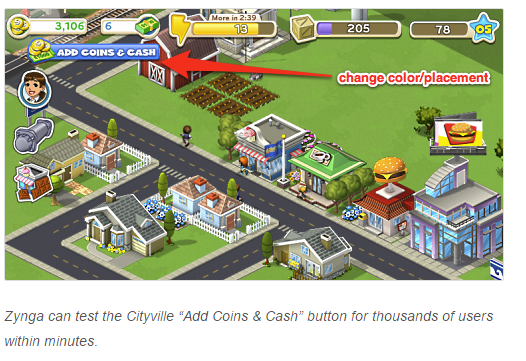 Within just minutes they could have comparison data on how interactions with those buttons or CTAs change compared to the benchmark.
9. Social Media
Many social platforms used in business offer at least some measure of insightful information. The problem is that, individually, there's no uniform collection of data. It's fractured and incomplete.
Tools like Hootsuite and Social Mention help you gather data to provide deeper insights into the customers and prospects following you. This way, you can go beyond basic demographic data to more easily measure customer sentiment and engagement across all of your online campaigns.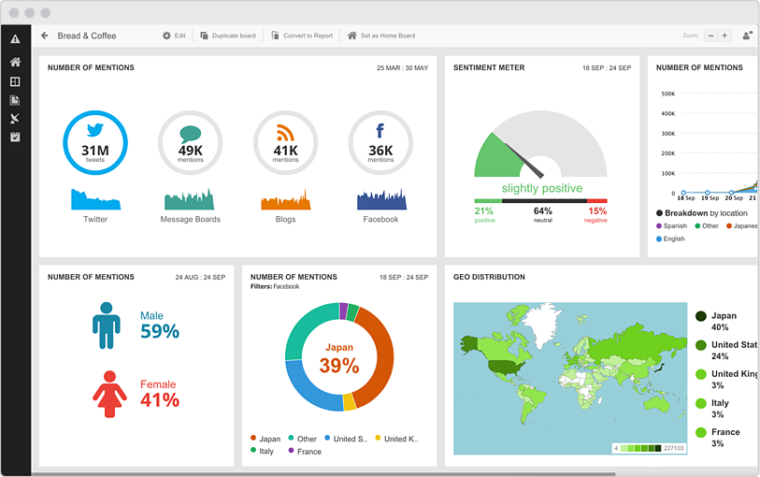 Social platforms are also ideal for evaluating your competitors' engagement strategies to see their interactions with fans, content they share, advertisements, and more. That's the beauty of social media – the public nature of it means there's a ton of competitive insight ripe for the picking.
10. Win/Loss Analysis
Win/loss analysis involves going back to talking to customers – but you're not only engaging your current customers. You should also try to engage the customers and prospects you lost to your competitors. Doing so can reveal insight into what motivated the customer to choose them over you. If you work with a sales team, cooperate with them to tackle this task since they likely already have established relationships with contacts from all backgrounds.
AIG conducted lost customer surveys – surveys of customers who had canceled policies and moved on to competitors. Not only did this outreach result in leads from customers who expressed interest in returning to AIG, the company also gained valuable feedback that led to process improvements resulting in greater customer retention. For example, customers admitted they were very unhappy with the automated responses system. As a result, AIG removed their IVR system and replaced it with live operators.
Conclusion
While you can gather insight from a variety of places, the key is separating the wheat from the chaff. You have to know what data is important. Figure out what really matters to your customers so you can refine operations, pivot on a new product or service, and develop more efficient marketing campaigns as a result.
What methods do you use to monitor customer and competitive insights? Share your tips with me in the comments.
Image Credits
Featured Image: Deposit Photos
All screenshots taken by Aaron Agius, November 2016