Nowadays people search is as hot as never before – with so many social media networks people join to develop online connections and manage reputation it has become necessary to unite them all.
I've seen and tested a few people search engines before – none of them seemed really impressive. However the one I am reviewing today is definitely worth a try.
Yasni is a free (no-registration) people search engine that offers a few great features making it my favorite:
It aggregates data from a number (not too many) networks that really matter;
It represents huge volume of information in a very handy way;
It is clutter-free, yet complete and multi-feature.
Here's the information it lists for a person's name (I was testing it on myself, of course):
Search listings aggregated from social media sites;
Related people (I don't remember this feature to be so relevant on other similar search engines);
Related tags (I was impressed by the result quality);
Associated images (both from Google images and Flickr).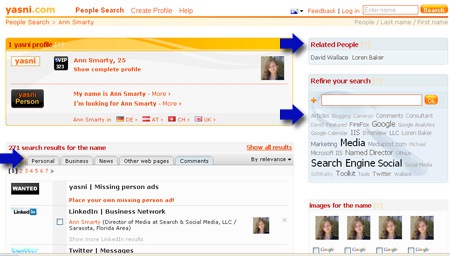 As for the search results, they are organized and presented in a user-friendly way:
The search results are sorted in tabs (work, personal, business, news, other, comments by the site members);
The search results are aggregated from most popular networks: Facebook, Twitter, LinkedIn as well as news search and web (for Twitter you get the person's profile itself as well the list of conversations discussing the person);
The search results can be sorted by date or by relevance;
The search results can be restricted by country (note: I don't think this feature works properly though or I just didn't get it).
And as you may have guessed the service also allows to create your profile on the site itself. Besides, it offers to create a missing person ad for free.
The service was reviewed under SEJ policy.