This post was sponsored by Boost Media.
Online marketers often overlook the rigorous process of creating and testing ad copy, leaving out a critical component in optimizing their search campaigns. Boost Media provides a solution for enterprise brands to source, manage, and optimize their online ad creative at scale.
Their Creative Optimization Cloud consists of three parts, including the Creative Core, the self-service platform, the Creative Network, the curated network of carefully vetted, professional writers and designers, and finally, Boost Insights+, which provides the customized insights on creative testing, lexical analysis and customer behavior. Boost Media means marketers do not have to compromise quantity for quality by combining valuable data and insights with the creativity of highly talented writers and designers, all while positively impacting your bottom line.
At its core, the Boost Media platform helps marketers facilitate a constant workflow for their ad creative. Once you upload your current paid search campaigns into the platform, the Creative Network competes to write your challenger ads. The ads run side by side and the platform will determine a winner based on a confidence algorithm that is updated daily.
How would your PPC campaigns measure up when competing against the ads of a professional pool of talent?
Here is a step-by-step guide to creating optimizations, or contests, that allow writers to compete against your current ads to create the best performing ad, that will in turn create the best return on your investment. By sourcing your ad copy through a network to write or design, you can focus on other things. If you find out that you need creative optimization, you can request a demo today.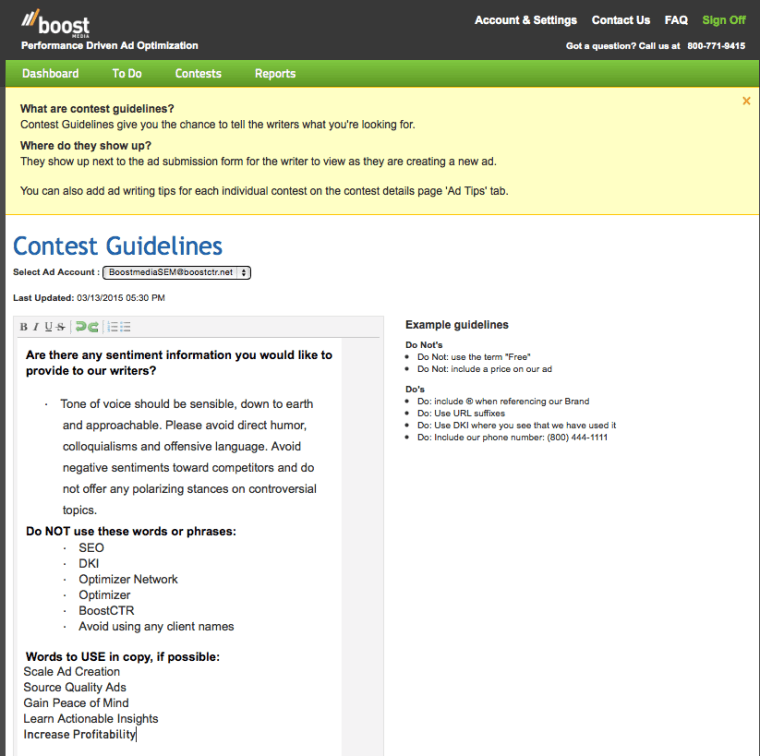 Step 1: Set Up Your Account and Contest Guidelines
The first action you will take as an advertiser in the Boost Media platform is to incorporate your search and display accounts and to delineate your brand guidelines. Guidelines ensure that new ads are compliant with your brand standards and with other paid search platform standards. The system automatically vets writers that know how to best speak to your customers, for example, by blocking people from writing ads with negative sentiments, or showing how a writer can contribute to an overall tone. Once the guidelines are in place, writers will use them as a guide to write ads that will best resonate with your customers.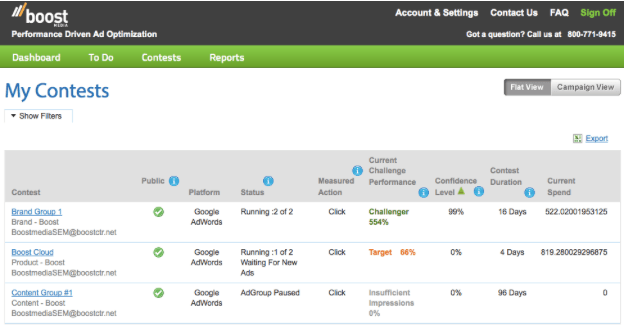 Step 2: Set Up Your Optimizations
After you have uploaded your ad groups and have determined which keywords you want to use in your ad copy, you and your dedicated account manager, or Customer Success Manager, will run your optimizations. Your optimization, or contest, can be set up to run on either clicks, conversions, or any other metric to help decide the winning ad. This means, you determine what success looks like to you. This is key in determining whether you want to measure return on ad spend, quality score, click-through rate, or another metric. You make the rules and the platform provides insights into them.
Above is a list of optimizations. The target is the ad you created and the challenger is from a "Booster," or member of the Creative Network. You will be able to set up as many optimizations as you want. The value proposition of the Creative Network is that it creates quality ads at scale. It also allows for the diversity of ideas, so that you can introduce new ideas for your brand messaging that are consistent with your overall brand strategy.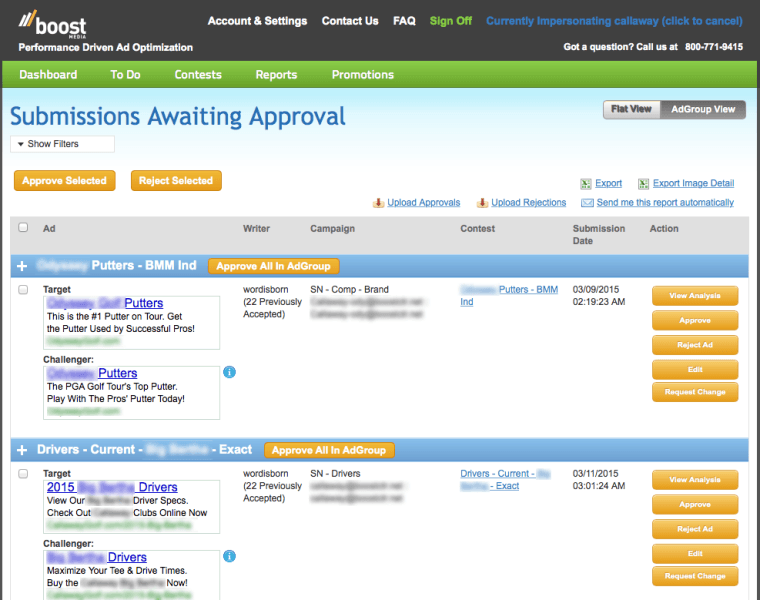 Step 3: Approve Submissions
Upon receiving the challenger ads from the Creative Network, you have the opportunity to approve, reject, or give feedback on the submissions. If you approve the ad on the spot, it will be set live. If you reject the ad, it will be kicked back to the Network to optimize. You also have the opportunity to have your own Customer Success Manager, whom Boost Media has identified as an SEM expert, approve your submissions manually. With multiple layers of approval within the Boost Media platform, you can be assured that your ads adhere to your guidelines and channel the right messaging to your potential consumers.

Step 4: Determine a Winner
Once you have approved your ad submissions and the ads are set live, you can determine a winner in the optimization performance tab. It's important to note that you can run multiple ad variations, so you can constantly test for the highest performing ad.
Let's study an example. As you can see above, the challenger ad is beating out the target after 14 days of data has been collected. This is based on clicks with a confidence level of 99% that the challenger ad will be the best ad to use. After you are confident in the winner, you can declare it the winner and bring in the next challenger ad.
As you can see, set-up and maintenance of your campaigns is easy. All three components of the Creative Optimization Cloud work closely together to ensure that your search campaigns are sourced, managed, and optimized effectively. Below are five additional ways Boost Media can increase the ROI on your campaigns.
Curated Brand Messaging: Boost Media has handpicked a network of more than 1,000 professional copywriters and designers who write ad copy and design ads. Writers only receive compensation when an advertiser approves a challenger ad (via two phases of QA through the Writer Manager and the Advertiser), so there is a great incentive to write the top converting copy. The Creative Network offers incentives and freedom to a vast group of professional writers. The platform also offers writers from other countries as well. Creative is available in 12 languages worldwide so that you can source the network to write in the local dialect of the area you are targeting.
Fresh Creative: Ads have a short shelf life. By continually adding more challenger ads and optimizing the outcome of those ads, your campaign gets new and relevant content constantly. It also battles a phenomenon in advertising called ad fatigue, which is responsible for missed conversions. Ad fatigue occurs when consumers stop responding to an ad that has run too long.
Constant Testing: If you are looking to convert customers, creative testing should be top of mind. Boost Media has automated the testing process so you can easily see which ad has the optimal CPC (cost-per- click) and which is attracting more clicks, and if designated, the highest conversions.
Time Saving: Your marketing team has a myriad of tasks to complete on a daily basis. Boost Media saves you time by setting up your account and submitting challenger ads, as well as tracking performance and testing results. Your team can get back to focusing on more high-level strategies by allowing the Creative Network to handle the heavy lifting with the ad copy.
Positive ROI: With Boost Media, your business is powered by a team of writers who you don't have to manage. You have an automated system tracking which ad is performing the best and constantly bringing in new test campaigns. The positive returns on your investment are shown in the percentage lifts and uptakes in conversions on your site.
If you use paid search, social, or display in your marketing strategy, take a closer look at how you are currently optimizing these campaigns. Are you writing them yourself? Is this taking more of your time than needed? There is a simple solution to both optimizing ROI on your campaigns and saving you time so you can focus more of your energy on marketing strategy and less on ad copy — and that's Boost Media.
Image Credits
Featured Image: faithie via Shutterstock
Image #1 – #4: Boost Media. Used with permission.