Facebook typically drives around 60 percent of all the traffic Search Engine Journal get from social media networks. This isn't too surprising, considering how big Facebook is with over 2.2 billion monthly active users.
But Facebook isn't the top source of social traffic for every website in every industry.
Even if social media won't directly help your organic search rankings, posting engaging content that attracts lots of traffic, shares, likes, and comments all helps you increase your reach, visibility, and linking potential.
So which social networks have the highest potential to send lots of traffic to your website? We asked our Twitter community what trends they're seeing. Here's what we discovered.
Which Social Network Drives the Most Traffic to Your Website?
Here are the results from this #SEJSurveySays poll question. According to SEJ's Twitter audience:
62 percent responded that Facebook brought in the most traffic to their website.
22 percent said that their site received the most traffic from Twitter.
10 percent picked LinkedIn as the top traffic-driving social network for their website.
6 percent found success in getting social traffic from Pinterest.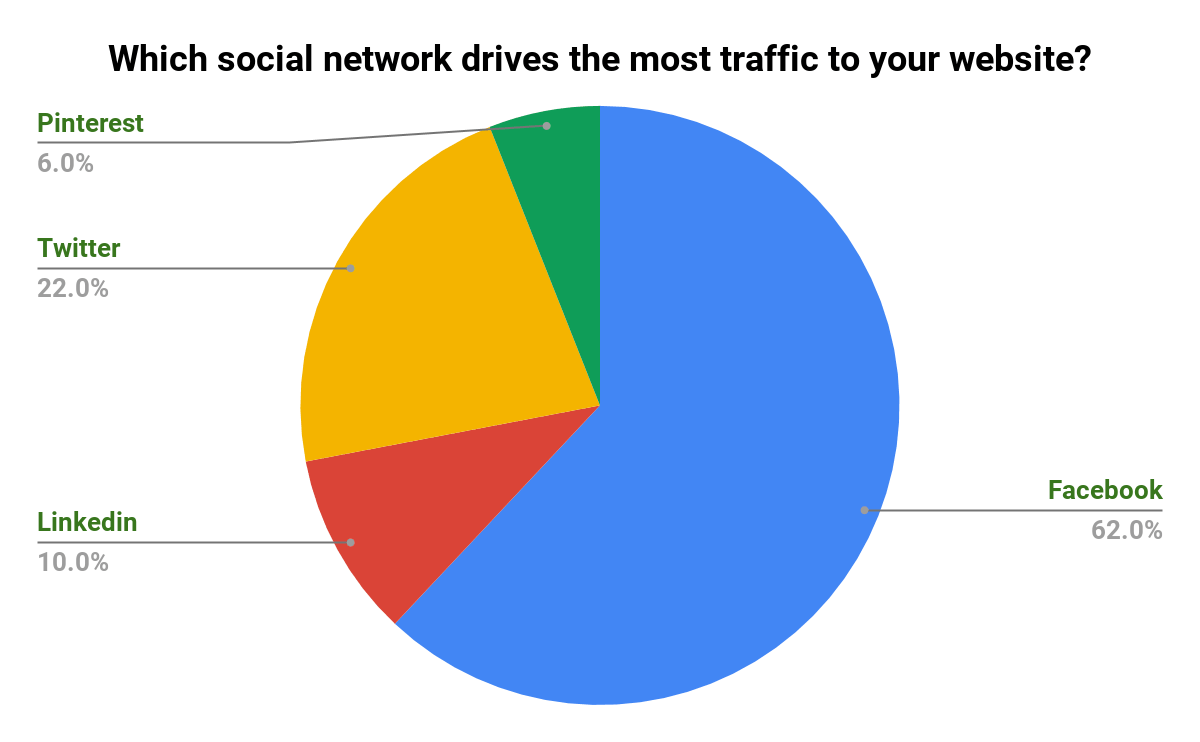 Here Are a Few Comments from Our Twitter Followers
Twitter mainly ! Some Facebook.

— Shane McDonald (@mrshanemcdonald) May 28, 2018
Instagram definitely needs to be on this list!

— Shelby McGuigan (@ShelbyMcGuigs) May 30, 2018
Facebook have more audience than other social networks. so, Facebook is the best network to drive traffic to our website.

— Vivekanand Selvaraj (@vivek_critics) May 29, 2018
Instagram?

— SEO▫PPC▫SMM (@ppcdad) May 28, 2018
Understanding How Social Media & SEO Work Together
The ultimate purpose of SEO is for your business to be found online – and social media enables you to do just that. Check out how you can leverage social media marketing to enhance your SEO strategy.
Have Your Say
Which social network drives the most traffic to your website? Tag us on social media to let us know.
Be sure to have your say in the next survey – check out the #SEJSurveySays hashtag on Twitter for future polls and data.
---
Image Credit
Chart created by Shayne Zalameda