Live social video is all the rage, but it isn't just something the social media marketers and brand managers should care about.
Social livestreaming can boost your SEO, too – if you do it right.
Freshness, dwell time, chatter. These are all important factors that can help your SEO, and they're all natural qualities of social live video.
Keep reading to understand how you can use social live video to amplify your organic reach.
Social Live Video: Stand Out in a Crowded Newsfeed
Social marketers freak out about Facebook algorithm changes the way SEO pros do about Google's updates.
Social networks are on a constant mission to do everything within their power to strongarm brands into playing exclusively on their networks.
Some platforms, like Instagram, notoriously don't even allow links in posts.
Others, like Facebook or LinkedIn, do a bait and switch: sure, you can add links to your posts, but only at the cost of it then getting heavily deprioritized by the algorithm in the main feed.
As marketers, we get it – it's good for their ad dollars and their stockholders to keep users in-network, but it sucks for our brands. What's an SEO pro to do?
This is where social live video comes in.
By 2021, experts predict video will represent 82 percent of internet traffic.
Consumers want more content from the brands they follow, but 80 percent would prefer it take the form of live video over a blog.
It's no surprise, then, that Facebook claims live videos generate 600 percent more interactions.
Here's the best part: some platforms, like Facebook, make it a point to boost "live" content in their feed.
With Facebook consistently making it near impossible for brands to show up in the news feed, social live video is one way that still works.
Social live video is no longer opt-in; it's required.
Brands must create social livestreams that delight their followers.
The key is to make it good for your SEO, too.
Focus on the Right Social Media Platforms
While everyone's hopping aboard the social livestream train, certain platforms are friendlier for brands.
For your live video to succeed from both a social and an organic perspective, you need to choose the right social network.
For social media, this means the networks where you've got an engaged following and the know-how to create and strategically post high-quality livestream video.
For SEO, this means the qualified networks from that first statement that let you add links to the post and make it easy to annotate your videos.
I'll save some of your work for you – the clear winners here are YouTube Live and Facebook Live.
Instagram Live disappears 24 hours later while Meerkat doesn't offer a replay option, and Twitch isn't really applicable unless you're in the gaming industry.
But with Facebook Live, you can create a permanent post, download your video for embedding on your own website, add a description to your post, and review analytics during and after your stream.
YouTube Live offers the same features – and it's owned by Google. Enough said.
Amplify Your Other Marketing Channels
Live streams in and of themselves are not a go-to SEO option.
The SEO comes when you use social live video to improve results from your other channels, from events to content marketing.
As they say, a rising tide lifts all ships.
The more social video you create, the more you have to embed on your related blog posts or landing pages.
Once the stream is over, you can update your video description with links to said blog posts or landing pages to drive traffic.
Videos do wonder for your dwell time – video watchers tend to click through to 2.3 pages per visit, and they'll stay on your website for up to six times as long as a visitor who doesn't see any video.
YouTube videos are often pulled for featured snippet results, which is one way social live video can directly impact your SEO.
But you can hack your other popular content tactics into compelling live streams for an added, albeit indirect, SEO boost.
Product Tutorials
How-to videos are among the most popular type of YouTube video. Instead of a traditional tutorial, make yours exciting by filming live.
Benefit Cosmetics has done this to great success with their weekly Tipsy Tricks series. Their products are so simple to use, you can apply them over drinks with friends.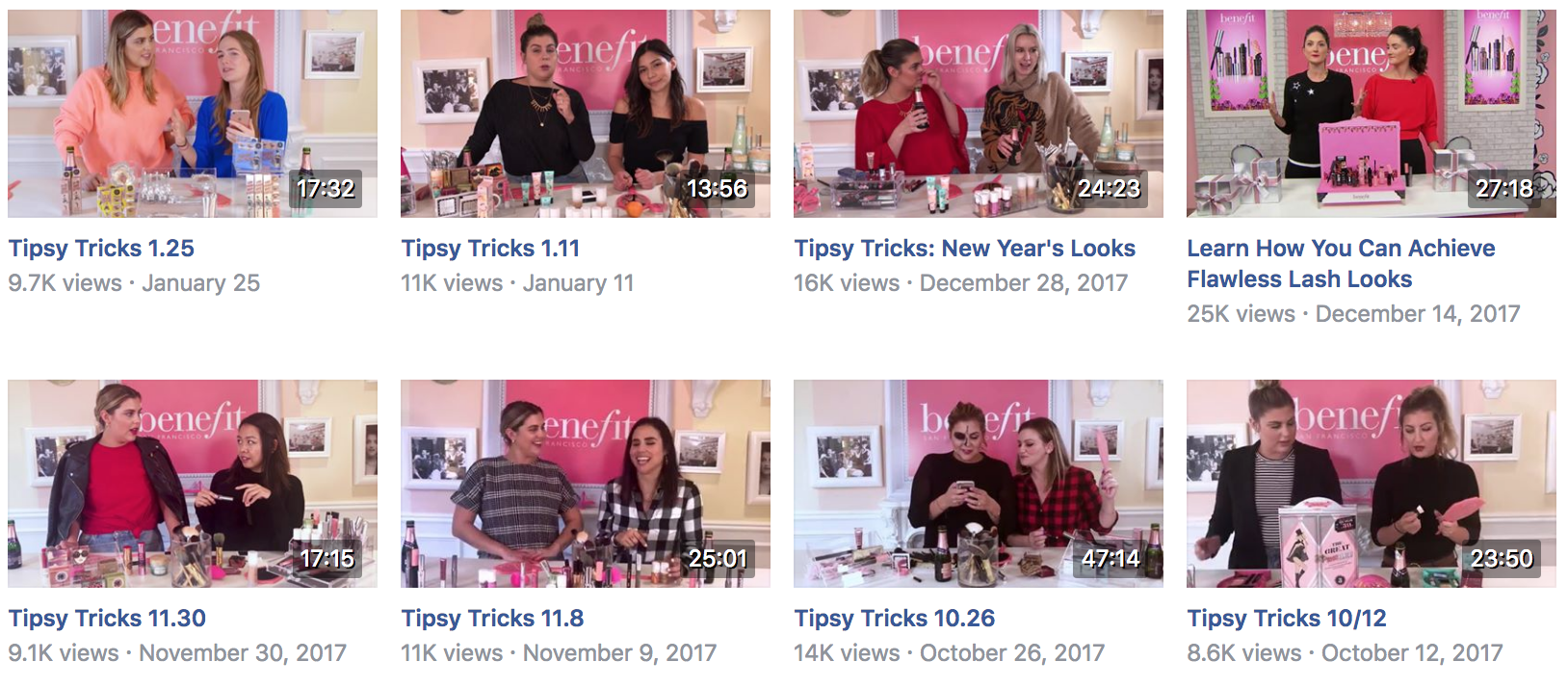 Event Marketing
Social live video gets more people talking about, hyped up for, and attending your event. In fact, this is one of the most common types of livestreams you'll see.
Before social live video, only people at an event got to enjoy it, while others would read about it afterwards. With social live video, you can infinitely scale your audience and invite all your Facebook fans to enjoy it, too.
Promote, Promote, Promote
As with any campaign, promotion is essential to a successful live video.
Hype your livestream beforehand to drive eyeballs and increase your visibility on the platform when you do go live.
Create a Facebook event people can RSVP to.
Regularly tweet, post, or snap on your other networks to remind people it's coming up.
Feature it in related blog posts or your email newsletter.
Ask your influencers to do the same, especially if they're going to be featured in your video.
The more eyes see your video, the more click-through you'll see for your links, and the better the long-term visibility of the video overall.
One of the best ways to promote your live stream is simply to do it often. The more consistent you are about going live, the more your fans will look out for it, driving views.
Remember that precious "freshness" factor? It doesn't just apply to content on your own site. Google pays attention to how much people are talking about you online.
If there's a surge in people talking about you on Facebook from your latest live video, you can bet Google's going to notice.
Go Live
During the live stream itself, follow social live video best practices
You can permanently post videos on YouTube and Facebook for long-term visibility, but you'll get the most eyes for your video while it's live, so you want to make the most of it.
Pre-schedule posts on Twitter and your other networks to drive eyeballs to the live stream platform while it's happening. Use the same hashtag in all your posts.
Engage with viewers, ask questions, and respond to their comments. On Facebook, invite them to tag friends who would enjoy the video in the comments. Live stream comments are included in Facebook's live video ranking algorithm.
During the video, encourage people to visit your website. Make sure your URL is clear, easy to understand, and simple to type in. This is not the time to use an unbranded bit.ly link. Ideally, use something like yourbrand.com/onewordhere.
Really drive the point home by keeping the related URL visible throughout the video. Write the link in big letters on a whiteboard behind you. Print out a big poster. Design special shirts for the occasion. You get the idea. You want to keep the link visible on the screen throughout the video so people still know where to go if they're playing it on mute.
Keep the Ball Rolling Once You Publish
Once you finish live streaming, publish the video to your page and follow all the steps in your typical SEO checklist for regular video. This includes:
Making sure your post is set "Public."
Adding a keyword-optimized title and relevant tags.
Beefing up your post description with relevant web links above-the-fold, and a detailed summary of takeaways below the fold.
Exporting the video to repost it on your other video hosting sites and social media networks.
Uploading the video to relevant blog posts or landing pages on your site to increase dwell time. This gives people a website URL to link to instead of your Facebook profile.
Including a transcription file for the video on YouTube and your blog page.
Providing an embed code for the video that links back to your website.
Conclusion
There's an inherent urgency built into live stream video that makes it irresistible to watch. Just imagine if you can put that momentum to work for your SEO.
More Video Marketing Resources:
---
Image Credits
Featured image: StockSnap/Pixabay
Screenshots by Amelia Willson. Taken January 2018.