Editor's note: "Ask an SEO" is a weekly column by technical SEO expert Jenny Halasz. Come up with your hardest SEO question and fill out our form. You might see your answer in the next #AskanSEO post!
---
One of my clients asked me this week whether they should host their videos on YouTube or on another platform like Vimeo.
I had a hunch, but didn't really know the answer to this. So I asked around.
After some conversation with many great marketers, I've come to a conclusion for that client.
Like so many other things in search, your mileage may vary.
Benefits of Hosting Videos on YouTube
YouTube is the second largest search engine in the U.S. after Google.
YouTube is also the fastest growing search engine among people under the age of 25. It reaches over 30 million people per day.
Additional benefits of hosting videos on YouTube:
It's super simple to set up an account.
You can get a brand channel with just 50 subscribers (who can be your employees and friends).
It's fast, both for the main platform and the embedded videos.
So why would you want to host anywhere else?
Benefits of Hosting Videos on Other Platforms
Videos created on other platforms (e.g., Vimeo, Wistia, etc.) can be higher quality than YouTube standards. They provide you with more control, to embed links to other content, or to include a call to action.
If you have products that are best shown in high resolution, you may want to choose somewhere other than YouTube to host your videos.
Which Video Hosting Type is Best for SEO?
Most SEO professionals recommend using a combination of video-hosting websites and self-hosting.
If you're creating heavily branded content, you may want to create that in a non-YouTube format and host it yourself on your site, according to Micah Fisher-Kirshner. This gives you complete control over the vide and ensures you don't have ads.
Another benefit to separately hosted content is that you don't have to deal with YouTube's somewhat notorious comment trolls. No moderation required.
However, as Doc Sheldon was quick to point out, hosting yourself means you have to deal with issues of bandwidth and speed.
YouTube hosted videos (even embedded in your own pages) are always going to be fast.
What About Inbound Links?
My initial thought was that you would trade off potential links for speed and ease of use, and I wondered if that was really worth it.
After all, does YouTube really need any more inbound links? Wouldn't those be better on my client's site?
The answer is definitely yes in theory. A direct link to your site would be more beneficial to SEO.
However, Dan Thies (noted link expert) pointed out that it's far easier to drive traffic from YouTube and driving traffic is what creates links.
This makes sense, because if you create an independent video and embed it on your site, who will see it? Only visitors to your website. At least with YouTube, you have an additional search engine to optimize for.
It's easier to drive traffic from YouTube for several reasons.
While Google will now include embedded videos in their "videos" search tab, the lion's share of results is still from YouTube. And once a user clicks to YouTube, they're likely to stay there. The average time of a YouTube session is one hour.
Below is an example of a popular business term, "crm software". You can see (indicated in red) the number of YouTube results on this page is far higher than the real estate afforded to embedded videos.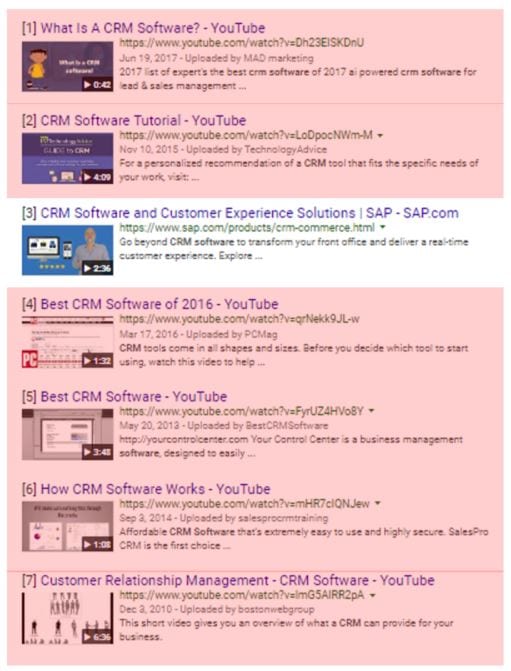 How do you control links then?
You may not be able to.
Some people are still going to link to your YouTube content. However, YouTube makes it easier to share content across social networks.
While social shares by themselves aren't going to get you inbound links, they may prompt people to visit your site for more information.
If you were to provide some additional value on your embed page – a transcript, explanation of the video, supporting content, etc. – then there's no reason a quality site would want to link to your YouTube video page rather than the page on your site that has the additional context, even if the embedded video is hosted on YouTube.
Final Recommendation
Considering all of these elements led me to what I believe is the right recommendation for my client. Because they have some hosting challenges already, and are working on improving overall site speed, hosting video themselves is probably more than they want to get into right now.
It would likely require an upgrade of their hosting platform to handle the bandwidth, and the videos they are producing don't necessarily need to be high resolution/quality. They won't be shot in a professional video studio with high-end equipment.
YouTube is the best option for them at this time because the client's biggest challenge is getting more traffic to their site.
By creating a quality brand channel with engaging videos worthy of being shared on social media, they can expect to drive more traffic to their site overall. While this may not directly improve their SEO (although some of their videos may get ranked organically), it should improve their overall traffic numbers. That will hopefully lead to links.
If, in the future, they want to create higher quality videos, then Vimeo or Wistia may not be out of the realm of possibility. Hopefully they'll get more views as a result of the increased traffic to their site overall.
In the meantime, I'm sharing with my client (and with you!) a couple of good video optimization articles I found during my search:
Special thanks to Dave Rohrer for helping me sort this all out and providing some additional insight.
---
Have a question about SEO for Jenny? Fill out this form or use #AskAnSEO on social media.
---
Image Credits
Featured Image: Paulo Bobita
Screenshot taken by author, November 2017