Mark Zuckerberg announced major changes to the Facebook news feed that will affect the reach of businesses, brands and media. The goal of the change is to encourage more discussion between friends and families. Zuckerberg predicted that the change will definitely affect the reach of businesses, brands and media.
Mark Zuckerberg's announced:
"I'm changing the goal I give our product teams from focusing on helping you find relevant content to helping you have more meaningful social interactions."
Meaningful Discussion and Facebook's News Feed
The focus of this change is nearly identical to the Facebook news feed change announced in 2016. It too was designed to bring friends and family together. The major difference this time is that Facebook has abandoned it's previous goal to show content that informs and entertains. Presumably, that's the kind of content that is passively shared, which is out in this version of Facebook's news feed algorithm. In its place Facebook has pledged to promote content that inspires meaningful discussion between friends and family.
Takeaway: What Businesses Can Do Next
The important takeaway from this announcement is that content that inspires discussion will be promoted. It's no longer a matter of generating likes, reactions and shares. Businesses, brands and media need to pivot to producing content that encourages discussion.
This is a moment for rethinking content strategy. It may be useful to review how your businesses followers engage with your Facebook content to see if it aligns with Facebook's new feed algorithm.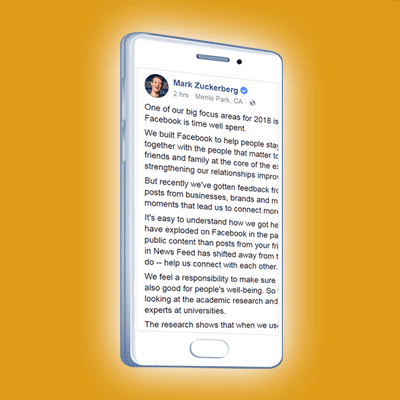 The Facebook Feed Discussion Signal
How Facebook's algorithm will predict which content will inspire discussion is not presently known. Presumably Facebook has been testing this over the last few months. Adam Mosseri, Head of News Feed at Facebook posted the following description:
"Today we use signals like how many people react to, comment on or share posts to determine how high they appear in News Feed.

With this update, we will also prioritize posts that spark conversations and meaningful interactions between people. To do this, we will predict which posts you might want to interact with your friends about, and show these posts higher in feed. These are posts that inspire back-and-forth discussion in the comments and posts that you might want to share and react to…"
Examples of the kinds of posts Facebook wants to promote are those from friends seeking advice or recommendations as well as news or videos- content that it's algorithm predicts will spur "lots of discussion" between your Facebook friends. That's going to be a challenge for many businesses, especially as this change is rolled out to Facebook's other products.

Who Loses in Facebook's News Feed Algorithm?
Businesses, brands and media that create content that don't inspire discussion between friends will see their reach diminish. The previous algo relied on reactions, comments and share metrics to decide how high their posts will rise in Facebook member's news feeds. Now they must also inspire comments.
Engagement Baiting
This change follows on Facebook's recent change to discourage Engagement Baiting. Engagement baiting was the manipulation of Facebook's algorithm in order to rise higher in news feeds. This new change will further demote business models that rely on engagement signals that don't inspire discussion.
Facebook hopes to discourage content that doesn't inspire reactions and discussion. Adam Mosseri wrote:
"Pages making posts that people generally don't react to or comment on could see the biggest decreases in distribution.
Takeaway: Which Facebook Pages Will Win
According Facebook, pages that feature content that groups and friends are interested in will see little to no change. His post offered that certain kinds of content, like live videos and interviews with celebrities were the kind of content that inspired friends and family to engage in discussion.
"Pages whose posts prompt conversations between friends will see less of an effect."
This is Just the Beginning of More Change
Although the most immediate change will be to Facebook's news feed, this new focus will eventually affect Facebook product. These changes will roll out over the coming months. Mark Zuckerberg said:
"…it will take months for this new focus to make its way through all our products. The first changes you'll see will be in News Feed, where you can expect to see more from your friends, family and groups."
Images by Shutterstock, modified by Author
Screenshot by Author