Search engine optimization is a time-consuming and complex process.
It entails the implementation of various tasks going through several stages which are often carried out by different contributors.
To execute an SEO campaign successfully, SEO professionals should be able to keep track of all the project's moving pieces and make sure nothing falls through the cracks.
This is where a project management tool comes in handy.
With the help of a good project management platform, SEO pros are able to create and delegate tasks among collaborators, manage and set deadlines, communicate and provide feedback, and maintain a smooth workflow – all in a single ecosystem.
We wanted to know which project management tool most SEO pros use to manage their campaigns – so we asked the Search Engine Journal Twitter community.
Which Project Management Tool Do You Use to Manage SEO?
Here are the results from this #SEJSurveySays poll question.
According to SEJ's Twitter audience:
41 percent of SEO pros use Trello to manage their SEO projects.
22 percent collaborate with their SEO teams using Asana.
19 percent prefer other project management tools.
18 percent utilize BaseCamp for SEO project management.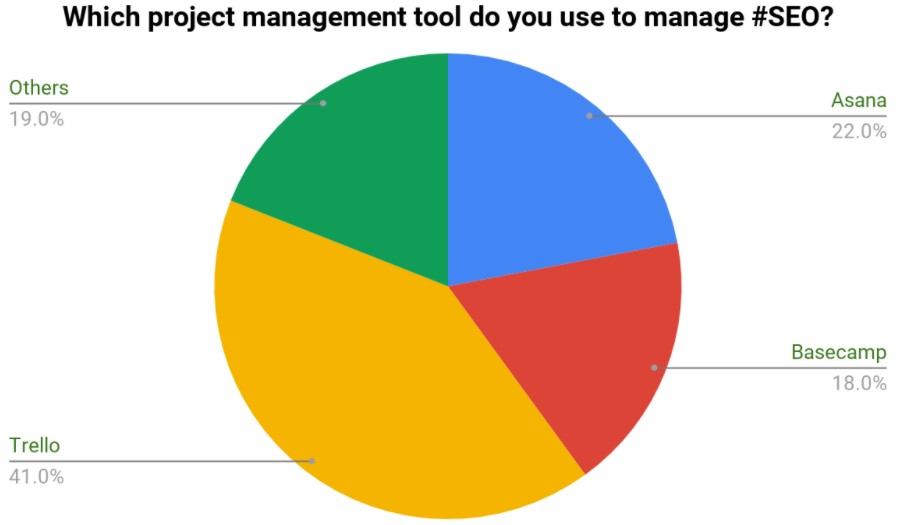 Here Are More Comments From Our Twitter Followers
A few of our Twitter followers also tweeted what other project management tools they use and why they picked them.
@teamwork without doubt is the best

— Ali White (@AlistairWhite) February 5, 2018
We use @Freedcamp easy to use, good UX, and a great tool to work with.

— Purple Cap (@Purple_Cap) February 7, 2018
We use Accelo, but I'd highly recommend @DoInbound

— Tanya W (@tanyawigmore) February 6, 2018
My team uses @teamwork!

— Angie (@radkitten) February 8, 2018
JIRA and Github.

— Martijn Scheijbeler (@MartijnSch) February 8, 2018
Airtable 😁 it's a really great platform for teams!

— Erica Robyn (@ericarobyn) February 7, 2018
Atlassian Jira

— Nenad Pantelic (@NenadPantelic) February 7, 2018
We find Trello great for planning content and monthly work, making sure that everyone knows what they're doing, and being able to look back on archives of what was previously done. It's really easy to set up and rearrange.

— We Are Marketable (@wearemarketable) February 7, 2018
Hi! Trello and Jira.

— Yolanda Pedrosa (@YolOnlineWorld) February 7, 2018
@asana for teamwork projects, but I use @OmniFocus for personal SEO tasks and to-do lists which is a bit easier to manage in my opinion !

— Solene (@solenerve) February 6, 2018
My vote goes for ProofHub

— Divya (@dsethi2412) February 6, 2018
I have used Teamwork and Basecamp. But I think #SEO projects are managed best when the goals and procedures are defined and clear for the manager handling the project. So, I would say project manager (aka SEO expert) is the key tool.

— Ayesha Ambreen (@AyeshaAmbreen) February 6, 2018
Teamwork! Can't speak to anything else though.

— ʙʀᴏᴏᴋs ᴍᴀɴʟᴇʏ (@brooksBROmanley) February 6, 2018
Trello has worked well in the past. Easy to assign whole projects and project parts to individuals plus is a central spot to share relevant documents, status, dependencies, and comments

— I am Emilie (@missEMILIE_b) February 5, 2018
We used Basecamp years ago before switching to Jira. Tried Asana for a side project but migrated to Jira pretty quickly there too. Our Marketing and Product teams specifically use Trello for very specific (large) projects.

— Igal Stolpner (@igalst) February 5, 2018
Asana and Trello because it's free for small business use

— Юрий Андреевич (@ya_sidorenko) February 5, 2018
We love Teamwork at @VoltageKC.

— Jordan W. Kuczynski (@JWKuczynski) February 5, 2018
Jira

— Glenn Philp (@glenndphilp) February 5, 2018
Wrike

— Jared Rowe (@JaredRoweUSA) February 5, 2018
Essential SEO Tools to Make Your Life Easier
You don't have to do your SEO tasks the hard way. There's a wide range of tools that can help you complete each of your SEO tasks efficiently.
Want to know what other SEO tools can make your life easier?
Check out our new e-book, Essential SEO Tools for Agencies.
In addition to covering top project management tools, we've compiled the essential SEO tools to help you with:
Technical SEO
Link building
Keyword research
Competitive analysis
Rank tracking
Reporting
And more!
Want more tools? Here are a few great articles from our SEJ contributors:
Have Your Say
Which project management tool do you use to manage your SEO campaigns? Tag us on social media to let us know.
Be sure to have your say in the next survey – check out the #SEJSurveySays hashtag on Twitter for future polls and data.
---
Image Credits
Chart by Shayne Zalameda