Marketing in the twenty-tens has been dominated by data, and I predict that the second half of this period will see the focus on data increase further still—and rightfully so.
From big data to real-time data and everything in-between, marketers have more insight into data-led decision making than ever before.
The challenge that marketing teams now face is how to make maximum (or in some cases, any) use of the wealth of new data available to them, and how they can use real-time data to improve performance now!
It is this effective use of real-time data for marketing gains which is the main focus of this post.
What is Real-Time Data?
Definitions vary but, for the purposes of this post, real-time data is anything that becomes available for use almost immediately after the event (or data collection) occurred.
In this sense almost immediately relates to insignificant data delays or lags, which still enable actionable insights to occur from the new data.
What is Real-Time Marketing?
Really, real-time marketing simply means the ability to make use of the latest information and trends, for the purposes of creating or adapting a marketing strategy.
It is this ability to use the very latest and (as close to) real-time data for making additional gains which is at the heart of real-time marketing.
Using Google Analytics Real-Time Data
When you talk about data, especially for digital marketing, it is almost impossible not to mention Google.
According to Google Inside Search – 'How Search Works' the web is made up of over 60 trillion individual pages—a figure that's constantly growing. As it currently stands, the Google index comprises in excess of 100 million gigabytes of data, which fuels the largest data entity (Google). So it makes senses to take a look at Google Analytics real-time data.
To get started, you can access this feature post-login into Google Analytics, from the left-hand navigation as shown below.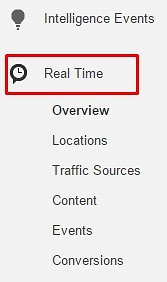 Through Google Analytics real-time data, you are able to see: how many people are on your website right now, the page views every minute (with a one minute time delay), page view per second (with a fifteen second time delay), top active pages, top keywords, top social traffic, top referral sites and more.
As a practical example of this, and by looking at locations data, you can tailor marketing messaging and product offering based on live user website data. This can become even more effective when you start to combine data sets.
For example, an online retailer could place rainy day product ranges more prominently on the site, targeting the highest current user locations and combining real-time weather data to assess current precipitation levels.
This could become a dynamic content delivery feature of the content management system (CMS) that pulls in (likely IP address) geo-location data, and uses that information combined with weather (likely weather API) information, for effective content delivery unique to real-time information.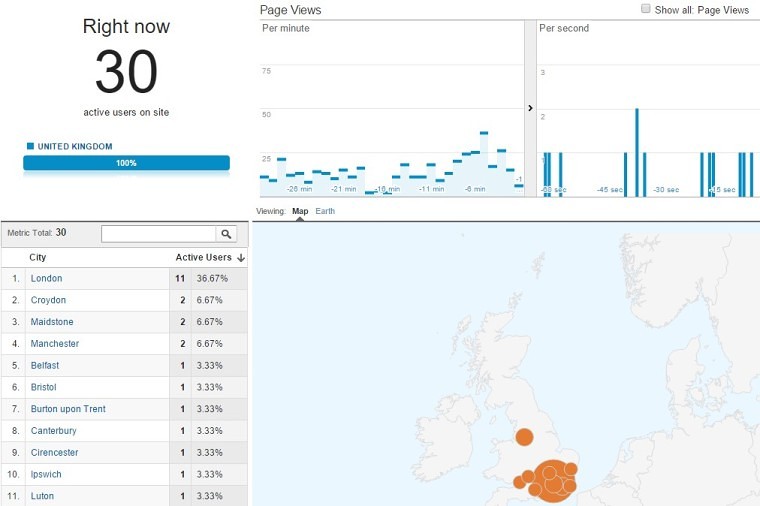 A lower-tech example could be varying the placement of adverting the messaging to better reflect the location of users currently active on your site to support greater conversions. This could be even more effective when used on areas of the site like blog sections which are traditionally more challenging from a conversion stance.
Many other examples are available for using Google Analytics real-time data for marketing gains. If you haven't spent any time looking at this section of data for your own marketing strategy updates, I strongly suggest setting aside some time to do so in Q1 2016 – you wont be disappointed.
Using Twitter Trends Data
Some of the most renowned uses of real-time data for marketing gains have been through Twitter. The immediacy of access to real-time information and micro trends mean opportunistic marketers can make use of everything from transportation delays to brand errors and technology failures, to turn them into new business generation marketing strategies.
To get started with this, you can access Twitter trends information directly below the brief bio on your home page.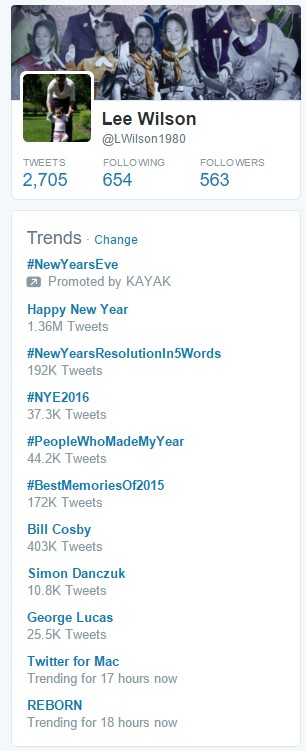 By default, Twitter also provides tailored trends functionality based on your profile data. However, you can adjust this to target specific locations and more.
You can also access longer trend data specific to your profile, in order to maximize and repeat highlights, engagement, impressions, profile visits, mentions, and new followers, plus a great deal more. You can see a screenshot of this in action below.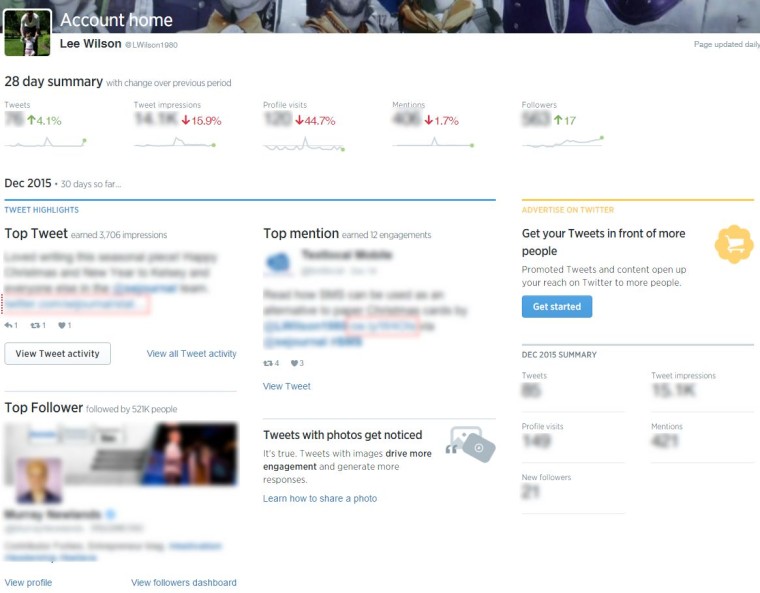 Through Twitter, you can also browse events that are happening right now, or future events on Twitter, sorting by event types and locations, and filtering by date, to proactively plan and schedule in real-time marketing, social PR, and engagement. The great part about this, is this functionality is just the starting point.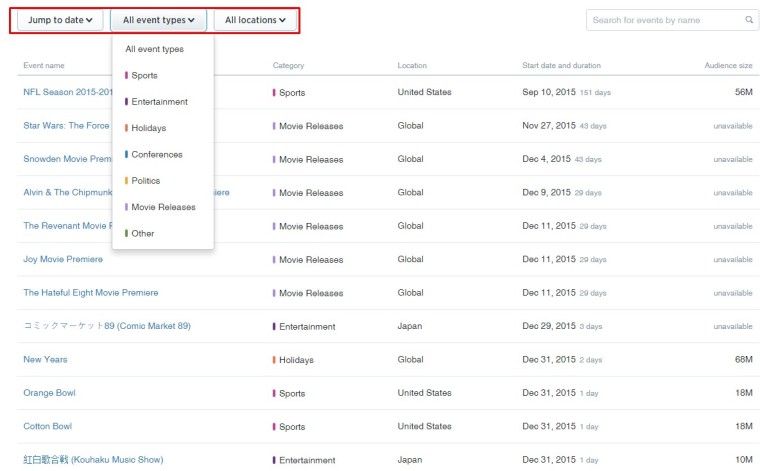 New Year is an obvious practical example of the above however, one I really like to quote is the creative and opportunity-based real-time marketing by Oreo. This happened on Twitter back in February 2013 during the Super Bowl Blackout.
Using SMS for Immediate Feedback and Response
Like the rapid growth of email marketing before it, text marketing (or SMS marketing), has evolved to become a low-cost marketing challenger to email, and this is in no small part due to the immediacy of access to data.
Bulk SMS has the capability to send en-mass communication to databases of contacts, enabling marketers to immediately change messaging, tone, calls to action and more, from the real-time data returned.
The development of mobile marketing technology has evolved to include file attachments, sending and receiving user-generated content surveys and forms, and myriad other features. Features of SMS services will vary from provider to provider, and the following is a summary SMS feature overview from a client that I work with, Textlocal.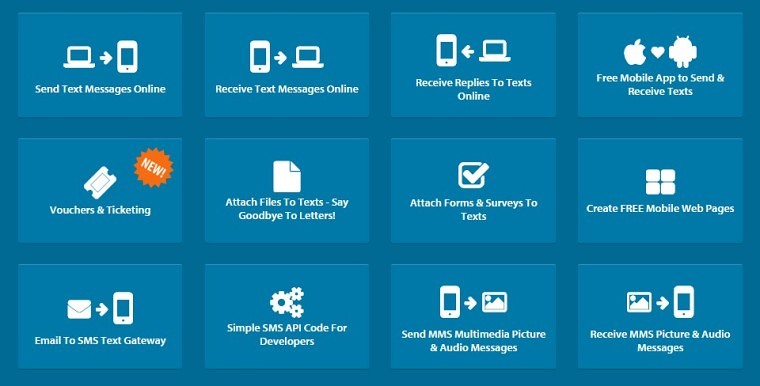 Using Google Trends for Real-Time Gains
Through Google Trends you are able to access real-time and retrospective data to inform and lead your marketing efforts. You are able to explore single keywords, compare and contrast keyword options, and segment trend data for specific platforms (like YouTube for example).
To get going you can visit www.google.co.uk/trends/ and click on the 'burger' symbol at the top, left hand side of the screen. From here you can access current trends that are happening right now for opportunity marketing, target YouTube for any video targeted marketing activity leveraging current trends and user wants, and see the top trend charts.
When I'm using Google Trends for digital marketing purposes, I would generally start with a refined list of terms reflecting the main focus of the marketing that I am working on. If I am looking for new opportunity tied to seasonality, or simply expanding my focus to include opportunity from latest trends and featured stories (more often specific to location rather than globally), then I would use the main dashboard interface, which you can see below.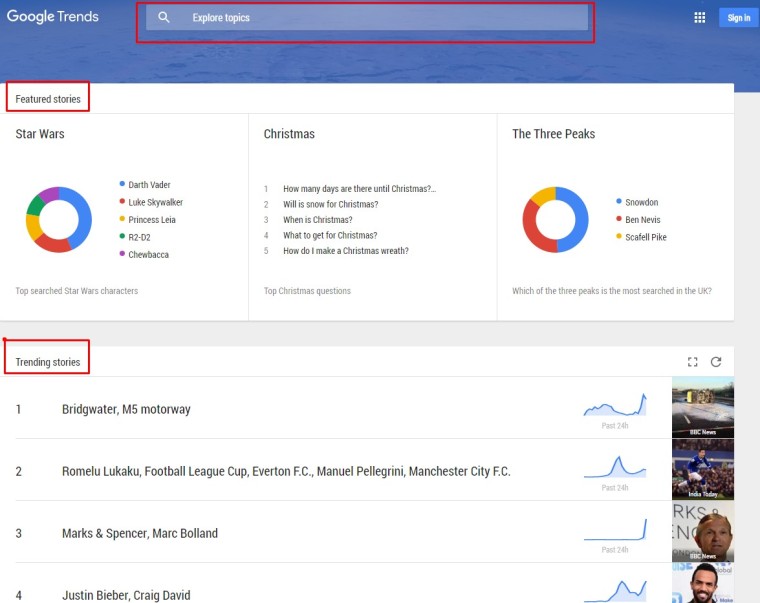 As you delve into Google Trends data, you can start to add new logic to your marketing efforts. In the example below I am looking at the UK only trends data for SEO, and comparing this to regularly alternative term uses including search engine optimisation, SEM and search engine marketing.
My intention at this stage is to see what the latest (Jan 2016) trends are, what the historical trends have been, and any data changes that I should be aware of.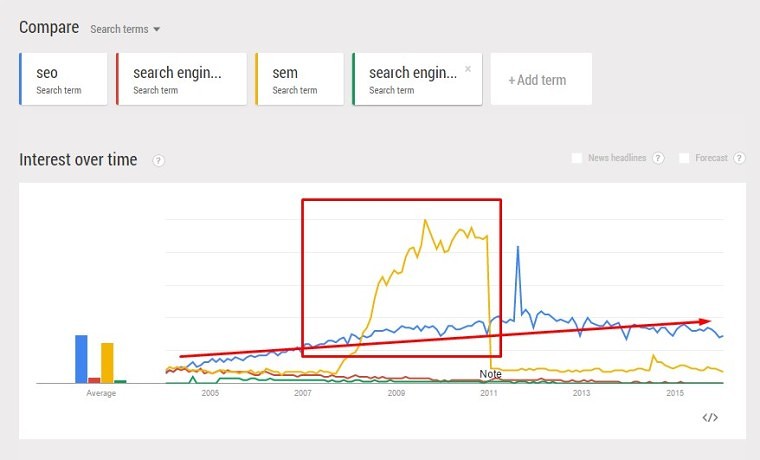 From the above, we can see at first glance that the highest current target, or positioning of marketing efforts, would most likely be more effective using the term (or topic) of 'SEO' in contrast to SEM or, the full versions of the abbreviated terms that I started the comparison with.
There is a peak in SEM trends between 2008 and the end of 2010 but, when looking into this further, this is due to changes that had been made to improve the geographic assignment of Google Trends data. This means that the UK trend, which is currently offering the most potential value, is again, more suited towards my current requirements.
Gathering Bespoke Data for Real-Time Gains
The previous sections have highlighted how you can use existing real-time data sets for marketing gains. While this post is designed to whet your appetite for getting going with real-time data, I also wanted to show the potential from generating your own data for real-time gains.
I appreciate that not all businesses will have access to deep data platforms, though I expect many more will by the end of the decade. Perhaps the biggest opportunity for marketing with real-time data is the chance to combine your own existing data sets (and to generate new data sets) for unique insights that drive strategy creation and adaptation.
It is this recombination of data for new uses which I feel will enable marketing teams who are supported by technology (and likely machine learning) to gain that competitive edge over the competition when it comes to real-time data use for marketing.
Below we can see this bespoke gathering of data and re-combination of information for unique, new purposes. What we are looking at here is a sample marketing dashboard from Apollo Insights – the deep data platform that I use every day working at Vertical Leap.
Within this dashboard we can see single click access to on demand, and real-time information pertinent to effective marketing (in this example digital marketing) analysis, actionable insight, and overarching performance.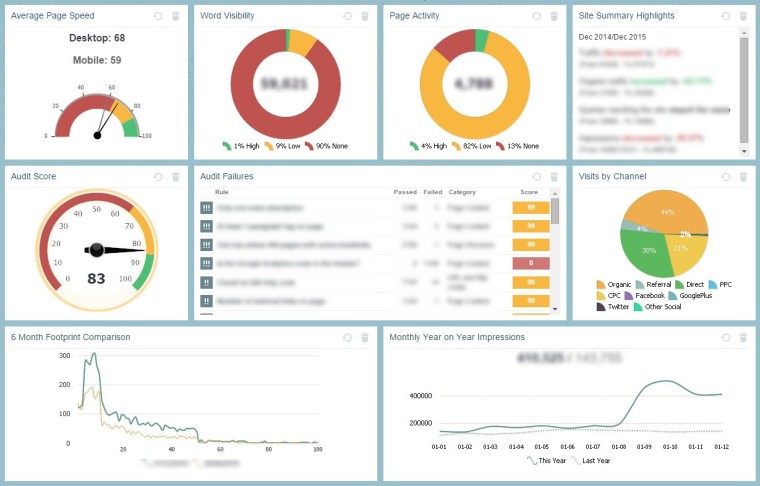 It was Marketo CMO Sanjay Dholakia who stated that:
Marketing has changed more in the last five years than over the previous hundred, but… marketing is going to change even more in the next five years.
I believe this is very true, notably when it comes to big data and real-time marketing.
Whats Next?
At this stage for real-time data and your marketing, I hope that you will try something new, share your experience with me, and comment on what you think about this post. If you have experience (positive or negative) with any of the above areas that I have suggested, it would be great to hear about that, too.
Image Credits
Featured Image: solarseven/Shutterstock.com
All screenshots by Lee Wilson. Taken December 2015.