It always surprises me how quickly companies write off blogs because they don't convert, or are resigned to creating new content for a blog that doesn't actively contribute towards end results and ROI.
Neither of these scenarios need to happen.
The focus of this post is on conversion rate optimization (CRO) for blogs. Much of the application of this theory is applicable for guides, white papers, and other content types, but the specific problem I am looking to help you solve is getting more conversions and end results from your blog.
Let's look at the five reasons your blog isn't converting:
1. People Aren't Engaged
The first stage of converting people from any content, including blogs, is to engage the user. People bouncing from your content, refusing to share or comment on it, or spending less time on the page than required to actually read the content are not engaged and won't convert.
Here are some tops tips for creating engaging content:
Speak to the user: People will become more engaged if they feel you are speaking directly to them
Talk about the user and not yourself: People land on blogs for a whole host of reasons, and many of them want to know you can help
Have something to say: Blog posts should have personality. When you read a company blog you should be able to get a feel of the person writing the content – not just a 'house style' which loses the power of personalization
Back up what you say with facts: Ideally, these will be unique to your company as well as trusted industry bodies
Provide mixed content types: People digest information in different ways so try your best to cater for them all
Use data: Understand why one post performs better than another. Learn why people share one post but not others.
2. Users Don't Know What to Do
One of biggest mistakes blog owners make is assuming logic. When someone lands on your website for the first time (especially on pages that are not service pages), they need clear guidance (active and passive instructions) on what they are expected to do.
Passive guidance can include visual signals, like additional prominence on latest or most important content. The following is an example of this in practice from the learn centre of the company I work for: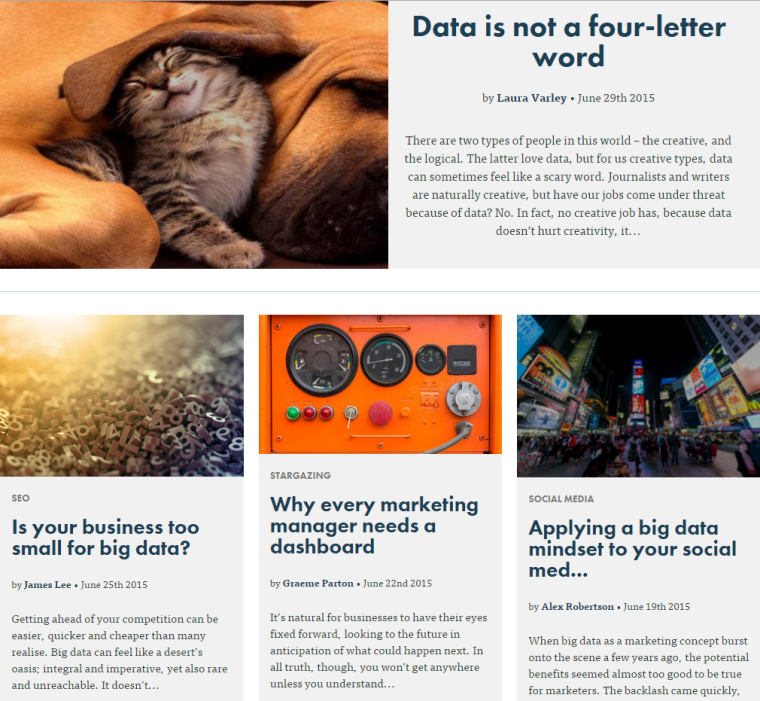 Active instruction examples often include direct call to actions (CTAs), action buttons, and inline short forms.
Active instructions have a greater impact when they are more specific to the page and when providing something of value or resulting in immediacy to act.
3. You are Not Trusted Enough
Whether you are collecting personal information or credit card details, people need to trust you in order to convert.
You can gain people's trust in a number of ways, but often blog resources forget to convey this trust. This frequent oversight can be based on myriad factors, and a common misconception is that you are providing something for free so you don't need people's 'buy-in'.
While this is partially true, as soon as you look for conversions from your blog content (whether micro or macro), trust plays a critical part.
So, how do you incorporate trust into your blog?
Quality: First and foremost, the quality of what you create will impact the end results.
Testimonials: Supportive, relevant case studies and testimonials encourage herd mentality as well as loss aversion – important factors of CRO.
Physicality: People trust physical entities (and even more so, real people). Blog templates should include business addresses, contact information, and details about the person writing the post
Feedback: Ask people what they think using short surveys, provide comment facilities, and gather feedback from people engaging with your content. Don't forget to use the feedback for improvements. Gov.uk covered this nicely in a recent post titled Improving content with anonymous feedback.
Stats: People trust facts and figures. Here's a pertinent example – according to WordPress.com, over 409 million people view more than 20.1 billion pages each month.
4. Micro Conversions are Being Overlooked
Just to clarify what I mean by 'micro conversions':
Micro conversions are activities that users frequently engage in before purchasing. Sites commonly have several kinds of micro conversions, so it's likely that you'll want to set up at least two or three goals.

— Google, 'Track your micro conversions'
Some practical examples of types of micro conversions you could use within your blog template include the following:
Relevant product/service videos to support information digesting
Learning and education content to remove knowledge barriers to success
Email, newsletter and other repeat visit engagement sign-ups for longer-term conversions
Alert and notification sign-ups, positioning yourself as the 'go-to' authority.
5. Overlooking the Obvious
I touched on some of the associated areas of this earlier in the post but it's so important that it requires special attention.
You need to help people when they first land on your blog to better understand its purpose, the value proposition and what you expect from your readers.
On top of this, ensure you help the user complete the desired actions, regardless of what they might be. From sharing content to completing a short form, the more you help the user, the more conversions you will achieve.
Here are a few tips which, from experience, can add substantial conversion wins, but regularly are overlooked as part of blog CRO:
Introductions: Reinforcing the purpose of the blog in core 'roll-up' elements including any pagination/categorization and important filter variants, helps reinforce that visitors are on the section of the site they expected and can drive the user journey from the outset.
Solution Specific CTAs: If your blog posts are solving a problem or answering a question, don't forget to answer the question/solve the problem and tie this into a call to action (usually at the end of the post).
Testing: You cannot get the most value from any CRO changes to your blog without testing. From split testing to multi-variant testing, make sure you benchmark, change and test impact – this is core for conversion rate refinement.
Buttons: Consider colour, size, shape, placement, messaging and more – plus don't forget to test!
Templates: Often blogs sit outside the standard website template, but this shouldn't prevent users getting the access and value of wider website content. Think about what the user would find most useful from the broader website and ensure they have access to it. This may include industry guides, white papers, videos, trust information, and much more.
Shareability: If users have to do anything more than single click sharing within any part of a blog post (including scroll to find sharing and syndication options), you will lose reach, awareness and ultimately sales from your blog content.
Readability and engagement: OK, we've covered engagement but since the two are heavily tied, it's important to consider how readable your content is. From device-specific usability and content segmentation, right through to mixed content types and structure/formatting – it all matters.
What's Next?
My intention with this post is to provide practical advice for generating greater end results from people's blogs.
I'm really interested in hearing your views and getting feedback on what you have done to improve blog CRO, so please comment and share your thoughts in the comment section.
Looking forward to your thoughts.
Image Credits
Feature Image: nchlsft/Shutterstock
In-post Photo: Screenshot by Lee Wilson. Taken July 2015.