Despite being rattled by uncertainty and turmoil of late, Twitter continues doing its best to position itself as the customer service platform of choice for brands. And it's looking to chatbots to help solve customers' problems more quickly.
Twitter's Focus on Customer Service
In September, Twitter added a trio of new customer service tools. In addition to making the Direct Message button larger, brands could also add a Provides support notation to their account and display the hours during which they are most likely to respond to customer messages.
Then, just last month, a new Twitter study found that brands that are responsive to their customers enjoy lots of great benefits from Twitter. Namely, higher revenue, greater customer satisfaction, and positive word of mouth.
Now Twitter is rolling out a pair of new features to automate your interactions with customers via Direct Message. And yes, it does seem like they're playing a bit of catch-up to Facebook Messenger's welcome screen feature – though, to be fair, it isn't an exact replica.
Twitter Welcome Messages & Quick Replies
Whenever someone starts a conversation with your brand or business via direct message, you can greet them with a welcome message. You can set this up in your Twitter support settings page.
"Welcome messages let businesses greet people and set expectations as they enter a Direct Message conversation—without requiring people to send the first message," said Twitter. "Businesses can create multiple welcome messages and deep link directly to a specific greeting from Tweets, websites, or apps."
For example, here's what you'll see if you start a message with Evernote Helps: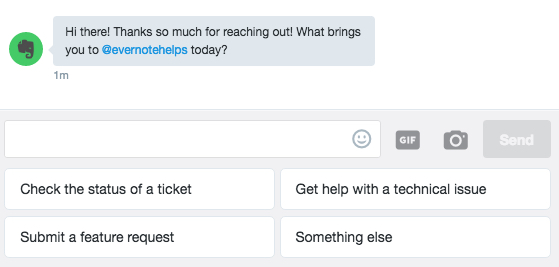 In addition to the welcome message ("Hi there! Thanks so much for reaching out! What brings you to @evernotehelps today?"), Evernote lets customers select from four Quick Reply options:
Check the status of a ticket
Submit a feature request
Get help with a technical issue
Something else
"Quick replies let businesses prompt people with the best ways to reply to a Direct Message, whether by choosing from a list of options or guiding users to enter specific text values," according to Twitter.
What do you think of Twitter's new Welcome Messages and Quick Replies?
Image Credits
Featured Image: Twitter
Article image: Screenshot taken by author