Are you responding to your customers' tweets on Twitter? If not, you could be losing out on revenue and loyalty, according to a new Twitter study.
Twitter's study examined three industries – airlines, quick-service restaurants, and telecoms – and found that brands that were responsive to tweets from customers were more likely to see big benefits beyond just brand loyalty. It also results in:
Higher revenue potential: Responsive brands saw increases in revenue potential of 3 percent (airlines), 10 percent (telco), and 20 percent (pizza-delivery brands). In addition, responding to a negative tweet increases your potential revenue by 3x.
Higher customer satisfaction: On satisfaction surveys, customers scored responsive brands on Twitter a full point higher (3.66 vs. 2.66).
Positive word of mouth: The data showed that when businesses respond to customers via Twitter, those customers were 44 percent more likely to share that experience online and offline.
More customer recommendations: Customers were 30 percent more likely to recommend a business after receiving a response via Twitter.
Twitter noted that companies that are able to respond the fastest to consumers will see the greatest revenue impact.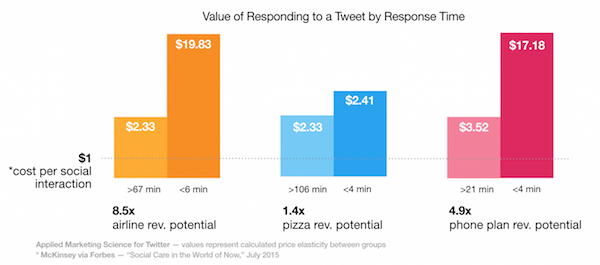 Plus, customers will be more willing to buy from that brand in the future.
"When an airline responded to a customer's Tweet in less than six minutes, the customer was willing to pay almost $20 more for that airline in the future," according to Twitter. "Similarly, in the telco industry, customers are willing to pay $17 more per month for a phone plan if they receive a reply within four minutes, but are only willing to pay only $3.52 more if they have to wait over 20 minutes."
Twitter recently added customer-service features to make it easier for businesses to be more responsive to customers, including:
A notation indicating whether your Twitter business account provides customer support.
The ability to inform users during which hours your company is most responsive on the platform.
A larger Direct Message button to encourage people to contact your business when they need help.
Image Credits:
Featured Image: Depositphotos
Article image: Twitter