As much as I love Twitter search, I find it funny that there's not really an overwhelming number of FireFox addons to tweak it. Apart from the official search plugin (found at the bottom of the page), there are just a few more addons to check out.
This post lists three new, quite unique (still experimental) Twitter search FireFox addons:
I am sure, most SEOs and bloggers love search suggestions – that's another great resource for keyword research and new post ideas. How cool is that we can now enjoy as-you-type suggestions for Twitter search?

The addon works via FireFox search plugins (which means it is installed instantly without the need to restart your browser).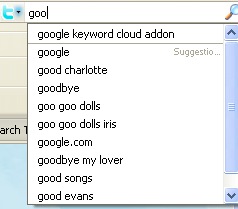 This addon is by our very favorite free traffic analytics tool BLVD Status creators.
Clean Tweets eliminates spam when using Twitter Search. No more Tweets sending you to malware or porn sites, no more Tweets spamming trends. Clean Tweets completely removes such tweets from ever showing up on your screen.
The tool works works as follows:
It automatically deletes any tweets from accounts that are less than 24hrs old (the timeframe can be customized);
It deletes anyone tweet that mentions 3 or more (can also be customized) trending topics in it;
It deletes any further Tweets by users you specify (manual delete):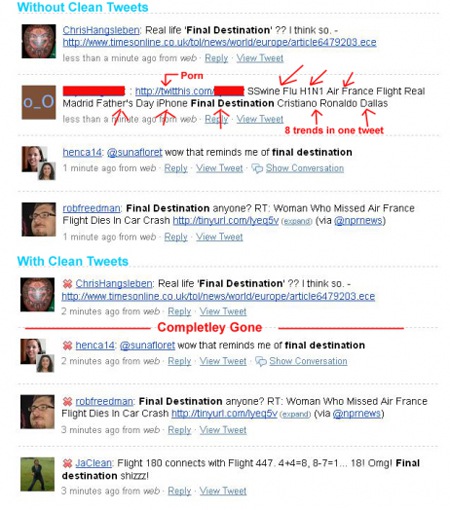 Twiogle is another nice (except for the logo, I'd say) way to combine Google with Twitter search. It is installed as a toolbar where you can choose to search either Twitter or Google as well as both of them at a time.