TrakkBoard is Adobe Air tool allowing to manage multiple Google Analytics account from your desktop.
Trakkboard enables you to look at data from different Google Analytics accounts and profiles on your desktop and to compare them with each other without being logged in at Google Analytics.
The main benefits of using the desktop utility is the ability to see any important performance indicators of multiple websites at a glance:
See multiple report types on one dashboard;
Compare data from different Google Analytics accounts as well as from different Google Analytics profiles;
Arrange dashboards to adjust them to your needs (e.g. arrange dashboards by topics, tasks, or websites);
Quickly change between different display options;
Define time spans, which can either be updated automatically or protected from changes.
To get the application you will have to provide your email address, click the verification link inside the email message and finally get the licence key: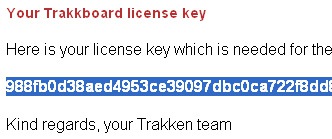 Now download and install the tool: you will have to provide your license key, create a password and specify your Google Analytics login details at the final steps of installation process.
Now click "Add a New Widget" (Trakkboard's widgets are small windows which show chosen data from Google Analytics), and from the drop-downs, select:
Your Google Analytics Account;
Google Analytics Profile;
Data to display (visits, visitors, pageviews, medium, source, top/flop keywords, bounce rate, time on site, goals);
Time frame;

Now at your dashboard you will be able to see all your created widgets on one page (tip: to separate data related to multiple sites, add new tabs):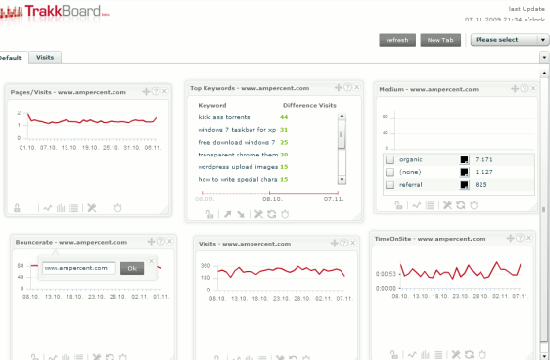 Add another Google account:
If you have several Google Analytics accounts, you can add more via the control center: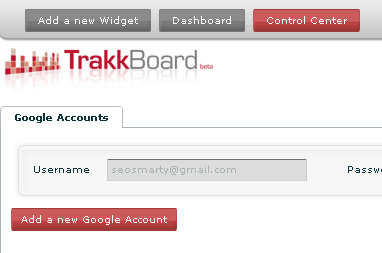 The tool was reviewed under SEJ policy.