We have way too many resources to track today: thousands of blogs, social media networks, forums – somewhere someone may be talking about you and you may be unaware.
Here's a cool solution to keep an eye on everything: create your own united, customized RSS feed and add it to your preferred feed reader.
Feed Killer is one of the tools for that too consider. It is very basic, yet offers all necessary features and, what is also great, requires no registration. Two features you are going to love:
Add and mixx as many feeds as you need;
Customize the number of stories you want to see from each feed.
Now, let's say I want to track my name in Twitter and throughout the blogosphere; what I need to do is:
Search Twitter search for [Ann Smarty] and grab the RSS feed link;
Search Google Blog Search for [Ann Smarty] and grab the RSS feed link;
Go to RSS-mixer, add both links and click "Build it!"
You are done: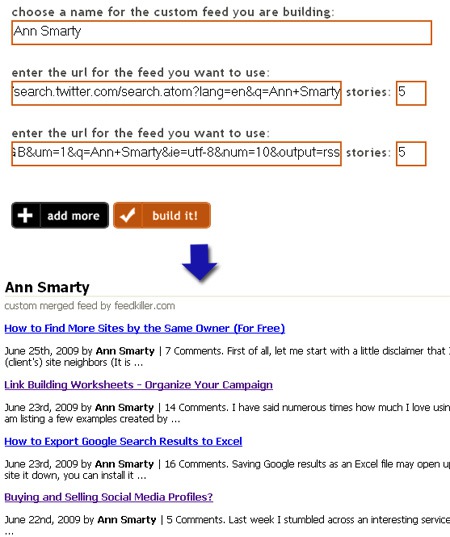 Feedstitch is another similar tool with some added options (It supports RSS, Twitter, Twitter search, Delicious, Tumblr, GitHub and Flickr data feeds.):
Login using your open ID;
Add as many feeds as you want;
Sort feeds into groups for easier management;
Customize each feed URL.

More tracking tips: