I've been looking at a few rank checking and monitoring tools previously. This time I am going to share a few ways to monitor the top Google results position changes by RSS, email or FireFox. This short guide will be useful for:
tracking recent brand name mentions (by monitoring the advanced date-range search);
tracking your (core) term SERPs changes (to keep an eye on new emerging sites in top 10 for example).
Keep Track of Google SERPs via RSS:
There are several tools allowing you to feed any page and track its changes via RSS. My personal favorite is Feedity because it's really simple and easy-to-use. Let's try it:
search for your term in Google (I am searching for [Ann Smarty] mentions over the past 24 hours);
copy the URL string;
go to Feedity and enter the search results URL;
"show" the tool which links to track: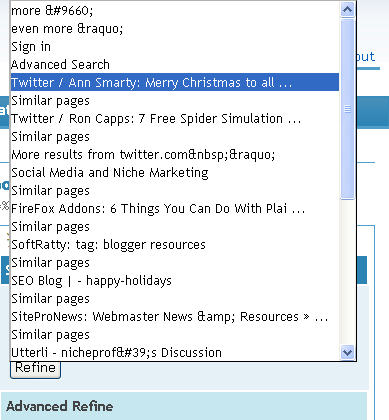 Now you are done! Add the feed to your preferred Google reader, check back daily for new entries: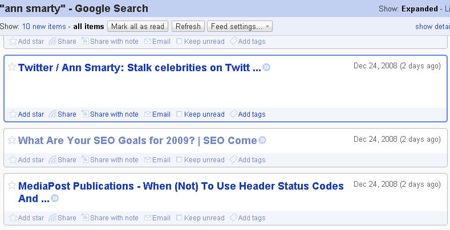 Keep Track of Google SERPs with FireFox:
There's a handy FireFox addon called UpdateScanner that lets you monitor any page changes:
it allows you to set the scan frequency;
it alerts you of the changes instantly;
it highlights any page changes.
Here is how it looks for the same Google results page: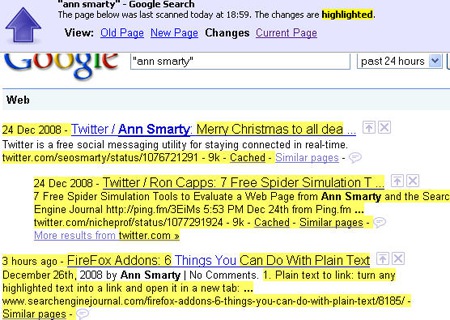 Keep Track of Google SERPs via eMail:
I have already mentioned tools updating you on any page changes via email.
Track Engine is one of the oldest services of the type and is still my favorite one for multiple handy setting it allows to change:
track a page daily/ every two days/ every three days/ weekly;
send the report only in case XX edits were introduced;
track only specified keywords (e.g. news);
track changes to: hyperlinks / images / dates / numbers;
exclude changes containing any specified keywords; etc.
Here is how the report for [Ann Smarty] search looks like: