I have reviewed some ways to track any page for changes (listing some web-based tools, FireFox addons as well as Google Chrome extension). This can have various application for different SEO-related tasks like SERPs tracking, reputation monitoring, keyword research, etc.
Today I am sharing another alternative tool you may want to try.
Diphur is a new fun service that lets you bookmark and page to track its changes. It has a few really unique features outlined below.
The first thing to do is to register an account which took me a few seconds.
The new-bookmark screen allows you to set the following options and parameters:
The URL of the page;
The page title (to easily identify it in the list of your bookmarklets);
Private/Public settings (if you want your bookmark to be publicly visible or not);
The checking and update frequency (hourly, daily, weekly, monthly);
The change percentage – gotta love it! – to be able to be notified of all or only substantial changes;
The keywords to track;
The exact-match keywords;
The update notification delivery time: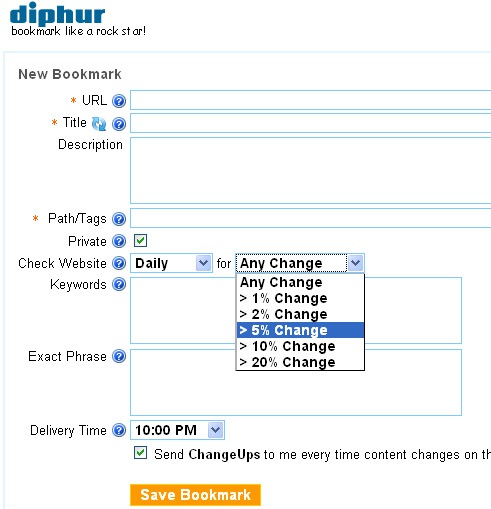 Track Recent SERPs Changes with Diphur
One of the first things I did when trying the tool was obviously using it for 24-hour-old Google search results – this is like Google Alerts that work! While I am already using a few other tools for that, this one seems a better fit because it allows to set how substantial the change should be to be included in the update – this makes it easier to track ONLY real changes (when it comes to tracking SERPs, this turns priceless).
So I have set up a bookmarklet for the following page (tracking only 10%-change):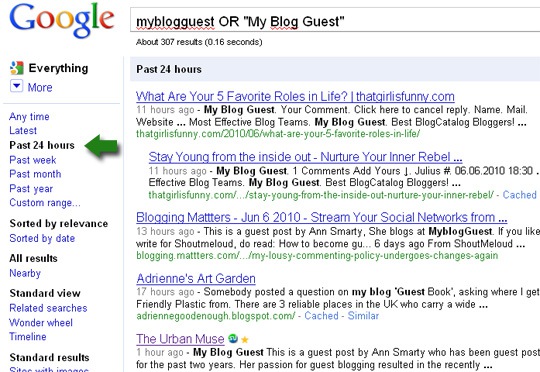 Here's how the daily update looks like (It really contains new results!):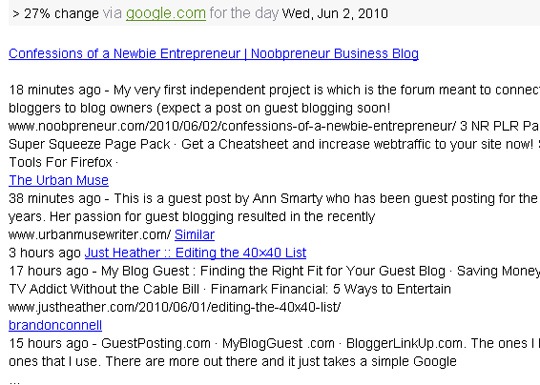 2. Track Any On-Page Keyword
My further test was rather out of curiosity. Unlike the above one, I haven't really started using the tool for keyword tracking – I just noticed the option and decided to give it a try.
Honestly enough, I haven't thought hard of the example. I just set up a bookmark to track Sphinn home page for the term "SEO".
The email update highlights the word you are tracking – which seems really useful (and I am going to add this option to my SERPs tracker to see my business name always highlighted):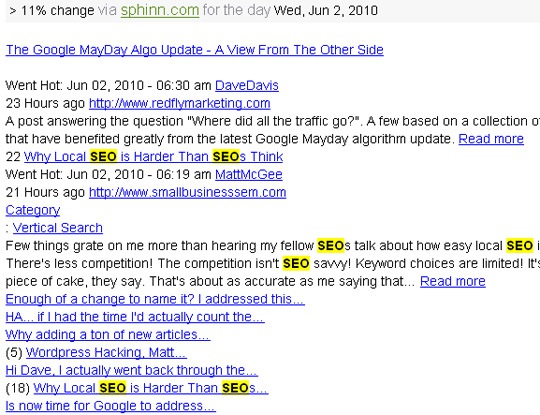 Via the tool settings you can also:
Set the vacation mode (to stop notifications while still tracking);
Change the subject line of your email notification;
Change your time zone: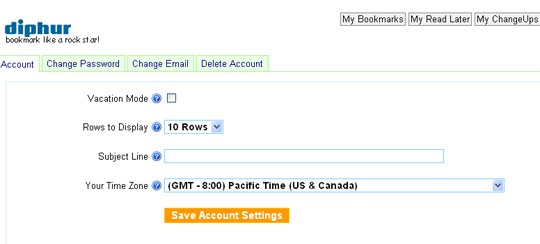 All in all, I found it a very useful tool and I am going to stick to it. Let me know what you think!