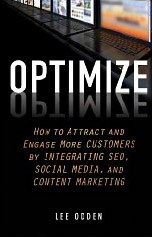 Kudos to Lee Odden of TopRank Online Marketing for beating me and SEO Stoney deGeyter to the punch.
If the two of us had collaborated on a book for the inbound marketing industry, it probably would have turned out something like Optimize, Odden's recent release that covers search engine optimization (SEO) and social media and content marketing tactics and explains why a blend of all three is a must for successful online marketing.
Last fall, in fact, Stoney and I led a Web marketing workshop entitled, How to Integrate Search, Social Media, and Content. We discussed the natural synergy between the three, as well as goal-setting, best practices, and practical how-to's. Without even knowing it, we took a page (well, actually, a few pages) from the to-be-published Optimize.
Understand that this book isn't some updated manual for achieving top SERPs fast. In his preface, Odden writes:
If a company doesn't see the bigger-picture synergy of how to break social media, content, and SEO efforts out of departmental silos and approach Internet marketing and public relations holistically, how can they grow and remain competitive? To me, the notion of optimization is more about brands and customers than it is about keywords and rankings on search engines. Being "optimized" is a state of mind, and with this book, I hope to convert you into becoming more optimized in your marketing and communications.
Spot on, Lee! Marketers, PR pros, programmers, writers, designers, and customer service reps must work in concert to attract, engage, and retain customers because our ultra-competitive marketplace demands it.
What You Can Expect from the Book Optimize
Optimize is constructed in three phases: planning, implementation, and scale. With solid, straightforward writing and organization, Odden leads you through the fusion process all the way from why content, search, and social complement one another to step-by-step methods for achieving this synergy.
Some of his best, top-level points include:
Content isn't king; it's the kingdom. (I've adopted this as my new mantra.)
If it can be searched, it can be optimized.
Look beyond simple keyword metrics to the voice of the customer, keyword research, and social topics.
Track quantifiable, meaningful outcomes.
These are, of course, just highlights. He also goes in-depth on objectives and strategies, customer personas, well-thought-out content, link building, and more.
I think Odden's biggest achievement with Optimize is the creation of a well-rounded Web marketing primer. Although his book touches on principles already discussed by Web marketing authorities and authors like Joe Pulizzi, David Meerman Scott, Ann Handley, C.C. Chapman, Jason Falls, Avinash Kaushik, and others, his approach convincingly demonstrates why SEO alone or social media alone or even content alone won't take your business where you want it to go. Only well-planned integration of all of these – an "optimized mindset" – will work.
Too bad we didn't write this helpful book first. Lee Odden could have been plying us with kudos.
Optimize is available in Hardback and for the Kindle.