Let's face it: the real-time nature of social media is shaking up the role of the content marketer.
With 4.75 billion pieces of content shared daily on Facebook, 500 million tweets per day, and 95 million photos and videos shared via Instagram every day, harnessing the sheer amount of social data and insights can be daunting.
Marketers need to pay attention to the digital signals that consumers send across social platforms in order to deliver more relevant, engaging, and personalized content for customers.
As companies evolve into experienced businesses, leveraging social insights will help them establish an emotional connection with their customers. This allows businesses to send the right content to their audiences at the right time, consequently boosting ROI and driving customer loyalty.
Social insights – when leveraged effectively – can help marketers understand their audiences and ultimately improve creative assets. It also makes content creation and delivery more efficient as it becomes more relevant to their audiences.
Here are some ways content marketers can use social insights to inform their content marketing strategies:
Identify What's Trending on Social
From major events like the Super Bowl to breaking news around the world, content marketers need to understand what consumers are gravitating toward on social.
For example, when Steve Harvey named the wrong winner of the 2016 Miss Universe Contest, Burger King jumped in on the conversation with this clever tweet, "At BK, everyone gets to keep their crown."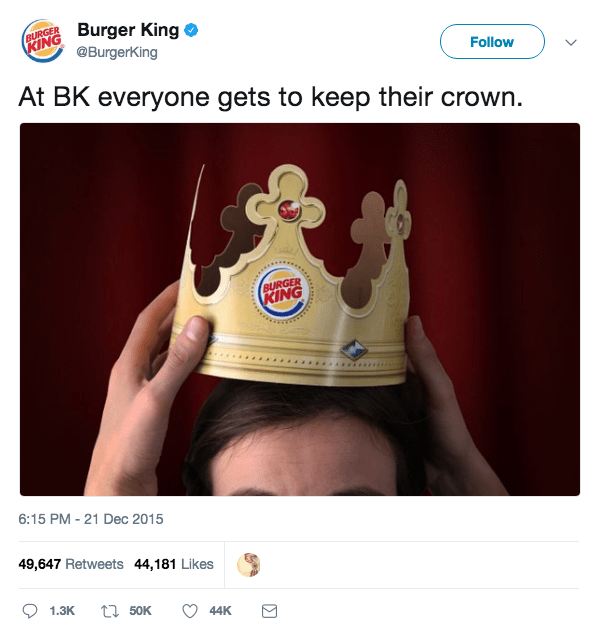 The real-time nature of this tweet helped Burger King garnered impressive engagement — almost 100,000 retweets, likes, and replies.
Social data helps marketers understand their audiences – what they are paying attention to and where they are engaging – and ultimately helps inform the content they push out to ensure its timely and resonates.
By keeping a pulse on what's trending in the social universe, brands can also establish relevance in larger conversations and engage a new group of potential customers.
Understand What's Happening on a Local and Global Scale
Social teams should be leveraging social networks to keep their finger on the pulse of what's happening locally and globally, and then sharing that data with the content marketing team so they can deliver relevant and compelling content.
Perhaps there's a geo-specific event that a company can tap into and cater its content around to appeal to its audience.
For instance, a children's clothing company can tap into social buzz and momentum of back-to-school in the fall and cater its content to students and parents.
Marketers shouldn't let content marketing efforts come down to a costly gamble when social data and insights about what's happening in their communities and around the world can inform their content decisions and make campaigns impactful.
Leverage User-Generated Content from Social Channels
People trust the opinions of their peers. In fact, shoppers who interact with consumer-generated content are 97 percent more likely to convert with a retailer than customers who do not, according to a recent Bazaarvoice report.
User-generated content is valuable to companies as it lets them drive better engagement and awareness with people outside of their existing customer base by sharing real, authentic customer experiences.
Marketers should extend the reach of user-generated content from social networks through incorporating that content onto their owned digital properties so as to engage customers across their journey with a brand.
Social data stemming from user-generated content can also help marketers address content pain points and engage with consumers across digital touch points along the customer journey.
Integrate Social Data to Your Marketing Strategy
Social data and insights shouldn't be gathered and observed in isolation, but rather as a part of a broader marketing strategy. Marketers need a cross-channel approach – looking holistically at website, email, and social data – to develop overall content strategies.
Social data can no longer be relegated to the sidelines given the immediate insights it provides about customers and the type of content they're engaging with in the moment. With social data at their fingertips, marketers can glean trends to emulate for their own content and campaigns.
While social data can inform optimal content marketing decisions, brands also need to understand which social network(s) their audiences are engaging with the most and for how long. Marketers need to understand what type of content will help them best reach their audiences and which channels to use.
Consumers engage across multiple touch points when it comes to making a purchase with a brand and that should be considered when looking to drive engagement and conversions.
Conclusion
Content marketers should always leverage social data to gain insights into what their customers are talking about at any given moment. Infusing that information into their content strategies will create favorable experiences for customers.
This doesn't just mean delivering the right message at the right time, but using social data to understand the right content that should be delivered within a message so it's personalized, relevant, and engaging.
When analyzed alongside other marketing channels, social data can help marketers identify trends and engage with their consumers in real-time across all stages of the customer lifecycle to deliver the best experience possible.
---
Image Credits
Featured Image: Pixabay.com