There have been a few articles already where I shared how to use Wikipedia tools for keyword and topic research (Wikipedia visualization tools are especially good for that).
Today I am sharing another nice tool that generates the list of logically related concepts: Smart Wiki Search.
For any concept you specify the tool provides the corresponding Wikipedia article (in red) and the list of "similar" concepts:
[Weight loss]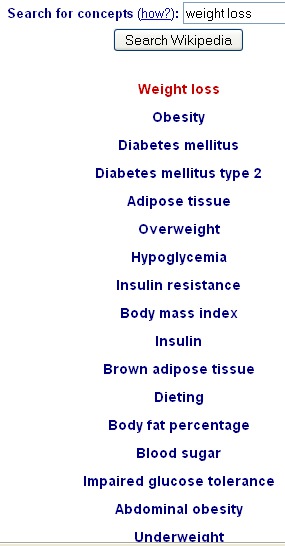 The site describes itself as "a similarity search engine" that "uses the link structure of Wikipedia to calculate which concepts each page is associated with."
For the tool to work:
The concept you enter should have a separate page on Wikipedia;
The concept you enter should be popular enough (obviously, the article should be well-interlinked).
What I found the most useful was its ability to search for more than one concept:
…enter "Food" and you will be presented with a list of Wikipedia pages discussing common foodstuffs. Add "Jewish", and it will find pages where the concept of "Food" overlaps with the concept of Jewish culture – Jewish cuisine, Kosher food etc.
Let's proceed with the example shown above:
[Weight loss, fashion]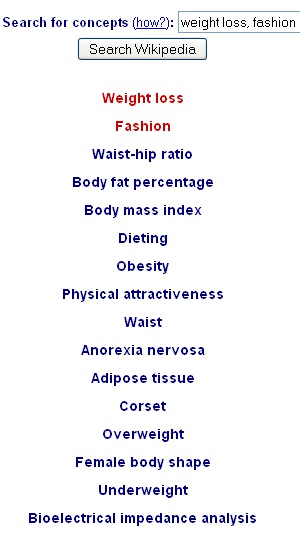 Seems to work, doesn't it?
The tool was reviewed under SEJ policy.