This is a sponsored post.
The shutdown of Yahoo Site Explorer brought us QBL, the 10-second-car for Backlink Analysis
It's been a while since our last review of the Link Research Tools back in March and I want to thank you guys again for the massive feedback. Since then, a lot has happened in SEO, most recently the shutdown of the perhaps most-used SEO Tool out there, Yahoo's Site Explorer. Even more has happened in the product development of Link Research Tools (we could write about them improving the product on a monthly basis!) but this time we really have to mention their latest and greatest tool launch.
Link Building Wonder Weapon
Many SEO Toolkits there reacted to Yahoo Site Explorer going offline, but CEMPER.COM's Link Building wonder weapon stand out – not only because they just doubled their link data volume, also because of the advent of a new Ferrari-like tool to become a full-fledged replacement (and then some) for Yahoo Site Explorer. Enter QBL – the quick backlinks tool!
The new tool QBL is part of the whole product, but is also available stand-alone in the new Quick -Account with an introduction pricing (ends March 1) of an average breakfast at Starbucks.
Link Boost adds 7500 more links
Before we talk more about QBL, their Link Boost was also recently announced, a feature that lets you analyze up to 7'500 additional backlinks in their Backlink Profiler tool the full HD supersize-me link profiling software that aggregates 53 SEO metrics for every link (!).

Quick Backlinks
The new tool Quick Backlinks or QBL was launched as Yahoo Site Explorer replacement on Dec 5 and aims as an immediate plugin-in to replace the Yahoo Site Explorer for the masses. Dave Naylor's team has been raving about it and compared it to a Lamborghini. Well said.
As you may know the basic functions of my previous review of the Backlink Profiler, the new QBL (the tool's abbreviation that is being used inside the Link Research Tools) is like a simple but super-lightning-fast version of it. It delivers similar functionality to the BLP, however with an immense boost in speed. Within only a few seconds (around 10 seconds were usually enough) up to 2,000 links and very useful additional data were shown.
For every link the QBL immediately shows you:
The exact target URL (and you can filter and group by that also with wildcards)
A new Link Power metric (the strongest links are shown on top)
The type of link – text or image links and even fancy stuff like redirects, frames, canonicals
If they're FOLLOW or NOFOLLOW links
How many links go to your domain from the linking domain
How many linking domains there are to each of your links (Domain Pop, Linking Root Domains)
The well-known and still-much-used Alexa rank
The IP address (you can filter by IP addresses and class-C blocks in a breeze!)
The country in which the linking domains are hosted
All of the above information together with Deep Link Ratios, TLD break and more are shown in simple charts that allow for quick and easy examination of a site's link profile
The interface is as simple as it could be. You enter a URL, you get results.

But the best of all is that you have super-convenient dynamic filters in the interface and still can download everything to Excel with one click.
The tool provides bookmarklets that make using the tool even easier, and it's also integrated with all other tools inside the Link Research Tools. If you are not using bookmarklets for your research, you haven't done intensive SEO research I tell you. Just drag them to your browser-bar.
Starting multiple QBLs is easy as cake from existing reports in the Link Research Tools and the QBL itself, by simply selecting URLs and clicking the >Start QBL link at the bottom of the report data table.
The QBL visualizes your link data in an easy understandable way supported by nice looking charts. If you're not into sifting through all the links individually, the charts which are part of the QBL help you get a quick overview quickly.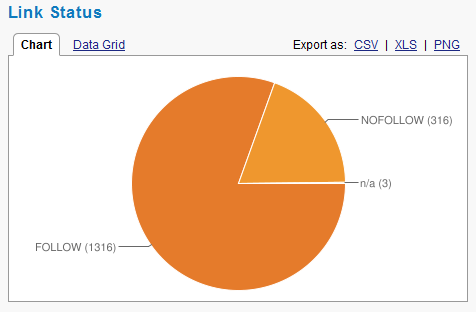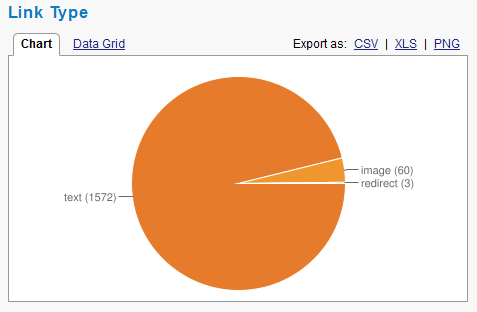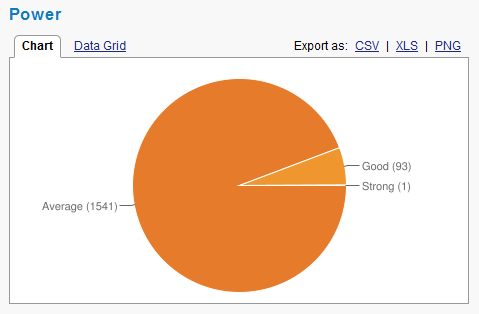 Searching through the link data in detail is made easy by a wide range of easy-to-understand filtering and sorting features.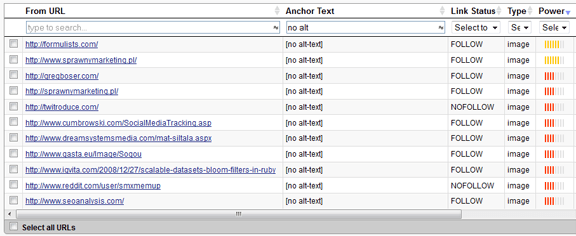 If you would like to know more about the handling of the tool I'll recommend you to watch the video we included from the vendor's site. It's brief and easy to follow.
Something to mention is that Christoph and his team did a pre-launch waiting list and gave away a hundred or so accounts at launch date. Today the tweeted signup page is still up and after checking with them they plan to eventually send out more free accounts when resources allow. That's worth a try, no?
What do you say – doesn't this sound like an SEO's dream?
I'd love to hear your feedback on this new tool.