There are almost always risks involved when optimizing a website.
Say you're planning on re-platforming your website with a new site design and URL structure change; you risk the rankings that you currently have. They could plummet, or maybe not — it's a risk you have to weigh.
But the risk of decreasing the SEO value can be worth the opportunity of SEO gains, especially if you're experiencing decreases in organic rankings across the board.
Below are five SEO tactics that are worth the risks – and three you must avoid at all costs.
When to Take SEO Risks
Before you undertake any risk that involves your SEO rankings, you must weigh the risks versus the rewards.
For example, if a webpage ranks for a bunch of keyword phrases in the top 5-10, what could you lose by making a change compared to what you would gain?
In SEMrush, you can see what pages rank for which keyword phrase. You can look at the entire site for site-wide changes or individual pages.
In the example below, this page currently already ranks for a ton of phrases in Google. Therefore, making substantial changes to it could severely decrease the rankings and drastically hurt your SEO efforts.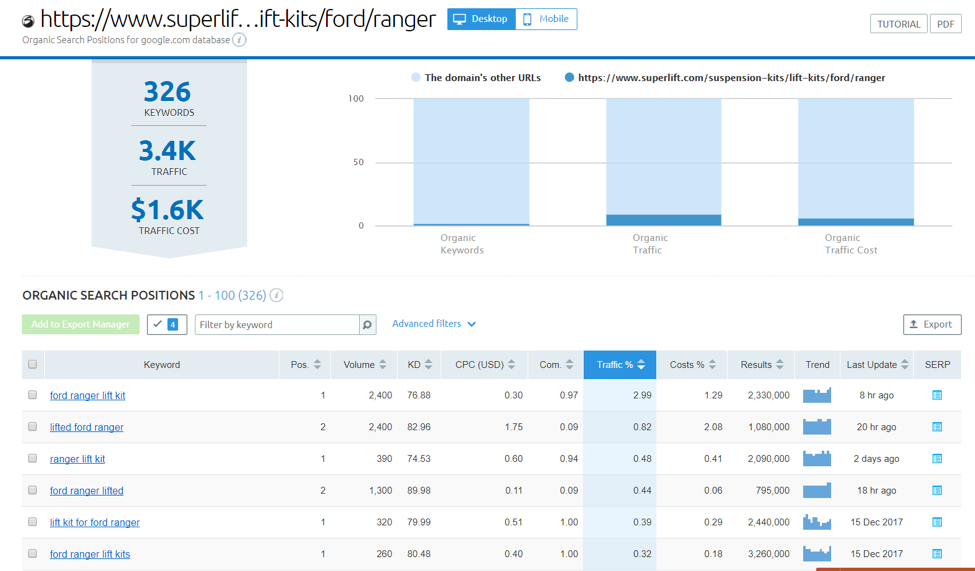 However, on the flip side, the example below shows rankings in the top 4-6 range for its main keyword phrases. This could be a good opportunity to better optimize this page to try to gain higher rankings. The traffic you'll get from positions 4-6 is much less than from positions 1-3.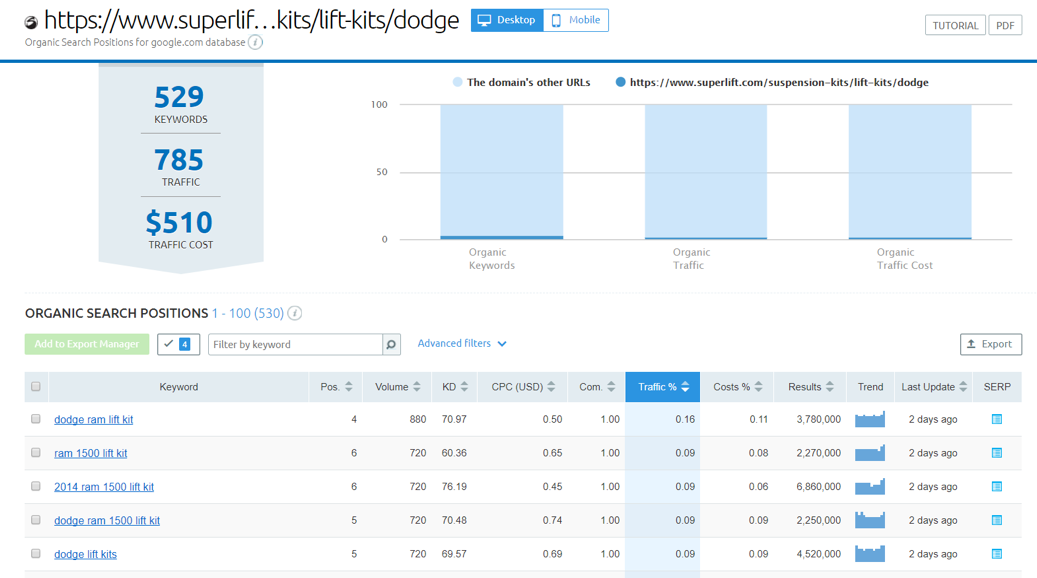 You can also go into Google Analytics (Acquisition > Channels > Organic Search > Landing Page) and compare year-on-year (YoY) data for the performance of all landing pages from post-click hits from Google.
If key metrics (e.g., traffic, revenue, conversion rate, bounce rate, time on site) are decreasing for pages, this could be a good opportunity to start optimizing those pages.
In the example below, I would want to look at the homepage and understand more about why the traffic, revenue, and other key metrics are decreasing to identify a plan to remedy the situation.

SEO Risks to Take
Once you have identified and evaluated the risk and reward, it's time to figure out different tactics that you could implement.
Here are some notable SEO risks that I have taken with different websites.
1. A/B Testing Meta Information
Some believe organic click-through rates impact rankings, which makes sense. Google wants the most relevant listings to come up when someone searches.
If no one is clicking on your listing, then Google might deem that page to be not relevant for that search phrase and will not list you moving forward. Also, they won't list you if the keyword strategy/content on your meta titles and descriptions are poor.
This creates a good opportunity to A/B test different meta title and meta description combinations on various pages.
For instance, using the example above from SEMrush (screenshot with rankings 4-6), here is our meta information for the page:
<title>Ford Ranger Lift Kits | Company Name | Company Name</title>

<meta name="description" content="Lift kits for your Ford Ranger from Company Name. Shop today and find the right kit for your truck!"/>
These title tags and the meta description are incomplete and have room for improvement to optimize for CTR and a broader set of keywords outside of "Ford Ranger Lift Kits."
This would be a good opportunity to optimize this page, document when you optimized it, and then evaluate the results.
If this produces positive results, then you can do this for multiple pages.
2. Changing URL Structure
Many times, in the e-commerce SEO space, retailers use old e-commerce platforms with poor site structure navigation.
This comes from custom cart solutions or outdated cart solutions using inferior site architecture compared to keyword-rich URLs.
Optimizing your URLs and making them simpler and more keyword friendly can provide a lot of benefits from higher correlations of high rankings with having short keyword-friendly URLs in subfolders — i.e., example.com/benefits-10-teas compared to example.com/main-page-here-describing-the-best-health-benefits-of-10-teas.
This also makes it easier for users to know what a page is about in Google's search results.
Below is the top Google search result for [10 best teas for health]:

It has a clear URL structure.
If you decide to change your URL structure, I would recommend not doing it site-wide to begin with. Start by optimizing 20 or so pages, and then make incremental changes to the pages you have.
Always make sure that you measure the results after any changes you make to make sure that it's having a positive impact.
Assuming you see a positive result, continue changing your URLs until they are all complete.
Also, it's important to make sure that you 301 redirect old URLs to their new URL paths; otherwise, you could lose out on the link value the old pages used to have.
If you find yourself in a situation where you have to change all of your URLs, such as migrating to a new platform, I would still recommend changing 20 or so and analyzing your results.
Changing all of your URLs at once can hurt your organic rankings, and this is the least desirable option.
Always try to do a small experiment first, measure your results, and then make larger scale changes.
3. Improving User Experience
In my opinion, user experience just might be the most important Google ranking factor.
This study showed a small player was able to compete with much larger companies and rank higher with only a higher Alexa rating and Instagram pretense.
Optimizing for the user experience and looking at your metrics (e.g., time on page, bounce rate, site duration) will be paramount for winning in a competitive Google landscape moving forward.

Using the example from Google Analytics above, I would audit the landing pages and identify any underperforming pages.
We want to optimize these pages to give a better user experience, which will, in turn, increase the usability metrics and, in theory, increase our Google rankings.
There is not an exact template out there on how to improve user experience, but some examples I have used in the past which have worked included:
Putting reviews on product pages.
Implementing video content on category and product pages.
Putting explanatory content on category pages.
Removing content from category pages.
As you might have noticed, improving user experience is a bit of a gray area. It's not clearly defined, so the only way that you know if it improves your user experience is through an increase in usability metrics outlined from Google Analytics.
Again, just always make small changes, measure and analyze your results, and then make changes on a larger scale once you find success.
4. New Holistic Website Design
If you have limited resources for a website that is decreasing in usability metrics YoY (even compounding YoY), then it might be a good idea to look at a holistic website redesign compared to making incremental changes.
A good website design and strategy can build trust with consumers and make it more likely that they will interact with your content.
Creating a new website always carries a risk and, in a lot of situations, it can drop your conversion rates initially.
However, over time, with the right strategy and design, a new website design will improve upon the usability metrics; hopefully, improve your organic rankings; and help your business grow.
Just to note: you always want to think of external factor as well, such as new competitors, decreased market demand, and more before you decide if a new website design will correct any decreases in your usability metrics.
5. Acquiring High-Quality Backlinks
Unfortunately, I still find many websites that are scared of backlinks and Google penalties that are associated with them.
You have to work very hard to achieve a manual Google penalty. I have only seen it a handful of times, and that was back in the 2012-2013 era when many online merchants were trying to spam backlinks.
Backlinks have a high correlation to ranking high in Google, and you should always look to acquire them when you can.
Google is more likely to reward than penalize you.
If your current backlink strategy isn't working then, it may be because Google is not giving credit for those links.
Instead of writing off backlinks or giving up, look to improve the quality (not the quantity) of your efforts.
SEO Risks to Avoid
While there are some SEO risks that are worth considering, there are also some that you want to avoid like the plague.
Please note, I understand that some of these are somewhat outlandish. Even though some would not be utilized for the vast majority of SEO professionals out there, I still hear of SEO practitioners who think that using these tactics will work in their favor.
1. Disallowing Neutral Backlinks
Finding a way to describe this is difficult, so I came up with the word "neutral" backlinks.
Many SEO professionals will disavow low-quality backlinks, even though Google has said disavowing links is not really needed unless Google has taken manual action on your website. I do this myself.
However, many professionals out there don't understand how backlinks work and will disavow backlinks that I would refer to as neutral. They aren't helping your site rank higher, but they aren't hurting your rankings, either.
But why even risk disavowing them in the first place?
I don't think it's a risk worth taking, and I always recommend being very conservative with any disavow lists.
The Penguin 4.0 update removed site-wide penalties for bad backlinks and, honestly, it's very difficult to achieve Google penalties for backlinks.
Google understands you cannot always control which websites link to yours, which is why they are ignoring backlinks instead of punishing.
Therefore, you don't know what is helping, but you can infer they are not hurting you – so why disavow them in the first place?
I still recommend doing disavow files, but only disavowing links you wouldn't want to show your mother. If they don't provide any value, then just let them stay there, out in the interwebs, but keep it away from your disavow file.
2. Deleting or Consolidating Pages
I never understood the need to delete pages of content or URLs.
Nevertheless, if you need to delete pages, you risk your site not ranking for those keywords anymore. That might be fine, especially if they are categories of products you no longer wish to sell, but, if you want to keep those keyword rankings, then don't delete the page.
If you are deleting product pages you no longer carry, then make the page say, "This product is no longer available, and here are some relevant products you may be interested in."
This way, you are not deleting the URL, and you are still offering the searcher something when they get to your page.
If you are consolidating pages, then make sure the old URL 301 redirects to the new URL – and make sure the new page can cover the wide range of keyword phrases the old pages were ranking for.
3. Making Site Wide Changes First
This one cannot be avoided if you are limited on resources.
I always highly recommend making a small incremental change first, measuring the results, and then making larger incremental changes afterward based on the results you have achieved.
Conclusion
Hopefully, these SEO risks worth taking (and not taking) will help you in your SEO journey.
It's also important to note that not doing anything when it comes to SEO is also a risk. Every day Google gets more advanced and competitors get better; therefore, you need to continuously optimize your website.
More SEO Risks & Mistakes Here:
---
Image Credits
Screenshots taken by Ronald Dod, December 2017