A few weeks ago I shared four addons to show you some website stats at a glance. Earlier I had also compared the three most popular advanced SEO toolbars.
Today's addon is one more multi-purpose SEO toolbar to add to your arsenal.
SEO Professional Toolbar offers a few useful SEO-related tools in one place (SEO stats as the page loads, stats tracking, on-page diagnostics help, etc).
UPDATE: The toolbar is also available for Chrome now: SEO Professional Toolbar for Google Chrome
FireFox Navbar Options
For the current page the tool displays the following stats in the navbar:
PageRank,
S-Rank (I guess it is something internal, you can just ignore it or disable it)
Number of backlinks (per Yahoo SiteExplorer)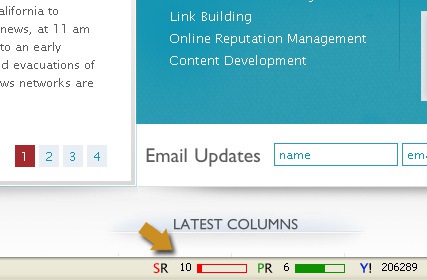 The navbar icon gives access to an array of more features you might appreciate:
Highlight keywords and view their density
Highlight internal, external, and nofollow links using the multi-functional sidebar
View the number of indexed pages on Google
Look up links to the current page in Yahoo! SiteExplorer
Quickly access Google Analytics, Google Insights and Google Adwords Keyword tool: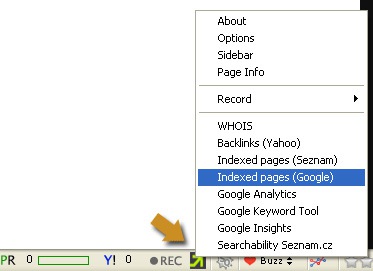 View page info
number of words (I wish they filtered out some 'stop' words like articles and prepositions),
the most frequently used words on a given page (I wish they also listed most frequent phrases – they are what really matters for the on-page analysis)
the number of internal and external links
the number of nofollow links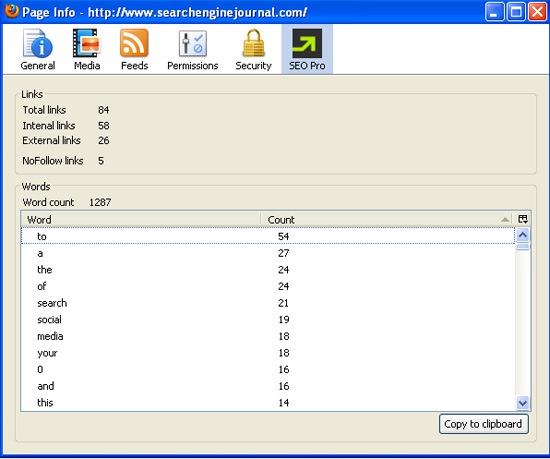 Monitor any site stats
To start recording the history of ranks and backlinks, click on record in the main menu which you may activate by right-clicking on the logo of the addon. The picture bellow shows how to perform this action.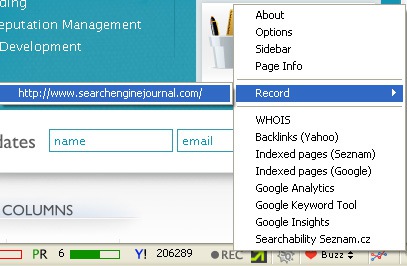 After that you can access the site stats via the addon sidebar which can be activated with help of [CTRL + SHIFT + E] shortcut. I haven't used the tool long enough to see the trend but here's how it is going to look like: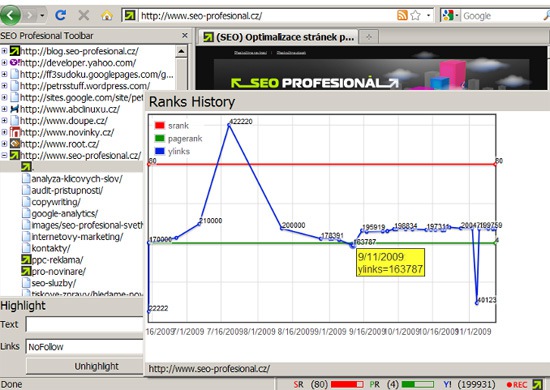 (I actually really like their Yahoo! backlinks tracking feature, let's hope it won't be disabled by Yahoo! any time soon).
The tool options also allow to customize which stats you want to see and track (you may want to remove their S-Rank by the way):
The options can be accessed by right-clicking on the tool icon in the status bar: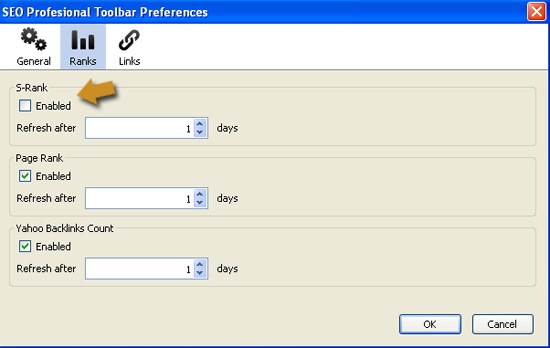 My verdict?
I think it's a solid free SEO tool. I've installed it and don't see myself removing it so far. Let's see what you think.