SEO toolbars are highly useful utilities providing us with:
Lots of useful SEO info at a glance;
Quick access to more SEO tools and resources;
Why do you need to choose?
Toolbars take much space and also slow down your FireFox. Therefore I can afford to use no more than one SEO toolbar per FireFox profile.
How to compare?
I've compiled a quick comparison table (you knew I would) and added some notes below. You are more than welcome to share your own take.
Note: this comparison table is not meant to determine which one is better / worse. Instead, it aims at helping you choose the one that best fits your needs.
Note: I am describing features available by default. The tools can be configured to some extent, for example SEOquake allows to add almost any data (if you have at least some technical skills).
Major features
SEOBook SEO toolbar
SEOmoz toolbar
SEOquake toolbar
Quick page SEO report
Yes (with export feature)
No
Yes (with 'print' option)
2 or more sites comparison
Yes (with export feature)
No
Yes (with export feature)
Google
Google PR
Yes
Yes
Yes
Link to Google cache
Yes (and to text cache)
No
Yes
Link to Google index
No
No
Yes
Backlinks
Yahoo backlinks to the page and to the domain
Number of back-linking pages and domains per Linkscape
Yahoo backlinks to the page and to the domain
Outbound links
No
No
Yes (detailed report when clicked)
Dmoz, Yahoo directory, BOTW
Yes
No
No
Competitors' research
Quick access to Quancast, Compete, Alexa, SEMrush, Google trends
No
No
Archive.org data
Yes
No
Yes
Traffic
Compete.com uniques and SEMrush traffic value
No
Alexa rank and SEMrush traffic value
Whois info
Yes
Yes
Yes
Link to source
Yes
No
Yes
Export
Yes (both site report and site comparison)
No
Yes
Nofollow visualization
Yes
Yes
Yes
Access to internal tools
To all SEObook tools (including keyword research and search engine position tracker)
To all SEOmoz tools (including Crawl Test, Rank Checker, Trifecta, Term Extractor, etc)
To SEMrush and Adspy reports
Additional info:
SEO Xray report; quick search option to many keyword research tools, IP, server headers, user-agent change
SEOmoz dashboard access
Delicious bookmarks,
SEOBook Toolbar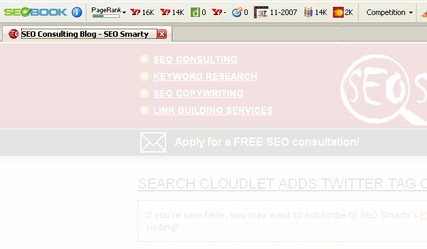 SEOBook SEO toolbar: the recent creation by Aaron Wall is impressive (as well as most of his tools) – the only issue I noticed was that my FireFox seemed too overwhelmed with it sometimes.
SEOmoz Toolbar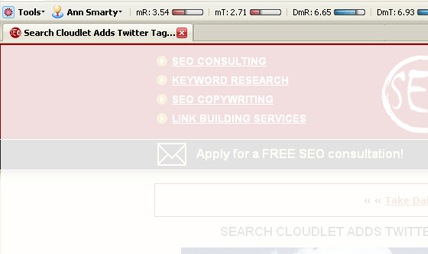 SEOmoz toolbar is only available for SEOmoz registered members but it is really quick and contains essential information. It is mostly based on SEOmoz internal tools and metrics.
SEOquake Toolbar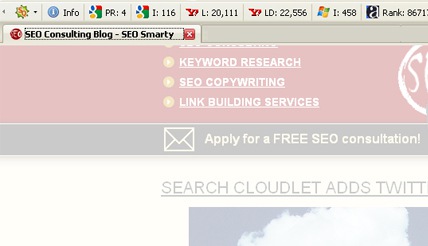 SEOquake is the first toolbar I started with. It can slow FireFox down but I like it because it is turned off with the click and can be configured in multiply ways.