"The only constant is change."
As cliched as the phrase might be, it's the perfect way to describe every marketer's relationship with search engine optimization (SEO). Google's algorithm is continually changing, which means that your SEO strategy is constantly evolving with it.
Luckily, Google's webmaster guidelines clearly spell out what they're looking for:
Make pages primarily for users, not for search engines.
Don't deceive your users.
Avoid tricks intended to improve search engine rankings.
Think about what makes your website unique, valuable, or engaging. Make your website stand out from others in your field.
Note the first bullet point and its emphasis on people. Although your site should be incredibly enticing to search engines, technical SEO efforts can only go so far. Keywords can get you on the front page of Google and drive a ton of traffic, but if these visitors are not turning into leads, you're ultimately wasting your time and money.
This post will explore why the most effective marketing teams aren't putting all their eggs in one basket – because they know focusing on SEO alone isn't enough.
SEOs Bring a Lot More to the Table Than Technical Skills
Before companies even begin to outline a digital marketing strategy, a lot of marketing teams are increasingly looking for well-rounded individuals who can combine an analytical understanding of SEO with the creativity required for engaging content (also known as a T-shaped marketer).
For example, Fractl (my employer) and Moz scraped more than 75,000 job listings and found that the volume of "SEO job" listings peaked between 2011 and 2012.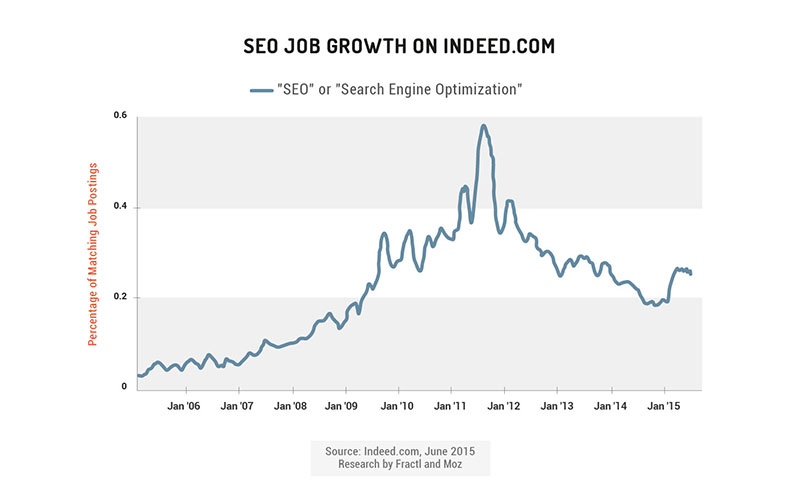 The study also looked at the hiring landscape on a more granular level to identify the five most common titles for six search queries: "digital marketing," "content marketing," "SEO," "social media marketing," "PPC," and "Google Analytics."
Only one job title containing "SEO" cracked the top five while more generalist positions such as Digital Marketing Manager and Marketing Manager were much more prevalent — indicating that SEO knowledge is a desirable skill when paired with many other marketing competencies.
These insights indicate that more brands are looking at their search marketing efforts through a different lens.
Although a technical SEO strategy is necessary, Google also places weight on the quality of your content.
Alt Attributes Don't Answer Questions; High-Value Content Does
Keep in mind that the technical aspects of SEO — URL structure, headers, alt attributes, etc. — shouldn't be overlooked. In fact, the above study also revealed that job titles containing "SEO" were averaging more than $100,000 annually.
Clearly, companies want people who know what they're doing. However, relevant alt text isn't what convinces someone to stay on your site; quality content does.
The "quality content" debate isn't anything new to most marketers, but the latest SearchMetrics Report on ranking factors offers a new approach by coining the term "holistic content." According to the report, holistic content incorporates relevant keywords that are similar to your target keywords in order to answer search intent more completely.
In other words, additional keywords are used to provide more comprehensive content, and if "you write a very good, readable text with lots of high-quality content," not only will you generate more shares but your site will "rank equally well with search engines for many different keywords at the same time."
Quality requires you to look beyond an extensive keyword list, though. An easy way to ensure your on-site content is up to Google's high standards is by actually looking for what would signal low-quality content.
Below are red flags that are in your control and easily managed:
Broken links: Crawl your site and make sure there aren't any "404 errors."
Inaccurate information: Any sources you link to should be credible, whether they are internal or external links.
Grammar and spelling errors: Spell check should be the last thing you use before you click "publish."
Page load speed: Having a fast-loading site can help you rank higher.
Comprehensiveness: Your content should answer all questions related to a specific topic.
Quality content also plays a big role in your ability to generate backlinks – an authoritative backlink profile is a key ingredient Google looks at when determining rankings. Sites will link to your content so long as it provides value, and below are three ways to ensure it does:
Your content offers something unique and original: You're likely sitting on a ton of internal data that no one else has access to — share it!
There are actionable tips throughout: Usually someone lands on your content because it provides answers to a particular problem. Make sure they leave with insights they can use once they're done reading.
It can stand alone as an evergreen resource: This is the holy grail for content — think laterally so that you answer every question possible, but also make sure it's presented in a way that's easy to digest.
The biggest thing to keep in mind is that your content should provide answers to real questions. This is what gets others to link to your content — and the more backlinks you have, the more value Google will add.
The Web Is Inherently Social, Which Makes Social Shares Valuable
While mining backlinks, you'll notice a lot of social shares pop up — and they shouldn't be overlooked, particularly when you think about how the web works.
People go online to share ideas, maintain relationships, and build new audiences. These are inherent social characteristics, which is why an effective SEO strategy places a lot of value on social media.
SEO alone can't get your content in front of a large audience, but the increase in traffic that comes from highly shareable content is something Google will reward.
So what are some ways social media and SEO interact?
Social Media Profiles Typically Rank High on Branded Queries
Although social share counts don't have a direct impact on your site's ranking (according to Google), social profiles are typically some of the top results when people search for brand names.
For example, when I look up "Adidas" in Google, their Twitter and Facebook profiles rank 4th and 7th respectively, while the sport brand's most active social channels are highlighted in the sidebar:
Social channels make the experience of getting to know your brand more fun and engaging, but they also let Google know you're the real deal.
Social Networks Are Search Engines, Too
Facebook gets 2 billion searches per day. That means that a lot of people are using sites other than Google to get answers.
Brands should expand their concept of SEO to extend beyond traditional search engines.
Remember – social channels actually can serve as the initial source of information about your brand.
Amplify Your Content With Paid Social After the Initial Launch
Facebook, Twitter, and LinkedIn all have paid amplification options that can help you reach larger audiences, and considering more than 75% of B2C marketers are using paid social, it's definitely a tactic worth investing in on your best content since these platforms tend to be a bit of an echo chamber.
Both SEO and social both help to build your brand identity to naturally attract visitors.
However, what social does that SEO can't do is get your content in front of a much larger audience organically — which indirectly generates more backlinks and referral traffic that will help you rank higher.
URLs Draw Attention, but CTAs and Automation Drive Conversions
If you decided to focus solely on the more technical SEO tactics we've looked at up to this point, you could generate more traffic (albeit not as successfully). However, more visitors means nothing if people aren't converting, which is why you can't forget about how the sales funnel impacts your inbound strategy.
You can think about the sales funnel as three steps:
Be Seen. This is where all of the tactics we discussed earlier come into play. More than 80 percent of consumers use a basic online search to find out more about a brand, and an SEO strategy that combines a mix of on- and off-site content is crucial to optimize your search rankings.
Build Trust. This is where quality content kicks in. Providing valuable on-site content is how you distinguish yourself as a thought leader in your industry (and generate emails if you gate it).
Convert Leads. Once you have the traffic and authority, you need content that is on brand and connects your business goals with the needs of your consumers.
SEO helps a lot with the first step, but engaging your audience is what pushes them further down the funnel.
One way to drive engagement is through CTAs, or calls to action. CTAs can range from entering an email address to making a purchase.
Regardless of what you want, the important part is that your CTA clearly tells someone what you want them to do. You'll find a great example if you scroll down to the end of this post:


Another way to drive conversions is through automated email workflows.
Although blasting your subscriber list with the subject line "content marketing agency services" won't help you rank any higher for that term, the email should include resources that your target audience will find useful — an essential element for any high-converting content.
There's also a hidden bonus to email marketing.
A newsletter, for instance, can include widgets that allow readers to easily share content on their social channels. This can help drive the top-of-the-funnel awareness we looked at a bit earlier.
The regular email activity generated by automated workflows like newsletters is what encourages people to share your content with others. More shares means more people potentially seeing and engaging with your content, which improves the chances that your content will rank higher.
SEO Is Essential, But Ineffective in a Vacuum
Google's algorithms are constantly changing. These changes are out of your control, which is why an effective marketing strategy shouldn't focus solely on SEO.
You need to think of SEO as a companion to your social and content strategies.
Your ultimate goal should be to answer your audience's most pressing questions through valuable content — and in return, they'll reward you with more traffic.
Image Credits:
Featured Image: Pixabay
Screenshots by Andrea Lehr. Taken May 2017.