This is a sponsored post written by SE Ranking. The opinions expressed in this article are the sponsor's own.
How many times have you had to search through a variety of different tools and platforms to complete a certain task within one project? It's a daunting task to sift through different pricing plans, interfaces, layouts, integrations. There's a tool for social media management, another for competitive research, yet another for White Label and then the rest of the miscellaneous other SEO tools. Did you ever wish you had them all on one platform? We did too. That's the reason why we've founded SE Ranking. We are continuously developing additional features to expand our offering within and beyond SEO.
SE Ranking was developed with a simple purpose – to include in a single platform, the most useful SEO tools for marketers and digital agencies. To provide a cost-effective solution for all types of marketing expertise and business models.
Features include: website ranking – which is 100% accurate (take a note!), keyword suggestions and grouping, backlinks monitoring, website audit, competitor research, automated reporting, page changes monitoring, social media management, white label, marketing plans, API. SE Ranking has literally got it all.
Why SE Ranking?
There are a lot of SEO tools and platforms on the market nowadays. Some are great, some are not so much. It's hard to understand the differences and the advantages amongst them. With SE Ranking, the differentiation is clear: we offer ALL SEO tools with extra options, plus special features like social media management and page changes monitoring. You can complete your work in one platform, using a single, user-friendly interface which is effective, efficient, convenient.
All Standard SEO Features but with a Special Twist:
Precise Mobile and Desktop Rankings at Any Location in the World
This feature accurately tracks daily keyword rankings for mobile and desktop results in Google, Bing, and Yahoo. Google Maps are tracked as well. The tool provides extra info on search visibility and traffic so you can make timely website changes and optimize your SEO tactics. The tool is integrated with Google Analytics and Google Search Console that helps to analyze all search queries that drive traffic to your website.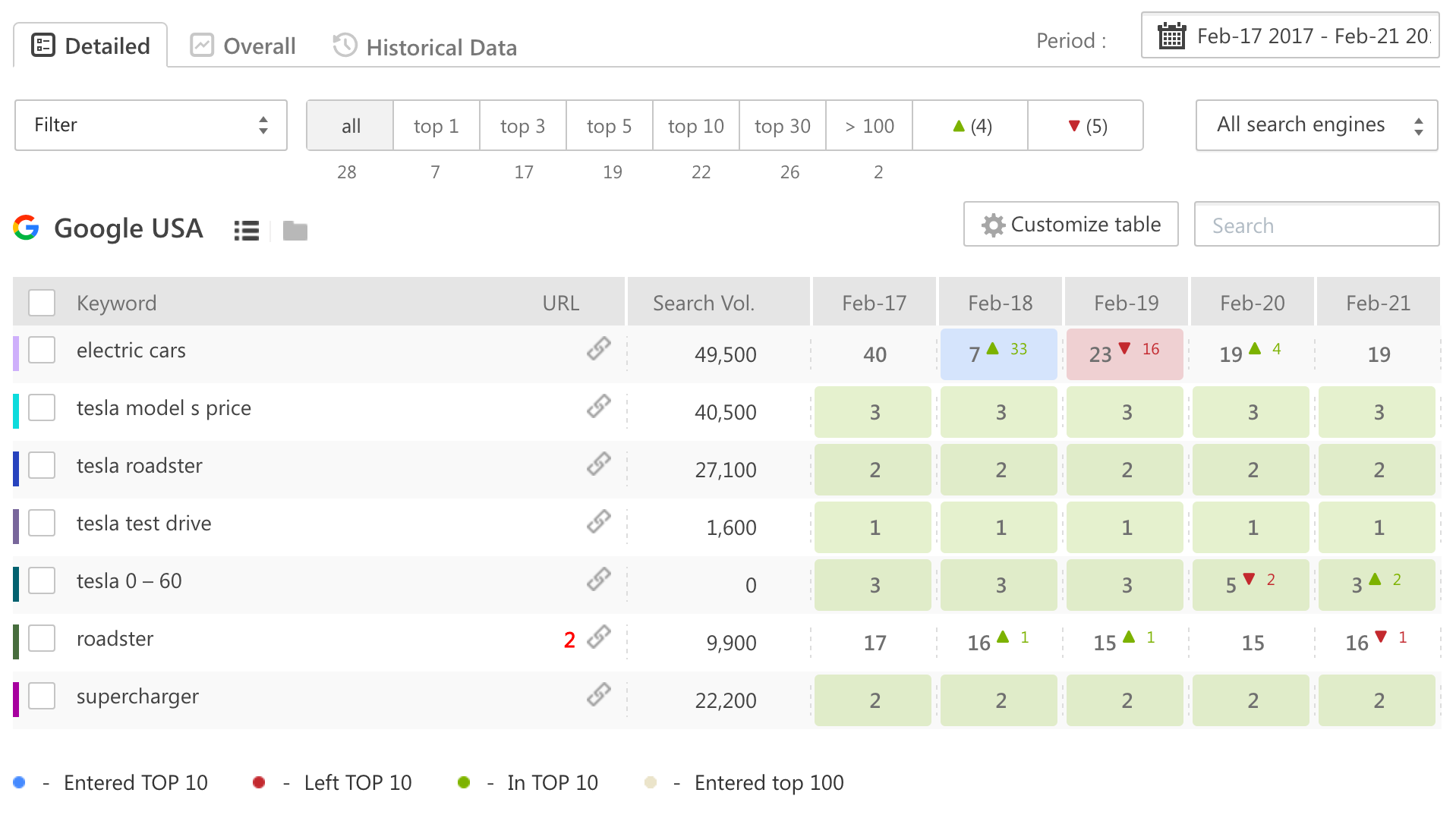 You can automatically or manually add TOP 10 competitors and check their keyword rankings as well. The feature provides extra data on your keywords: search volume, KEI parameter, competition, AdWords suggestion bid and Google results.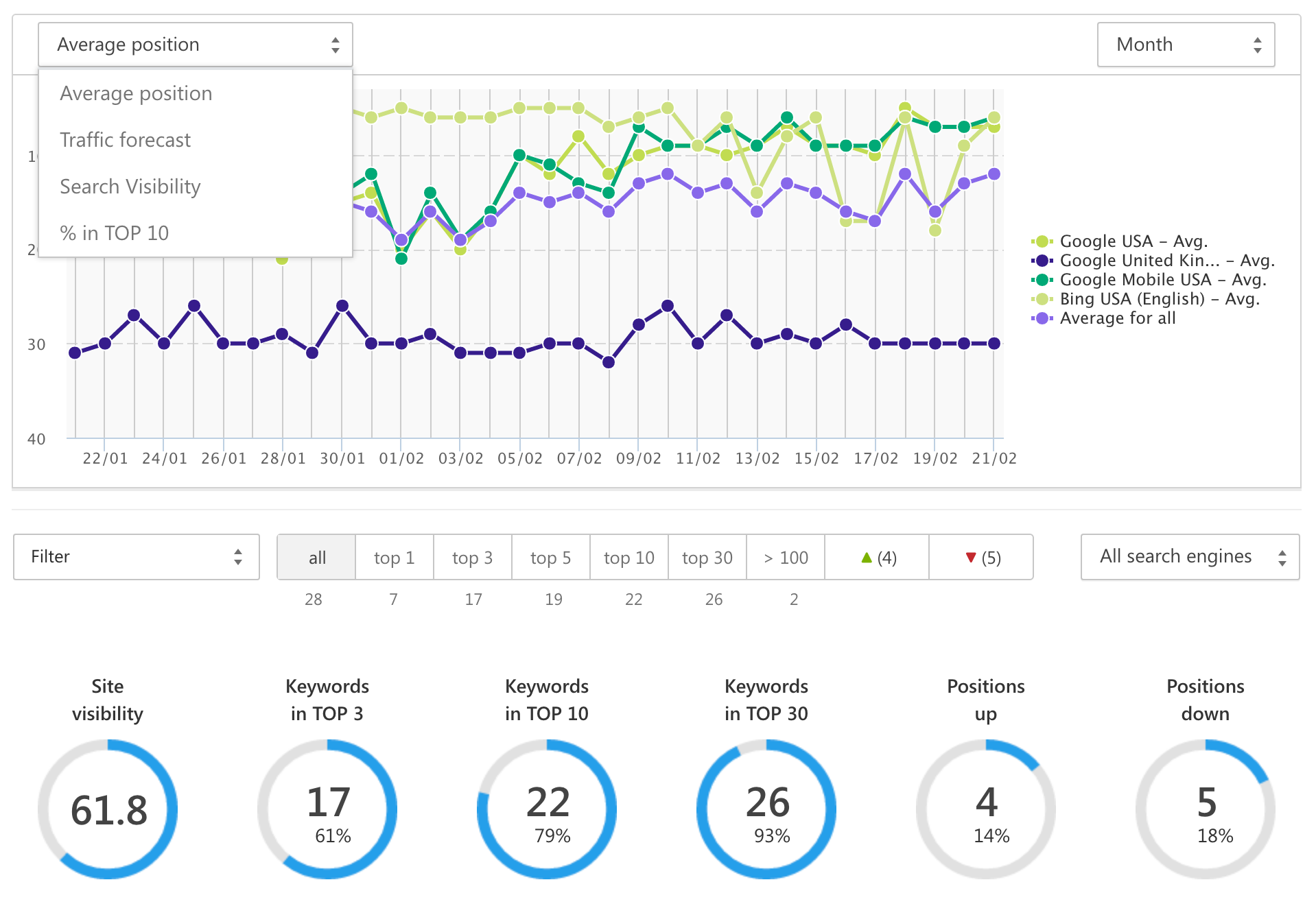 Detailed SEO Website Audit
SE Ranking's website audit tool not only checks out the main parameters of your websites but also shows all SEO errors, technical issues and content-related mistakes that you need to optimize. With this tool, your website will be checked for over 70 parameters and keep your attention on the key glitches.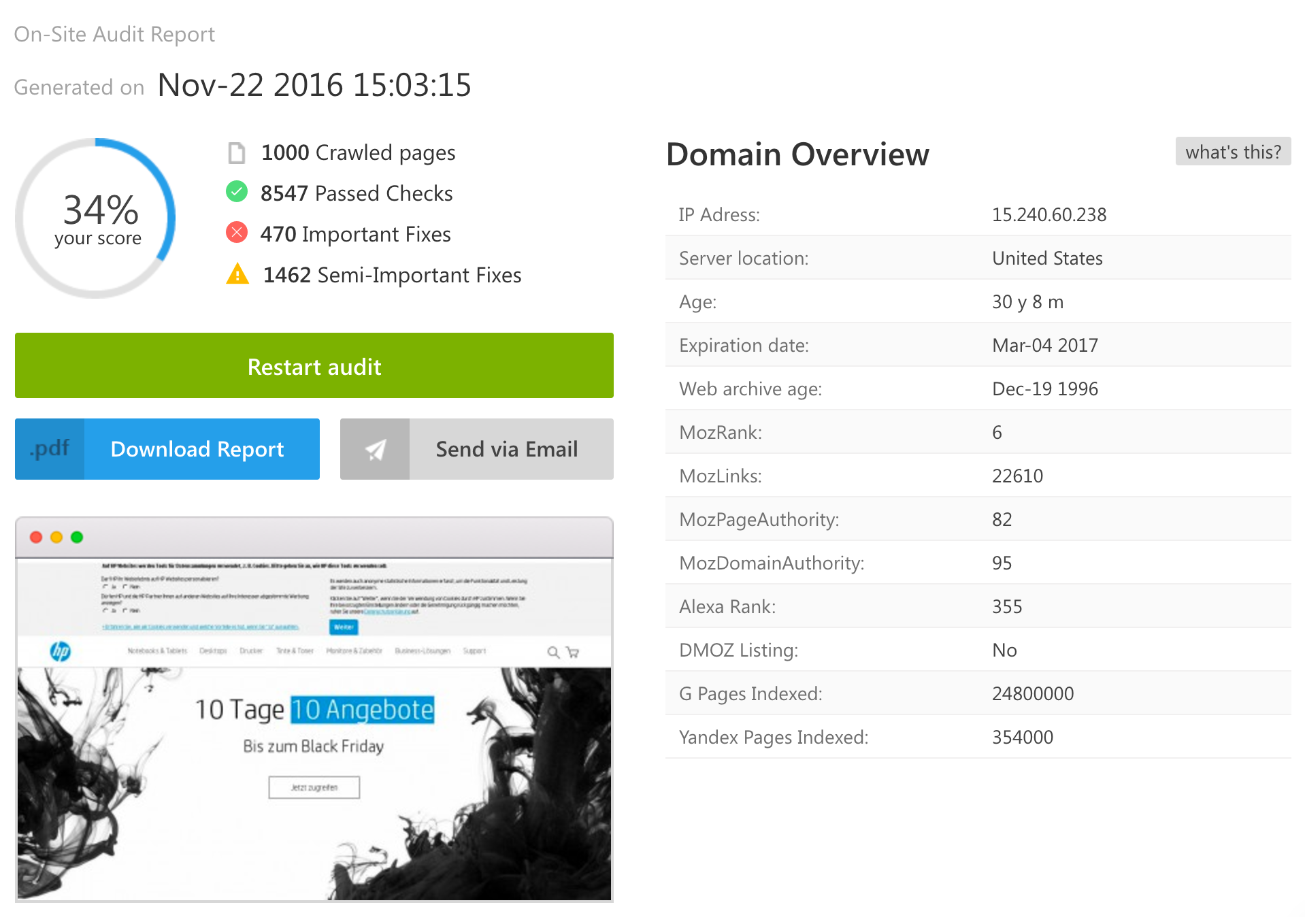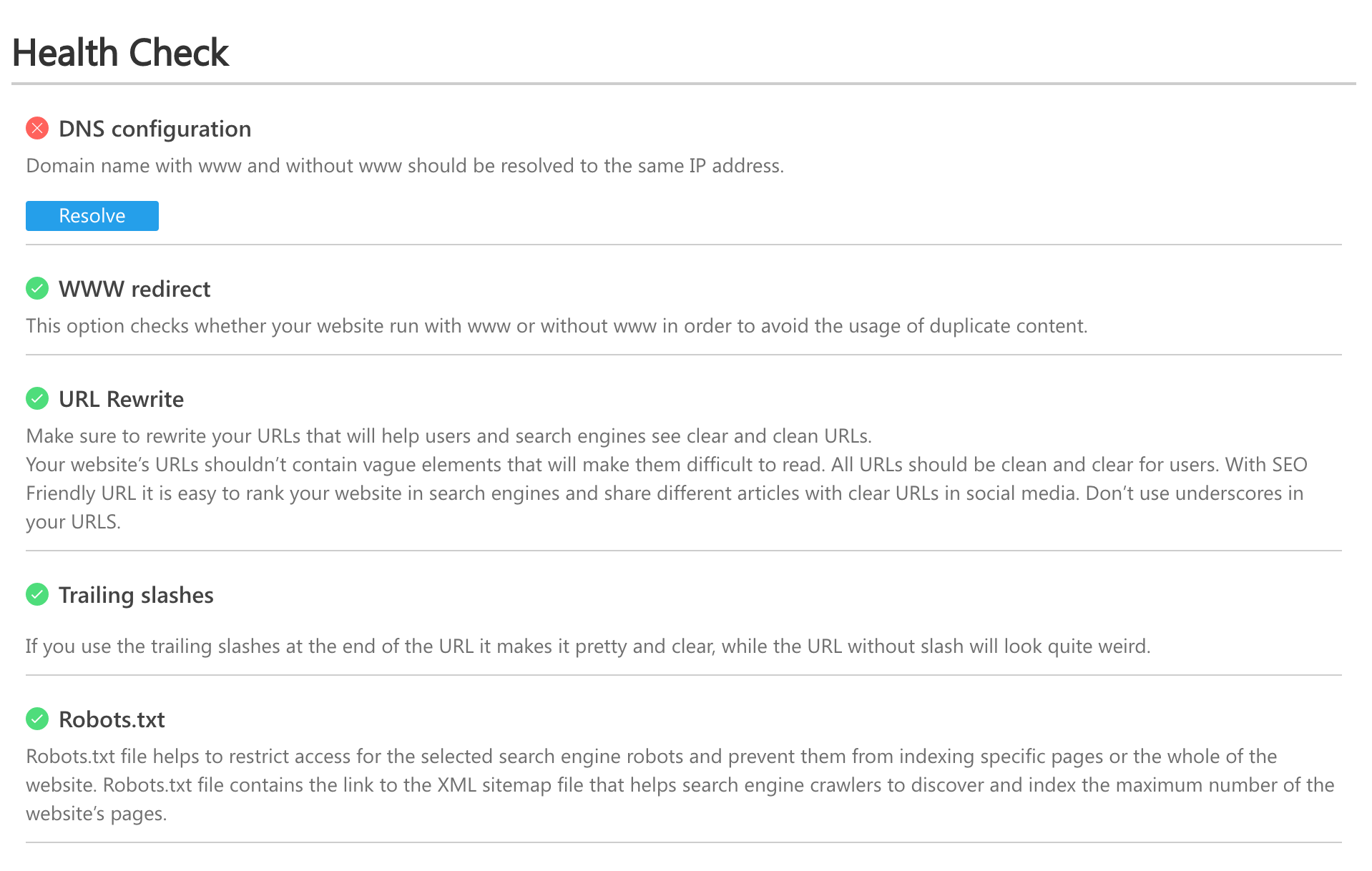 After the analysis, you can get a detailed website audit report or send it via your email in .pdf format. All reports look presentable and professional with valuable info for your clients.
Advanced Keyword Suggestion and Grouping
With SE Ranking, you can get a good set of short-tail and long-tail keywords that are filtered by popularity with detailed statistics on keywords: KEI, monthly search volume, competition, suggestion bid, rankings and the number of search results. The tool has an extensive internal keyword database with more than 2 billion unique search requests.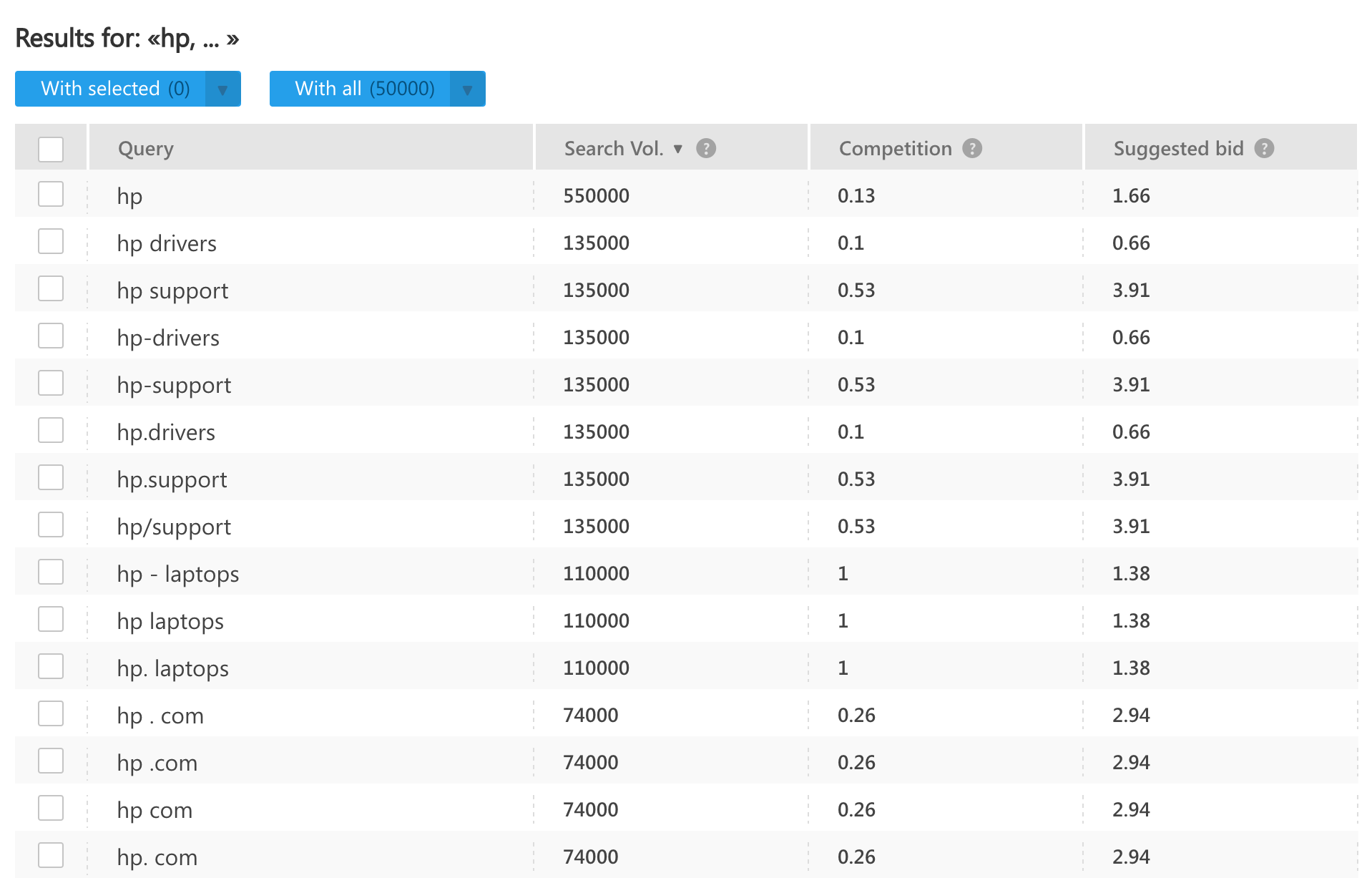 The tool also helps analyze TOP 10 results and groups thousands of keywords with search volume. By the way – check out our Keyword Grouper – a really cool and neat tool. It compares all keywords included in the same group against others illuminating the inappropriate keywords grouping.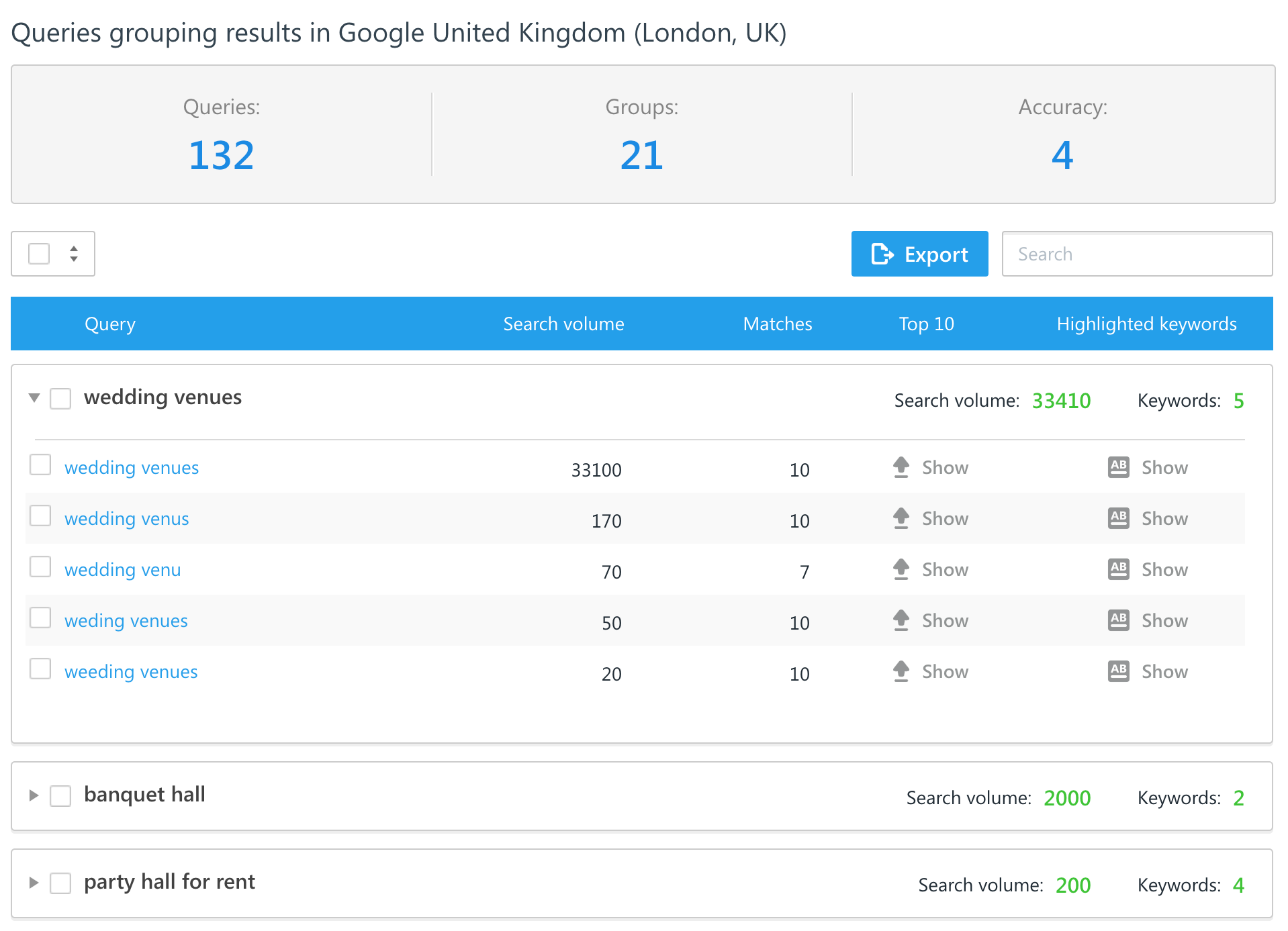 Page Changes Monitoring
Recently SE Ranking released a brand new feature – page changes monitoring. With this feature, you can keep track of any changes that take place on a website – regardless of whether it's yours or the competitor's site!
For example, if you have added new keywords, changed meta tags or removed outbound links – you'll be notified about all these changes before search engines index them so you can make the necessary adjustments before the changes affect your SEO efforts. It's useful when webmasters, clients or content managers make significant changes without notifying the SEO in charge. Or use it to spy on your competitors.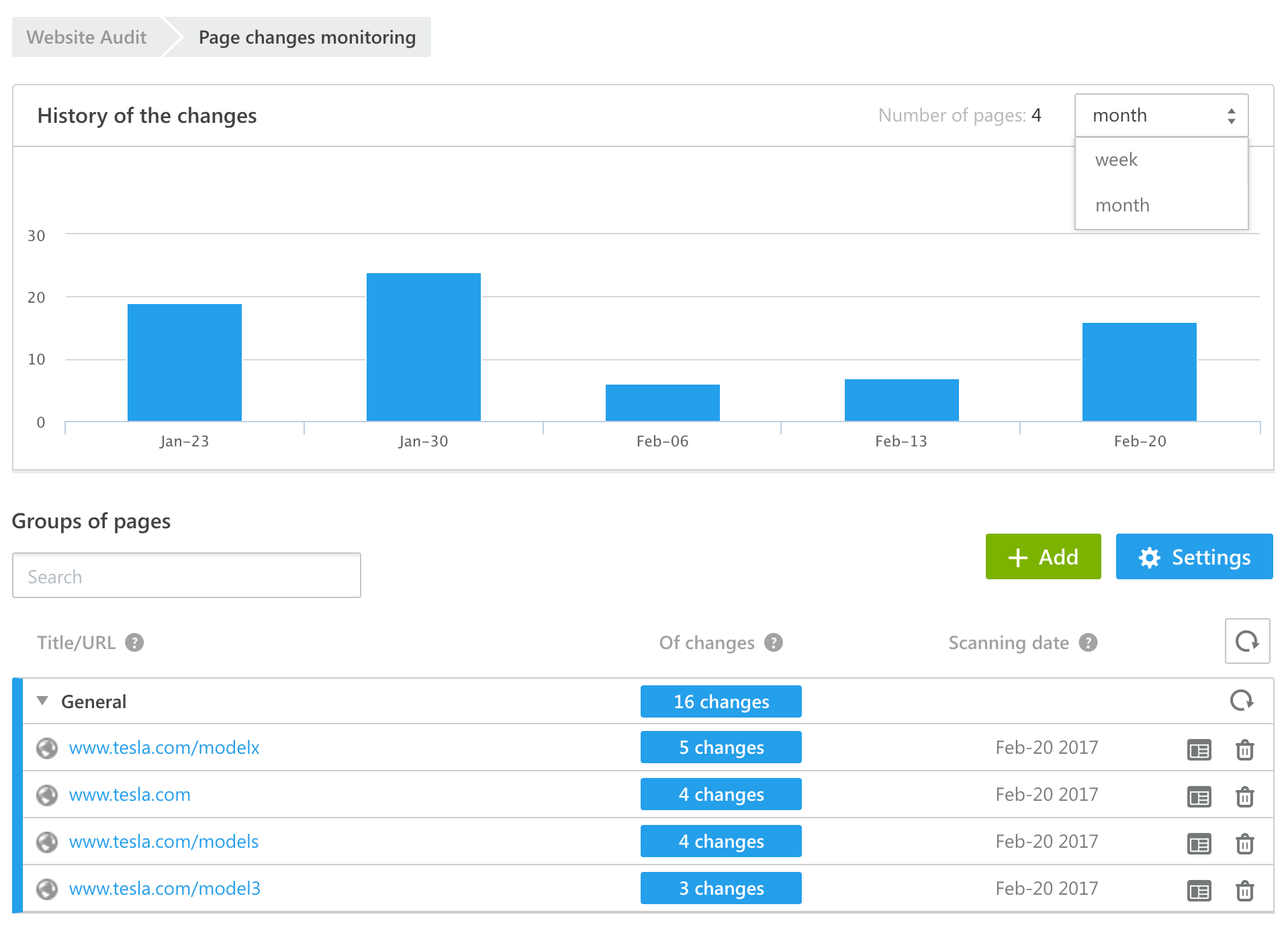 You can select the frequency of the monitoring and set the alerts in the most convenient manner.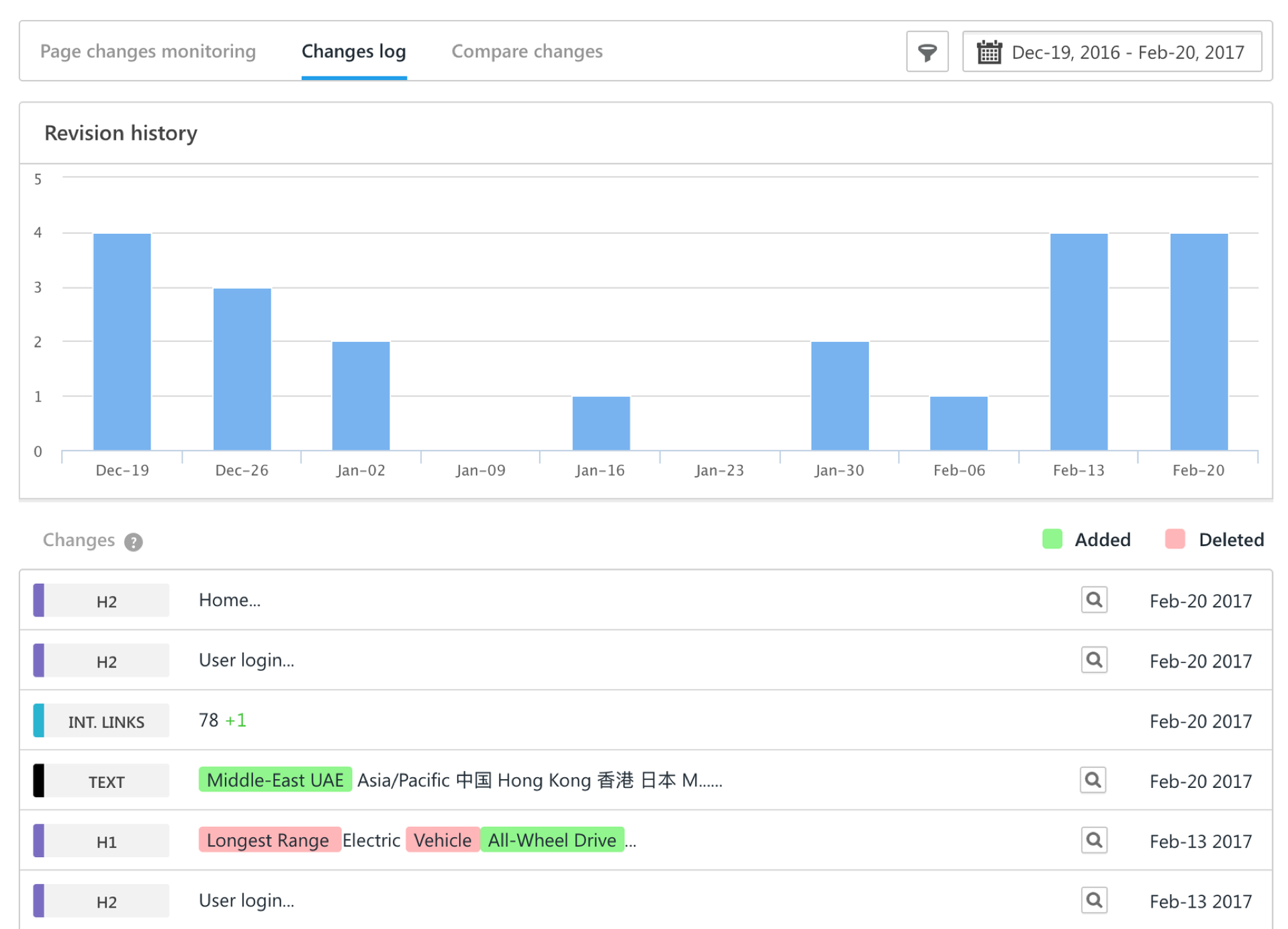 Social Media Management
There is really nothing unique about auto-posting and scheduled updates. What is unique about SE Ranking is that it's available in the SEO platform itself. We all know that no SEO project goes without a social media strategy and having a social media management tool right at your fingertips is useful and convenient.
Online Marketing Plan
Whether you are a newbie or an experienced guru, a freelancer or an agency – you need a structured guide with custom forms to present and get things done correctly and impressively. There are some general checklists you can find online. What SE Ranking offers is quite different – a comprehensive plan developed as a best practice process to make sure no step is missing and everything is followed through.
SE Ranking gathered the best practices in the field, so you won't need to spend your time on searching for any checklists;
The plan is easily customizable – you can add your points and always have a complete list of tasks to check upon.
Agencies can create customized lists and delegate tasks to various users. You might be using something resources like CRM tools, but you must agree that it is very convenient to have everything in the SEO platform itself.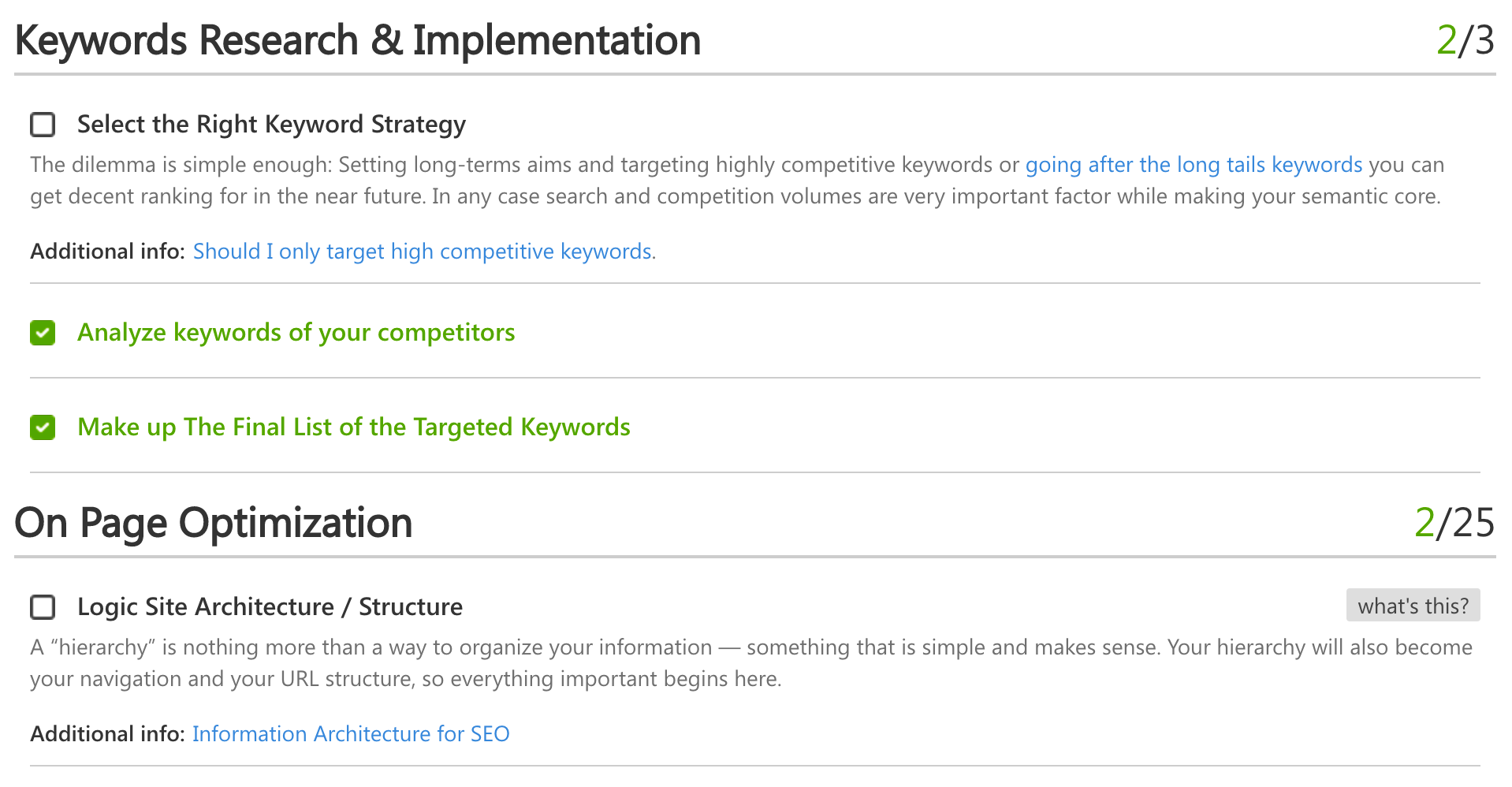 A Powerful Reporting Tool
This feature is a big SEO helper to create detailed and professional reports that help SEO webmasters, agencies and marketers to avoid routines while working with clients. The reports are available in different formats: PDF, XLS, HTML, and CSV.
To add a personalized, professional look, you can customize the reports with your logo and contact info in the header to reflect your unique branding. The software works in a manual, automatic or scheduled modes. You can easily create custom reports and add notes to any module.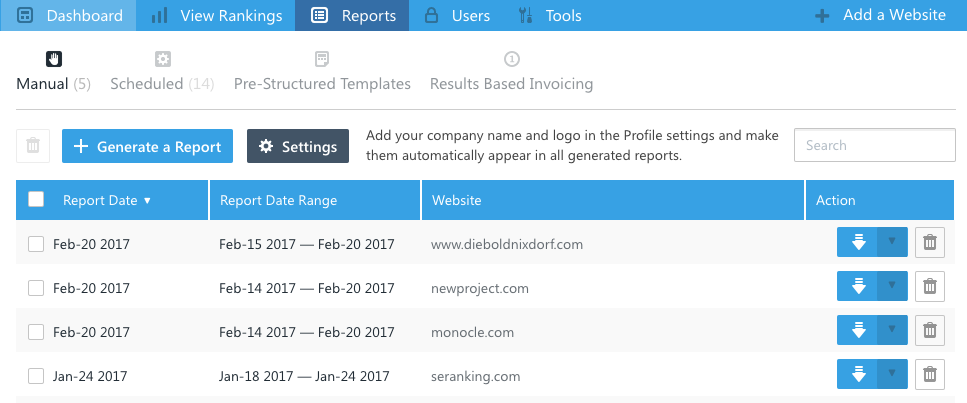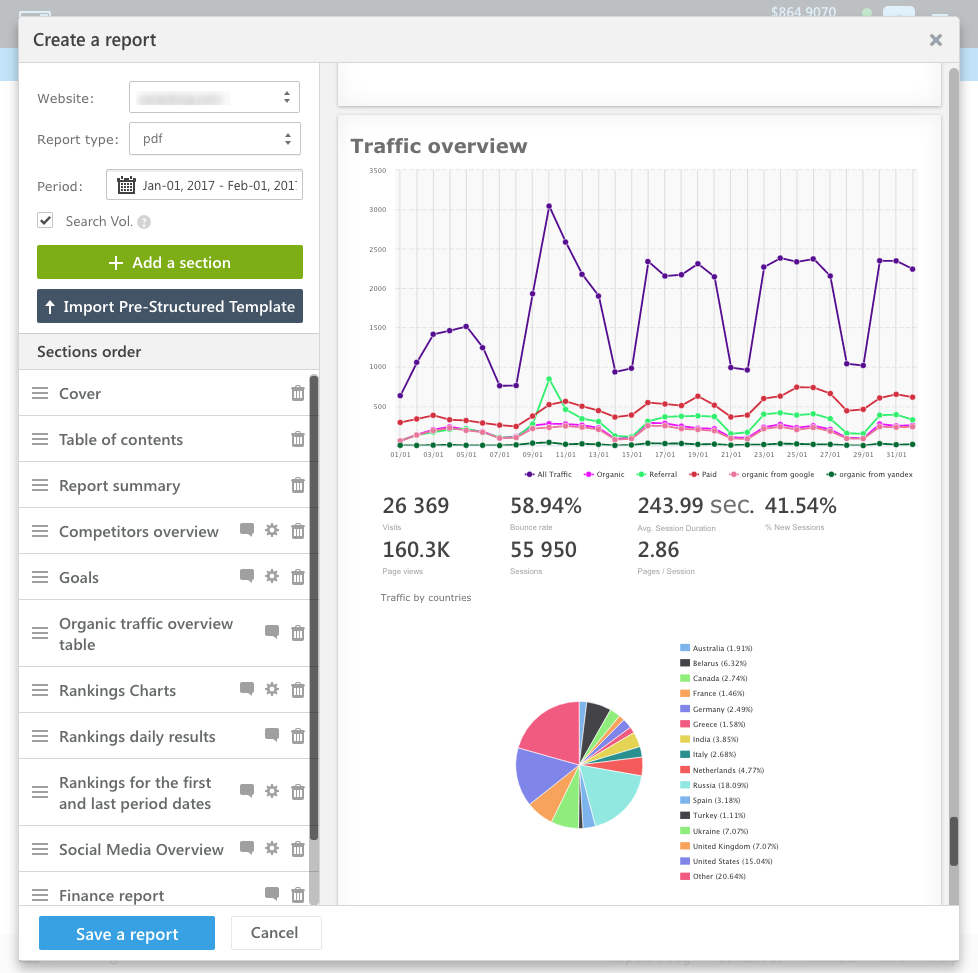 The Bottom Line
Everyone who works in SEO understands the fast-paced game of this industry. In order to stay on top of this game, you need the right SEO tools. In this case, SE Ranking is undoubtedly a powerful and useful SEO platform that allows users to dominate their niche no matter how competitive it is. It is also very cost-effective and convenient as all the tools you need (and a lot of extra useful features) are right there in one platform within the same interface.
Try it free and test it all on your own!
Image Credits
All images by SE Ranking. Used with permission.