This is a sponsored post written by SEORadar. The opinions expressed in this article are the sponsor's own.
If you have been doing SEO for a while, you know how volatile SEO can be.
Oops happens. Not just oops, but OOPS!
With engineers, designers, product managers, marketing managers, and sometimes even CEOs dipping their hands into the complex SEO mix, things can inevitably go awry.
Murphy's Law states that "Anything that can go wrong, will go wrong."
Here's my version (let's call it Munroe's SEO Law): "Things that can't possibly go wrong will also go wrong."
We see Murphy showing up all the time! Sometimes even minor updates can wreak havoc, such as:
Pages getting noindexed.
Canonicals being removed.
Having pages de-optimized with title updates or H1s removed.
Navigation or critical links removed.
Robots.txt issues.
Broken redirects, stranding PageRank.
At SEORadar, we have seen bizarre things like dedicated servers showing Googlebot the wrong pages, cached blank HTML snapshots, canonicals shifting to the wrong domain, staging sites getting indexed, and so on.
And sometimes you don't figure it out until this: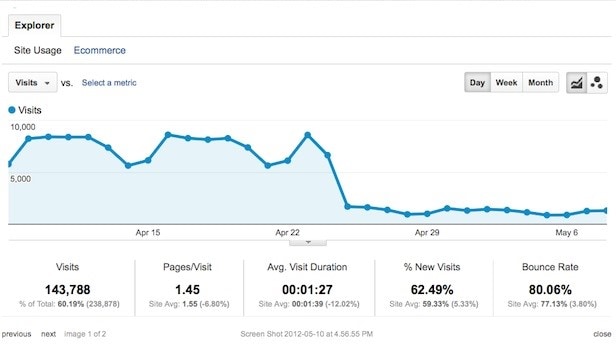 I know the sick feeling of looking at metrics and seeing traffic drops or keywords disappear.
This is one stressful job. There are so many things that are beyond our control:
We can't control Google's algorithm.
We can't control our competitors.
We can't control the blather our CEOs read on the internet and force us to respond to.
Let's make sure to control the controllable! That's why we created SEORadar.
What Is Safe SEO?
Practicing safe SEO means putting a system in place that explicitly tells you when something goes wrong.
In fact, when you practice safe SEO, you'll know what to do even before something goes wrong.
You don't have to go digging through piles of information. As SEO professionals, we are bombarded with lots of things. With so much data to parse through, critical items that disrupt traffic can be completely missed.
SEORadar only alerts you to specific things that demand attention! No need to dive into reams of data, if there is something you need to know about, it will tell you.
Nothing critical will ever get missed. No need to even log in to the system. The details will be emailed to you.
Hopefully, your site never gets the following tag inadvertently deployed to your site. But if it does, SEORadar will alert you via email or text message: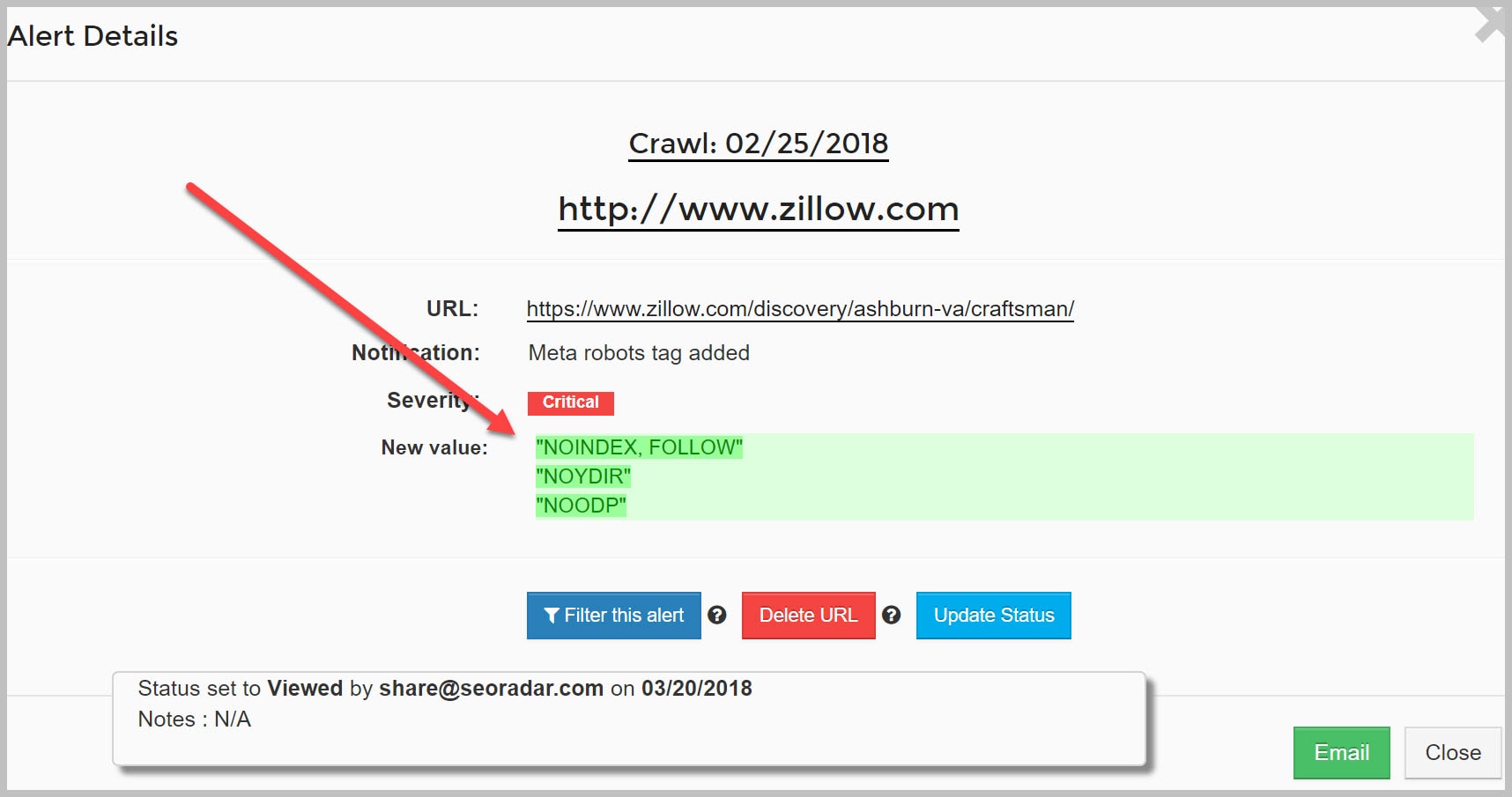 Safer SEO & QA: Catch Problems on Staging
Monitoring is essential. However, catching issues in the staging phase, before things go to production, is even better. Google crawls and indexes so fast today that you want to catch issues before they go live.
Therefore, we provide a staging audit which compares production to staging. This takes the stress out of production updates, especially major releases and migrations.
Your QA team will thank you when you're able to run a report displaying key changes before updating production. The staging solution does not even require secure access to your staging environment.
Read more about how that works over here.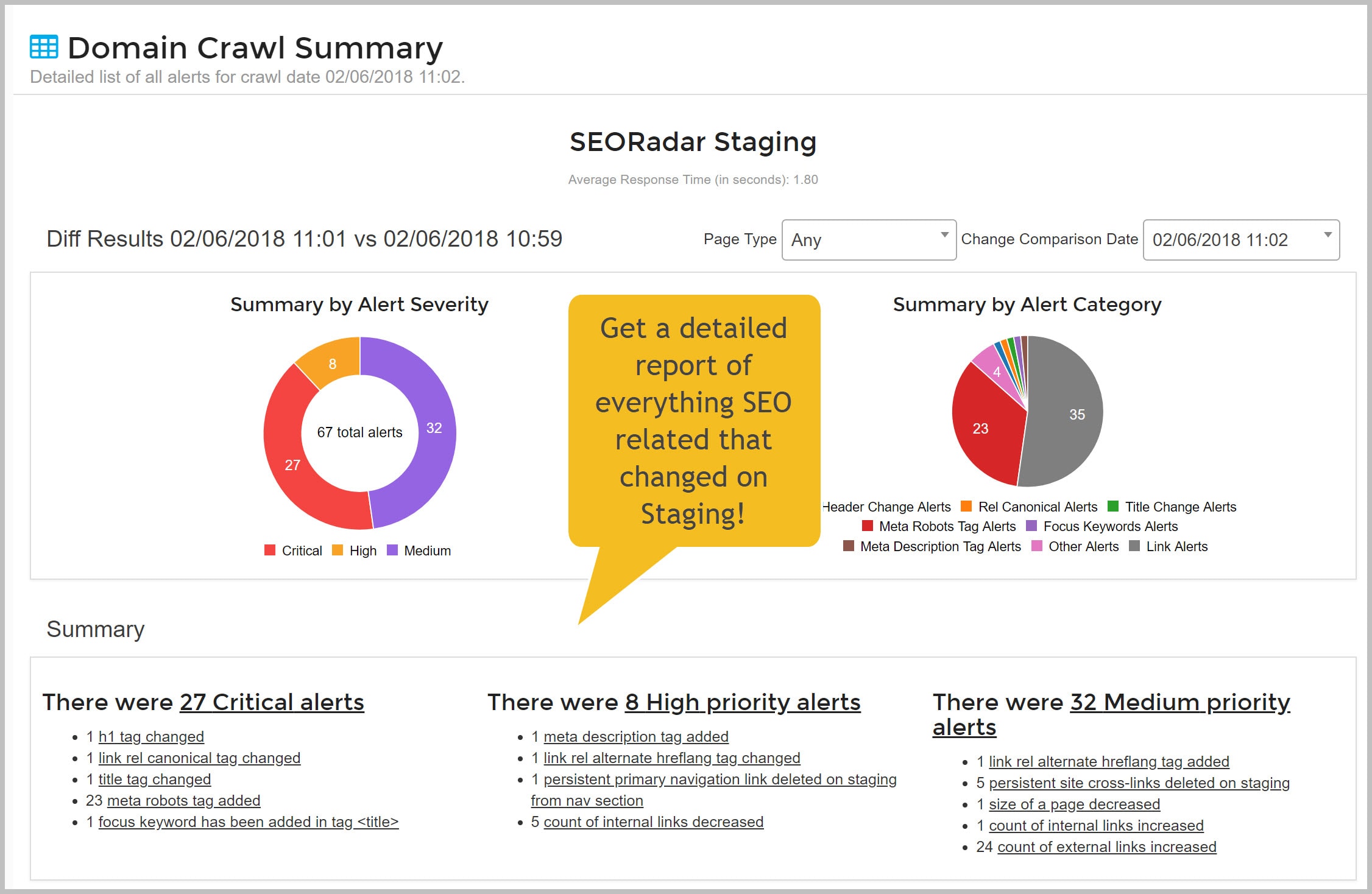 What Does the SEORadar Test?
SEORadar covers SEO critical items as well as less critical changes that you may want us to log.
Priorities and behavior are configurable as you may want an alert on a title change but not for H2s. Lower priority alerts are only logged.
The list includes:
Robots.txt changes.
Any change in redirect status.
Any changes to canonicals, pagination, and hreflang, amp and alt media links.
Changes to titles, H1s, H2s, and meta description.
Removal of impact (focus) keywords from Titles, H1, and H2s.
Navigation, footer, and other cross-link removals.
Schemas, Open Graph.
Google Analytics, Google Tag Manager.
Custom alerts – regex and xpath tests. Xpath lets us test any section of a page for a change.
In all, we have more than 100 pre-defined tests.
Analyzing the Impact of On-Page Changes
Many changes will happen to a site that may or may not affect SEO. Perhaps you re-optimized a title or added an H2. Or perhaps a design change resulted in the removal of an H2.
In other cases, you may have made changes specifically to improve SEO, optimizing a title or an H1.
With SEORadar, you can tag a page for analysis and we will email the results of that analysis to you once we have collected sufficient data.
No need to remember to go back and check the impact weeks from the change. You can trigger the analysis from the alert details window: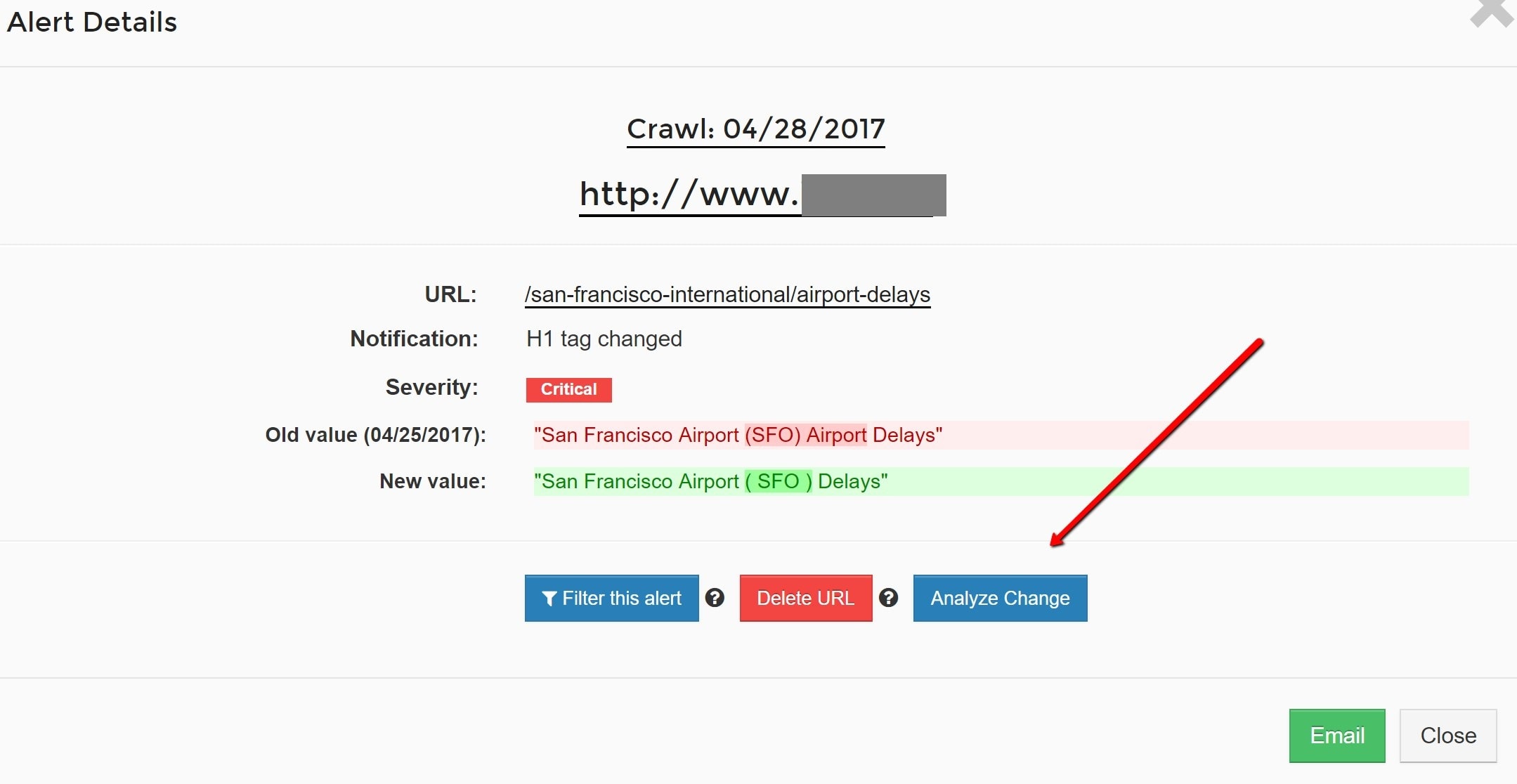 SEORadar emails you the result once the data comparing pre-change vs. post change becomes available. In this case, there was a clear drop in clicks as well as some high-volume keywords.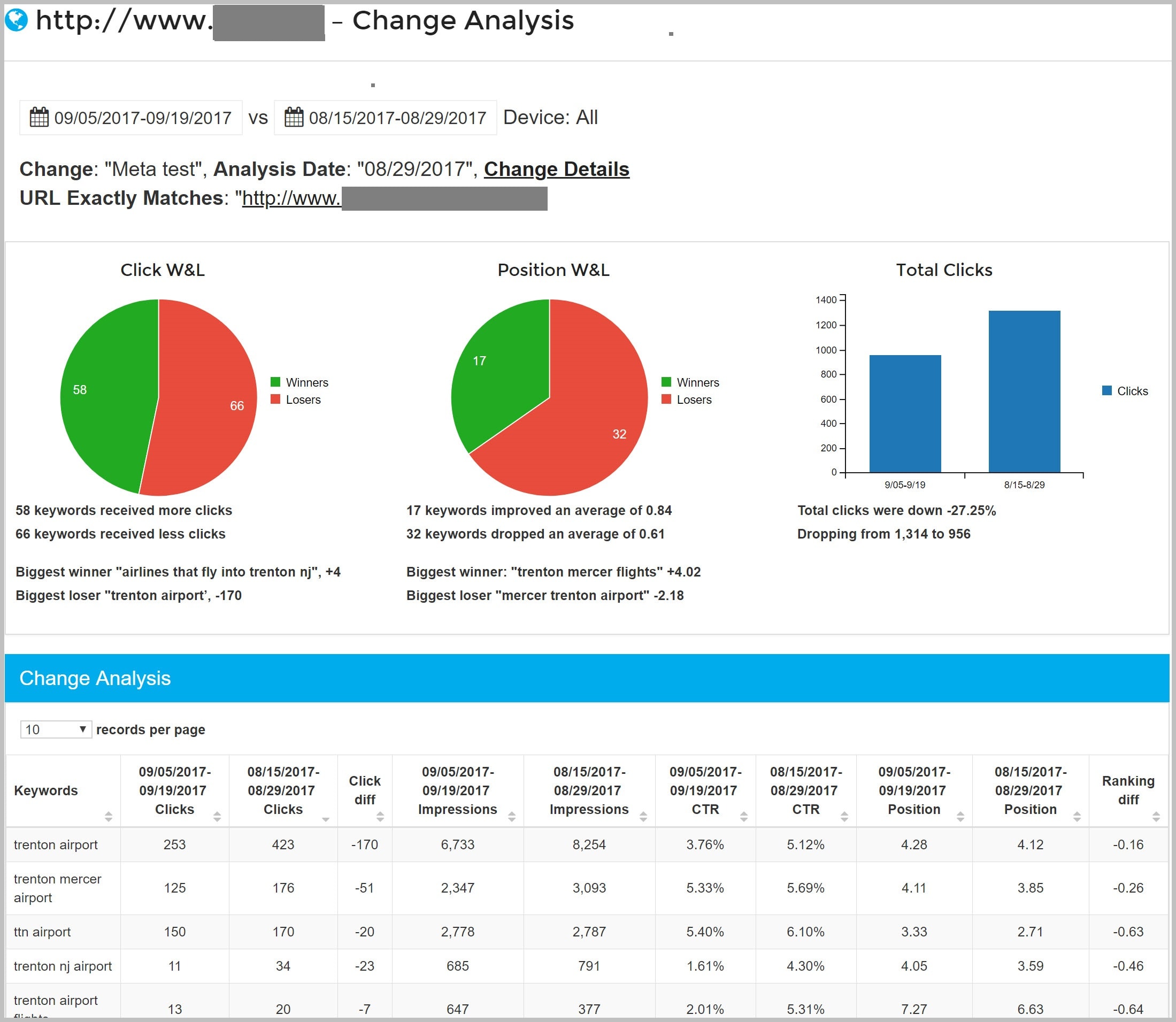 You can even use this feature to create controlled SEO tests and run it on sets of pages, comparing the changed pages against a control.
Researching Traffic Drops
Another SEO issue we typically face is looking back in time to try and figure out the cause of a traffic drop. Therefore, we save the snapshots of HTML and screenshots as well as the change history.
You can compare any two version of our archive to see what has changed.
You can view a structured SEO diff, a full HTML diff, or a text (content diff).
It will be easy to diagnose if an on-page change caused the problem. This is the structured view where you can easily see the changes on important SEO elements: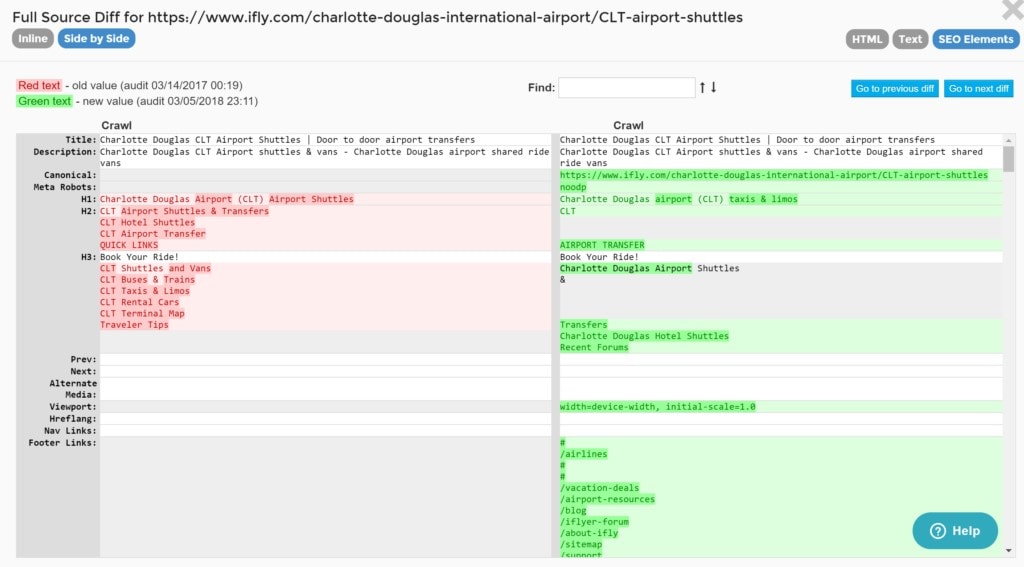 Special Audits
In order to prepare for the mobile index, SEORadar provides a special diff that compares desktop to mobile pages.
Other special diffs include Googlebot vs. Chrome, DOM vs, HTML, and a special diff which compares live pages to the Internet Archive.
Conclusion
SEO is hard, frustrating, and stressful work, and practitioners are bombarded with data from our various tools and analytics.
Using SEORadar simplifies the process by sending out appropriate email alerts that the SEO pro needs to know about.
The risks of hidden or unplanned changes and associated SEO emergencies are eliminated. Say goodbye to oops!
Don't let tech issues and unplanned changes ruin your beautiful SEO plan. Schedule a demo or read more about us at SEORadar.com.
---
Image Credits
Featured Image: Image by SEORadar. Used with permission.
In-Post Photos: Image by SEORadar. Used with permission.