Unless you've been hiding in a cubicle without internet, you've noticed a few big things happening over the last few weeks with Google.
Comparison ads are being pulled in some competitive niches (we covered the launch here)
You'll no longer see ads on the right-hand side of the SERPs
Google is providing 4 paid ads above the top SERP
How does this impact or affect you and your company? Multiple ways. One example is if you've seen traffic dropping from organic search, but you have the same ranking positions.
If this scenario sounds familiar, you may be scratching your head. Many people instantly assume it's a switch over to mobile devices, which is semi-accurate, but that is only a small part of it. This could also be from the design changes on Google's SERPs with the four ads above the organic results.
As more ads appear before the organic rankings, you have to scroll further to find an organic listing. If you add in local packs, flight information/scores/political counts/snippets, and other items that take up space, your organic rankings require more scrolling to find. This, in turn, means less traffic for you, especially if you're not in the top two. People using Google now have multiple options to find their desired solutions before they hit your organic listing. This could also have increased your average CPC since it's more competitive, more ad inventory and no sidebar ads.
So what can you do?
1. Get Started with AMPs
There are a ton of posts coming out right now for how to initiate and get your site prepared for AMPs. I found this post from Bill Hartzer which gives a plugin for WordPress sites. I installed it on three of my personal blogs (under 30 seconds a piece) and my blog posts (not pages) are now showing perfect AMP versions. I need to find a solution for main pages, but you can't ask for anything simpler than a quick plugin (that works) for WordPress.
2. An Alternative to the Comparison Ads & Expensive PPC
It's time to look at other PPC and display options if your costs have increased. When you're selecting keywords for PPC, your goal is to find a way to intercept someone in their decision-making process. By doing this, you can get your product or service in front of a potential customer while they're looking for it, and hopefully increase conversions or lower your cost per acquisition. Think about how you can apply this to other forms of display (including the content network in AdWords).
Amazon offers advertisers an ad network with external linking options on their pages. If you go to websites for stores like Macy's, you'll see they run PPC ads across product and category pages in the bottom. Targeting upset customers via social media and building a two-step campaign is another great way to attract new eyeballs.
The first step is to get them to follow you. The next is to advertise why your product or service is better and offer an incentive to try or buy it. Now you've built a funnel of your competitors' customers and a targeted sales funnel to turn them into your own.
By using stores where people are shopping (retailers like Macy's or Amazon), you can take advantage of their traffic and PPC spend driving people to their site. By targeting upset customers from competitors on social media, you can provide a great experience and try to get their customers to become yours. There are many ways to do this; you just need to be creative, stay within the boundaries of the law, and try not to be too aggressive.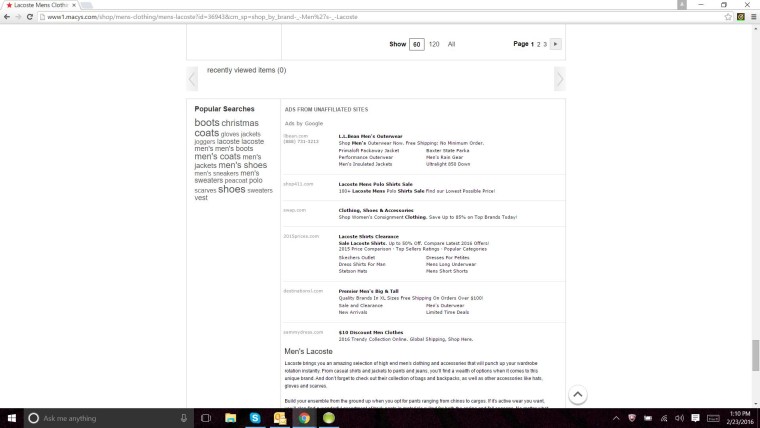 3. Using Proper Advertising Disclosures
I am not a lawyer so I cannot give legal advice on what makes a legally compliant disclosure. However, when Google releases a direct warning like their second bullet point in the link above, that can cause problems for websites that do reviews or are compensated for mentioning brands. Before you brush this warning off, keep in mind it is probably a bigger problem than you think.
Many large sites have contributors who may be being compensated to talk about brands or products. You have people who are compensated to share reviews on social media (including large websites) that may not be disclosing the relationship. Other sites try hiding disclosures in footers or places that are not visible.
We also have blog of all sizes. Many site owners, especially ones with contributors, probably aren't even aware that some of their "trusted writers" could be adding them to a list of sites that don't disclose the relationship. But how does Google know?
Google maps the web looking for patterns. That's the foundation of their algorithms. They can pull these relationships based on the following (and more):
Similar content at the same time periods
Disclosure banners and placements
Codes or scripts used to monetize links
Tracking parameters used by PR and marketing firms
The placement of the disclosure based on where it is in the code of your site (assuming you're hiding it or if it isn't clearly visible)
Remember, Google uses automated and manual crawling. The automated crawls can read code for positions and quality, while manual reviewers look at the appearance and overall UX of the site. This leaves a ton of room for error. If it turns out that they are going to penalize sites for not disclosing, we may see some large and small sites take a hit. If it does turn out to be a large penalty, we may see a new algorithm come out called blogger or disclosure.
If you all of the sudden see some sites with disclosures talking about a product or brand and then others that magically have similar or the same content, and at the same time but don't disclose, you have a map. If you have a large network of reviewers that get products and use the same banner or place it in the footers, this can be mapped. If you're using the same tracking parameters and they can see that there is aproduct being given (lots of videos and reviews showing up), this can be tracked. There are a ton of ways to do this, and these are just the basic ones.
With all of the large updates Google has been making, it's important to stay calm and remember it is not the end of the world. Everything is still almost the same. Build quality content and links, follow their guidelines with disclosing relationships and make sure to keep your code up to date.
If your traffic drops and you can't afford the PPC positions, look for other places to get in front of people in their decision-making process. There's no reason to run or panic — many of these problems have simple fixes.
Image Credits
Featured Image: studiostoks/Shutterstock.com
Screenshot by Adam Riemer. Taken February 2016.