In October of 2009, Google launched their new Comparison Ads product specifically for mortgage advertisers, which allowed them to compare their mortgage products side by side with various lenders.

Sold to advertisers on a cost-per-lead basis, Comparison Ads were Google's long anticipated foray into the lead generation business. After clicking to receive a quote from a lender, Google forwards the lead, then bills the advertiser for it. The advertiser, however, never receives any personally identifiable information from the lead prospect (e.g., address or telephone number). Instead, Google provides a "bridging number" that connects the advertiser right to the customer.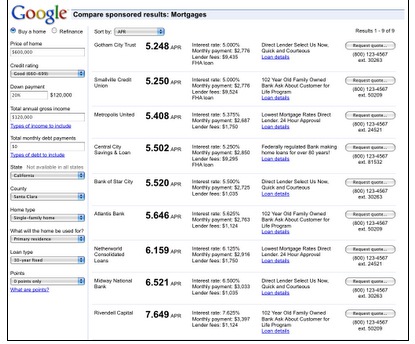 Starting in limited markets for a select few advertisers, Google has been steadily building out Comparison Ads, with the recent launch of an additional Comparison Ads product aimed at the credit card market. If you work in any kind of industry with price comparisons, your market could be next.
Google's Comparison Ads are highlighted by a few noteworthy advantages over their more traditional "Sponsored Link" ads:
Shown exclusively in the #1 position
More text than the other ads
Much larger than the other ads
Contain radio buttons
Don't have to measure up to Google's own quality score guidelines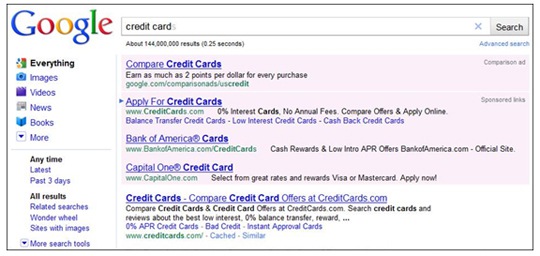 While Google's Comparison Ads are a huge potential source of leads for AdWords advertisers, the product represents an even more lucrative source of revenue for Google itself. Lead generation is an efficient way for advertisers to control their customer acquisition costs and very profitable for web publishers in prized vertical markets, such as mortgages and credit cards.
Google sits in the lead generation Catbert's seat: able to control massive amounts of highly coveted search traffic, the same traffic that lead generation companies have been paying enormous sums of money to reach via AdWords and SEO.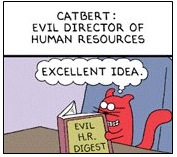 But there's a darker side to Comparison Ads: by capturing more users in that top listing, before they can see paid or natural results, Google Comparison Ads are effectively competing against Google's own advertisers. This lowers response rate, and the only remedy is for advertisers to join Comparison Ads. The parallel between Microsoft in the 1990s, and Google in the 2010s is not difficult to see: Comparison Ads gives Google a simple distribution method to steer users to its own products, raising questions on whether it is abusing its monopoly power.
The bad news for lead generation companies is that Google doesn't have to play by the same rules that its advertisers do. Seasoned PPC marketers fully understand the herculean challenge of competing against Google for this traffic. It's like trying to beat Sergey in a race to see who can own the most yachts.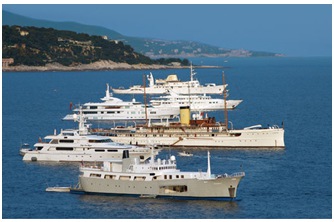 "Oh, all right, I'll take all of them."
On the surface, Google's Comparison Ads appear to be a perfectly logical extension of their AdWords program, whereby advertisers can simply pay for leads instead of (or in addition to) paying for a search referral. Taking a closer look, however, Comparison Ads violates Google's own webmaster guidelines by being a "thin" affiliate site that maintains "little or no original content."

Google's definition of a thin affiliate is a site that provides "little or no value-added content or service to the user. These sites usually have no original content." Google's Comparison Ad landing pages are derived entirely from scraped content. Isn't it odd that Google's Comparison Ads are not being held to the same guidelines that Google imposes on its own advertisers?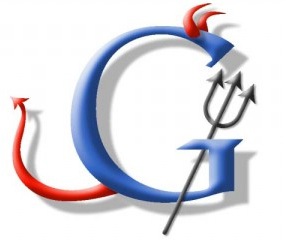 Image courtesy Gevil.org.
"Don't be evil … OK, you can be a little bit evil."
While Comparison Ads can be a great opportunity for advertisers who have never taken the time to optimize their sites, it's funneling away leads and sales from those advertisers who have built up strong organic rankings through investing in great content and high-quality links.
And it may not be limited to mortgages and credit cards. Here are some additional categories that would be logical next steps for Comparison Ads:
Insurance
Travel
Comparison Shopping
Banking and Financial Services
Utility Companies
Attorneys
Medical Service Providers
Any industry where users compare prices
For all of those online insurance and travel sites out there like Progressive.com, Geico.com, Travelocity and Expedia, that buzzing sound you hear outside your door is a marauding horde of ravenous locusts that just moved in. The good news is they're eating all of your neighbor's tomatoes today, but the bad news is that your vegetable garden is on the menu next.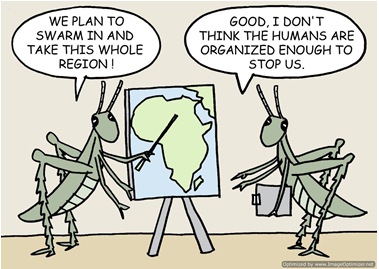 But it's not all bad news. Despite the threat, there are still opportunities for small, nimble publishers to compete against Google's Comparison Ads in some of these prized vertical markets. Think: how can my site be even more relevant than Comparison Ads? Focus on content that leverages your site's conversion data, user reviews and rating systems, and next-generation comparison tools.
With the rise of Facebook and Twitter, Google is no longer the only game in town. But there's no doubt that to compete with Google Comparison Ads, web publishers and content creators must innovate beyond compare.