Thinking about finally putting the kibosh on going mobile. Spending your PPC budget on another channel. Ignoring cross-domain tracking in Google Analytics. I like to consider myself a dreamer, but when it comes to increasing search traffic into conversions, I tend to ignore the statements above. This is especially true to Pubcon speakers like Gary Illyes, Bill Hunt, Annie Cushing, and Jenny Halasz, pushing those search marketing goals into the "must-haves" category.
Day 3 of my Pubcon adventures as a newbie presented the secrets to the future of search, optimizing on Amazon, and tracking valuable reports in Google Analytics.
Here's what you need to know from Pubcon today:
"Women in Digital Marketing" Breakfast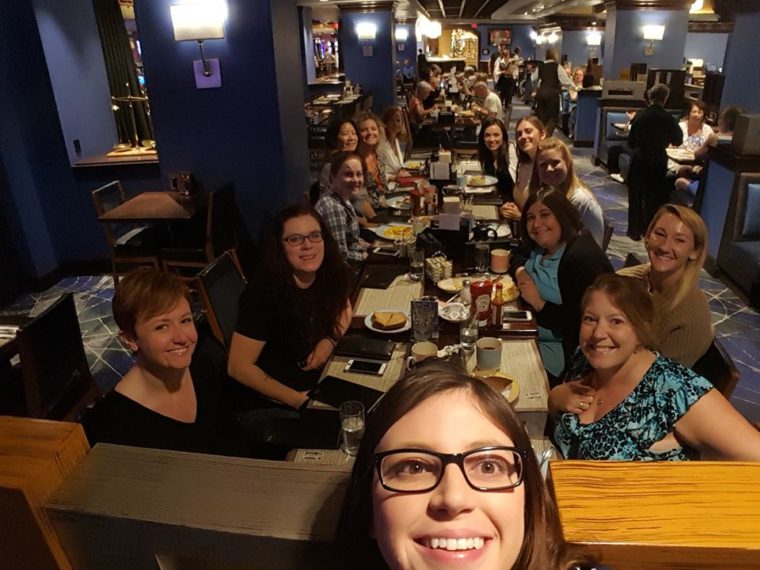 After an exciting night at the US Search Awards with notable winners (congrats Go Fish Digital and Eric Enge!), I started the morning with a "Women in Digital" breakfast.
Kelsey Jones, Executive Editor at SEJ, CEO of MoxieDot and StoryShout, graciously invited me to attend this power woman's breakfast. I was humbled, honored, and heartened to share a table with some of the best minds in search that I've been looking up to throughout my career.
Some of the attendees included:
I look forward to many more of these "Women in Digital" breakfast power sessions. If you more on women in tech from Pubcon, check out Kelsey's article.
Keynote Speakers Gary Illyes & Bill Hunt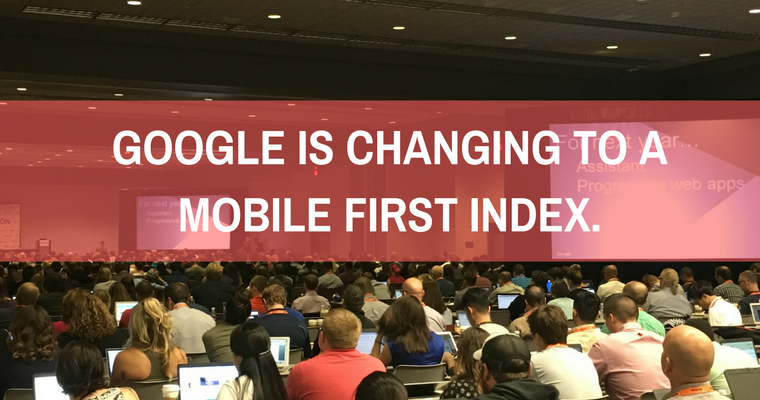 The morning kicked off with Gary Illyes, Webmaster Trends Analyst for Google, shares tremendous insights into the inner workings of Google's search algorithm. Here are a few of the big takeaways:
Ranking without links is tough.
Penguin 4.0 will devalue "all links" going to a site if it sees signs of link manipulation.
Rankbrain was live months before it launched.
Everyone should switch to HTTPS.
Google is changing to a mobile first index. The new change is set to go live on January 10, 2017.
The team at Overit offered another doodle of Gary:
"Links are more scarce on the mobile web" says @methode via @2theTopDesign #Pubcon #SketchPubcon pic.twitter.com/rYEKsaHXST

— Overit (@overit) October 13, 2016
Next, Bill Hunt, President of Back Azimuth Consulting, presented the on the current state and future of SEM/SEO in 2016. Hunt has worked with global brands such as Cisco, Absolut Vodka, IBM, P&G, and much more. Let's take a look at the big takeaways from Bill's keynote:
PPC is the best marketing tactic, but we aren't doing it well.
SEO is not magic. Focus on on-page and link quality.
You need to check out his DataPrizm keyword research tool.
Utilize site search data with organic SEO.
Google AMP is showing up for non-news page sites.
Session 1: Optimizing for Amazon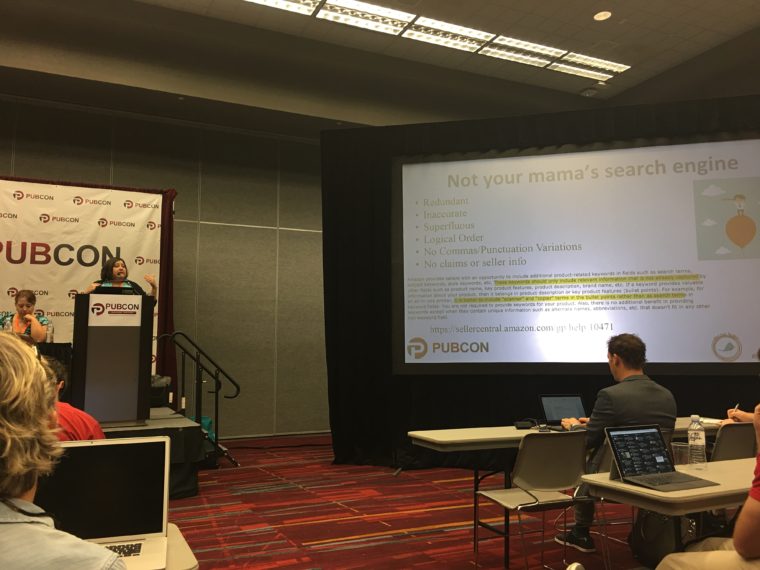 I had the pleasure of getting to know Robyn Johnson at the "Women in Digital" breakfast. Her story of starting with $100 and turning it into a seven-figure eCommerce business is inspiring and powerful. If you know anything about selling products online, you know it doesn't get any bigger than Amazon. And so, Robyn Johnson, Amazon consultant and the host of The Unstoppable Entrepreneur Show, shared some of the greatest tips to optimizing your Amazon products for SEO. So, what is the secret sauce to beating the Amazon algorithm?
The future of Amazon is 100% Prime.
Use flat files to get your changes approved faster.
The most important rule of Amazon's 14 is customer obsession.
If you want A+ listing videos, contact Cascadia Seller Solutions.
If you're a brand owner on Amazon, listen to this podcast with Robyn and James Thompson.
If you're using Sponsored Ads and Amazon determines you are not relevant, your ads will never be seen.
Session 2: Google Analytics Customization
It might be time for Google Analytics to change their name to Google Annielytics. While I admit, I am a major fan girl for Annie Cushing, founder of Annielytics, and Jenny Halasz, search marketing consultant at JLH Marketing, Inc., data is still the main event for me when developing my SEO strategy. So, you can imagine how pumped I was to have it all packed into one 1-hour session.
Let's review some of the key tips from Jenny:
Jenny recommends putting together 3 dashboards for every Google Analytics account to answer these questions: How did people get there? What did they do while they were there? And, why did they leave?
If you don't know what regular expressions (regex) are, read Jenny's guide here.
Data is just data. Analysis leads to insight.
Check out Jenny's full presentation here:
Now, let's head over to Annie's tips for Google Analytics:
Do not use Google Analytics for social media reporting. They are terrible.
The "Other" bucket in your channels report under Acquisition is incredibly valuable.
Create new channels to track with campaign tagging. (Example: Retargeter should be a medium).
When using mediums, never choose "exact match."
Set-up smart filters.
Set-up cross-domain tracking to help track PayPal.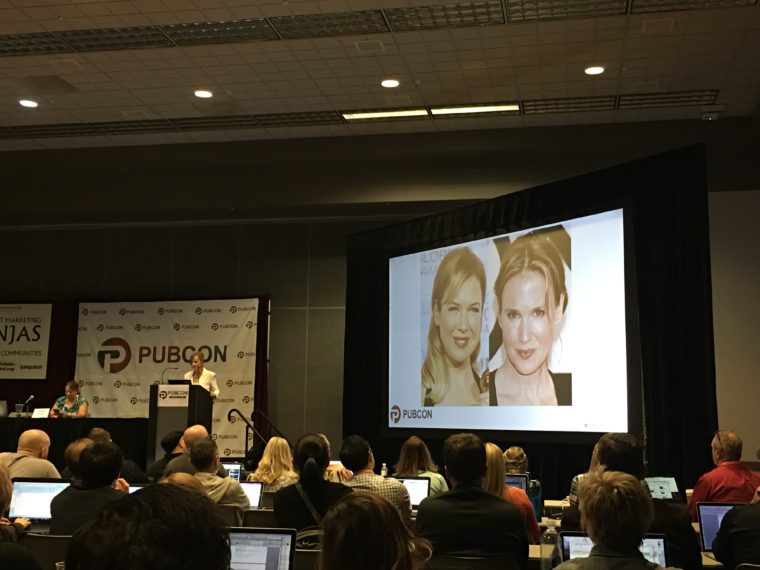 If you want more from Annie, check out her slides here.
Be sure to check out my other posts from Pubcon 2016:
Also, if you want more from the Pubcon speakers, check out a few of these:
There were so many amazing sessions at Pubcon that I didn't get to make. If you attended, what were your favorite sessions? I'd love to hear below in the comments.
Image Credits:
Photos were taken by the author.